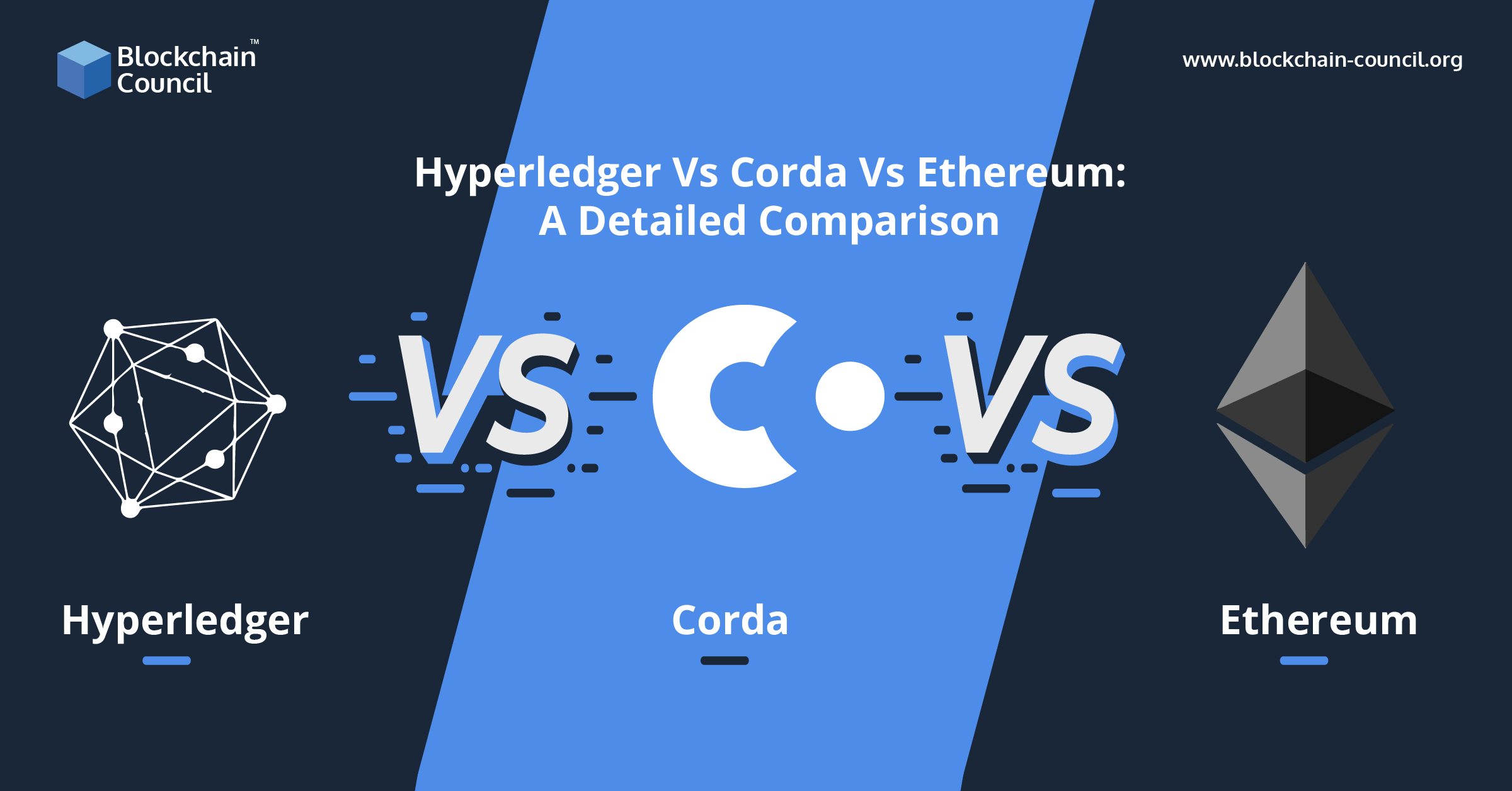 Various businesses are now progressively using distributed ledger technology solutions. New-age distributed ledgers are powerful enough to improve the efficiency of small, midsize, and large businesses, transform the payments landscape, and open the businesses to potential opportunities. As a result, the employment industry will also witness a large pool of job openings. Do you wish to work in the burgeoning fintech industry? To grab a lucrative job in such a demanding marketplace, you need the right education, skill-sets, and authentic certification. Learn blockchain technology from a renowned training and development center and level up your career prospect.

However, before you start looking for the best course to learn, let's take a moment and analyze some of the popular distributed ledger platforms at this moment. In this article, we present a brief overview of Corda, Ethereum, and Hyperledger. The point is to give you a hand with understanding the blockchain platforms, how they differ from each other, and what you will get from taking up a blockchain course. So, without much delay, let's start the discussion.
Hyperledger Vs Corda Vs Ethereum
Before demystifying the battle of supremacy between these three platforms, it would be better to understand what they stand for. 
A Brief on Hyperledger
Contrary to popular beliefs, Hypergelder technology is neither a blockchain nor a cryptocurrency nor a company. In reality, it is an open-source hub that aims to support the industrial blockchain development process.
 You can think of it as a blockchain open-source collective effort that seeks to accelerate the cross-industry blockchain technology's development. 
The team of Hyperledger Fabric 2.0 has confirmed that they won't create a native cryptocurrency for the project. It is simply an initiative to create blockchain disseminated record applications. But just like the other blockchain platforms, Hyperledger also comes with smart contracts and a ledger where people can manage their digital transactions. 
Besides everything, Hyperledger Fabric also has multiple pluggable options. For example, it allows a user to store the ledger data in different formats. The participants can also create separate channels for a separate ledger of transactions. To know more about how these two platforms work, you can take up advanced blockchain technology courses exclusively designed for beginners. 
A Brief on Corda 
Corda vs. Hyperledger is yet another battle that has become very common among the tech-geeks. Both Corda and Hyperledger are making good use of the blockchain development and its use cases and trying to transform multiple industries. 
A brainchild of R3 (a distributed database company), Corda blockchain is an open-source platform that ensures easy management of shared data and legal contracts between manually trusting organizations. Corda helps a vast range of applications to interoperate on a single network. 
Corda started as a platform that enables services in the financial sector. With passing time, it has evolved and upgraded a lot and due to its increased functions and capabilities, became valuable for various industries. Various blockchain technology courses are available there to reveal how it transformed into what it has become today. 
As per the expert blockchain developers, this platform is still rising and securing its position in the financial sector. Corda has its edge over Hyperledger when it comes to benefiting financial sectors with its blockchain system. 
Corda Use Cases 
To better understand the differences between Hyperledger and Corda R3, it is a must that you note down the latter's use cases. Mainly, Corda aims to assure the users that any service developed on it, is compatible with all the network participants. Corda enables the business to initiate a smooth transaction via smart contracts. 
Corda use cases also ensure high-security standards and that is why it continues to gain a secured place in the financial industry. In today's era protecting people's data is important. That is why the use of a blockchain platform like Corda is constantly growing in popularity. 
Another use case of Corda will be Corda Enterprise, a commercial distribution version of this platform that meets the new-gen business's transaction-related demands. Corda Enterprise comes with a few unique features like 24/7 support, corporate firewalls, etc. The users can make the most of predictable release schedules along with the product management features. However, to understand how this platform differs from Hyperledger, let's understand the key features first.  
Key Features of Corda
Corda R3 prevents all the unnecessary data sharing on the blockchain platform as only people with legit access and needs can participate on the network. 

The Corda

blockchain platform

enables data sharing in a network without the need to involve a central controller.

It allows the users to achieve consensus at the level of individual transactions rather than the entire system at large. 

This platform's design comes with the supervisory observer and regulatory nodes. 

Corda blockchain also supports a vast range of consensus mechanisms.

This platform doesn't have a native currency.

It is built on industry-standard tools.
A Brief on Ethereum
Ethereum is a brainchild of Vitalik Buterin- this is the first definition that comes to mind while talking about this blockchain platform. To elaborate further, Ethereum is an open software application that seeks to provide blockchain developers with a framework to create decentralized applications. 
A decentralized application usually runs on a peer-to-peer network rather than a single device. Plus, this unique network exists on the internet and is not controlled by any single entity. 
Ethereum takes pride as the second largest market cap in the cryptocurrency world.  This popularity explains its edge in the Hyperledger Vs Ethereum Vs Corda battle. This particular blockchain project continues to capture the majority of investors' interest due to its powerful decentralized applications. 
If you enroll in blockchain technology training to learn more about the Ethereum project, you will see how it seeks to empower us to ensure secure digital transformations as well as have total control of our money while enjoying the benefits of cryptography.
Ethereum is on the verge of changing the way people create things, communicate with each other, and execute multiple tasks online. Enterprise Ethereum is another variation of this blockchain technology that solely focuses on enterprise solutions. Anyhow let's check out the pros of the Ethereum platform below: 
Key Features of Ethereum:
Ethereum blockchain offers: 
Immutability as none can alter the data already inserted in the decentralized blockchain applications.
Tamper Proof, apps on the Ethereum network that run on the principle of consensus, which initiates censorship. 
Security as there is no central point to call the shot. All the applications created on top of the Ethereum blockchain platform are well protected against hacking or other spamming activities.
Zero downtime as the apps never experience downtime as there is no single central server to hose them. 
The objectives of the platforms 
The debate on Hyperledger and Ethereum will become much clearer when you take a look at their purposes. Ethereum network solely seeks to make it easy for the developers to create smart contracts to perform several tasks. On the other hand, Hyperledger is an open-source collaborative initiative leveraging blockchain technology to support multiple tech implementations. 
Hyperledger works as software whereby you can develop a personalized blockchain for multiple needs. Ethereum blockchain, on its part, works with generalized protocol allowing everything to run on the network. 
The Level of Confidentiality 
The debate on Ethereum and Hyperledger won't be finished until we compare the confidentiality level of both projects. Ethereum is a transparent blockchain project that stores the details of every transaction in the public domain so that everyone present on the network can see that. All transactions happening on the Ethereum blockchain are visible to all the participants. 
Hyperledger Fabric, on the other hand, takes the matter of privacy to another level as only people involved in a particular project can access the data related to it. This network thus provides the participants with the flexibility to lock the transactions by using certain encryption keys. 
Peer Participation 
The Ethereum network can be both public and private. Therefore anyone can take part at any given time. On the other hand, Hyperledger comes with a predefined community of participants who can access the network. The users have to use certain encryption keys to access the data in the network. However, there is an exception though. Hyperledger Sawtooth is the only project that is available on both public and private solutions.  By taking up blockchain technology training, you will understand the use cases in a better way.
Consensus Mechanism
As a transparent blockchain project, Ethereum allows everyone present on the network to make decisions. All the participants in the blockchain need to reach a consensus to complete a transaction. It doesn't matter whether or not there is a node present in the transaction. 
Ethereum runs on the Proof of Stake algorithms to achieve a consensus. The PoS algorithm requires all the participants to agree on a single point and all of them should have access to the recorded entries. 
Moving on to the mechanism of the Hyperledger network, it comes with various types of consensus whereby the participants can choose between an agreement protocol and no consensus algorithms needed. In such scenarios, two or more parties can agree on the outcome. 
The Programming Language 
Another critical point of debating over the Ethereum blockchain and Hyperledger is the programming language they use. 
Ethereum majorly relies on Solidity, a high-level-oriented programming language. Hyperledger, on the other hand, depends on 'chain code' which is an intelligent contract, written in a programming language. It handles the business logic agreed by all the members present in the network. 
Cryptocurrencies 
The Linux Foundation, the creator of Hyperledger Fabric, has already made it clear that they are not open to developing a cryptocurrency hence there is no requirement for mining.  This blockchain platform lacks a native currency and hence allows for a scalable consensus algorithm whereby the network can process at a high transaction rate. 
On the other hand, the Ethereum blockchain is powered by the Ether (ETH) digital currency that helps to finance transactions on the network. 
Simply put, Ethereum is a unique blockchain project that allows people to create smart contracts and decentralized applications to perform different tasks. Therefore, it is a generic platform for all kinds of applications. However, Ethereum continues to struggle with scalability and privacy issues.  
On the other hand, Hyperledger is an ideal project for businesses and organizations that want to avoid privacy and scalability issues in the blockchain space. The fine-grained access control of this platform brings out high levels of access control. 
The Final Comparison Between The Three Platforms 
Hope this guide helped you to form a basic understanding of the three distributed ledger technologies and their use cases. Corda acquires most of its use cases from the financial service industry, whereas Ethereum claims to be independent of any specific applications. Hyperledger, on the other hand, offers an extendable, modular architecture in multiple industries. 
Ethereum is accessible to everyone who has access to data or anything in the blockchain network. But in Corda and Hyperledger, if a network's participants are pre-defined only then they can gain access to the networks. 
In the consensus algorithm, Ethereum differs from the other two. In an Ethereum network, all the participants must reach an agreement to initiate a transaction. Even when a participant is not a part of the transaction, they have to agree on it. 
On the other hand, when it is about Corda and Fabric, the consensus mechanism is more refined. Every node, present in a network, doesn't need to participate in the consensus process. 
Ethereum is the only one among the three emerging digital ledgers to have a native cryptocurrency named Ether. Corda and Fabric don't need any currency since the consensus doesn't need a mining process.
Hyperledger Vs Corda Vs Ethereum
Parameters 
Corda 
Ethereum 
Hyperledger Fabric
Audience 

Blockchain Developers

Anyone interested in decentralized applications like ETH, Crypto and so on

Developers searching for a foundation for creating applications with a modular architecture

Company

R3

Ethereum Foundation

Hyperledger

Founded In

2014

2013

2015

Categories

Smart Contract Blockchain

Blockchain




Smart Contract




DeFi Projects




Crypto Stacking

Blockchain




Smart Contract
The Bottom Line
The debate over Corda vs. Ethereum vs Hyperledger Fabric will continue more as the blockchain technology evolves with passing time. However,  if you are just a novice and want to learn more about these platforms, check out the best blockchain certification here!