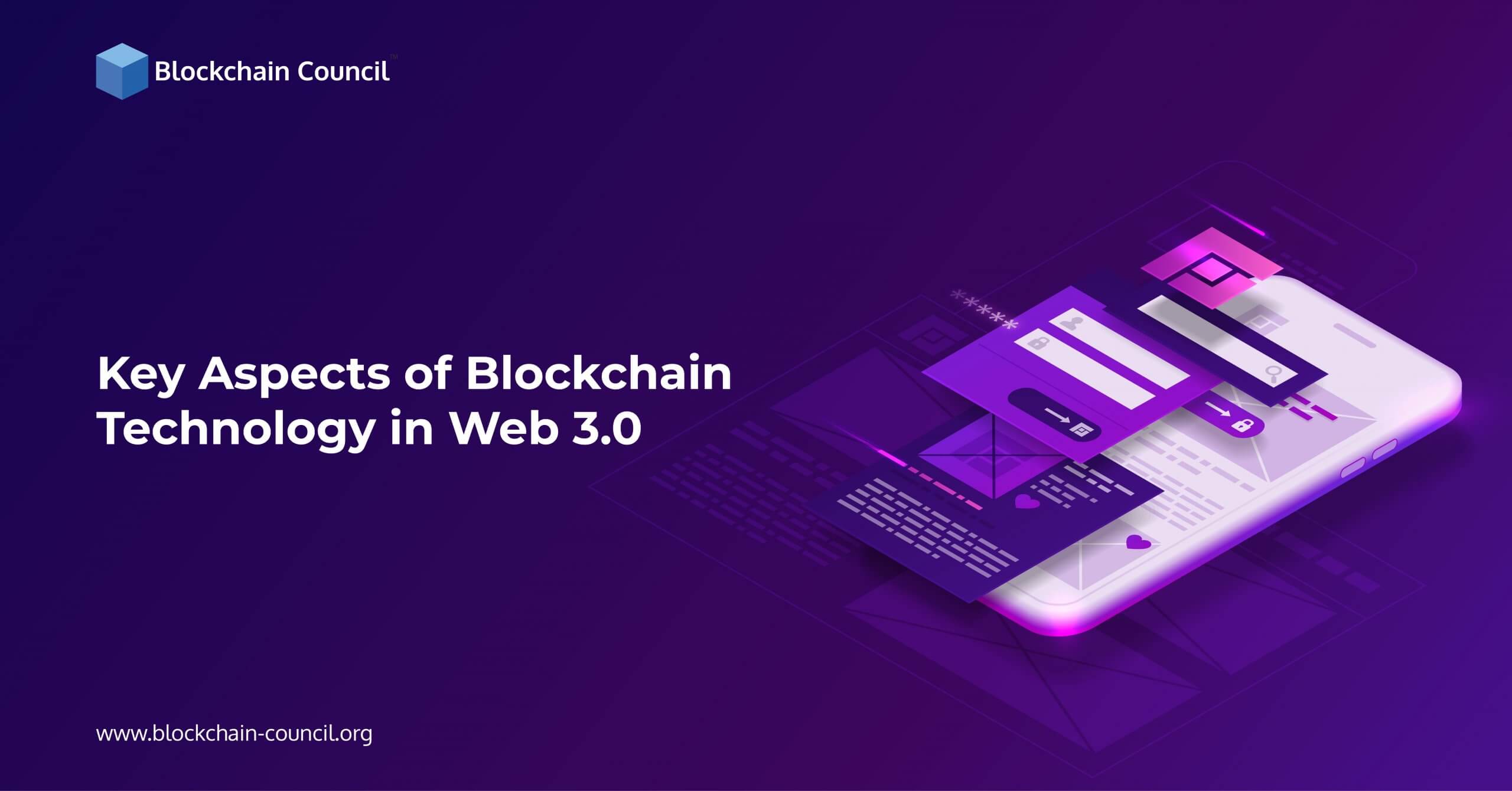 The Internet is undoubtedly one of the most important components of practically everyone's existence on this planet. In fact, it's challenging to fathom living without access to the Internet. Furthermore, a global pandemic has demonstrated the importance of the Internet in times of unexpected disaster. 

However, today's Internet is pretty confusing in terms of data security. Since its creation, the Internet has expanded dramatically. Before the launch of blockchain in web 3.0, many new kinds of the Internet emerged. 
The following discussion will provide you with a thorough understanding of how blockchain might propel the expansion of Web 3.0.
Requirement of Web 3.0
Web 1.0 and 2.0 have already awestruck us and we have managed to overcome the astound-ness in pretty concise time. We all need some something that matches our present requirements. 
Web 1.0 was launched somewhere around in 1980s entailing a few drawbacks that was met by Web 2.0. It was referred to as Content Distribution Network (CDN), where users exercised a bit more other than consuming the content uploaded by a few sources in a client-server architecture. People utilized the Internet to view published content from anywhere across the globe. HTML code, advertising, and web forms swamped the difficult-to-read network (try recalling how Yahoo! appeared in 1994). 
It was evident that web 1.0 was a significant technological intervention for its time. However, there were certain limitations to interacting with the content in web 1.0. These limitations led to the next version of the Internet. 
Web 2.0 arrived ten years later, with the introduction of blogging, social networking, and e-commerce, thus playing an essential role in transforming social relationships. RSS, XML, cloud services, online apps, dynamic content, and a new Internet which enables users and communities to collaborate: turning read-write into reality. 
Only ten years ago, Web 2.0 gave way to the next stage, a semantic Internet, which improves the web technologies required to generate, share, and link information through data analysis based on the ability to understand the meaning of words rather than keywords or numbers. A new version of the Internet with networked applications and devices, 3D graphics, live-streaming, mobile apps, artificial intelligence, blockchain technology, and digital money that enables a pervasive omnichannel strategy. 
Welcome to Web 3.0: an Internet where we may produce content, distribute it, and carry out agreements. Apart from this, the following discussion will provide you with a clear understanding of how blockchain can fuel the expansion of Web 3.0. 
Relevance of Web 3.0
The future generation of Web 3.0 is a decentralized version of the digital realm where users can work and communicate smartly without being concerned with authoritative information libraries. 
And what's more? Blockchain innovation is the asset to direct on to make web advancement more comprehensive and less one-sided. With blockchain pulling out all the stops, the crypto sphere could transform into a more effective dimension in a couple of years. What's more interesting is that crypto trades like CoinSwitch Kuber might be at the front line of this progress, making crypto definitely something other than a productive sort of contributing. 
But what precisely is Web 3.0? It is, considering all aspects, following the web revolution, with the accentuation on clever data openness. For instance, in Web 3.0, search engines would convey custom-made bits of knowledge dependent on your hunt setting. Moreover, several computing devices will replace the data stored on centralized servers. Eventually, it will be peer-to-peer Internet without the control of any sole entity. 
For the uninitiated, a discussion of Web 3.0 can quickly become overwhelming. Practically, Web 3.0 seeks to turn the Internet more adaptable to open-source. This will reduce the risks related to information leakage, threats, and high dependence on centralized servers.  Precisely, Web 3.0 can be described as creator-driven platforms developed by users. 
In 2022, Web 3.0 will become even more critical as most users continue to value personalized and customized browsing experiences.  
Furthermore, there is a growing demand for humanized search assistants that are far more intelligent, ubiquitous, and powered by semantics, AI, and, yes, Blockchain.
Web 3.0, Crypto and Blockchain: How are they related?
To reiterate, both Web 3.0 and blockchain strive for openness and transparency. But this is not the end of parallel possibilities. The goal of blockchain is to keep the insights organized as blocks, with cryptographic hashes entrusted to keep them unalterable and highly secure. If Web 3.0 becomes a reality, everyone will have access to resources, applications, agreements, and content, as long as cryptographic keys are in place. In addition, there will be a plethora of decentralized options available to make the universe more welcoming to each of us. 
But then, how does the word "crypto" fit in here? To begin, with the blockchain providing the path for a more "open" internet, it would ultimately be up to decentralized apps and smart contracts to automate certain operations. This is where the top cryptocurrency players come into the picture. Going forward, the crypto players contributing to Web 3.0 with the best up-to-date technology will garner more attention. 
The impact of Web 3.0 on crypto investments
After we have established the basic assumption and expectations for Web 3.0 and its reliance on blockchain technology, it is critical to understand what this means for specific cryptocurrencies and the investing prospects. 
The contribution of Ethereum in supporting the development of decentralized applications has made it the most sought-after web 3.0 blockchains. As a result, Ether has risen to the top of the list of long-term crypto investors. Even though this is only a random example when it comes to the impact of Web 3.0, there are a few blockchains that are leading the race than the rest. 
Examples include Graph, Filecoin, Livepeer, Helium, and other chains. 
Web 3.0 and Crypto integration
Non-Fungible Tokens and creator monetization is the new global trend. Over the long and medium term, the Web 3.0 incentive tokens discussed earlier are expected to get much-deserved prominence. Yet, the truth remains unknown. 
According to estimates supplied by Web Index, Livepeer or LPT increased by 1050 per cent in 2021, owing in part to the worldwide streaming market's expected value of $250 billion by 2026. However, before you can put your trust in these potential cryptocurrencies, you will have to wait for general acceptance, with developers jumping into these chains and creating decentralized applications and platforms to start off the Web 3.0 revolution. 
Because cryptography is exceedingly complex and, more significantly, multidimensional, integrating it with Web 3.0 could take some time. For example, Flux, Helium, Kandana, and others, are the emerging crypto players in the booming Web 3.0 market. They are strategizing the proof-of-work as the vital mechanism while modifying the new generation of websites for more efficient and reliable performance.  
The POV of investors 
Although Bitcoin is the first but is definitely not the last option in the investment market. The crypto market soared in 2017, surging by 1200% after a frantic start followed by sustained innovation growth. According to Coin Market Cap, several hundred more cryptocurrencies are now in circulation, with a total market valuation of around $279 billion and more in the production queue. 
Even so, blockchain innovation abilities empower a lot more applications other than cryptographic forms of currency. For example, it permits the advanced portrayal, also known as tokenization-of monetary instruments like stocks, securities, or subordinates, monitoring merchandise in a value chain, record authorization, and much more.  
During this nascent technology's brief but eventful history, two distinct sectors emerged: cryptocurrency and blockchain technology. In 2019, the latter, which is more enterprise-oriented, earned $434 million in venture capital funding, while cryptocurrencies garnered $2.35 billion in the same period. 
The same way the Internet shaped the world by permitting majority rule admittance to data, blockchain is similarly paving the way for how organizations and individuals are setting new business protocols and trade resources in this new Web 3.0, supplanting trust by a carefully designed and self-implementing innovation convention. 
Future of Crypto
Despite their immense potential, cryptos are still viewed as merely investment opportunities and new ways of trading. But, practically, the crypto players surfing on the blockchain technology wave are ushering in Web 3.0, with the ecosystem itself capable of producing the necessary resources and apps.  
Even if investing in cryptos or utilizing them to ease transactions appears to be beneficial, the future should not be defined solely by these characteristics. Crypto players will continue to play a role in the Web 3.0 revival even if trades, investments, and exchange value are ignored. Leading companies in the Indian crypto market, such as CoinSwitch Kuber, believe that educating people about the benefits of blockchain and cryptocurrency trading is a better method to get them to understand the concept of decentralization. 
Finally, trading and investing in cryptocurrencies are really by-products of a much larger concept. Those who are not fully on board with Web 3.0 should be free to change their minds over time. 
Conclusion
With its inherent characteristics, blockchain emerged as a potent force that altered traditional company operations. The functions of blockchain in Web 3.0 are evident from the observations about the third generation of the web. However, decentralization is the most prominent feature of blockchain, which makes it a perfect basis for Web 3.0. 
If you want to understand everything there is to know about blockchain and related technologies, as well as its applications, you should enrol in blockchain courses, blockchain certification programs, or cryptocurrency courses. Blockchain council can serve as the one-stop-shop for you!
If you want to enter the blockchain world, we have everything that you need – click here. Obtain certification in a variety of blockchain domains to gain entry to a prosperous world that will ensure your job chances. Don't forget to check out our special offers page for the best certification deals.