New to the concept of decentralized apps (DApps)? Curious to learn about top DApps for Blockchain and want to become a Blockchain developer? You have landed on the right page. This article explains the concept and enlists the top 5 DApps. 

Learning Of Blog
Introduction to decentralized apps 

Top 5 DApps for Blockchain 

Conclusion 
Introduction to Decentralized apps
Before we understand what DApps and their functionalities are, let's understand its underlying technology, and that is Blockchain Technology. Blockchain is a ledger of records organized in blocks that are linked by means of cryptographic validation. It is a distributed ledger technology that is known for its peculiar characteristics such as transparency, security, immutability, consensus, and faster settlements.
DApps is an ultimate open-source revolution that is still in the nascent stage. Explaining DApps in a single line is difficult as no specific definition seems to fit all the attributes that make an application a DApp, but we can say that DApps are open-source, with decentralized nature, a piece of so ware that communicates with the blockchain, which manages the state of all network actors. 
If you are curious to learn Blockchain technology and become a blockchain specialist, check out the best blockchain certification here. 
Top 5 Dapps for Blockchain 
Here is a list of top 5 Daaps that are popular, innovative and feature-rich.
Cipher

Chainlink 

EOS Dynasty

TraceDonate 

Brave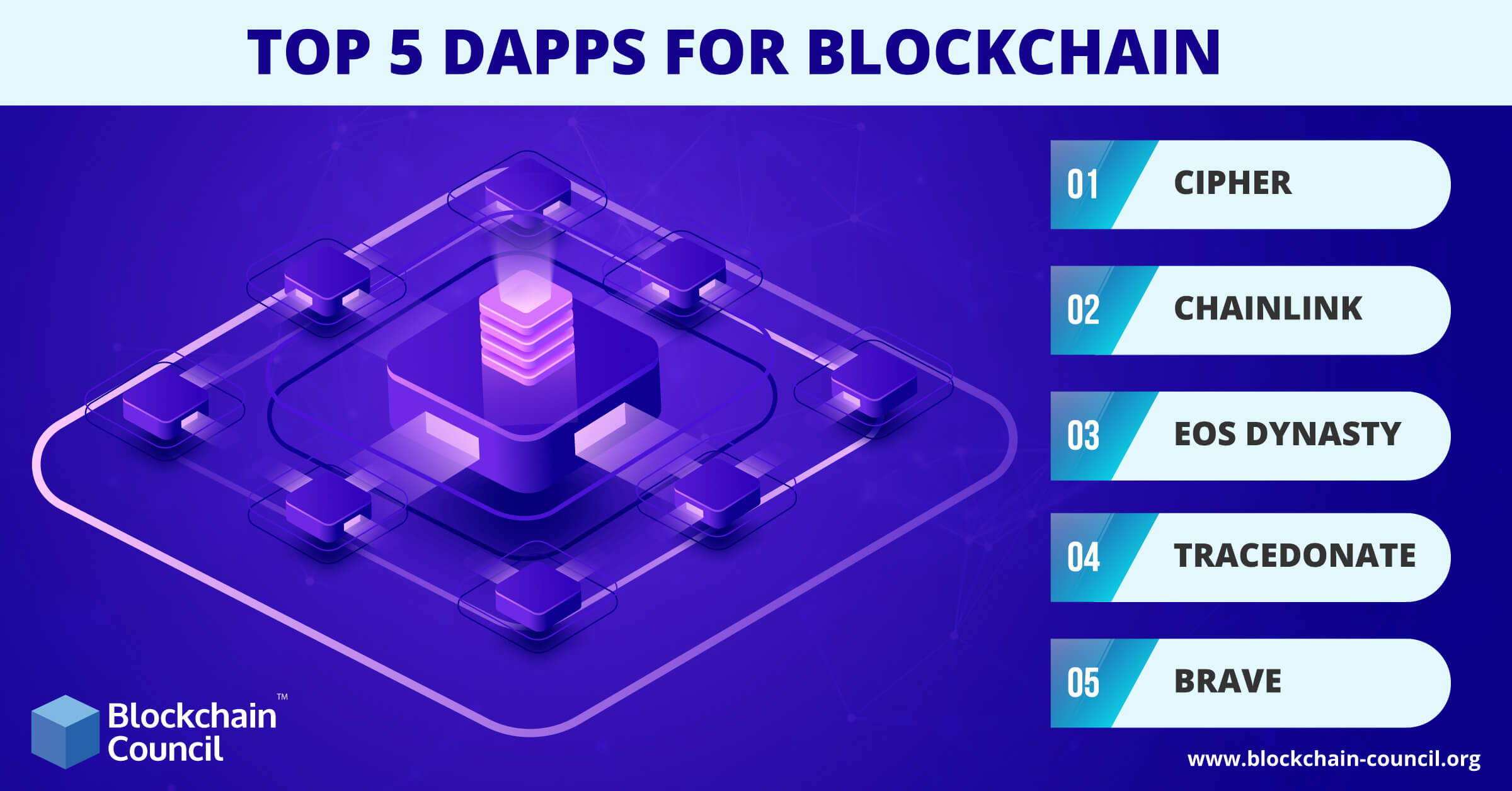 Cipher
Cipher is Avanza's Blockchain implementation platform. Built with the future in mind, it is a platform-agnostic solution that can ride on any underlying Blockchain technology. Cipher acts as middleware that supports a portfolio of four blockchain DApps for government agencies and regulators in different regions. The focus areas of Cipher's blockchain-based solutions are Digital Government Transformation and Financial Regulation & Supervision. 
As the world is turning towards decentralization, Cipher will act as the enablement layer to ensure that next-generation Blockchain technocrats keep performing well. 
Chainlink
According to Chainlink's official website, "Chainlink network provides reliable tamper-proof inputs and outputs for complex smart contracts on any blockchain." This platform provides a reliable connection to external data that is provably secure end-to-end. 
To put it in simple words, Chainlink offers any smart contract secure access to data feeds, APIs, and payments.
Chainlink secures the data feed to and from the smart contracts and makes it much difficult to compromise since it relies on the same consensus mechanisms that blockchains use to come to an agreement on the validity of a transaction. Moreover, Chainlink provides your smart contract with all the inputs and outputs it needs to reach its full potential.
EOS Dynasty
It is the first RPG and PvP game on the blockchain where players can enhance their heroes through collecting materials, forging equipment, and domestication mounts. The game enables players to get awarded Three Kingdoms Tokens (TKTs), which is a limited cryptocurrency that enables users to earn material in two marketplaces based on a smart contract. Not only this, but dividends are also only awarded from the games, once players reach to particular military ranks, thus enabling them to stake TKT cryptocurrency coins and then earn from them.
TraceDonate
As present donation sectors suffer a lot from the lack of transparency and traceability, TraceDonate is introduced to eradicate such issues. It is an identity management platform designed for transparent and traceable cross-border remittances and giving. This DApp connects charitable organizations and donors to beneficiaries. It hopes to give peace of mind to donors that their funds will be used for the intended purposes only. 
With this DApp, donors receive real-time updates via SMS and email about how the donation is used and for what purpose.
Brave 
Brave, a web browser with over 9 million active users, attempts to create a blockchain-based digital advertising and services platform that gives information control and privacy back to users. 
This decentralized app creates a new measure of value in the advertising world, where "consumer attention" is utilized to set value more than unverifiable views or clicks on a webpage. It enables key participants such as advertisers, publishers, and browser users to engage in new business models that cut out excess intermediation between publishers and advertisers by rewarding users with "Basic Attention Tokens (BATs) or with Brave Rewards that can be easily traded just like bitcoin.
Conclusion 
DApps are becoming increasingly interesting to Blockchain developers around the globe. Unlike traditional applications that are built on platforms like iOS and Android, DApps connect everyone directly without the need for any intermediary to host and manage the code and user data. Initially, as a blockchain developer, the prospect of getting started can feel daunting, but with the right certifications such as Certified Corda Developer course and Certified Quorum Developer online course, one can easily learn to create his own DApps. 
To learn more about the best blockchain platform and become a Blockchain expert, check out the Blockchain Council.