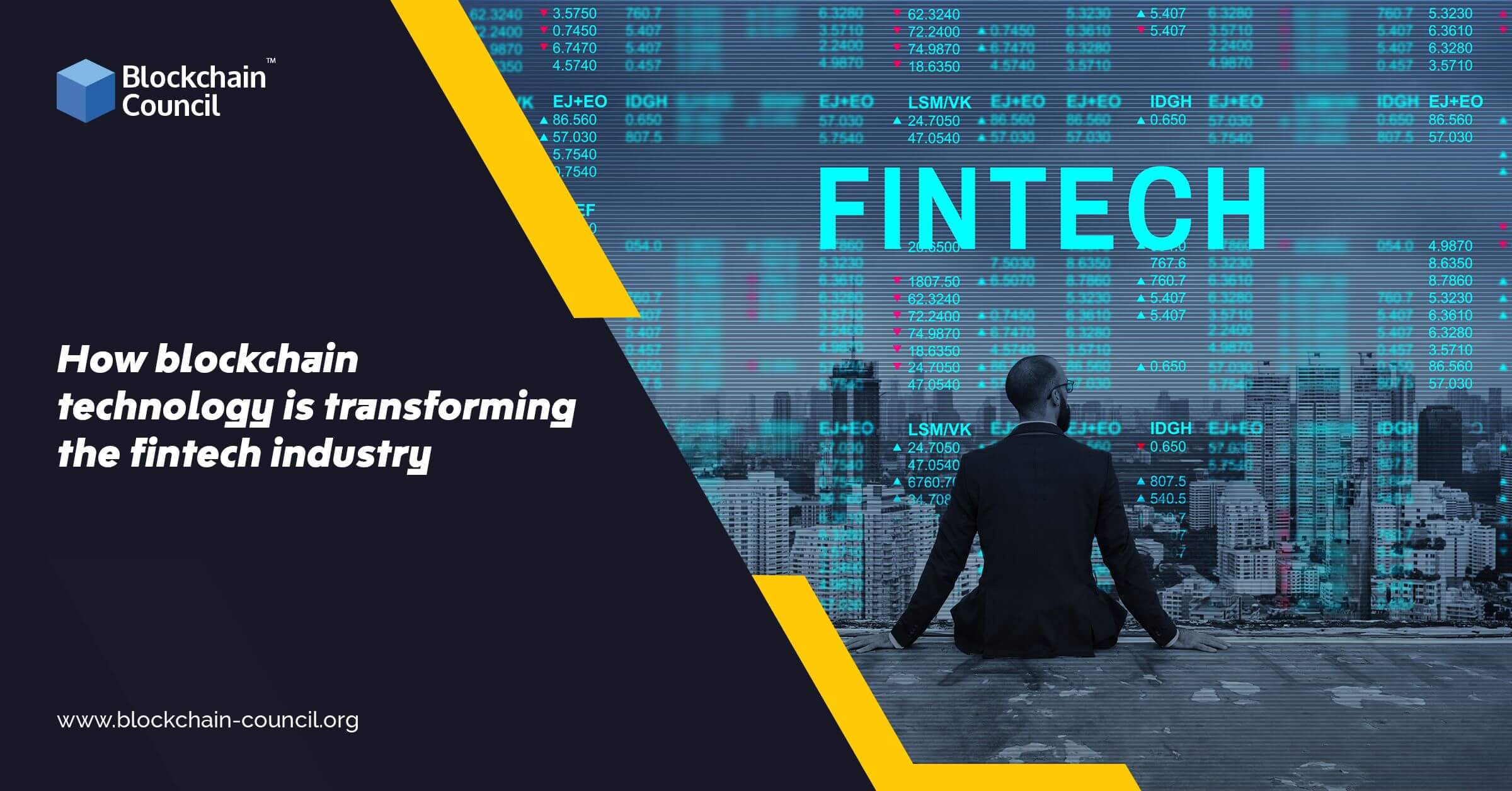 Blockchain platform has come up with a number of industry blockchain solutions that are created to resolve the challenges that a particular industry faces and draw in positive upheavals in it. The use of blockchain technology in the banking and financial industries has already shown great potential for success. Fintech is a  sector where tons of transactions are conducted on a daily basis worldwide. But, there is always a risk of financial frauds and shortcomings that can result in inefficient finance-management. However, the application of blockchain has ensured protection and security against such frauds and also helps in developing a reliable financial system. 

Many Fintech organizations have already included blockchain in their system in today's time, and the number is increasing with every progressive day. This article will look into the working of blockchain in Fintech and some Fintech industry cases where this technology is used.
Table of Contents 
How does blockchain work in the Fintech industry?

  Management and reduction in fraud and risks.

Cross-border payments.

Keeps up with financial regulations and audits.

Crowdfunding.

Syndicated loans.

Closing Thoughts.
How does blockchain work in the Fintech industry?
You must be wondering what exactly blockchain does for the betterment of the financial industry. In simple words, distributed ledger technology is employed in these procedures for keeping records, transferring money, and carrying out banking transactions. The technology also eliminates useless paperwork and makes it easier to track transactions. Apart from this, distributed consensus and incorporated cryptography guarantee complete trust. Another unique assistance that blockchain offers is no involvement of mediators so that you can save  money instead of spending on their expensive services.
One more essential part of the blockchain is "smart contracts." These smart contacts are self-executing signed between a customer and dealer. The code and approval of the contract are conserved on the decentralized blockchain system. Due to the transparent and straightforward smart contracts system, they are in widespread use while performing tasks like money exchange or other valuable trading.
Now, let us go through Fintech cases where blockchain is functional:
Management and reduction in fraud and risks
Fintech functions on several money-related processes. Hence it is pretty reasonable to show appropriate security concerns here. In this scenario, blockchain has proved itself to be the most practical antidote. Its workings are safe, credible, and most importantly, transparent, and the fact that  there won't be any violation. A blockchain system is even capable of fighting back frauds and cyber attacks. Besides, it can also resolve issues like data tracking of the high-value asset. For instance, it staves off accidental twofold exchanges and false statements.
Cross-border payments
The process of sending and receiving the money with a different country is usually very expensive and unnecessarily consumes your time. Blockchain, though, improves foreign transactions ideally and facilitates safety, security, and transparency in exchanges. Blockchain transactions are fast and cheaper.
Keeps up with financial regulations and audits
Formally, financial institutions needed to keep track of several transaction data for years so if any regulatory issues arise, they could address them. As we know, that blockchain system is unchangeable, and it can effectively reduce chances of risks and defaults  associated with regulations. You can be sure that data stored on the blockchain will never be revised or erased. It draws away  stress of regulators, as this advanced technology is capable of tracking down verified exchanges and records, eliminating likelihoods of error, and also assures credibility of records for audits.
Crowdfunding
Crowdfunding refers to generating funds by making use of various startups that can entice a vast populace to chip in any amount of money they want through an online platform. Blockchain has proved itself to be a valuable tool in the process of crowdfunding. For instance, by employing ICOs (Initial Coin Offerings), startups can quickly raise funds. Blockchain platform produces ICO tokens that are equivalent to businesses' shares. In other terms, this allows users to sell and purchase these tokens on digital markets. 
If you are concerned about the benefits of ICO tokens, it should be noted that these tokens enable token selling globally. In addition to this, high ROI and transparent transactions are also insured. Moreover,  numerous possibilities for crypto crowdfunding also come into existence. ICO token exchanges use mining pool software to accomplish faultless and risk-free trading.
Syndicated loans
Syndicate loan systems have been facing many issues such as the transmission of fax, often holdups in resolving loans, and so forth. Again, the blockchain system provides a good help here. It resolves the issues by letting various financial organizations communicate in a hassle-free setting. Due to this offering, any timely modification in the loan ownership gets immediately reported to each one of the contributing parties. Many financial organizations have assembled to establish a special committee for encouraging the adoption of blockchain systems by executing it in this field. 
Closing Thoughts
With everything taken into account, blockchain is a genuine forward leap for our generation. It can give various advantages to all enterprises, with fintech being no exemption. As of now, the top-notch innovation has effectively refined various extreme tasks in this industry and will undoubtedly take on more complicated challenges in the future.
Want to be a blockchain expert? Take a look at Blockchain Council for high-quality courses and certifications.