Do you have problems telling the difference between web 2.0 and web 3.0? The following are the significant differences between web 2.0 and web 3.0 that you should be aware of.
You've probably heard the terms "Web 2.0" and "Web 3.0" if you've been following the blockchain industry. You might be interested in knowing the exact definitions of these terms and how they relate to blockchain technology. Before reaching its current state, the internet as we know it went through many stages. The internet service generations Web 2.0 and Web 3.0 differ in how users interact with the internet. As a result, individuals are keen to learn the differences between web 2.0 and web 3.0 in order to better understand the Web 3.0 requirements.

The following discussion will help you learn more about the differences between the two webs. A thorough understanding of web 2.0 and web 3.0 would be appropriate for comparing the two.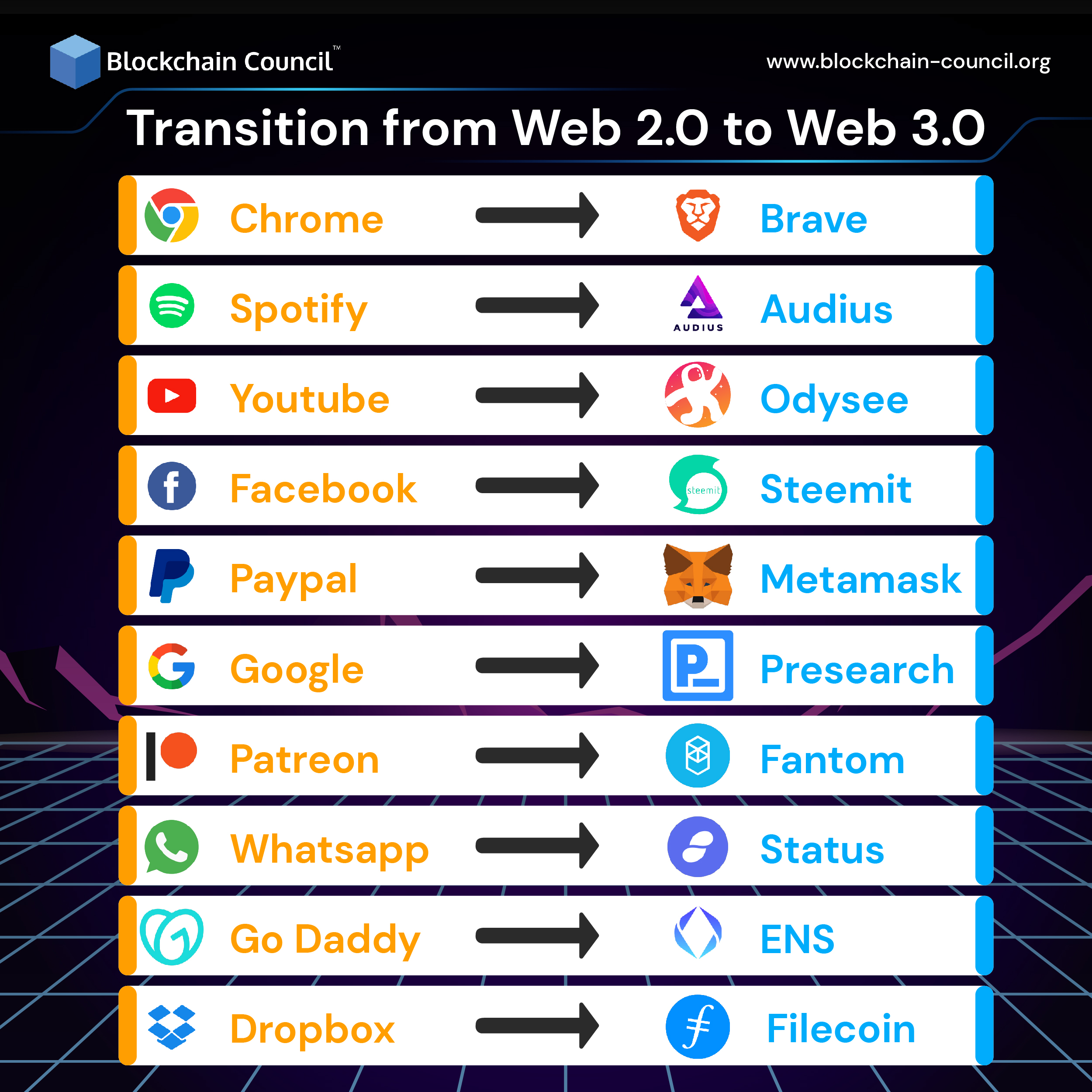 What exactly is Web 2.0?
Web 2.0 is the second generation of internet services aimed at making it easier for users to interact with web content. The increase of user-generated content, as well as end-user interoperability and usability, were boosted by Web 2.0. The second generation web isn't concerned with changing technological specifications. It, on the other hand, focuses on changing the look and feel of web sites as well as their usage criteria. Furthermore, web 2.0 encourages user involvement and participation in node-to-node transactions. As a result, the groundwork for e-commerce and social media platforms has been laid.
Web 2.0 characteristics
It's critical to grasp the differentiating features of web 2.0 in order to fully comprehend the differences between the two webs. As a result, below are some web 2.0 characteristics:
Users can filter information for free on Web 2.0, retrieving and categorising it collaboratively.

Dynamic content and robust user input response are key priorities for the second generation of internet services.

In Web 2.0, evaluation and online commenting are also important channels for information exchange between visitors and site administrators.

Web 2.0 enabled web content to be accessed via televisions, mobile devices, multimedia consoles, and almost any other internet-connected device.

Web 2.0 is also known as a participatory social web, which is the most important distinction. Users can now participate in the creation and sharing of responsive content, allowing for new forms of collaboration. As a result, web 2.0 is critical in promoting the formation of new virtual communities.
You can proceed with Web 2.0 vs Web 3.0 by outlining how to use Web 2.0, which has its own set of features. Furthermore, there are a plethora of online tools and portals that allow people to share their experiences, viewpoints, ideas, and opinions. Web 2.0 applications have proven a huge front-end revolution by providing more chances for end-user participation.
Users can find a variety of applications for various situations in web 2.0. To name a few, there's social media, blogging, web content voting, social bookmarking, podcasting, and tagging.
What exactly is Web 3.0?
With considerable infrastructure changes, Web 3.0 appears to be a critical breakthrough for Web 2.0. The semantic web, often known as the third generation of the web, makes use of an efficient metadata system. The metadata system assists in the organisation and structuring of all types of data in order for humans and machines to understand it. The distinction between Web 2.0 and Web 3.0 is the most significant benefit of Web 3.0. Web 3.0 does away with the necessity for centralised middlemen and introduces data homogeneity.
The Blockchain Council is a team of subject matter experts with extensive experience in Blockchain Technology. On a worldwide platform, we want to make Blockchain expertise freely available. We want to use blockchain technology to tackle all of the problems associated with a lack of content. We offer a variety of training sessions, webinars, and other services to give you a competitive advantage over your competitors.
Web 3.0 Characteristics
Enhance your understanding of "What is the difference between Web 2.0 and Web 3.0?" by focusing on the elements of Web 3.0. Here are some of Web 3.0's important features:
Web 3.0 makes use of artificial intelligence to deliver more accurate results faster while also allowing consumers to access real-time data.

Users may take use of 3D visualisations and graphics with Web 3.0.

Another essential component of Web 3.0 is the Semantic Web capabilities, which means it can aid in efficient word comprehension. As a result, both machines and people will be able to find, distribute, and evaluate data with ease in Web 3.0.

In addition, Web 3.0 improves privacy and security.

Web 3.0 also emphasises user data security and identity protection. To safeguard user identity and data, Web 3.0 employs advanced authorization techniques such as distributed ledger technology and encryption.
Web 2.0 and Web 3.0: Difference Disclosed
The detailed impressions of web 2.0 and web 3.0, as well as their features, clearly demonstrate the differences. Where Web 2.0 focuses on read-write operations, Web 3.0 places a greater emphasis on the semantic web. Take a look at the following comparison of web 2.0 and web 3.0 in terms of several aspects:
Definition: 
The definitions of web 2.0 and web 3.0 are one of the most important aspects to consider while digging into the differences between the two. The participatory social web, or web 2.0, is the second generation of online services that allow users to read and publish. 
On the other hand, web 3.0 is the third generation, which concentrates on the semantic web. Its prime focus is on improving communication and understanding between humans and bots on decentralized infrastructures. 
Underlying technology
The underlying technologies are another significant differentiating point in the comparison between web 2.0 and web 3.0. Web 2.0 has been instrumental in the creation of numerous new technologies. AJAX and JavaScript are two critical technologies that have fueled the expansion of web 2.0. In addition, the dominance of CSS3 and HTML5 among the technologies enabling web 2.00 may be seen. 
On the other end of the spectrum, you will discover web 3.0, which supports the adoption of cutting-edge technology. The primary technologies backing the foundation of web 3.0 includes semantic web, Artificial Intelligence (AI), and decentralized protocols. Knowledge bases and ontologies are two more prominent technologies that are driving the rise of web 3.0.
Emphasis
The central emphasis would undoubtedly attract attention to the following essential feature for recognizing differences between web 2.0 and web 3.0. The goal of web 2.0 was to allow people to engage with content on the internet. Web 3.0, on the other hand, encourages users to become active contributors to the internet's content. Web 3.0 aspires to link knowledge instead of web 2.0's goal of connecting people. The focus of web 2.0 mainly was on tagging and end-user experiences on a larger scale. Whereas the focus of web 3.0 was user empowerment by supporting enhanced security, privacy, and trust. You have web 2.0, which focuses on community growth, and web 3.0, which aims to empower individuals. 
Data Ownership
The ownership of data control is another significant factor in the distinctions between web 2.0 and web 3.0. In the context of web 2.0, the data is owned by the network. Web 3.0, on the other hand, implies an entity's ownership of data as well as the ability to share data across the network. 
Application types
Another essential point to consider while determining the differences between the two webs is the type of applications that are linked with each. Web applications can be found in the context of web 2.0. Web 2.0 applications include two-way web pages, video websites, podcasts, and personal blogs, to name a few. Whereas Web 3.0 enables the development of smart applications that can take advantage of machine learning and artificial intelligence capabilities. Multi-user virtual environments, 3D portals, and integrated games are all examples of web 3.0 applications. 
Characteristics
The characteristics are undoubtedly the ultimate highlight of the web 2.0 vs web 3.0 comparison. Web 2.0 improves interactivity while also introducing a diverse set of web apps. Furthermore, it is reliant on interactive advertising. On the other hand, Web 3.0 is built on behavioural marketing and includes intelligent web-based features and applications. In reality, web 3.0 is an excellent example of how web technology and knowledge representation can be integrated. 
Conclusion
In the comparison between web 2.0 and web 3.0, the clear observation of highlights demonstrates how web 3.0 offers more benefits than web 2.0. It illustrates a promising architecture that is required for human-machine interaction. The most significant aspect of web 3.0 is that it improves security, privacy, and trust. 
Many people refer to web 3.0 as the "decentralized web" because it will rely heavily on decentralized protocols. Web 2.0, on the other hand, is still the foundation for many of the web apps we use today.
Is it possible that web 3.0 will transform the popular programs you use today? Learn about web 3.0 and make your own conclusions.
You must enrol in blockchain courses and blockchain certification programs and cryptocurrency courses if you want to learn everything about blockchain and related technology and its use cases. 
If you want to enter the blockchain world, we have everything that you need – click here. Obtain certification in a variety of blockchain domains to gain entry to a prosperous world that will ensure your job chances. Don't forget to check out our special offers page for the best certification deals.