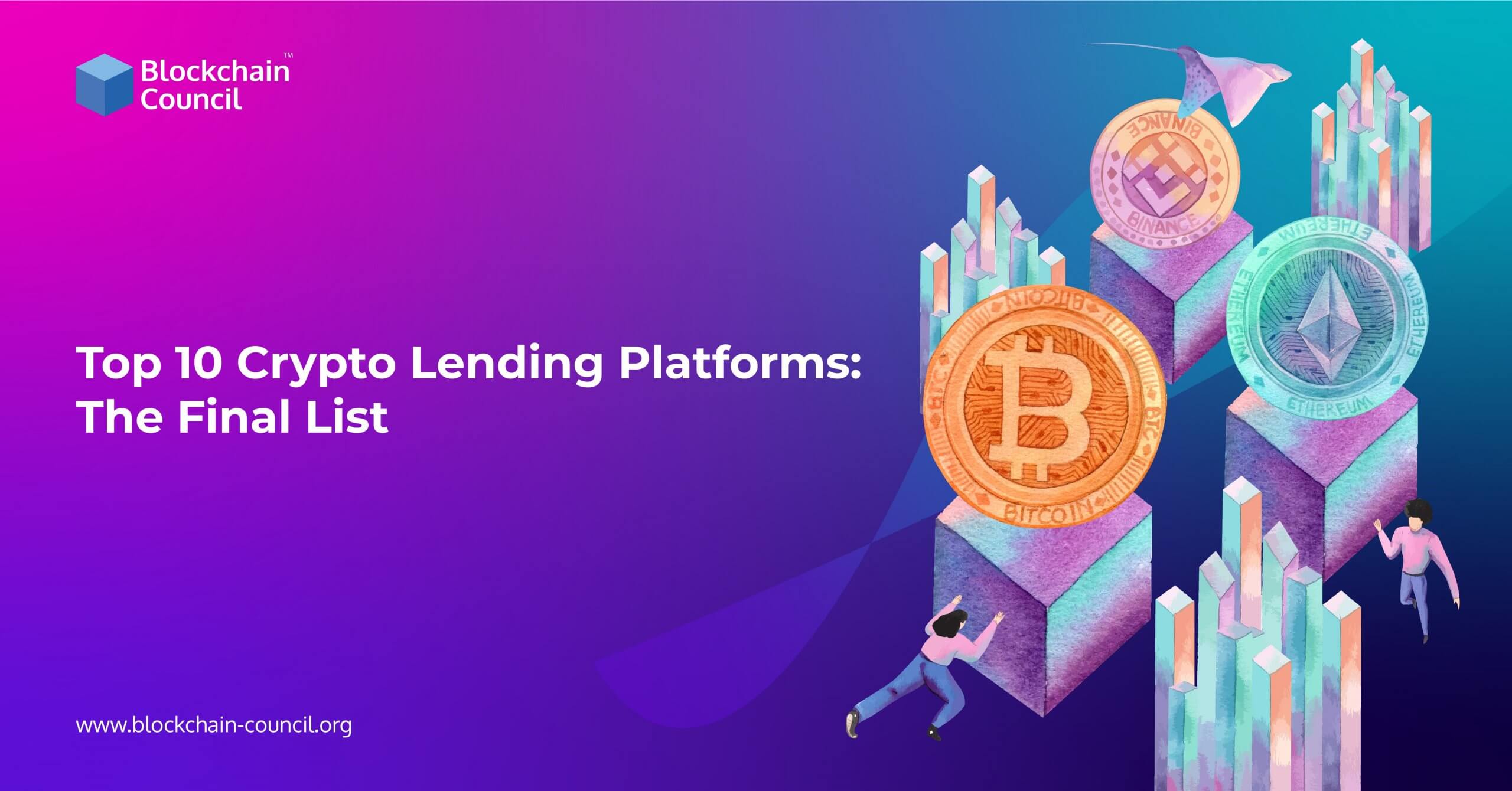 Cryptocurrency is the most popular part of SEO in the fintech world. Crypto has introduced fresh insights on financial services based on the power of blockchain technology. Surprisingly, crypto has recently achieved widespread appeal, resulting in the rapid development of a slew of new methods for extracting value from crypto assets. 

Crypto lending is clearly one of the most famous strategies for getting additional value from your crypto holdings in recent times. Therefore, it is critical to comprehend the worth of crypto lending efficiently as the quest for the most refined crypto lending platform becomes a top priority for crypto investors. Therefore, apart from a thorough understanding of the principles of crypto lending, it is essential to recognize the critical aspects that may help you choose the best crypto lending platform quickly. 
Here is a list of the finest crypto loan platforms with a brief explanation. You can also thoroughly understand the critical criteria to consider when choosing a cryptocurrency loan platform. Let's get started!!!
Is it Possible to Loan Cryptocurrency?
When you think of crypto, the first thing that springs to mind is 'holding.' Many people mistakenly believe that cryptocurrency ownership is akin to stock ownership. According to such beliefs, you should buy and retain your crypto until the asset's price rises significantly. However, many people tend towards the top crypto lending platforms they can discover for earning money on their crypto assets. 
With the significant surge in interest towards the DeFi movement, crypto financing has been more prevalent in recent times. However, before moving on to the top crypto lending platforms, let us first address the question, "What are crypto lending platforms?"
Cryptocurrency Lending
It is essential to comprehend crypto lending before moving on in your quest for the safest crypto lending platform. Crypto loaning is just a course of loaning crypto resources or government-issued money to borrowers at a reasonable financing cost. Crypto lending resembles the loan procedure in traditional banking systems in many aspects. 
The two most prominent aspects of the crypto lending procedure demonstrate the parallels with traditional banking. You have lenders with many cryptocurrencies and seek ways to make money passively. On the other hand, these borrowers are typically individuals who require loans secured by crypto assets they own. 
However, the cryptocurrency lending platform clearly distinguishes crypto lending from regular lending. Therefore, the lending platform is a critical component in crypto lending because it is the primary facilitator of loans. 
Crypto Lending Platforms: What are they, and How do they work?
As now you are aware of the crypto lending platforms, you must be able to distinguish different types of crypto lending platforms. For example, CeFi and DeFi are the two distinct platforms for lending cryptos. 
CeFi platform:

In most cases, Centralized Finance platforms or CeFi act as intermediaries in the crypto lending process. For the loan duration, a centralized cryptocurrency lending platform would take ownership of lenders' assets and borrowers' collateral. Furthermore, a centralized crypto lending side would necessitate a KYC process, removing anonymity. 
DeFi platform:

On the other hand, Decentralized Finance platforms or DeFi offer a decentralized method of crypto lending. DeFi platforms use smart contracts to carry out lending procedures. Most importantly, DeFi lending platforms might provide complete automation of the lending process as well as contract execution if the set conditions are met. 
How Does Crypto Lending Work?
When you are looking for a crypto lending platform, the best one can attract your eye right away. First, however, you should have a good understanding of how crypto loan platforms work to choose the appropriate option for your needs. Focusing on the role of various components is the best way to understand the working of a crypto platform. 
Lenders play an essential role in the crypto lending process as donors. They deposit their crypto assets for a set or variable term in order to earn passive income on them. 

Borrowers must use their crypto assets as security and take out loans against them rather than selling them. Borrowers must also pay interest on borrowed loans to recoup their collateral. 

The crypto lending platform acts as a regulatory framework for the lending and borrowing process. As you are already aware, the platform can be either centralized or decentralized. Matching orders, liquidity pools, or codes may be used to regulate the lending process, depending on the type of platform. 
How should crypto lending platforms be picked?
Here are some of the most important aspects to consider when choosing a crypto lending platform.
Rates of Interest:

The interest rate offered by a crypto loan platform is the most important thing to consider when choosing one. Choose a lending platform that will pay you a reasonable rate on your crypto assets. 
Operational Cost:

The expenses associated with different crypto assets on different platforms are paramount in determining the best crypto loan platform. 
Platform Threats

: Before deciding on a crypto loan platform, you must be well aware of the platform's threats. 
Term of the Loan:

When searching for the safest crypto lending platform, it is also vital to consider the loan period. Make sure the loan term is fixed or variable, and then decide based on your needs. 
Collateral Amount:

Another significant consideration when selecting a crypto loan platform is the collateral required to borrow a specific amount. 
Deposit requirements:

The deposit limit is the final consideration when selecting the best crypto loan platform for your needs. Check with the platform for any special restrictions for a minimum deposit amount. 
Top Crypto Lending Platforms
You might be eager to identify the most popular crypto lending platform after having a sketch of the foundations of crypto lending platforms. Here are some of the most popular crypto lending platforms available in the investment market. 
CoinRabbit
CoinRabbit provides so far the best cryptocurrency lending solutions in the market such as crypto-backed loans and cryptocurrency deposits.
For starters, CoinRabbit offers one of the best terms on the market, such as non-KYC, free withdrawals, and fixed 10% APY on all stablecoin deposits. What's more, the whole flow takes about 10-15 minutes, which makes it one of the easiest ways to use deposit and loan services. By the way, CoinRabbit makes it possible to earn interest on USDT TRC20 (which operates on the TRON blockchain), where the transaction fees are less than one USDT. For those who prefer the Ethereum network, USDT ERC20 is also an option for earning interest.
There are no restrictions: top up your savings amount, withdraw and open multiple deposits anytime without extra fees. You will start earning daily interest right after the transaction is completed.
For those who are worried about security, CoinRabbit has recently enabled 2FA authentication for emails. So don't hesitate and take a more profound look!
Celsius
When it comes to the most popular crypto loan platform, Celsius is undoubtedly the first name that comes into view. It allows you to make almost a 17% return on your cryptocurrency by lending it. In addition, it's worth noting that there are no fees associated with borrowing, moving, or lending coins on Celsius.
Additionally, holders of the CEL token, Celsius's native token, may receive a 25% bonus. Furthermore, Celsius allows you to use your cryptocurrency as collateral and borrow money at low rates. 
Binance
Binance is undoubtedly one of the top entries in a crypto lending platforms list, given that it is the world's largest crypto exchange. Binance has created its own ecosystem in addition to its well-known function as a prominent cryptocurrency exchange. 
The platform has launched its native coin, "BNB," intending to promote DeFi adoption worldwide. To put it another way, Binance is a one-stop solution for buying, selling, exchanging, and even trading crypto assets. In addition, Binance may now be used to receive a loan on your crypto assets. 
Compound
Compound, the most prominent crypto lending platform in the market right now, serves as a model for several emerging players. Many cryptocurrencies are listed on the protocol, and users can borrow or deposit the ones they want. The Compound also has its own native token, COMP, which might enable you to get better returns by lending your crypto to the platform to improve liquidity. 
The most intriguing feature of Compound is that it is currently the safest crypto lending platform available. Furthermore, Compound's live price feed enables easy and flexible tracking of prices on platforms based on available liquidity. 
CoinLoan
CoinLoan is yet another excellent example of the greatest cryptocurrency loan platform. It's a trustworthy crypto lending platform that works well with iOS and Android while also managing digital assets. On CoinLoan, you won't have to worry about fees for deposits or withdrawals. 
For example, CoinLoan gives you the chance to earn daily interest on your crypto assets. In addition, the biometric authentication employed in CoinLoan apps ensures that any crypto assets under your control are highly secure. 
Blockfi
In terms of features, the largest crypto loan platform is always tempting. Blockfi has some unique features for a crypto lending platform, such as an 8.5% annual percentage yield on various crypto assets. Most importantly, there are no minimum balance requirements or hidden fees on the platform.  
You can earn more simply by storing your crypto assets in a single location. Then, within a few simple steps, crypto holders can borrow funds from the site at a rate of 4.5% APR. Undoubtedly, Blockfi is the best crypto lending platform for people with varying experience levels in the field. 
Alchemix
In the DeFi field, Alchemix is another excellent example of a top crypto lending platform. It takes a one-of-a-kind approach to crypto financing that compromises making loans that can be repaid over time. Instead, users must put DAI into a smart contract to obtain a token. 
The token, also known as aIUSD, is a representation of the DAI deposit's future yield farming potential. Smart contracts channels deposited assets in a Yearn vault, which is in charge of DAI minting. The aIUSD debt of Alchemix customers lowers when the yield is harvested. As a result, the borrower's collateral on Alchemix might be used to repay the loan. 
AAVE
A list of top crypto lending platforms would be incomplete without mentioning AAVE. It is one of the most sought-after decentralized liquidity protocols. AAVE is a non-custodial system that allows all users to earn interest on their crypto holdings while also allowing them to borrow funds by staking their crypto assets. Furthermore, AAVE offers a variety of services in addition to lending and borrowing. For example, users may get a clear picture of interest rates as well as access to additional features like flash loans and bug bounty.  
YouHodler
YouHodler can assist consumers in obtaining crypto loans with a loan-to-value ratio of around 90% in any of the top 15 cryptocurrencies. In exchange for staking crypto as collateral, the platform offers quick payments. YouHodler also allows users to convert assets into various forms while also paying them interest for storing their cryptocurrency on the platform. 
MakerDAO
With its native token, DAI, MakerDAO is also one of the top entries as the most prominent crypto lending platform, with no limits on its use. On MakerDAO, users could deposit over 25 crypto assets as collateral in the vault. Then, you can borrow DAI against your platform contribution or get additional collateral to increase your risk. Simply connect your cryptocurrency wallet to MakerDAO, and you have got yourself a powerful crypto lending platform. 
MoneyToken 
MoneyToken would undoubtedly be the final entry as the most refined crypto loan platform. It can assist customers in efficiently managing their crypto assets and receiving crypto-backed loans. Users have the option of choosing loan conditions while also benefiting from decentralization. As a result, you will have entire ownership and control of the assets at risk. 
Conclusion
For various reasons, people who are new to the crypto realm will want to figure out "What are top crypto lending platforms?" However, it's crucial to remember that crypto lending isn't all that dissimilar from regular lending, though with some key differences. For example, in the loan process, crypto lending platforms provide complete freedom from banks and other entities. 
Even if crypto loan platforms are popular and offer attractive interest rates, it is crucial to examine all options thoroughly. You must review each crypto lending platform on this list and analyze the features that crypto lending platforms must-have. However, in case of a dilemma, you can always hire professional solutions at your service.
If you want to enter the blockchain world, we have everything that you need – click here. Obtain certification in a variety of blockchain domains to gain entry to a prosperous world that will ensure your job chances. Don't forget to check out our special offers page for the best certification deals.