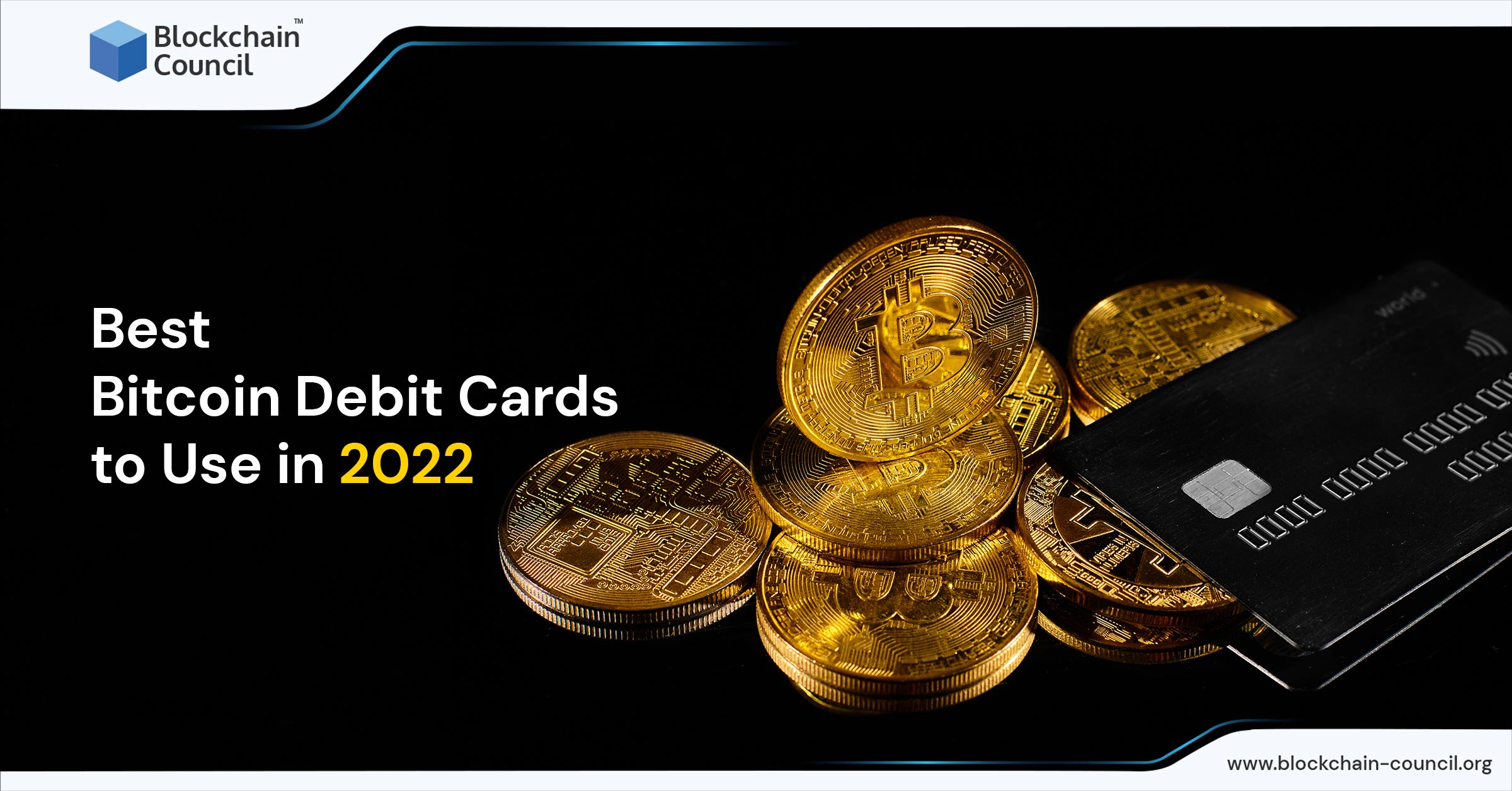 Crypto debit cards are garnering huge traction and surprisingly gaining global acceptance. Similar to ordinary debit cards, these let you swipe your card to withdraw money from your account. The only prime difference is that this card links with one of your cryptocurrency wallets rather than your bank account.

Despite being in the nascent stages, crypto debit cards are already trending in the market and there are already many crypto debit cards to take into account. However, the benefits, costs, and other attributes of these cards differ.
You can use your cryptocurrency to pay for commonplace goods and services with a crypto debit card. However, given that cryptocurrency legislation is somewhat ambiguous, there are several issues to be aware of. Selling cryptocurrency, even using it as money using a debit card, could result in a taxable event.
To be able to use the crypto debit card, cardholders are required to prefetch it with a fixed amount of cryptocurrency. During the time of the sale, it automatically gets converted rather than converting bitcoins into native currency.
Here are the top bitcoin debit cards we recommend using in 2022.
Coinbase
One of the most well-known exchanges for digital currencies worldwide, Coinbase, was founded in 2012. The users of the Coinbase Card are required to own a Coinbase account.
Holders of the Coinbase Card can use their cryptocurrencies wherever Visa is accepted. Including Bitcoin, Litecoin, and Ethereum, Coinbase debit cards can support up to eight different cryptocurrencies. You don't need to maintain a balance in fiat money because the card converts your choice cryptocurrency into your Coinbase wallet immediately whenever you need it.
It is claimed to be one of the top bitcoin debit cards due to its compatibility with several currencies, simplicity of currency conversion, and top-notch security. Cardholders can use their Coinbase card to make transactions either online or offline and to receive cash from any ATM that accepts Visa transactions.
Additional security and practical features available with Coinbase Card include a mobile wallet app, two-factor authentication, immediate card freezing, expenditure monitoring, and more.
Wirex
Founded in 2014, Wirex is a digital payment company that unveiled its bitcoin debit card backed by Visa in 2015. The Wirex card offers a 1% cost for funding cryptocurrency accounts and no issuance, monthly, or withdrawal fees. Apart from this, it rewards the cardholders with WXT.
Users can now earn at least 10% interest on BTC and ETH and up to 16% interest on fiat thanks to Wirex's new X-Accounts capability. A total of 150 traditional and fiat currencies, including roughly a dozen in Europe, a handful in Asia and the Pacific, and the US, are supported by the Wirex card.
The Wirex card is one of the few that provides cashback rewards of up to 8% cashback in bitcoin. There are no maintenance or reissue costs, and basic delivery is free. In addition, up to $400 in free ATM withdrawals each month are provided by Wirex Visa.
BlockCard
BlockCard, created by financial technology firm Ternio, enables users to make transactions using their preferred cryptocurrency wherever Visa is accepted. Its flat account maintenance fee and lack of any deposit, exchange, or withdrawal fees make it the best low-fee card.
BlockCard has some of the most affordable prices. For instance, a $10 activation fee and a $5 monthly administrative fee are levied by the corporation. However, if the cardholder makes more than $750 in non-cash purchases each month, the administrative fee is eliminated.
For domestic ATM cash withdrawals, BlockCard charges just $3 ($3.50 internationally), and there are no fees for deposits, exchanges, or withdrawals.
The TERN native Ternio token must be purchased (or "staked") using USD or cryptocurrency, which is converted to fiat money at the moment of purchase in order for cardholders to utilize BlockCard. More than 14 cryptocurrencies, including Stellar Lumen, Litecoin, Ethereum, and Bitcoin, are supported on the card. Additionally, BlockCard provides a cryptocurrency rebate of up to 6.38 percent.
BlockFi
In July 2021, BlockFi, a cryptocurrency asset management business, introduced the first Visa Bitcoin credit card.
This card offers one of the best cashback features, 1.5 percent cash back for each purchase in Bitcoin, along with extra Bitcoin benefits, as opposed to using cardholders' Bitcoin holdings as collateral.
The BlockFi credit card, like all credit cards, has a credit limit and can be used anywhere Visa is accepted. Additionally, every purchase made with the card earns 1.5 percent cash back, which is converted to bitcoin and sent into the cardholder's BlockFi account. After $30,000 in annual spending, this bonus rises to 2%.
Along with these generous advantages, BlockFi also provides $10 in Bitcoin for every client referral, and 0.25 percent of eligible trades are refunded in Bitcoin (up to a maximum of $500 per month).
Nuri
Founded in 2015 and solely accessible within the European Union, Nuri is one of the first cryptocurrency banking services that allows Europeans to purchase and trade cryptocurrencies using their bank account. The company's debit card is accepted everywhere Visa is accepted and has no issuance, monthly, or withdrawal fees.
Within two weeks of placing an order through the Nuri App, cards are delivered to the respective cardholders. Additionally, Nuri does not impose monthly, ATM, or withdrawal fees, however, some operators do.
Customers can purchase and sell Bitcoin and Ethereum using Nuri's bank account services through a bank account that offers common mobile banking capabilities. Any cryptocurrency purchases are instantly exchanged for euros in the Nuri account, where they can be purchased with a Visa debit card.
A mobile code, a security phrase, or biometrics can be used to confirm online payments with the Nuri Visa debit card's enhanced 3D security capabilities. Using the Nuri app, cardholders can also block their card in an emergency or report it stolen.
Crypto.com
Crypto.com is in the list of the best bitcoin debit cards of 2022 because it offers seven distinct metal Visa debit cards that allow users to spend more than 20 different fiat currencies and 80 different cryptocurrencies wherever a Visa card is accepted.
Cardholders must stake a certain number of Crypto.com's native CRO tokens in order to purchase each of the company's cards. Each card has a different cost that ranges from $0 to $400,000. The price of a CRO token was approximately $0.12 at the time of writing.
The most well-known and economical $400 Ruby Steel card from Crypto.com provides 1% cash back on all purchases, a 100% return on an annual Spotify membership, and no ATM withdrawal fees for up to $400 a month.
The other cards from Crypto.com provide rewards ranging from 0% to 5%, rebates on additional streaming services, and fee-free ATM withdrawals.
Cardholders can also choose Crypto.com's Midnight Blue card, which waives ATM fees for up to $200 in withdrawals each month if they don't want to spend $400 on a Visa card.
BitPay
The Bitcoin payment processor BitPay introduced a U.S.-only debit card in 2016, whereas many Bitcoin debit cards are only available in Europe.
Seven significant cryptocurrencies, including Bitcoin and Ethereum, as well as six distinct fiat currencies, are supported with the BitPay Card. In addition, the card can be used to make cash withdrawals from ATMs that accept Mastercard and the places where Mastercard Prepaid cards are accepted.
BitPay has made to this list because it supports a wide range of major currencies, has no exchange costs in the country, and has a high maximum account balance.
While BitPay does not charge transaction fees for purchases made within the United States, it does charge cardholders who are travelling outside of the country 3 percent to cover the cost of currency translation.
Additionally, using an ATM to get cash costs $2.50. Furthermore, Bitpay does not charge a conversion cost when loading the card, albeit network and miner fees could be charged.
However, for individuals who do not want or want a physical card, BitPay now offers a new virtual card alternative. It also supports Apple Pay.
Compared to other cryptocurrency cards, the BitPay card features larger transaction and balance restrictions. Cardholders are permitted to load or spend up to $10,000 daily, make three $2,000 ATM withdrawals daily, and maintain a maximum balance of $25,000.
Binance
One of the most significant cryptocurrency exchanges around the globe, Binance, provides a Visa debit card. The Binance Visa's potential to earn users up to 8% cashback on their purchases is perhaps its biggest draw. However, this prize is only redeemable for BNB, the native cryptocurrency of the exchange.
Although the cashback rate on the Binance Visa Card is the best so far, yet, there is a caveat. In order to earn their cashback benefit in Binance Coins (BNB), cardholders must have a balance of 600 BNB.
Twelve cryptocurrencies, including Bitcoin and Ethereum, are supported on the card. Even though this card does include transaction and withdrawal fees that can reach 0.9 percent, these are still quite reasonable for the sector.
Similar to Coinbase, Binance Visa Card saves cryptocurrencies in the users wallet and only converts the amount needed to make a purchase at that time. Anywhere Visa is accepted, the card can be used to make purchases both in-person and online.
Conclusion
In order to instantly convert Bitcoin and other cryptocurrencies to fiat at merchant locations and ATMs that accept Visa and MasterCard, crypto debit cards are advised for frequent users of cryptocurrencies.
As a result, you can use cryptocurrency to pay for goods and services even if the store or merchant does not accept it as payment. You can also use ATMs to get cash from them. One of the biggest benefits is that you can use these cards to collect rewards for each transaction you make. You may even obtain crypto loans through them.
The biggest cryptocurrency exchanges in the world, like Coinbase and Binance, already hold Visa debit cards. So it's easy to top up your account because you'll presumably do that from your cryptocurrency wallet. You will then have a fully functional debit card that enables you to withdraw money or exchange your digital assets for fiat currency. But given that there are hundreds of companies offering crypto debit cards, it's crucial that you do your research and comprehend the laws that apply to each company, especially regarding cryptocurrency security.
If you aspire to become a certified bitcoin expert, then you can browse Blockchain Council's website for the list of available certification programs. The courses offered by Blockchain Council are extensively designed and according to the industry standards. Additionally, these courses are inexpensive. You must sign up for a course that matches your needs.