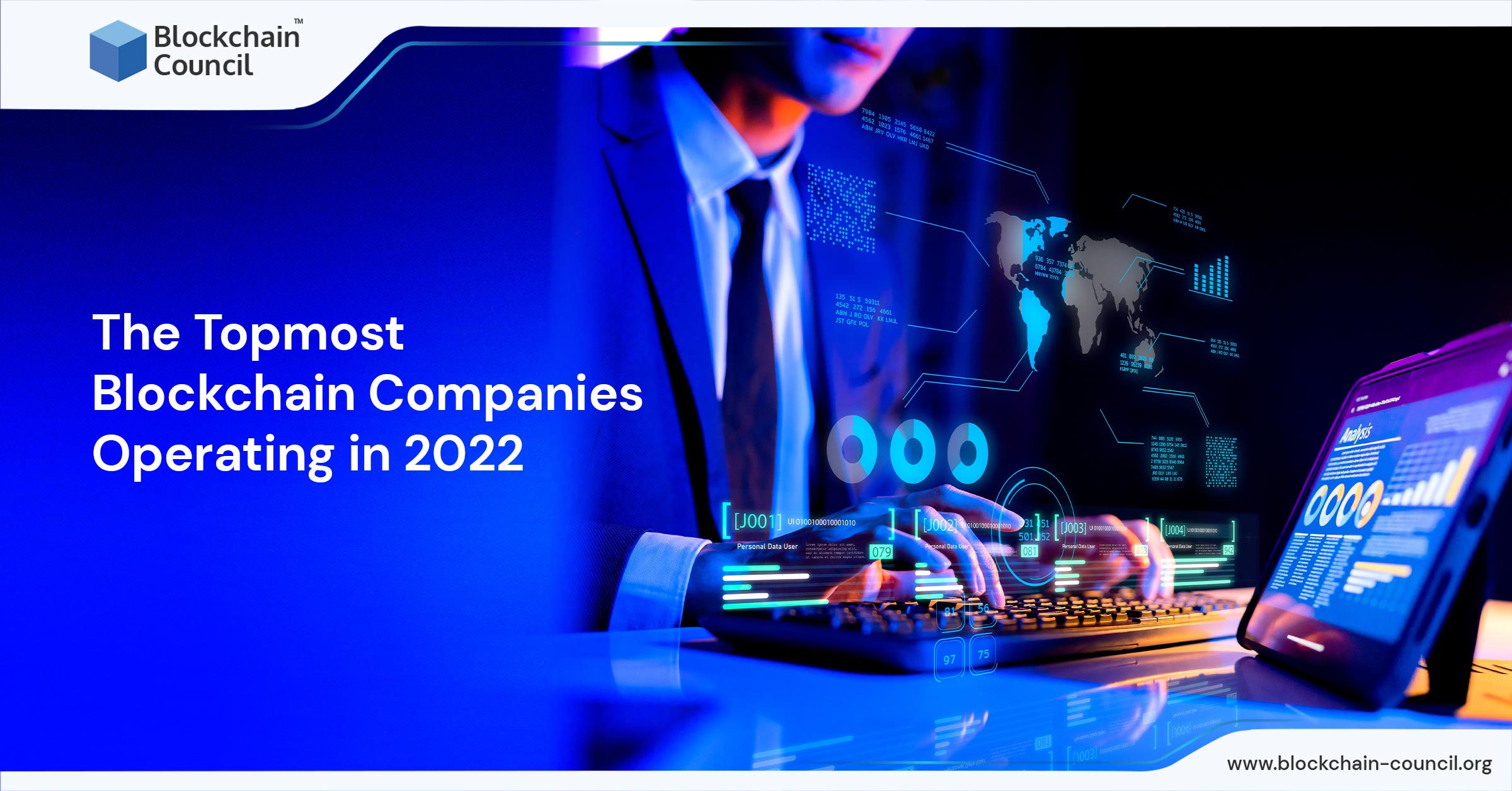 The exponential expansion of blockchain technology in 2021 is mostly attributed to an increase in institutional funding. Credit card firms partnered with blockchain businesses only last year to give Bitcoin incentives. Visa and BlockFi announced their partnership in January, and Mastercard and Gemini announced their partnership in April.
It would be great to know which blockchain firms to follow in 2022, given blockchain development and its potential for growth.

This article covers some of the topmost companies that have demonstrated a major value-add to the blockchain industry. Let's check out who these companies are:
Coinbase
One of the top cryptocurrency exchanges, Coinbase, offers transaction services and technology developed for the global crypto economy in addition to the financial infrastructure for the blockchain ecosystem. Along with co-founder Fred Ehrsam, a former trader for Goldman Sachs, Brian Armstron, a former Airbnb engineer, started the business in June 2012.
Though organizations can count on Coinbase for a greater spectrum of blockchain solutions, from securely taking crypto assets as payment to constructing crypto-based applications, users are able to invest, consume, store, acquire, and use cryptocurrency through the platform. Additionally, the exchange provides blockchain development services, enabling creators to create their own cryptocurrency products.
Binance
The top platform for digital currencies, Binance, was founded by Changpeng Zhao, a Chinese-Canadian entrepreneur in 2017. The business offers a platform for exchanging cryptocurrencies while maintaining security and liquidity.
As per trading volume data reports, the platform handled $490 billion in spot trading volumes in March 2022.
According to estimates, Binance today manages at least half of the market's assets, and its ecosystem includes services for wallets, blockchains, cryptocurrencies, and education.
Additionally, Binance is the creator of the Binance Coin token (BNB), which fuels the ecology of the exchange. The cryptocurrency can serve as the foundation for both network transactions and many other situations.
The company is backed by 13 investors, the most recent being Karnika Yashwant and Vertex Ventures Southeast Asia and India. It operates a parallel exchange called Binance US in the United States. The platform states that it has over 2500 employees as per the most recent data. Data aggregation company Growjo estimates that Binance generates $179 million in income yearly.
The fact that Coinbase was the first blockchain firm to ever list on the NASDAQ stock exchange underscores the significance of keeping a watch on the business in 2022.
Gemini
Established in 2014 by renowned Winklevoss twins, Gemini is one of the top cryptocurrency exchanges in the world. This exchange provides a large selection of cryptocurrency trading pairs on a reliable platform.
By offering a unique custodian service for its individual investors, Gemini tactically not only garnered the interest of other investors but also made a name in the market. On behalf of the investor, Gemini holds the investor's digital assets in trust.
Gemini is qualified to provide this service as a regulated New York State Trust firm with a license. This implies that they must adhere to banking regulations and security requirements. It's important to note that they provide insurance coverage of $200 million.
They earned a place on this list of the best blockchain companies because they were the first to offer custodial services.
Consensys
Joseph Lubin, a co-founder of Ethereum and the Ethereum Foundation, launched ConsenSys. It is responsible for offering Ethereum blockchain solutions. The business is renowned for implementing Ethereum enterprise network solutions for illustrious clientele, including governments, businesses, and non-profit organizations. These businesses can investigate blockchain-based models and secure their IT infrastructures with aid from ConsenSys.
ConsenSys also maintains a competitive edge by providing a wide range of digital solutions in addition to blockchain development expertise, such as Infura, Due diligence, PegaSys, and Codefi.
ConsenSys' comprehensive enterprise blockchain solutions are the best option for most businesses wishing to make use of cutting-edge technology and the Ethereum blockchain in a secure setting. ConsenSys is one of the top blockchain firms to watch in 2022 for all of the above reasons.
ChorusOne
Chorus One has made a name for itself as one of the most reliable and skilled staking and validator services in the blockchain industry.
They support an extensive number of proof-of-stake networks, which is worth highlighting. For a variety of proof-of-stake blockchain networks, Chorus One mainly provides users with validation and staking services. Recently, they've also begun creating several blockchain platforms to offer users-beneficial solutions.
They've also shown that users can operate a successful stakes business. Users currently have $1,659,144,530 worth of assets staked with Chorus One in their trust.
Steem
Founded in 2016 by Daniel Larimer and Ned Scott, Steem is a blockchain corporation that offers services to a broad spectrum of users. The users that avail the Steem services can be social media users, business owners and developers. The Steemit social media platform was the first product the firm developed using the Steemit blockchain. Users can earn rewards on Steemit by publishing high-quality material, receiving upvotes, and purchasing Steem-based currencies.
Steemit owns three native currencies, Steem Power (SP), Steem, and Steem Backed Dollars (SBD). With more than 200 people, the company has its headquarters in New York and the United States. According to the data aggregation tool Growjo estimates, Steem presently generates $24 million in income per year.
Hive
Canada's Vancouver is home to Hive Blockchain Technologies Ltd., which was established in 2013 by Olivier Roussy Newton.
It is a blockchain business that promotes using renewable energy to mine Bitcoin and Ethereum. Genesis Mining and Fiore Group have jointly funded the business in order to offer reliable blockchain solutions, advance the blockchain industry through conventional capital markets, and establish the top publicly traded blockchain infrastructure company. The business generated $33 billion in revenue in 2020, an increase of $9 billion annually.
Solana
An initiative using blockchain technology called Solana was started in 2017 by Greg Fitzgerald and Anatoly Yakovenko. In 2020, the SOL coin and Solana protocol were made available to the general public. The technology has earned a reputation for being quick and effective, allowing for the processing of countless transactions every second at an average cost of $0.00025.
This is made possible by the fact that Solana's Proof of History (PoH) algorithm, which is used to validate transactions, does not depend on the network's ability to solve challenging mathematical puzzles. As a result, blockchain developers can leverage this blockchain's fantastic features as an open-source blockchain, including the production, sale, and exchange of non-fungible tokens (NFTs), creating platforms for decentralized finance (DeFi) and decentralized applications (dApps) and creating Web3 games and other blockchain games.
Bit Mining
One of the biggest blockchain enterprises in the world is BIT Mining, a Hong Kong-based bitcoin mining business. Mining in the context of cryptocurrency refers to a group of miners that work together to successfully mine for bitcoin by pooling their computational power across a network. Mining companies have grown to be extremely valuable as a key component of the blockchain industry, and BIT Mining will be one of the top blockchain companies in 2022 as a result of its extensive business operations, which include cryptocurrency mining, pool operations, machine manufacturing, and data centre operations.
The business uses bitcoin mining equipment and hydroelectric bitcoin mines, both of which are used exclusively for bitcoin mining. Additionally, BIT Mining owns the domain name and wallet for the mining pool business run under the name BTC.com.
Chainalysis
A software business, Chainalysis, offers blockchain data analysis to both corporate and public sector companies. One of Chainanalysis's key offerings is blockchain-related compliance and investigative software, which helps businesses use decentralized technologies safely. Identifying and preventing illicit activity in the blockchain industry is a key component of its solutions.
As businesses use cryptocurrencies more frequently, the use of digital tokens is also coming under more scrutiny. As a result, businesses should seek to identify potentially complex problems and raise legal concerns.
Around 650 enterprises globally, including major banks, cryptocurrency exchanges, and payment processors, trust Chainalysis as one of the best blockchain platforms in the world.
Chainlink Labs
Chainlink Labs is the leading developer of secure and trustworthy open-source blockchain oracle solutions and enhances the functionality of smart contracts by integrating smart contracts with a variety of off-chain data sources and computations, including as asset prices, online APIs, IoT devices, payment systems, and more.
The business concentrates on creating and adopting Chainlink, which serves as the default decentralized oracle architecture for smart contracts on all blockchains. In addition, Chainlink wants to be known as the industry leader in creating, gaining access to, and marketing the oracle services required to power hybrid smart contracts on any blockchain.
Conclusion
The world's finest blockchain enterprises and what they can provide when it comes to employing this cutting-edge improvement are worth learning about as now people are aware of what the innovation is and what potential it may hold.
The blockchain sector is now significant and has given rise to numerous billion-dollar ventures. And thus, we present to you a compiled list of some of the topmost blockchain companies in 2022.
If you are a blockchain enthusiast and want to learn blockchain technology, then Blockchain Council's certification programs are for you. Blockchain Council offers some of the best blockchain certification courses at affordable prices. You need to search for the course that best meets your expectations and enrol into it.