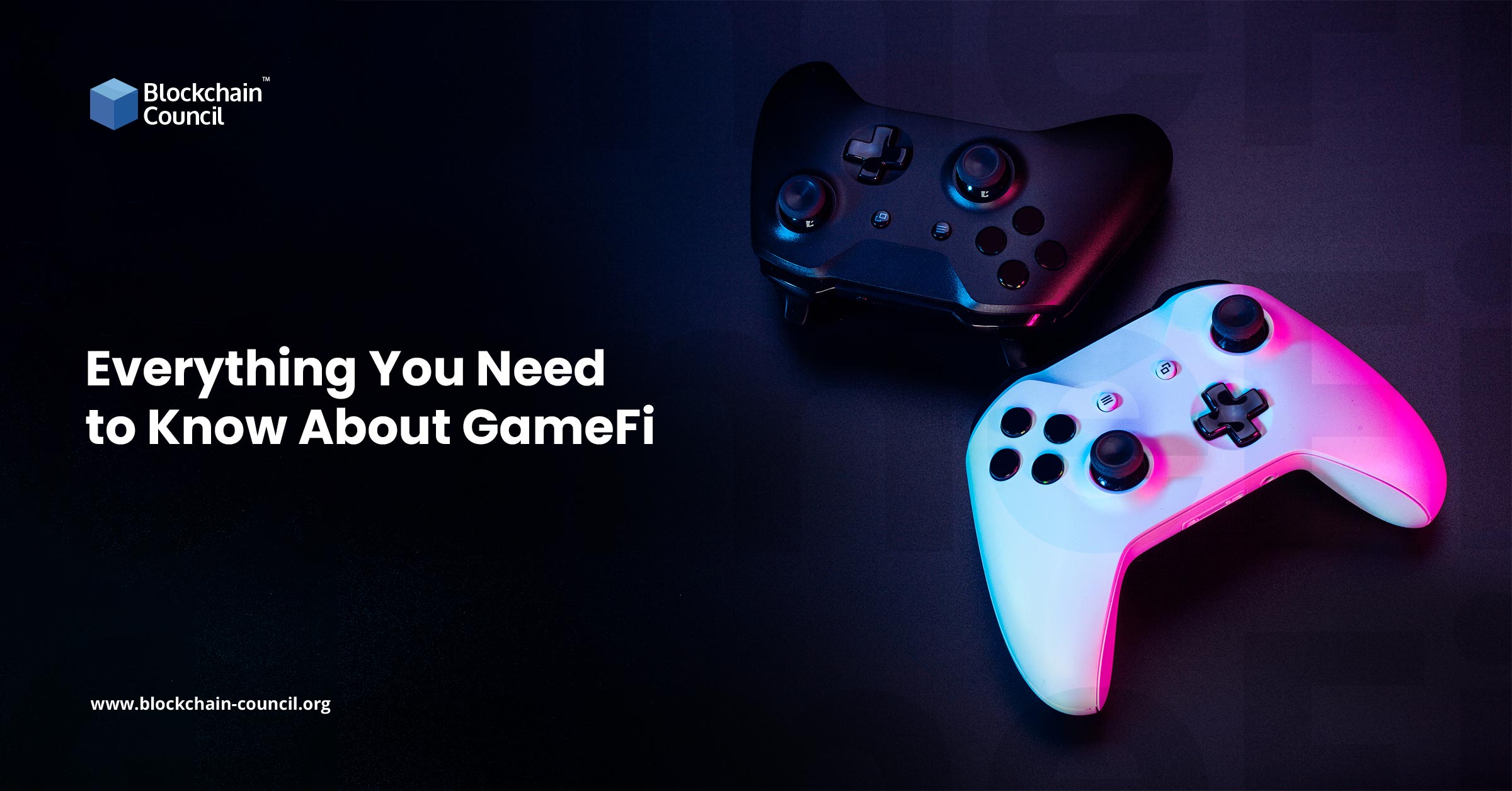 Are you someone who spends most of their time behind the computer screen with furrowed eyebrows, hands clutching the mouse firmly, and tone changing frequency with every competitor's move? You don't have to be a genius to infer that we are talking about an e-gaming enthusiast here. The craze for video games has always been on the skies ever since the development of new-age technologies that promise to open immersive gaming experiences for people irrespective of their age, sex, or interests.

As we ushered into the era of cryptocurrencies, the e-gaming sector within no time adapted itself to suit the changing paradigms and integrate virtual currencies and digital assets into its core infrastructure. Instead, technological innovation within the gaming sector paved the way for the entry of a new concept called 'GameFi' that left users with an enthralling gaming experience empowered with an opportunity to fill their wallets with lucrative rewards in the form of money and credits.
Just like a big box of pizza satiates all our cravings in a single go, GameFi does the same by fulfilling our hunger for games and earnings all at once. It links two of the fanciest concepts- Decentralized Finance and Blockchain Gaming- to lay the foundation of multitude immersive gaming. To understand GameFi, imagine a space that lets you fill your pockets by playing your favorite video games. The gamers do not earn the fake money used in a monopoly game but rather earn bucks that help you pay your mobile bills or your order during a date. Interestingly, these gaming assets stay with you in the form of ownership right on the particular blockchain platform. They can be easily purchased and traded in the real world, thereby brimming the line between virtual and reality.
This is the promise that GameFi offers to its customers, who bet upon it as one of the hottest and most profitable sectors within the Web3 ecosystem. So, without saying much, let's dive deeper into the world of GameFi and discover the potential that lies between its multiple interconnected layers. Let's start:
What do you mean by GameFi?
Ever since the surge in popularity of blockchain technology, experts have keenly experimented with the concept by using it across multiple industrial, economical, and technical realms. With decentralization at its core, blockchain offered access to a robust interface that ensured the highest levels of transparency, security, and reliability. Electronic gaming has been one of the most active supporters joining the blockchain bandwagon to revolutionize the working modules.
When it comes to GameFi, users enjoy the perks of Decentralized Finance (DeFi) and Decentralized Gaming simultaneously. The diverse range of elements nurturing GameFi includes cryptocurrencies, Non-Fungible Tokens, and the Play-to-Earn games. The combination of the two novel concepts manifests two realities:
DeFi portals providing access to game-style services.
Blockchain-empowered games incorporating elements of DeFi.
The infusion of DeFi tools in decentralized games helps unlock potential financial opportunities for gaming enthusiasts. On the other hand, DeFi ecosystems leveraging support for gaming solutions enhance the gaming experience for the players. Furthermore, decentralized gaming offers a plethora of fun opportunities for gamers to immerse in easily. This includes digital scoring, provable gaming, juicy rewards, avatars, real-time feedback, etc.
Talking about GameFi's popularity, the sector has successfully emerged as the trendiest segment of the gaming space, with fans ranging from young players to tech-savvy, fun-loving experts who enjoy this new era of earning money while playing video games. Presently, the market has various options involving lottery games, multiplayer online role-playing games, P2E games, etc. These games help users to fetch exciting in-game rewards as an accomplishment for defeating competitors, fulfilling tasks, and trailing through multiple gaming levels. In addition, the users earn cryptocurrencies and NFTs in GameFi, which are then easily used outside of the realm to trade on crypto exchanges and NFT marketplaces.
Interestingly, the GameFi industrial space is relatively new and still in the nascent stage of its development and innovation. The combination of games and finance helps players reap the benefits of the burgeoning decentralized economy. With GameFi, players unleash vivid digital incentives for users, allowing them to create a robust virtual gaming environment aimed toward the future of gaming. Various blockchain courses offered help players learn everything about GameFi concepts, NFTs, and in-game asset trading. One can use these platforms or the Internet to learn about GameFi.
How does GameFi Work?
GameFi is known for offering lucrative rewards to its players. These rewards can be in cryptocurrencies, Non-Fungible Tokens, or in-game assets like avatars, virtual lands in The Sandbox, weapons, costumes, etc. What makes each GameFi project unique from others is that every creator adopts an exclusive gaming infrastructure and economic setup for their venture. Generally, the gaming assets are NFTs that are easily tradeable on recognized blockchain-based NFT marketplaces. In some cases, these assets are exchanged into an NFT for trading purposes.
In a usual setup, the in-game assets come packed with various advantages for the players, one being juicy rewards. However, the digital avatars and weapons we find in some games are just visual gifts and have no role in increasing earnings.
The market presently offers access to various variants for GameFi lovers. The list includes platforms like Decentraland and The Sandbox that help users to own and trade virtual land spaces. Here, players can purchase digital real estate clusters, create them as per their choices, and then rent them out to others for money. In addition, some platforms allow users to boost their earnings without getting involved in games. The players can indulge in mining for liquidity or lend their in-game assets to others for rewards. Platforms like Decentraland work as DAOs or Decentralized Autonomous Organizations, where users get a fair chance to participate in the decision-making process. Let's understand some standard features of GameFi space:
Play-to-Earn (P2E) Model
Play-to-Earn gaming mode and GameFi projects are like two peas in a pod. They are inseparable, and P2E rests in the heart of the GameFi world. Earlier versions of video games such as 'God of War' used a Pay-to-Play structure where users had to make a pre-determined investment before starting the game. In this model, financial rewards are negligible. The in-game assets purchased by the players are controlled and owned by the gaming entities. The assets are lost when the player quits the game or when the company ceases them.
Play-to-Earn games enrich users with a perfect combination of gaming and earning simultaneously. Users get complete ownership of the in-game assets purchased by them alongside multiple opportunities to boost their earnings. Each GameFi project follows a specific structure of rewards and ownership. It depends on the player to understand the working system of the project.
An exciting feature of P2E games is that they allow players to indulge in the game and start earning without spending a penny. This is the usual way; however, some GameFi portals require users to purchase NFTs or cryptocurrencies before participating. Thus, acting prudently when interacting with a GameFi project is always advised.
Popular projects like Axie Infinity give users the best features of GameFi to interact and earn from. Launched in 2018, Axie works on Ethereum and uses NFTs for its core functioning. To earn SLP tokens, users need to pet digital characters called Axies that NFTs represent. The players need to perform daily activities and defeat other players to earn their rewards. The AXS and SLP tokens fuel the entire system and help to secure additional Axies too. These assets are used within the game or exchanged on the official NFT marketplace. The players can also lend their Axie assets to others for additional income. This type of income is called a scholarship.
Asset Ownership
In typical centralized games like Second Life, the players had access to controlled virtual items that the creators and not the users owned. These in-game assets had limited use as they couldn't be traded for things like fiat currencies in the real world. However, portals like The Sandbox provide asset ownership to players in the form of virtual lands.
GameFi is strongly popularizing the concept of a decentralized infrastructure where security, transparency, and safety are the top-mots priorities. The technology facilitates a system where users can trade value and earn rewards for the time and efforts they put in. The use of blockchain technology ensures complete ownership of assets for the purchasers. These assets are easily tradeable on NFT marketplaces. They can switch the tokens from one blockchain to another without changing the value of the assets they depict.
Decentralized Finance Use
Various GameFi ventures provide DeFi services like staking, liquidity mining, and yield farming. The in-game crypto assets or NFTs help players earn rewards, unlock exclusive items, and climb to new levels. In addition, GameFi helps players fill up their pockets through staking. Staking infuses DeFi and blockchain technology to offer unprecedented benefits to the holders. For example, users can store their in-game valuables in smart contracts for earning yield or stake them in gaming guilds for earning interest.
Gamers with fewer tokens can quickly join gaming guilds and lend tokens there. This is a good situation for both the player and the investor/lender. A popular platform for this is Yield Guild Games. Decentraland customers use their governance tokens MANA to vote in organizational decisions. As they increase the level of tokens for locking purposes, their voting capacity increases. This helps players connect with game developers and get involved in the development process.
How to play GameFi Games?
Register for a crypto wallet 
Having a cryptocurrency wallet is the foremost requirement for entering the GameFi space. Based on the game you are involved in, you might need to employ multiple wallets or interact with various blockchain channels. Wallets like Trust Wallet or MetaMask are quite popular amongst investors as they help users to store and exchange cryptocurrencies or NFTs easily. These crypto wallets are seamlessly accessible using a desktop or mobile phone. The players need to frame a secure password and the seed phrase for safeguarding the assets.
Connect the wallet to the GameFi project
To initiate the gameplay, the customers need to link their digital wallets to the blockchain game interface. Move to the official website of the gaming portal and select the option for linking the wallet. These games use the crypto wallet as a gaming account, unlike the traditional online games where users are required to set up a username and password for playing. In blockchain games, users need to sign a message on their wallets before connecting with the game.
Read Game Requirements
Players must understand the essentials of the game before starting their expedition. Many GameFi projects ask players to purchase a crypto token or NFTs before getting engrossed in the game. The players are requested to read the game requirements beforehand and then weigh the perks and limitations for getting the desired returns.
Future of GameFi 
GameFi, though sprawling in the decentralized industrial cluster, is still in its nascent growth stage. However, the word GameFi found its first mention in a speech delivered by the developers of blockchain game publishing firm, MixMarvel, during the Wuzhen World Blockchain Conference held in China. Since then, the concept has gained popularity amongst players and gaming entities.
In August 2021, Axie Infinity emerged as the first venture to sell tokens. Presently, GameFi has become one of the most popular fields of experimentation for tech-savvies. GameFi allows users to enjoy ownership of digital assets and virtual money when playing video games. With blockchain technology, GameFi is likely to unlock new opportunities for growth and earnings for players. The unmatched potential of GameFi and burgeoning craze amongst investors is likely to pave the way for a successful future where gaming and rewards will empower the community.
Conclusion
The combination of DeFi and blockchain gaming has ignited the popularity of a new phase of video gaming that is profitable for every person. Those willing to expand their earnings while enjoying games can utilize GameFi for this purpose. GameFi shines as one of the most exciting ways to indulge in entertainment and earn lucrative earnings from it. You can play games, stake coins, lend the assets, or exchange them for value- GameFi has everything sorted for you. The players, however, need to play their bets intelligently when entering the GameFi space as it can pool losses if handled ignorantly. The industry is set to expand exponentially shortly, so setting your baits now can be a stepping stone for your expedition in the GameFi world. Investors willing to learn more about crypto can enroll in the best blockchain certification courses offered by Blockchain Council. The courses help participants learn blockchain concepts through a simple, pocket-friendly, and efficient system.