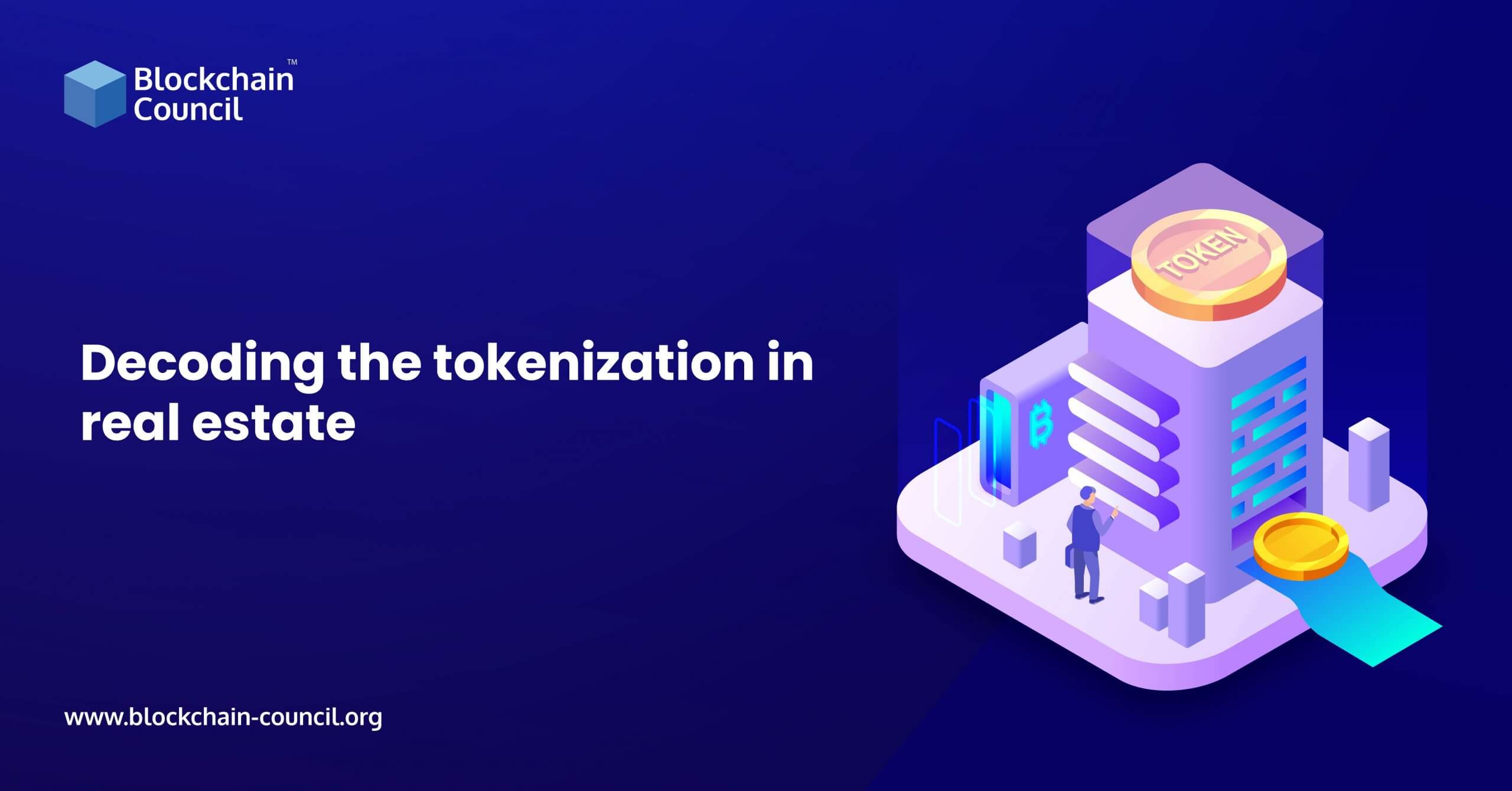 Real estate tokenization is a new concept collaborating blockchain technology and real estate investing. Tokenization enables asset or fund owners to generate funds more effectively and provides investors with unprecedented access to private real estate assets, transparency, and liquidity.

Enterprises frequently use encryption to safeguard data at rest. However, while encryption is an acceptable means of data protection, there are others, such as tokenization. 
In this post, we will be covering the concept of real estate tokenization, some of the top real estate projects in the crypto realm, and the benefits of tokenization in real estate. 
The Concept
Understanding Tokenization
Tokenization, a new term for crypto fundraise, allows investors to exchange crypto or fiat cash for "tokens." Precisely, tokenization is one of the methods of securing tangible assets. 
Thus, dividing the assets into shares and trading them with investors helps securitize the assets. Similarly, "tokenizing" an asset means dividing it into shares, or "tokens," representing a preset share of the underlying value. Therefore, they are frequently referred to as "security tokens."
 The stability of blockchain technology shields these tokens that can be traded on cryptocurrency exchanges or other trading systems (ATS).
Real Estate Tokenization
Real estate tokenization is a modern extension of traditional fractional real estate ownership. It is comparable to a crowdfunding method in that it distributes the value of a real estate investment into manageable segments to overcome the majority of the investment barriers. 
Each portion of the asset is turned into a token. Then, executing encryption of each of these tokens with all relevant details provides investor ownership based on their share percentage in the property. 
For example, imagine segregating a $100 million piece of real estate into 100 tokens worth a million dollars. The tokens can then be purchased at their determined value and traded on a secondary exchange.
In terms of investment volume, real estate is one of the world's major asset classes. However, the number of real estate investors does not equate to the startling $280 billion in assets. This is because the required capital is out of reach for small-scale investors. Second, real estate necessitates wasteful paperwork. Concerns are growing regarding the lack of transparency in dealing with assets. 
The establishment of REITs (Real Estate Investment Trusts) in the early 1960s was an attempt to attract investors and change the illiquid asset position of real estate. A single property was partitioned into several pieces, each held by various investors who pooled their finances, which can be considered a precursor for future tokenization.
Some of the ongoing real estate projects in the crypto realm
In the following section, we are introducing some of the top real estate projects happening in the crypto world:
ATLANT is one of the most recent blockchain-powered tokenized real estate marketplaces. In addition, they created Uvas.com, a secure and regulated digital securities exchange forum. This may assist the project in better understanding hazards and investment hurdles than most.
With the Redot digital asset exchange platform launch, ATLANT is laying the groundwork for the market's anticipated future.
Deploying the Ethereum blockchain platform, Imbrex, aims to provide owners complete control over proprietary details and the resulting leads. The initiative promises to be one of the forerunners of the real estate ecosystem's transformation. 
The removal of the intermediary was made feasible by the decentralization of the marketplace via blockchain development. Transactions, data, and ownership are now more secure than ever thanks to InterPlanetary File System (IPFS)-based information transmission.
Imbrex claims to be an excellent solution for investors looking to save money because the platform does not charge its consumers for its services. The only additional expense is the transaction fee charged by Ethereum. Imbrex has over 2,200 project listings locally and is making its way up to cover worldwide properties.
SYB Coin (SYBC) is a new digitized ecosystem project. The platform aspires to specialize in repurposing unused land into commercial and residential structures. SYBC tokens can then be used to invest in tokenized enterprises or acquire complete control.
On the SYB forum, the investors can exchange Bitcoin, USDT, and Ethereum for native tokens. Complete portfolios of available projects are uploaded to the Internet, where prospective investors can rent, lease, or buy assets. Intermediaries are eliminated to improve transparency and efficiency and implement smart contracts.
Etherland allows owners to upload photos, papers, and critical facts about their property and issue a one-of-a-kind NFT. These NFTS contain real-world real estate data. This enables the digitalization of property, which is subsequently tokenized and made available for purchase by platform users. As a result, the asset's liquidity improves by removing the intermediary, and investors' trust in their decisions improves.
Its native token, ELAND, is traded on Uniswap, Pancakeswap, and Bilaxy. A dedicated mobile application is used to create a property profile and a unique Land ID.
The various data connected with issued NFTs is one of Etherland's special attractions. Users can easily choose photographs as the asset's information, which saves time.
The various data connected with issued NFTs is one of Etherland's special attractions. Users can simply choose photos as the asset's information, making the trade secure and free of unnecessary restriction. In addition, the IPFS (InterPlanetary File System) is linked to the NFTs released with ELAND currencies.
Investors can use Etherland tokens to access the unique real estate wiki known as Etherland Estatepedia. This database contains all necessary information about the assets identified by their LAND IDs. 
The letter 'U' in United is an abbreviation for utility. The initiative plans to launch the world's first cryptocurrency metropolis in the future. UTED tokens might be applicable for various purposes, including grocery shopping and investing in tokenized real estate.
United has recently introduced the U-Cube platform, which promises to remove investment hurdles and expand crypto asset classes for UTED customers. In addition, crowdfunding on U-Cube boosts liquidity and makes ordinary investors more accessible.
The project just offered over 300 ready-to-move-in apartments on www.u-land.com. UTED tokens can be used to own easily and invest in these properties. Currently, United platforms only accept UTED and BTC token transactions. In the future, diversity will be able to tap into the full power of the unchangeable system.
Protocol for IHT Real Estate
IHT Real Estate Protocol evolved as a tokenized real estate investing platform to increase the asset's liquidity. The project's mission is to expand and diversify finance sources for dependable real estate investments worldwide. Its token is available on three different exchanges: HitBTC, Gate.io, and CoinW.
IHT is the merger of blockchain and global real estate to pursue a "digital credit society." Tokenization has the potential to disrupt the asset and lessen the gap between the owner and the user.
The asset party issuing the partition of the real estate issues an Asset Tokenize Offer (ATO). The break is noted in IHT's kernel ledger. IHT requires the developer to provide all necessary information about the asset, including its location, ownership, and other characteristics. Investors can use the split products presented on the IHT platform to subscribe to ATO shares based on their suitability. Because of the secure and rapid transactions, instant liquidity is possible.
IHT plans to tokenize $50 billion in assets, including tokenized lands from China, Europe, and Australia. As a result, investors can expect complete transparency and a shorter listing cycle with the digitization of real estate ownership.
Propy is an automated real estate platform whose primary goal is to improve convenience while retaining their clients' peace of mind as they process tokenized land that best meets their customers' needs.
Smart contracts serve as the foundation for the project's efficient and transparent operations. The project's customers include both retail and institutional investors.
PRO is Propy's native coin, which was constructed on the Ethereum platform. The organization thinks that the tokenization of real estate is unavoidable and offers the Crypto Real Estate Agent certification to teach new investors. Specific courses on smart contracts and blockchain are available. At the end of each certification, an exam is conducted to test knowledge.
The LABS group is a well-known name in real estate tokenization. The G.A.I.N.S. paradigm is used to create these utility tokens. The LABS group's goal is to make real estate investment accessible to all types of investors. Possession is available for as low as 100 USDT.
With LAB tokens, users can purchase ownership of a small island in Indonesia. The LABS group's most recent project is the Kunang Kunang Glamping Resort in the heart of Indonesia. The soft launch of this private, luxury resort is scheduled for the end of 2021.
The LABS groups' introduction of end-to-end crowdfunded initiatives makes the organization appealing to crypto users. Concerns about openness and communication amongst investors have been addressed through smart contracts. Because of blockchain technology, every part of real estate investment with the LABS Group is efficient and supported by the expert study. For each real estate investment made with the LABS group, investors receive NFTs.
Tokenization in Real Estate: Benefits
Tokenization is a REIT improvement that aims to eliminate most of the difficulties associated with this model by leveraging blockchain technology. For the time being, tokenization appears to be the only viable alternative for most investors. Some of the obvious motivations for real estate tokenization include:
Overcoming a liquidity shortage is one approach to increase the value of any asset. Tokenization can improve real estate liquidity by eliminating intermediaries and the heavy transactions that are typically faced.
With blockchain technology monitoring financial fronts, market mood, social environment, and operations, real estate's bankability improves significantly. The multidimensional technology used in the procedure makes future trend prediction more reliable. The investor's need for prior due diligence is practically eliminated, which would otherwise be time-consuming and costly.
The system's efficiency enhances due to processes like digitization, increased automation, smart contracts, and the absence of third-party engagement. There is no documentation needed, and the transaction takes no more than three days. In addition, there are no downtimes because crypto exchanges run 24 hours a day, seven days a week.
Tokenization broadens investor access, particularly for small-scale investors. Smaller fractions of larger properties are more inexpensive, opening up new ownership routes for the retail investor. Furthermore, tokenization via blockchain removes geographical constraints for investors.
The longer the chain, the weaker it is likely to be. Deploying smart contracts in tokenized real estate investments, cut out the middleman, allowing just peer-to-peer transactions to take place. This considerably reduces counter-party risk and enhances small-scale investors' confidence.
Conclusion
Tokenization adds much-needed liquidity and transparency to a previously opaque sector. In addition, the ability to trade shares in real assets in real-time could pique the interest of more investors and open the door to more ambitious and innovative real estate ventures. 
If you are still unsure about how blockchain technology works, then you can probably opt to learn blockchain and thus, clear your doubts. You can check out for some blockchain courses available online. Even more, blockchain council can serve as a one-shop stop for you!