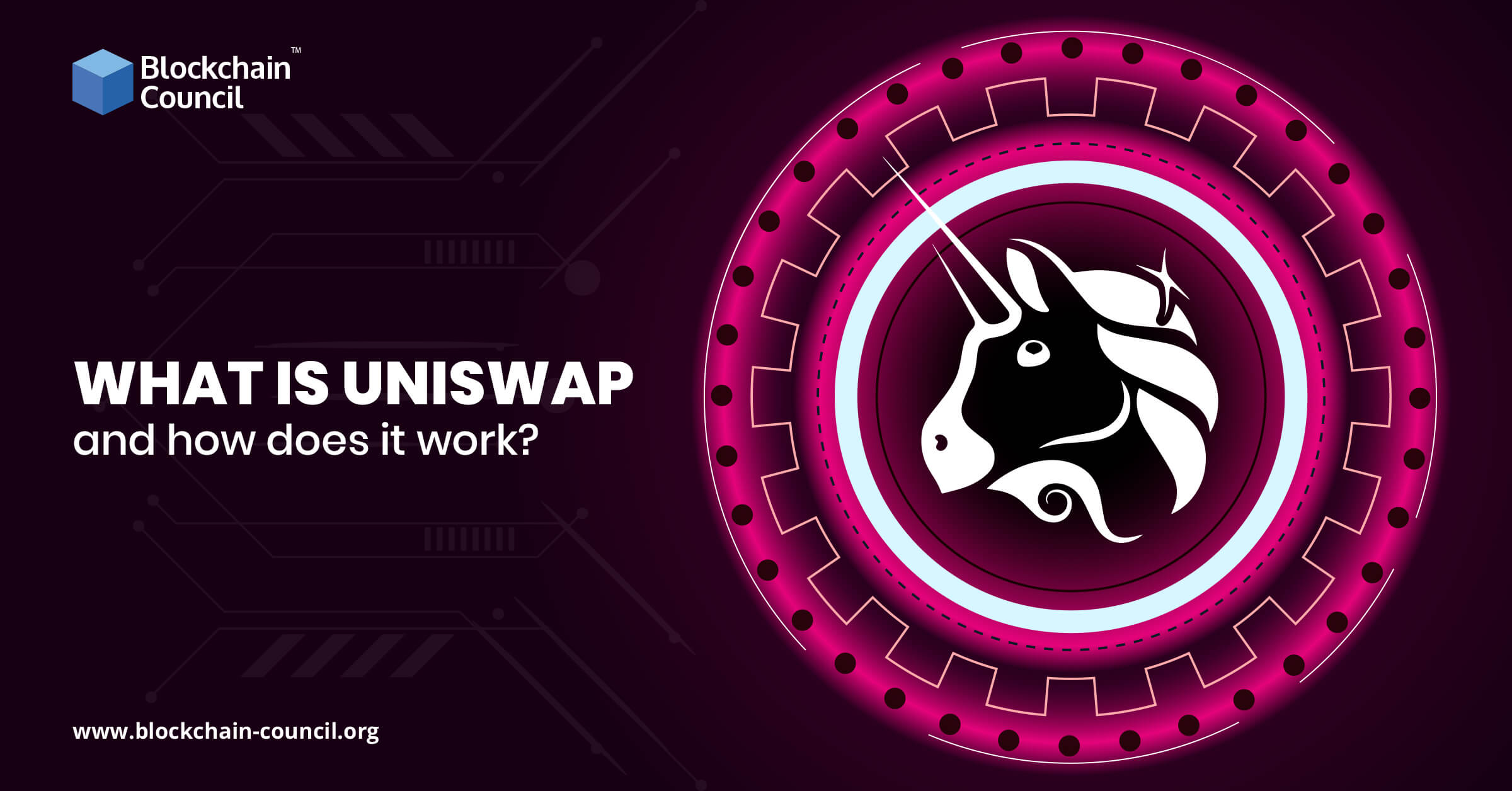 Uniswap is a kind of decentralized exchange or, in short, DEX that is on the ascent. The Uniswap platform has been in existence since 2018, working on the Ethereum blockchain. It is the second-biggest cryptocurrency program in terms of market capitalization globally, making it viable with all ERC-20 tokens and frameworks, for example, wallet services like MyEtherWallet and MetaMask.

In addition to that, the Uniswap platform has been a go-to domain for crypto asset enthusiasts, especially people with high interests in decentralized finance (DeFi). The platform offers up-to-date technology and solutions within the DeFi framework. 
Before we move ahead with understanding Uniswap in detail, we want to notify you not to forget to look into defi certification and relevant information about cryptocurrency education at the end of this article.
Table of Contents:
What is Uniswap?

How does Uniswap work?

Advantageous of Uniswap platform

What makes Uniswape special?

 

Closing Thoughts
What is Uniswap?
Uniswap is a program on the Ethereum blockchain for trading ERC20 tokens. In contrast to most exchanges, which are intended to take trading charges, Uniswap works for public welfare. It is a tool for members to exchange tokens easily without paying any platform charges or dealing with negotiators. 
Additionally, unlike most DEX platforms, which match purchasers and dealers to decide costs and execute exchanges, Uniswap utilizes an introductory numerical statement and supplies of ETH and tokens to do a similar task. To understand the concept better, you can apply for certification programs for Ethereum, learn cryptocurrency trading, and be updated with relevant news. 
How does Uniswap work?
Uniswap's fundamental difference from other DEX platforms is the utilization of Constant Product Market Maker Model" as an evaluating method.
Uniswap does not follow the conventional engineering of advanced trade and works without an order book. It uses Constant Product, Market Maker. This method is a variation of a prototype known as AMM or Automated Market Maker. 
AMM are smart contracts that maintain liquidity pools or reserves that dealers can exchange in trades. These pools are subsidized by LP (liquidity providers). 
A person who lends an analogous worth of two tokens in the pool is eligible to be a liquidity provider. Consequently, merchants pay some tax to the pool. This tax is then disseminated to liquidity providers depending on their share of the pool.
These tokens can either be two ERC-20 or One ERC-20 and one ETH token. These pools typically comprise stablecoins such as USDC, DAI, or USDT, yet this is not a rule. LPs can reclaim these liquidity tokens on the basis of their contribution to the pool.
Interested individuals can attend courses for cryptocurrency education, where they might take a smart contract course for extensive knowledge on this subject.
Advantages of Uniswap platform 
AMM procedures are permissionless, which implies there are no requirements to fulfill KYC criteria. You don't need to log in and expose your identity. There is no focal authority to hinder clients and hold onto their assets. Plus, there are no cyber attackers to steal your cash from the trade. 

Uniswap is also totally open source, implying that anybody can reproduce the code to make their decentralized trades. 

Whether you need to be a merchant or an LP on Uniswap, the only thing you need to maintain is an upheld Ethereum wallet. This can be a universal Metamask and a wallet address. 

The procedure to link a wallet to Uniswap is very simple and easy. You need to use these two options only: Launch the app and connect to the wallet. With uniswap, you get to have full guardianship of your assets.

Uniswap is likewise tremendously valuable to startup blockchain ventures that need to promptly deliver their tokens to the market and consider a more extensive potential customer base.

With Uniswap, there is no need to pay for token or coin listing tax. Users receive the convenience of eliminating difficult verification processes before listing a coin or token for exchanging. So it merits its popularity.
What makes Uniswap special? 
Uniswap DEX platform is a prominent and rapidly spreading decentralized crypto exchange. Uniswap has always been user-centric. It continuously improves its services to streamline all the trading processes on its platform to run smoothly. 
The platform is well known for creating 1 billion UNI tokens and distributing 150 million of those tokens to each member of its platform. Uniswap allowed each platform member to take advantage of this distribution regardless of their ex or current users. Reports say each member received 400 UNI tokens. The price for each UNI at the time was around 1k dollars. 
Compare Uniswap and PancakeSwap: The main difference between PancakeSwap and Uniswap is that the former operates on Binance Smart Chain, which offers significantly lower transaction costs compared to any other platform; whereas in turn- an increased amount of Ethereum transactions will lead also to higher fees due to its operation within this blockchain.
Closing Thoughts 
Things quickly evolve in the space of blockchain and cryptocurrency. The advancement of decentralized finance and decentralized exchange are the most useful ones. Not only does it profits investors and financial ventures, it likewise aids individuals with career offerings. One can ace in the blockchain domain by completing Defi certification or attending a robust smart contract course.
Get in-depth teaching on the concept of Ethereum, learn about cryptocurrency, and other vital skills at the BLOCKCHAIN COUNCIL.