Tamzidul Matin's case is a perfect example of hard work and perseverance paying off. He enrolled in the Certified Blockchain Expert course offered by the Blockchain Council. He says that he was one who had very little knowledge about blockchain before signing up for this course.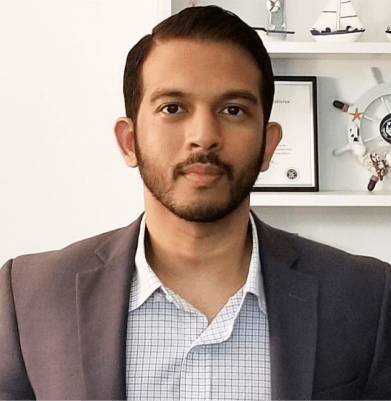 The main challenge he faced before joining this course is that he could not comprehend blockchain technology fully and most of it sounded like Greek and Latin to him. After his successful completion of the course, he gained a solid foundational understanding of blockchain technology and how it works. His passion to learn about disruptive technologies, in particular, blockchain, led him to gain the adequate skills and knowledge needed to make his mark in the blockchain sphere and stay ahead of his peers by gaining the perfect competitive advantage and becoming industry-ready.
His solid understanding of network fundamentals, subnetting, cabling, network protocols and in-depth knowledge of VPN, command-line interface, Ethernet, Fabric Path, and Frame Relay have aided in grasping the concepts taught in the Certified Blockchain Expert course. Learning concepts such as the different blockchain technologies, blockchain ecosystem, blockchain mining, consensus algorithms, blockchain attacks, private blockchain, blockchain architecture, smart contracts, and use cases of blockchains in areas such as supply chain, cybersecurity, healthcare record-keeping, digital marketing, land ownership, finance, and law have made a great difference to his career. Currently working as a senior system admin, he says that he soon hopes to hop on to the blockchain bandwagon by working in the field of blockchain technology and assisting enterprises on a global scale to build secure, robust, and scalable blockchain solutions.
Tamzidul Matin confidently states, "Thanks to the profound knowledge I gained about blockchain through the Certified Blockchain Expert course,  I will now be able to make a positive difference in the blockchain world." I look forward to work with the technology giants who are making a great difference to the technological world through the blockchain solutions they create for the smooth functioning of their business processes."
Tamzidul Matin is of the opinion that blockchain technology and cryptocurrencies have the potential to be the new standard for pretty much every aspect of a business and are soon making their way into people's lives and becoming part and parcel of everyone's daily activities.
In Tamzidul Matin's words, "I am a strong believer of the quote I am who I am today because of the choices I made yesterday. This was said by Eleanor Roosevelt, the first lady of the U.S. Enrolling in this certification has allowed me to gain immense confidence and realize my potential. Being a strong believer of luck, I consider myself really lucky to have come across this course as it has certainly helped me turn a new leaf in life."