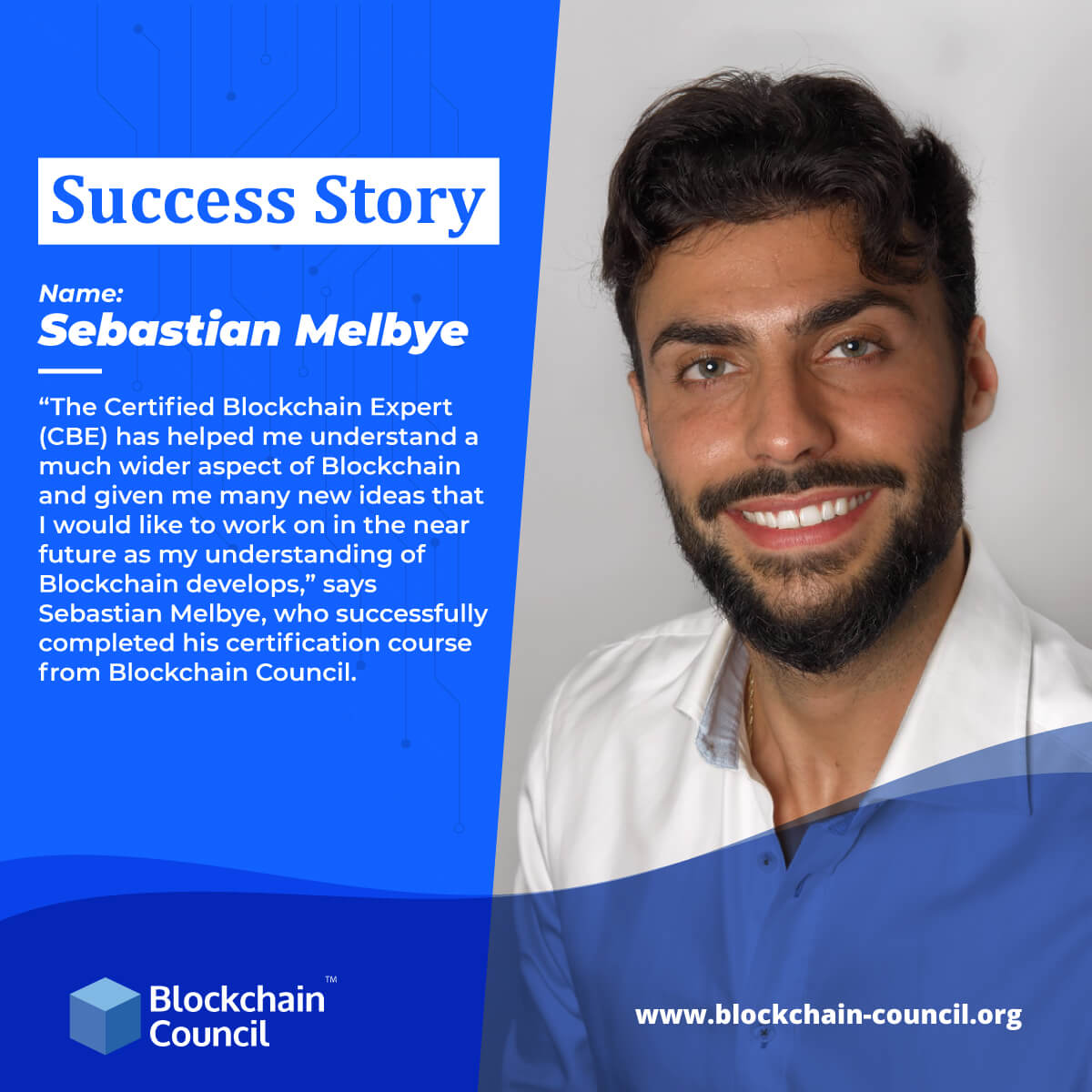 "The Certified Blockchain Expert (CBE) has helped me understand a much wider aspect of Blockchain and given me many new ideas that I would like to work on in the near future as my understanding of Blockchain develops," says Sebastian Melbye, who successfully completed his certification course from Blockchain Council.
Sebastian believes that Certified Blockchain Expert (CBE) Certification has motivated him to continue learning about this growing and beneficial technology.
Over the last four years, he has been working with Tesla in Oslo Area, Norway. Presently he is working as an advisor, EHS-representative, and the Administrator of the Working Environment Committee. He has also worked as a Service Support Specialist and Service Assistant at Tesla.
Talking about his educational qualification, he is completing his bachelor's in Applied Data Science from Noroff University. Being a technocrat, Sebastian holds various certifications, including Code In Place, introduction to Python – Stanford, Electrostatic discharge, ROV Introduction, Working Environment Course, to name a few, along with Certified Blockchain Expert.
Now that he has completed his certification course from Blockchain Council, when asked about her takeaways from the online training, he replied that "I found the part where Blockchain in the Food Industry and Real Estate will benefit the world quite fascinating, as it is amazing to see how much safer these sectors will become when adopting the Blockchain technology. Generally, the new payment systems without third parties taking large fees and direct transactions give me many creative ideas for the future."
Initially, Sebastian was struggling to fully understand how Blockchain works and how it can be implemented in different sectors. After going through the Certified Blockchain Expert certification, he feels more confident within the blockchain domain.
Overall, Sebastian seems satisfied and confident with the online Blockchain training as he mentions, "I truly enjoy innovation, and I have become highly interested in Blockchain Technology. I hope to develop myself and one day create something that will benefit the people of the world."