Misha Hanin is a CEO and Co-founder of DeepDrive.tech feels that "getting trained as a Certified Blockchain Architect, Certified Blockchain Expert and Certified Hyperledger Expert, from a prestigious platform like Blockchain Council has really helped me to enhance my overall knowledge in the blockchain space. "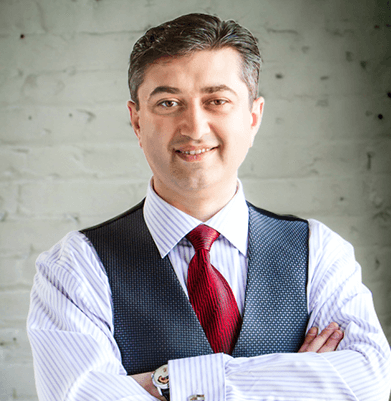 Currently, Misha is the Co-Founder and CEO of DeepDive and iRangers. DeepDive.Tech is a revolutionary Blockchain as a Service provider focused on developing the world's most secure Enterprise-grade blockchain platform, which leverages a robust, globally distributed, purpose-built, private eco-system. iRangers is an international business technology consulting firm that specializes in providing solutions in messaging and collaboration, network infrastructure, security, virtualization, and cloud computing from industry-leading vendors Microsoft, Citrix, Amazon, and VMware.
He is also working with Microsoft for around 13 years as a Public Speaker on Business and technology. He is also an Author, Publisher, and Owner at HighCounder-Cloud Enabled Architecture. Additionally, he is an experienced Advisor, Chief Technology Officer, Course Instructor, and more. Now that he has become a certified blockchain expert and a certified blockchain architect, he has gained an expert understanding and exposure of the blockchain domain.
With a Microsoft Certified Master from Microsoft Redmond, Washington, Hanin has always been inspired by technology and strives for excellence in every aspect of work.
"After the certification course by Blockchain Council, I have gained an in-depth understanding of Blockchain space and learned that learning never stops. These certification courses have helped me in an additional demonstration in the blockchain space," says Hanin.
Hanin has consistently upskilled his skills with the help of certification courses in his professional career journey. After blockchain certified by Blockchain Council, he is certified in Ethical Hacking, Guy Kawasaki on How to Rock Social Media, Netskope 101and AWS Certified Solutions Architect.
As he expertise in many domains, Hanin has successfully worked on various prestigious projects such as ABBC Foundation, BlockChain Transactions Analysis Software, Corix – Active Directory, and Exchange Consolidation, University of Calgary – Migration from several existing platforms, AD Analysis and Design –Winnipeg School Division, Active Directory Consolidation for the Canadian Cadet Organizations Wide Area Network (CCO Net) ad many others.
He feels pleased with the certification course he took from Blockchain Council as he says, "I am already a CEO of DeepDive.Tech, which consists of world renown, industry experts in Enterprise Information Technology, Security, and Blockchain development, the certification course acquired by Blockchain Council, has provided an additional demonstration in the blockchain space".