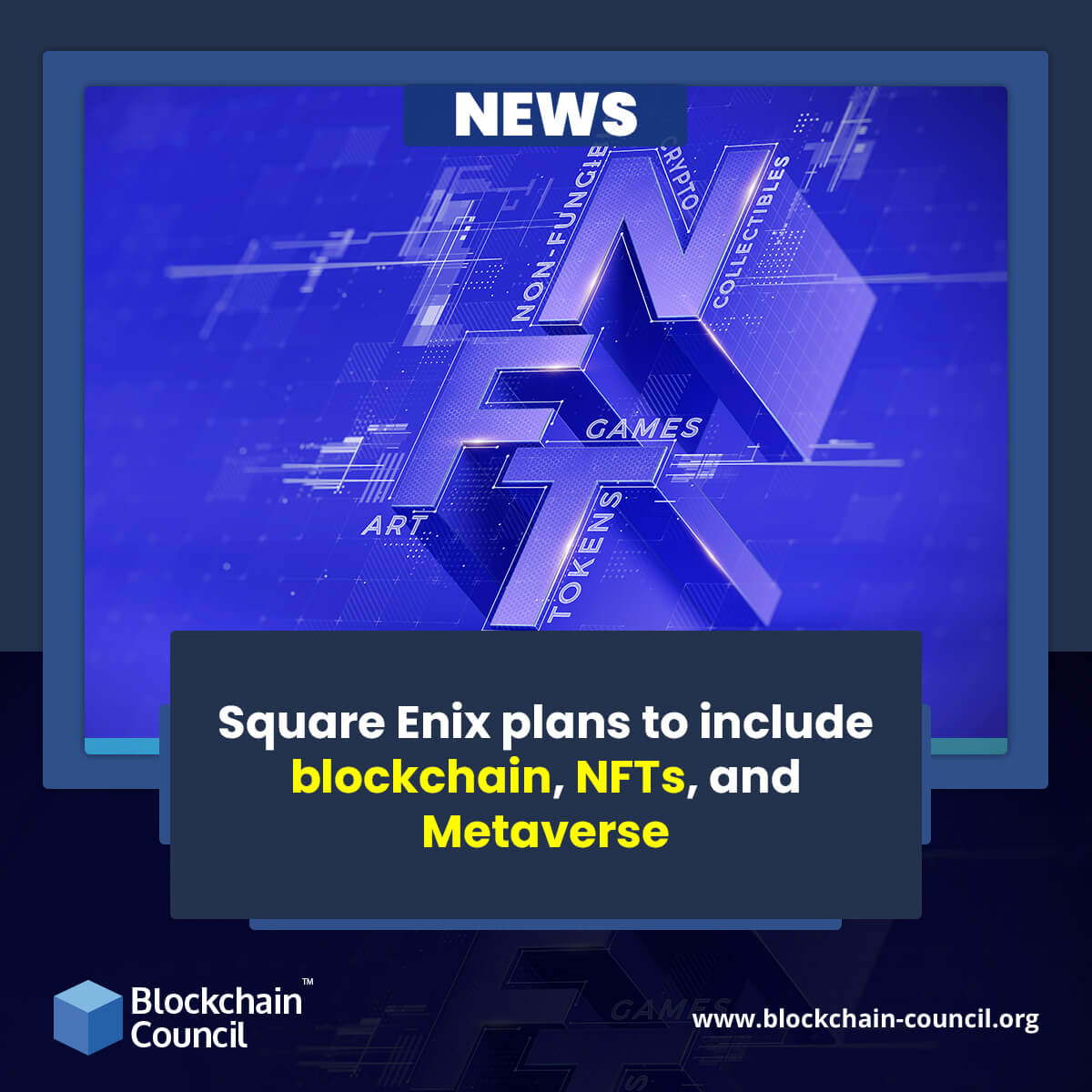 Hailing as one of the world's top-tier gaming firms, Square Enix is all set to explore the potential of new-age technologies to further its growth plans. In a New Year's message, Square Enix's CEO, Yosuke Matsuda reflected the firm's keen interest in venturing into blockchain technology, Metaverse, and Non-Fungible Tokens. The spearhead started his letter highlighting the huge potential stored in the fast-developing Metaverse industry and supported his thoughts by mentioning Facebook transforming into Meta to enter the space.

The unforeseen occurrence of the COVID-19 pandemic opened the doors for the wider adoption of blockchain and related technologies. As the movement was restricted, people resorted to more digitalized, easily accessible, and profitable financial tools and services. While blockchain technology has been in the sector for over a decade, NFTs and Metaverse have gained popularity only recently. The market for digital collectibles or NFTs has grown significantly with renowned personalities and business firms entering into the field to reap benefits. Metaverse became the hot topic when Facebook changed its name to Meta to highlight its interest in the virtual space.
Talking to the community, Yosuke stated that he feels that 2022 will witness immense growth in Metaverse technology. He believes that the users will start exploring virtual spaces as a means to link individuals across the globe. The use of reality technology, cloud computing, and 5G will support the expansion of Metaverse. The chief is confident that these technological changes will provide a substantial positive impact on the firm.
The letter gave equal importance to Non-Fungible Tokens as well as play-to-earn projects. According to Yosuke 2021 was the 'year one' for NFTs and Metaverse. He added that throughout the year investors got involved in wild trading that did not sync well with the market changes. There has been a constant surge in blockchain technology across the gaming sector. Square Enix invested in the Metaverse by participating in a $2M funding event for The Sandbox. The letter by the spearhead confirmed that the firm is likely to double the investment in such technologies. The Sandbox is a popular Ethereum-supported metaverse gaming portal that allows users to enjoy an immersive, real-like digital gaming experience clubbed with juicy earnings.
The statements made by Yosuke indicate a reaffirmation of Ubisoft's plans to explore and expand the NFT and blockchain ecosystem. The CEO of video game firm, Electronics Arts, Andrew Wilson called NFTs and play-to-earn solutions the future of gaming. The industry is growing exponentially and is likely to earn several milestones to its credit in the near future with constant support from investors.