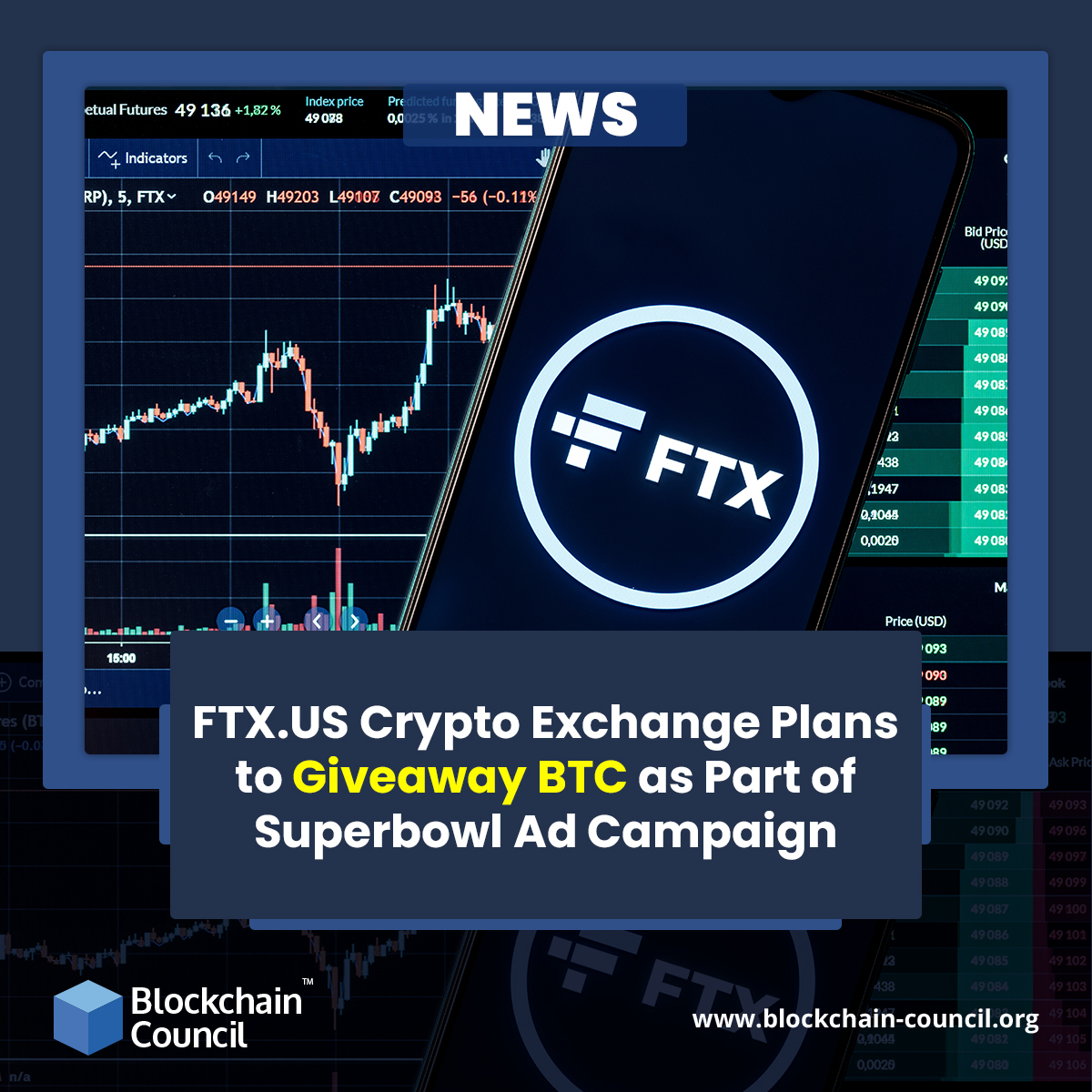 While the global crypto industry continues to grow and expand, firms are coming up with new ideas involving crypto to attract customers. In a recent development, leading cryptocurrency exchange FTX.US has announced an exciting giveaway event for traders as part of its advertising campaign scheduled for February 13, 2022, Super Bowl LVI. The exchange has decided to give an undisclosed amount of free Bitcoin tokens during the upcoming event to crypto fans.

As per the report, the amount of Bitcoin to be given away by the exchange shall entirely depend on the time when the advertisement will be displayed on the East Coast. For instance, if the ad runs at 8:50 PM, the Bahama-based exchange will provide 8.50 BTC tokens worth $374,000 to the winners. However, if the campaign is displayed at 11 PM, the giveaway prize will increase to 11 BTC tokens fetching an amount of $484,000 for the investors. The airtime slot for the advertisement is planned during the second half of the game that will start at 8 PM EST or 1:00 AM UTC, February 14, after the conclusion of the one-and-a-half hour-long first half of the game.
We're giving some #bitcoin away!

How much? $1 million worth?! $1.5 million worth?!!?! We don't actually know yet.

The later our Big Game ad airs, the more #bitcoin you can win. See you Sunday! #FTXcontest

No purchase necessary. Subject to T&C: https://t.co/L7o8Jz25TT pic.twitter.com/mfA0q2FIFG

— FTX – Built By Traders, For Traders (@FTX_Official) February 7, 2022
For enhanced outreach, the exchange will allow interested users to participate in the event without an account. The prize will be divided between four participants who will be then required to open FTX.US accounts for claiming the offering. The winners shall be contacted through Twitter direct message after the successful conclusion of the event. Any person who follows the firm's Twitter account and then retweets the pinned tweet of the commercial campaign between the time the advertisement runs and 11:59 PM EST shall be eligible to win the contest.  
The forthcoming Superbowl advertisement campaign is a strategic move by the FTX CEO and Founder Sam Bankman-Fried. The spearhead trusts that the sports sector is the fastest-growing customer community for crypto expansion. The platform purchased the Superbowl ad time slot in October 2021 to attract more customers. The Superbowl has a huge cluster of 92 million viewers. In June, the exchange collaborated with Superbowl champion Tom Brady and his Brazilian supermodel wife Gisele Bündchen. FTX became the official sponsor of Major League Baseball too. The firm named the Miami Heat's home stadium as the FTX Arena until 2040 and gave every viewer in one part of the Arena, $500 in crypto at the Miami Heat season opener game event.