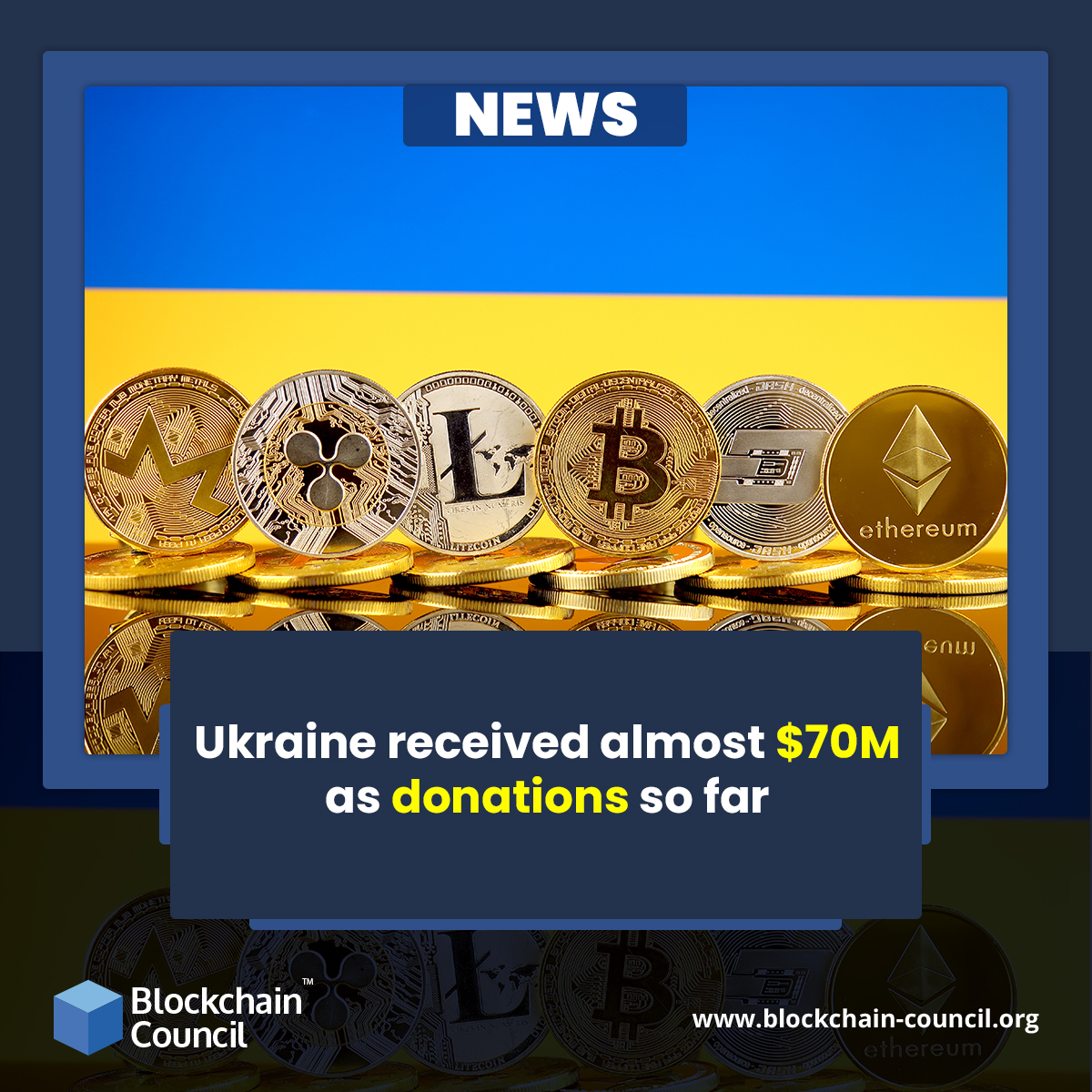 Ever since cryptocurrencies gained a mainstream status in the global space, there has been a rise in its use-case spread across multiple realms that are not limited only to payment and finance. Accepting donations and making charities in crypto tokens has become the latest trend amongst individuals, non-profit firms, and charitable organizations. The unprecedented power of cryptocurrencies is being recently witnessed amid the ongoing tussle between Russia and Ukraine that has profusely affected every country in the world.

As conditions continued to worsen in Ukraine, the government opened doors for financial assistance in the form of donations and charities. Funds flow to Ukraine in volumes as people from around the globe contributed to the relief operations in some or another way. The President of Ukraine turned towards crypto and announced the acceptance of donations in virtual currencies. Interestingly, in a short span of time, the country managed to receive a whopping $70 million in donations through cryptocurrencies. The funds are used by the government in financing military operations and providing relief to the people living in the most affected conflict zones of the country.
With crypto payments, Ukraine has paved way for one of its strongest financial avenues amid the aggravating war conditions. The volume of crypto donations grew significantly high as industry giants like Binance and Polkadot joined the league. Polkadot founder Gavin Wood pledged to donate nearly $6M to Ukraine while Binance vowed to give $10M to the country. Recently, Binance's charitable leg Binance Charity announced to provide $2.5M in crypto to UNICEF for supporting its operations for Ukrainian kids and families hampered by the worsening conditions in the country.
The funds received as donations are wired to the official crypto wallet of the government of Ukraine or virtual wallet addresses managed by NGOs, volunteer groups, etc. The reports from different portals revealed that in a week's span, the small country fetched donations worth tens of millions to sustain its fight against Russia. The official wallet address of Ukraine's government managed to collect over $38.6M in donations from the world. NGO firms like Come Back Alive and the UkraineDAO have received a whopping amount of donations.
Investors who are looking for a good certification course to sharpen their skills in crypto and blockchain technology can move to the Blockchain Council website. The platform has a wide range of courses to choose from at affordable rates and in-depth knowledge.