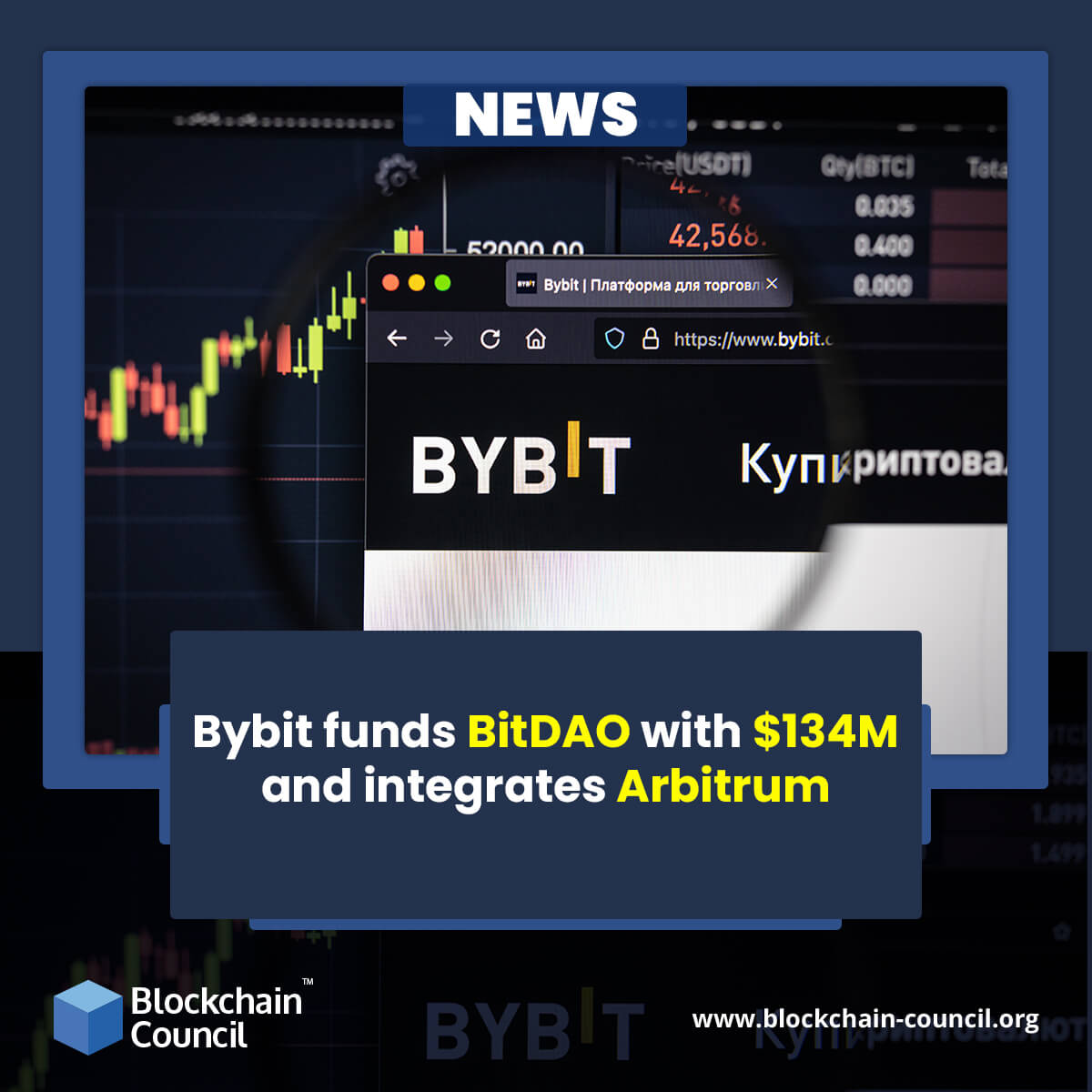 Working as a top-tier exchange platform devoted to crypto derivatives, Bybit has announced to contribute a whopping amount of $134 million to the BitDAO Treasury. The funds are contributed to the Treasury in the form of market-leading crypto tokens namely Ether (ETH), Tether (USDT), and USD Coin (USDC). In addition to this, Bybit has successfully facilitated the integration of the popular Ethereum layer-2 solution, Arbitrum, to its ecosystem to strengthen its core operability standards for users.

According to the report, Bybit's investment in the BitDAO Treasury shows its confidence in the platform's potential in supporting the DeFi cluster. Presently, BitDAO holds the status of one of the biggest decentralized treasury portals in the sector. The group recently provides financial assistance of $200M to zkDAO to support its development plans on zkSync and eventually enhance scalability for the Ethereum channel. With this contribution, Bybit has joined the list of prominent names backing the project like Founders Fund, Pantera, Dragonfly, Spartan, and Peter Thiel. BitDAO is one of the largest decentralized autonomous organizations (DAO) in the world. The group strives to create an open finance cluster fueled by a decentralized and tokenized economy. It is not an entity rather is a protocol governed by BIT token holders who are people willing to support the growing decentralized channel. 
Bybit is proud to support https://t.co/GPkvYHJvAq. We have made a ~$134M contribution (in $ETH, $USDT and $USDC) to the @BitDAO_Official treasury, equivalent to 2.5bps of futures trading vol. between Nov. 1 and Dec. 31.

We pledge recurring contributions.

— BYBIT 🦍 (@Bybit_Official) January 27, 2022
The integration of Bybit with Arbitrum will allow the investors to enjoy seamless deposition and withdrawal of ETH, USDC, and USDT tokens within the Arbitrum ecosystem. The users will get a plethora of crucial advantages including reduced gas charges in comparison to that on the Ethereum mainnet, speedy throughput, and reduced latency supported by Arbitrum's rollups. The co-founder and CEO of Bybit, Ben Zhou revealed that Arbitrum's powerful decentralized, developer-friendly, and diverse infrastructure will help Bybit in providing innovative products and services to the industry.
The layer-2 solution was created to reduce the activity load on the Ethereum mainnet so as to offer enhanced scalability to the investors. The current total value locked on Arbitrum is $1.54 billion in value. The Bybit platform recently launched its native NFT marketspace where users can trade the digital collectibles using their Bybit accounts without linking their personal wallets for trading. The NFT market has grown significantly in 2021 with firms unveiling new innovative products to attract customers. The NFT marketplace launched by Bybit will help the users to indulge in a safe trading experience across the sector.