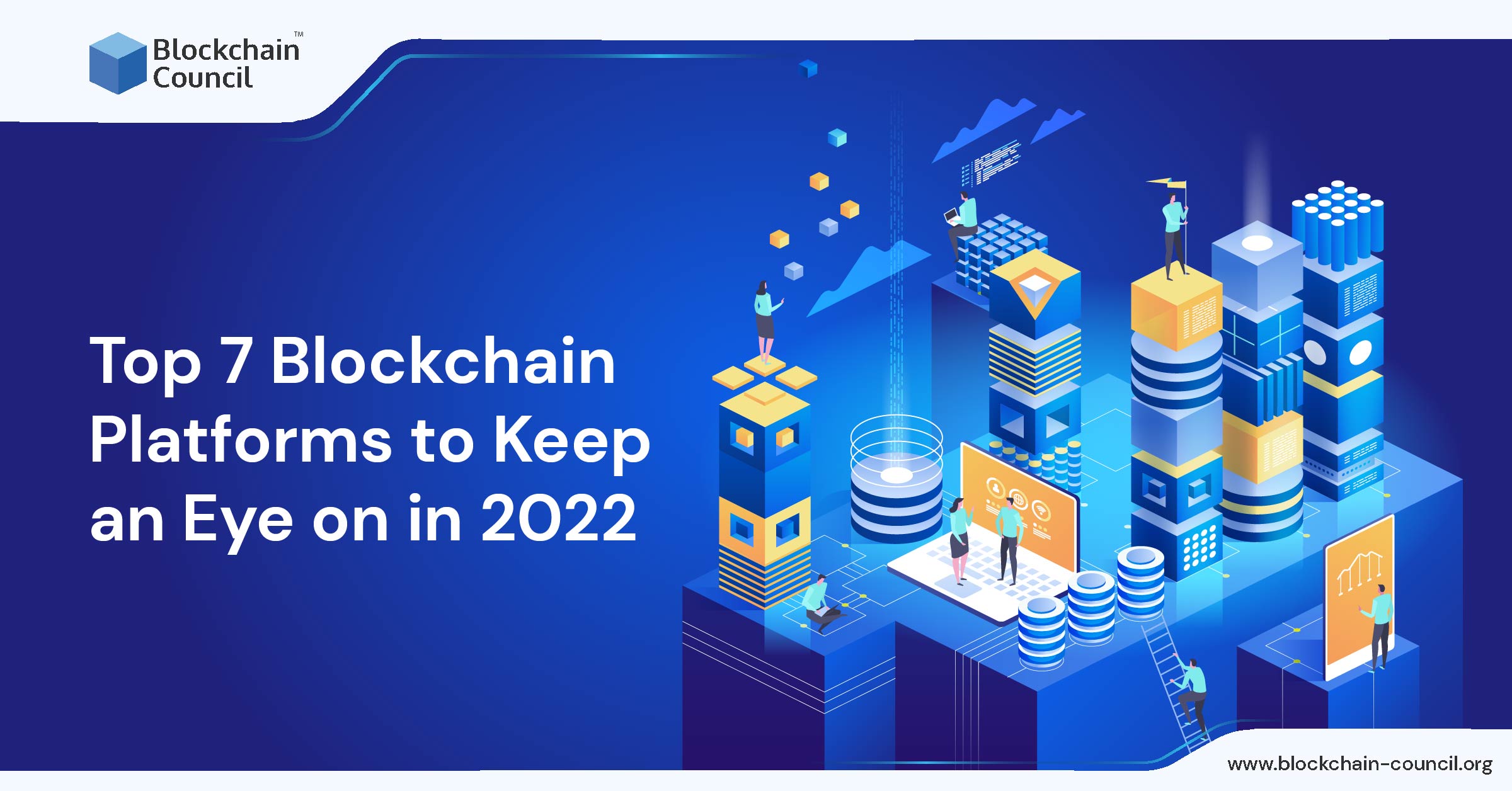 Between 2020 and 2025, the global blockchain market is expected to experience an astounding growth rate of 67.3%, rising from $3 billion to $39.7 billion in just about half a decade.

There's a growing demand for reliable and high-quality blockchain platforms for various applications.
Since the introduction of Bitcoin in 2009, blockchain has become one of the most mainstream technologies. Today, it's used for various applications across multiple industries. 
In recent years, blockchain technology has been used for:
Improving the traceability and transparency of digital transactions
Monitoring logistics and streamlining supply chains
Simplifying international trade
Management of digital identity and assets
Secure sharing of medical data
In 2022, high-quality blockchain platforms can be used for various purposes beyond cryptocurrencies and decentralized payments. 
Various industries now use blockchain to increase the transparency and reliability of their operations, while also saving time and money. 
From smart contracts to decentralized apps, blockchain has so far revolutionized various industries, including finance, healthcare, gaming, and logistics. 
In this article, we will learn about the best blockchain platforms currently available and their unique features and benefits.
Top Blockchain Platforms to Consider in 2022
When choosing a Blockchain platform for your business or project, you should keep in mind certain important factors like: 
Scalability of the platform
The adoption rate of the platform
Availability of supporting developer tools 
To make the task easier for you, we've compiled a list of the blockchain platforms that perform well on all these metrics and more. These are as follows: 
This decentralized blockchain platform is designed to enable the saving and transfer of money in the form of digital assets. 
In other words, you can use Stellar to generate, send, and trade digital representations of various currencies, both crypto and fiat. Some of the currencies that this platform supports include bitcoin, dollars, pesos, ether, and many more. 
On Stellar, you can easily and safely buy bitcoin with Apple pay, Google Pay, credit cards, online wallets, or any of the other payment methods that you use in your day-to-day life. 
Stellar allows businesses to create fast and secure fintech applications. So, it's often used by banks and other financial institutions to provide safe, seamless, and transparent financial services to customers. It can also be used to create digital tokens and assets for various applications. 
Being a decentralized and open-source network, Stellar has no central authority or owner that governs its operations. All the tokens and digital assets that it creates can be freely accessed by the public. 
Stellar can process millions of transactions a day. You can use it for various purposes, such as:
Trading peer-to-peer tokens
Creating your own digital tokens or assets
Transforming fiat currency to crypto (or vice versa) when sending
Stellar perform these transactions through a process of consensus, which is facilitated by multiple nodes. It only takes the platform 3-5 seconds to reach a consensus, which is why transactions can be processed and completed within a few seconds. Stellar also has a native cryptocurrency called Lumen. 
This is a private, efficient, decentralized, and transparent blockchain platform that has been particularly popular among relatively risk-averse enterprise clients. This platform offers a full-stack, managed blockchain-as-a-service solution and can link seamlessly into enterprise cloud and legacy technologies.
The IBM Blockchain platform offers excellent flexibility, allowing users to combine various blockchain components in a way that's best suited to their needs. You can also use this platform to develop your own blockchain network. 
Some of the significant benefits of the IBM Blockchain platform are that it's:
The functional and user-friendly interface helps simplify critical tasks such as testing and deploying smart contracts and setting up blockchain apps. 
If you want to build on a proven blockchain platform with a wide range of use cases, that has already seen great success across multiple industries, then IBM Blockchain is your best bet.
This platform offers a set of tools to help build and deploy various types of blockchain applications. You should consider using the Hyperledger Fabric platform in closed blockchain deployments for the highest speed and security.
It was built primarily for enterprise distributed ledger uses, which just means that the details of each transaction are recorded simultaneously in multiple locations. 
As distributed ledgers don't have a central data store, they're more secure and almost impossible to hack, not having any single point of failure. 
As a result, Hyperledger Fabric comes with an efficient permission access design, which helps maximize performance and privacy when using this platform. 
In practice, the permission access design allows users to restrict the visibility and flow of information to specific individuals, such as a particular department within a company. 
This also allows the platform to reduce the number of network nodes, thus increasing the speed of transactions. 
In summary, Hyperledger Fabric combines enterprise-level security and privacy with state-of-the-art blockchain capabilities. 
Currently hosted by the Linux Foundation, it aims to boost workplace productivity and data security. 
Ethereum was launched in 2013 and had, since then, become one of the most popular and well-established blockchain platforms. It provides users with certain essential advantages, such as:
Support for smart contracts
One drawback of Ethereum is its relatively slow processing time. 
However, experts believe that this will be remedied once it migrates fully from the current Proof of Work (PoW) consensus to a Proof of Stake (PoS) one, which will also make it more environmentally friendly by reducing the energy usage by over 95%.
Ethereum also offers excellent performance and scalability, allowing businesses to scale up to hundreds of transactions per second with Proof of Authority consensus. 
The KYT in this blockchain platform stands for "Know Your Transaction", which is a process by which users can gather information about the transactions made by a business or entity. 
It helps assess the legality of the transactions and ensure that no financial crimes have been committed. 
Key features of this blockchain platform include:
Cutting-edge blockchain intelligence
Using this platform allows businesses to reduce and streamline manual workflows, interact safely with Decentralized Finance (DeFi) and other emerging technologies, and stay compliant with local, national, and international regulations. 
This platform offers some of the best data across multiple industries. Chainalysis KYT maps over a hundred million addresses to real-world entities, offering services such as decentralized exchanges, bridges, NFT platforms, and ransomware. 
The platform constantly monitors all cryptocurrency transactions across various digital assets, in order to detect patterns of high-risk activity and prevent potentially risky transactions. 
R3 Corda makes use of a novel consensus mechanism to cryptographically link transactions without periodically batching multiple transactions into blocks. 
This approach ensures better performance in comparison to other types of blockchain, since all transactions are processed as soon as they happen in real-time.
Various financial businesses and organizations make use of this blockchain platform to create highly secure smart contracts or track financial transactions. It has been used by companies like Microsoft, Bank of America, Intel, and HSBC. 
Additionally, the platform has recently launched the blockchain-enabled Corda Payments, which helps build distributed payment capabilities directly into apps. 
Some features of this platform are as follows:
Secure transactions and excellent data privacy
R3 Corda is widely used for the processing of insurance-related transactions, and may soon become the de facto blockchain platform for businesses in this industry. 
Being a highly secure and permissioned blockchain platform also makes it well suited for financial markets and institutions. 
A decentralized, open-source blockchain platform, Tezos has been used by multiple enterprise-level businesses to weave NFTs seamlessly into enterprise supply chains. NFTs (Non Fungible Tokens) are simply a modern incarnation of trading cards, and are tied to various digital assets. 
The Tezos platform supports modular software clients and a dynamically upgradable protocol, which help it adapt rapidly to new uses. Tezos allows users to:
Conduct peer-to-peer transactions
Develop decentralized applications
Create and deploy smart contracts
In fact, the platform has recently been upgraded to support a higher size limit for smart contracts. 
While not as popular or mainstream as some of the other platforms on this list, Tezos is slowly becoming a useful blockchain platform with powerful technical innovations such as highly secure smart contracts, self-upgrade procedures, and a novel consensus mechanism. 
How to Choose the Right Platform?
The requirements of your business will determine which of the available blockchain platforms is perfect for you. Some of the factors you should consider before making a choice are as follows:
Whether the blockchain platform is permissioned or permissionless.

The programming languages supported by the platform.

The security levels of the different platforms.

Whether or not a given platform supports smart contracts.
These factors will help you make the right choice when deciding on a blockchain platform for your business.