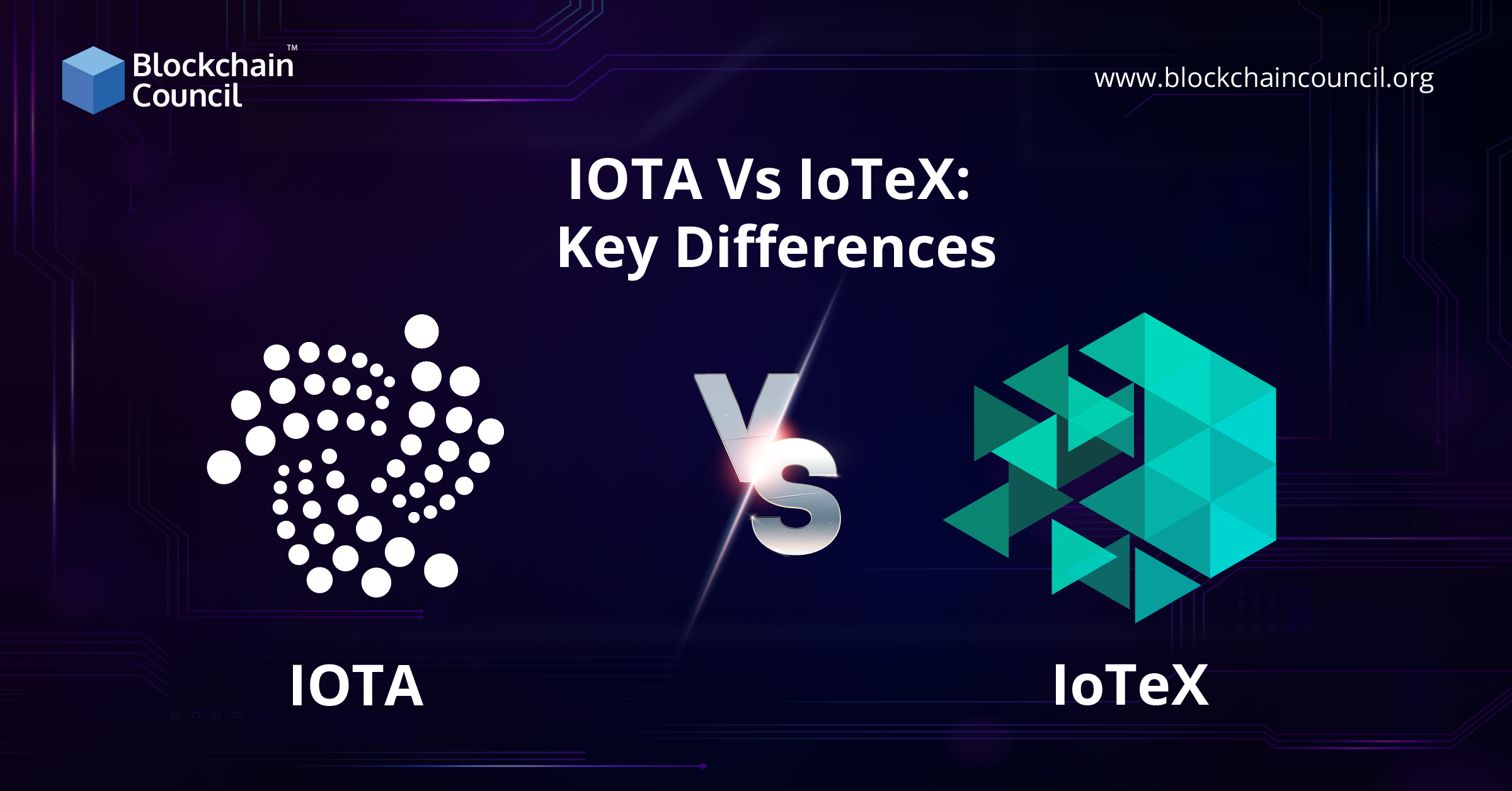 Over the past decade, the crypto industry and blockchain technology have seen significant growth. Digital assets such as Bitcoin, which were among the first, were widely utilized as digital assets. The majority of new tokens and technologies that enter the market have real-world applications. This is happening even though they, like Bitcoin and other cryptos, may still be exchanged. IOTA coin and IoTeX coin are two currencies that fulfill this definition.

Both networks feature tokens that can be sold on most crypto exchanges and behave independently as digital assets. They do, however, want to address problems in the Internet of Things business. Although they both work to address problems in the same industry, they are entirely distinct and deal with different problems.
This article will discuss the IOTA and IoTeX concepts and the significant differences between them.
What is IOTA?
The easiest way to define IOTA is as a distributed ledger. However, unlike most other cryptocurrency platforms, it does not have its own blockchain. Instead, it makes use of Tangle, a proprietary technology.
IOTA's fundamental technology, Tangle, is a network of nodes that verifies transactions. This may not seem like much, but platform users see the platform's advantages over traditional blockchain technology. Tangle, for example, is thought to provide significantly faster speeds than traditional blockchains. In addition, the technology's creators claim that the IOTA platform has the "perfect footprint for the ever-changing Internet of Things environment."
IOTA's distinctiveness makes it an intriguing platform for cryptocurrency investors. There are no miners for the currencies since there is no blockchain in existence. This also suggests that the system is free of charge. This also implies that the platform can deliver available throughput at the lowest cost achievable.
One of the most notable features of IOTA is that it was designed specifically for the IoT market. The designers set out to create a platform that may eventually become the de facto network for completing transactions between IoT devices. Based on current industry growth indicators, IOTA is poised to become a beneficial platform soon.
What Is IoTeX?
IoTeX is a decentralized open-source platform that aims to enable machine open economics. Its ultimate purpose is to maintain an ecosystem that lets humans and machines connect freely and with guaranteed trust. One of the most impressive aspects of this goal is that it will be carried out under a well-designed system with financial incentives.
In 2017, IoTeX began as a cryptocurrency initiative. It began with a few lead facilitators and has now attracted more than 40 research scientists and engineers who are unwavering in their trust in the project's future and its potential to change the world in some ways through its services.
IoTeX is one of the few cryptocurrency platforms that has created its own EVM-compatible blockchain. This was accomplished by using a novel Roll-DPoS consensus, which various industry insiders have praised. This unique consensus has been managed by more than 100 delegates from all around the world since April 2019, and they have completed more than 10 transactions till January 2022.
Because of its ever-changing and ever-improving capabilities, the IoTeX blockchain is also highly regarded. On top of the blockchain, the team has already constructed critical infrastructure blocks. It can currently communicate with the Ethereum, BSC, and Heco blockchains.
IOTA and IoTeX: What's the Connection?
IOTA and IoTeX have a strong bond since they both work to improve the Internet of Things industry.
Both platforms have the potential to create powerful smart partnerships between technology and humans in the home and beyond.
They are the primary cryptocurrency platforms for digital identities, with the ability to power a wide range of devices required for smart homes, smart cities, and several other Internet of Things-related developments.
Returning to cryptocurrency, IoTeX and IOTA are platforms with their own digital coins. They support crypto assets that may be exchanged on various cryptocurrency platforms, much as regular platforms. In this context, IOTX (IoTeX's cryptocurrency) and MIOTA (IOTA's cryptocurrency) are digital assets that may be bought and sold.
We can continue to refer to these coins as IoTeX and IOTA, but it's important to note that the names of the platforms and their respective currencies are interchangeable. However, the focus of this article will be the contrasts between the two.
IOTA vs. IoTeX: The key differences
Despite their many shared characteristics in the IoT market, IoTeX and IOTA are vastly different in a variety of ways. The detailed description above should give you a good idea of what both platforms offer in the industry. Although they are both classified as members of the same industry, they approach and attain their objectives in different ways.
They are both coins, but they were introduced at separate times and have achieved distinct goals. Their pricing, circulation supply, availability, market capitalization, liquidity, and other vital parameters help to differentiate between them.
Again, depending on other critical criteria like expenditure, the investment plan utilized, and market circumstances, the profit both currencies can make within the same period will differ dramatically. Again, a coin that works well for your portfolio may not work well for someone else's, especially when some of the characteristics described above and others are taken into account.
Critical Characteristics that differentiate IOTA and IoTeX
Some of the critical factors that help to understand the difference between the two platforms better are:
Availability
Both IoTeX and IOTA score well in terms of availability. Both currencies may be found on major cryptocurrency exchanges. Binance, Bitfinex, OKEx, and many other exchanges provide IOTA. It's accessible in a variety of different trading pairings. Bitcoin, Ethereum, stablecoins, and even fiat currencies are all acceptable payment methods.
Many individuals prefer to disregard the presence of a cryptocurrency. You should be aware, however, that some traders/investors are picky about where they purchase and sell their assets. As a result, the more widely a currency is available on prominent platforms, the more probable it is to be purchased.
IoTeX may be found on all of the leading cryptocurrency exchanges. Binance, Huobi Global, HBTC, and Xtheta Global are some of the most popular locations to acquire IOTX.
Price
Regardless of what asset you're buying or selling, price is always an important consideration. For example, the price of a cryptocurrency is essential to evaluate since it will impact the magnitude of your investment and the potential return you can get.
While IOTX is worth more than $1 per token, IoTeX is still a long way from there. This is a reflection of the value that investors place on the coins. IoTeX is a strong alternative if you want to buy inexpensive coins. MIOTA, on the other hand, is not prohibitively expensive, especially when you consider how much it may be valued in the future and the benefits of investing today.
Adoption
The acceptance and use of an asset or technology are referred to as adoption. It's a term used in the cryptocurrency world to indicate how well a platform's technology, innovation, or solution has been embraced and how well its token/native currency has been accepted in the crypto market.
It's far more challenging to measure bitcoin acceptance than it is to measure performance. Anyone with solid intuition, on the other hand, can tell if a coin has been totally accepted or rejected.
It's difficult to tell which of the two technologies, IoTeX and IOTA, has gotten more traction. However, based on what we know, IOTA has been approved by most IoT players. IoTeX is doing admirably; however, it is still attempting to catch up to IOTA.
You may also use indications like trading volume and performance to see if a token has been accepted by cryptocurrency traders and investors and if it is being utilized for projects both on and off its platforms. Based on the data we've just shown, it's reasonable to state that IOTA is now gaining traction and adoption.
Market Capitalization
Market capitalization is a traditional metric for determining a company's value on the open market. Market capitalization is a measure of a coin's genuine value in the cryptocurrency market. This is why it is frequently used to rank cryptocurrencies.
IOTA also has a significant advantage over IoTeX in terms of market capitalization. MIOTA has a market value of $3 billion, whereas IoTeX has a market capitalization of $1 billion. In terms of market capitalization, MIOTA is the #48 largest cryptocurrency, while IoTeX is the #89 largest cryptocurrency.
Liquidity
The most basic definition of liquidity is an asset's capacity to be turned into cash on demand. When it is effortless to convert an asset into cash, it is said to have high liquidity. This also means that it is appealing to traders and investors.
The liquidity of a token in the cryptocurrency world refers to how simple it is to convert the asset into cash. It refers to the coin's or token's appeal to traders and investors. Liquidity refers to the ease with which you may sell an asset at its present market value.
Poor liquidity, on the other hand, indicates that individuals are less eager to acquire an asset, forcing holders to sell at a lower price than the asset's true worth.
IoTeX has a significant advantage over IOTA in terms of liquidity. Therefore, analyzing the trading volume of the tokens under consideration is the simplest technique to measure liquidity in the crypto market.
Market Status
An asset with a poor reputation is more likely to cause you to lose money than one with a good reputation. In the bitcoin world, though, reputation is relative.
To completely comprehend a crypto asset's reputation, you must examine the platform's history as well as the performance of its token. When you only have a little knowledge, this might be a tough nut to crack. Thankfully, we have enough evidence to make a decision.
IoTeX and IOTA are run by respectable teams. Both platforms were founded by competent individuals who have put together fantastic teams to continue the innovation. When we consider all of the significant criteria that determine reputation, though, IOTA appears to have the upper hand once more.
IOTA has proven that it is impressive at linking smart gadgets in the Internet of Things scene to the cryptocurrency world by using a unique technology (Tangle). IoTeX has performed admirably as well, but we anticipate more from it before it can genuinely compete with IOTA. Nevertheless, in terms of volatility, price, and market performance, MIOTA has a higher reputation as a digital asset than IOTX.
Investment security
Regardless of how well a digital asset performs, you need to know that your investment will be safe when you conduct financial transactions. Although all crypto platforms have various security safeguards, there may be certain flaws you should be aware of.
IoTeX has made tremendous investments to make its network safe. To protect user privacy, transaction, and cryptocurrency security, it employs a variety of techniques, including ring signatures. It also employs a delegated proof-of-stake method, which elects block producers by a vote of stakeholders. These producers get incentives for adding new blocks to the blockchain, which they may use to motivate the stakeholders who voted for them.
IOTA, as previously stated, does not employ a blockchain but rather Tangle technology. Although this technology is powerful, it is not impervious to attacks and manipulations. The knowledgeable team recognizes this and has used a very simple proof-of-Work puzzle in the process of verifying transactions to increase the network's security.
People have voiced worries about IOTA's security, with some researchers claiming to have discovered flaws in its coding. IOTA, on the other hand, is regarded as a secure platform.
Because IoTeX uses blockchain, you may believe it is a more secure platform. However, you should be aware that blockchains have already been hacked. Tangle technology has dependably served IOTA for years, and there is no reason for investors to be concerned. The IoTeX blockchain is the same way.
Future Projection
The outlook for IOTA is mainly positive. MIOTA is expected to achieve greater levels in the future, according to Wallet Investor, Long Forecast, and Digital Coin Price. Likewise, IoTeX is expected to improve in the future, according to a variety of prediction services. Experts, on the other hand, are more optimistic about MIOTA's potential success than they are about IoTeX's.
Conclusion
Regarding what they provide to the IoT sector, IOTA and IoTeX are a bit different. This is because the services they provide are very varied. Any trader, on the other hand, would be naive to ignore both platforms' native tokens. Despite the fact that IOTA has not delivered as planned since its launch, it still has a lot of potential. As a result, IOTA is preferred by specific traders, whereas others prefer IoTeX. Any trader who wishes to choose one of the two native tokens, on the other hand, should conduct an extensive study.
If you want to dive deeper into the crypto realm, you can start with cryptocurrency learning. Blockchain Council's comprehensive cryptocurrency courses are designed according to the current industry trends. With the help of the available courses, you can become a cryptocurrency expert and add extra stars to your resume. Apart from this, these courses are pocket friendly too. Grab the opportunity and enroll in the course that best meets your expectations.