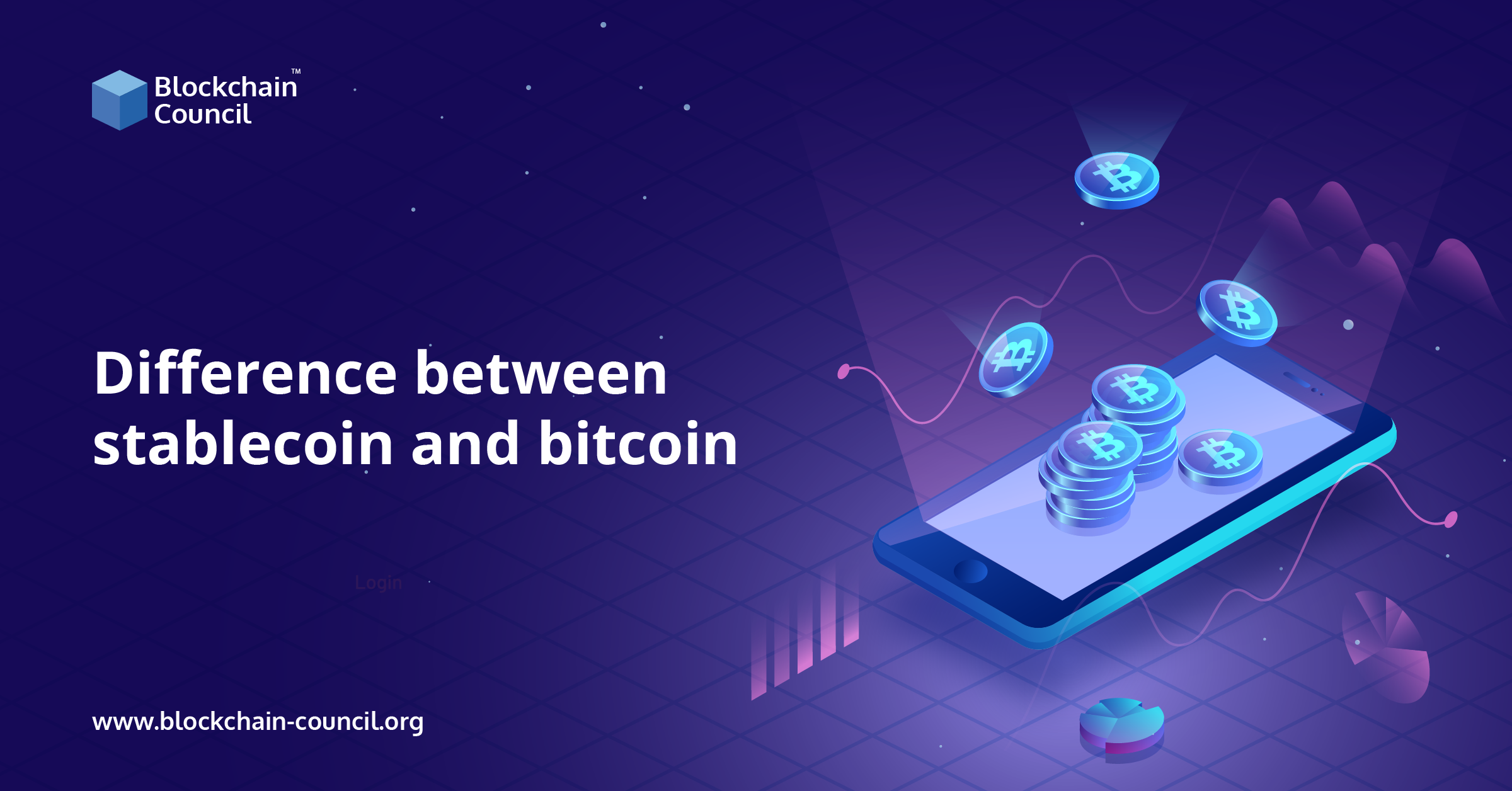 As the world is constantly evolving, more and more people are becoming more tech-savvy. The global rise of the fintech industry has also added to people's curiosity to know more about the blockchain and cryptocurrency market. Meanwhile, Bitcoin has always been the leader of the market as many exchanges use it as a major source of cryptocurrency trading. 

However, Stablecoin, a new cryptocurrency, has recently risen in popularity due to its applications in a variety of real-time businesses. Though Bitcoin indeed has an unbeatable command over the crypto market, there are many possibilities in which Stablecoin can outsmart Bitcoin. Therefore, many investors want to understand the primary differences between the two crypto coins. If you are looking for the same, this article is the right place for you. 
Understanding How Bitcoins Work
Let's start with the majority's favorite first – Bitcoin! As a result of the blockchain revolution, Bitcoin came forward in 2009 with the anonymous creator, Satoshi Nakamoto's whitepaper publication.
Here comes another difference between Bitcoin and Stablecoin – Stablecoins don't come with such a mysterious origin. There were many attempts to find out the true identity of Satoshi Nakamoto, but it has always been hidden. That's how Bitcoin retains its thrill aspect. 
Since its inception, the popularity of Bitcoin, a peer-to-peer electronic cash system, has only developed further. Many people wanted to get rid of the influence of banks and third-party financial sectors so Bitcoin became a popular tool to carry out financial transactions. Another bonus point of these transactions is the identity of both parties can be hidden even after successful completion. If you want to know more about how Bitcoin transactions take place, lots of cryptocurrency education programs are there to provide a detailed guide on this matter.
Understanding How Stablecoins Work
Because of the frequent volatility of Bitcoins, many large investors are not sure about the prospect of their investments. In such cases, they don't prefer to put their valuable capitals at the whims of the large Bitcoin ecosystem. Many investors find the sudden fall in Bitcoin prices quite overwhelming and so, they look for a safer alternative. 
Just like the name, Stablecoins clearly emphasizes ensuring stability in cryptocurrency. It is a cryptocurrency without the risks of volatility. With the constant rise of new use cases, blockchain is disrupting almost every industry. There is no doubt regarding the potential of blockchain as it is constantly trying to develop better and more sophisticated payment systems by enhancing cryptocurrency security. 
People all over the world are using Fiat currencies to buy goods and services. Economies across the world primarily depend on Government-issued fiat currencies for their operations. Hence Stablecoins are aiming to become the safest cryptocurrency alternatives of fiat currencies. 
Simply put, Stablecoins come with a 1:1 ratio when compared to specific fiat currencies such as the US dollar or Euro, which you can trade on multiple exchanges. Additionally, you can also peg Stablecoins against other assets like gold and other precious metals, and even cryptocurrencies. 
Why are People Searching for the Difference Between Stablecoin and Bitcoin? 
You must focus on the way Bitcoin works to understand how it differs from Stablecoin. The cryptocurrency developers of the Bitcoin community have developed a model where it would create only 21 million BTC. Bitcoin is quite a volatile virtual currency that has its price as per the market. When this digital currency's demand grows, the interest rate moves higher. The price fluctuation of Bitcoin ensures that it is more like gold. So, whenever the economy reveals some signs of weakness and strength, Bitcoins value takes interesting turns. 
On the other hand, Stablecoins are just what the name implies- less vulnerable to market value fluctuations. So, the aspect of vulnerability would be the biggest difference between Bitcoins and Stablecoins. 
Differences Between Bitcoin and Stablecoin 
So, now that you have a basic idea of how Stablecoin and Bitcoin differ from each other, it's time to take the debate further. Till now, you got the impression that Bitcoin is slightly riskier and Stablecoin ensures quite stability in cryptocurrency. But, this discussion is not such a one-dimensional approach. Diving further into the other benchmarks is required if you want to become a cryptocurrency expert and invest in the profitable sector. 
When you are trying to understand the difference between Stablecoin and Bitcoin, you need to notice the applications and the use cases. In Bitcoin's case, there is a peer-to-peer payment system that lets you make a cross-border payment within a few seconds or minutes. Plus, it also reduces the transaction fees. 
Besides, Bitcoin also provides integrity and privacy of transactions as every transaction gets recorded on the Bitcoin blockchain. Most importantly, the majority of trading platforms and exchanges use Bitcoins. Not only that, but investors all over the globe trade and buy Bitcoin with the backing of real-time assets. Traders make reliable decisions about their investments depending on Bitcoin's rising and falling trends. 
On the other hand, Stablecoins can serve multiple real-life use cases. You can peg a Stablecoin against a country's national currency and also use it for making digital payments. In such use cases, Stablecoins offer the advantage of cryptocurrency while also safeguarding their values to stay constant. 
On a specific Stablecoin platform, you can simply convert a dollar from your bank account into a token. A cryptocurrency trading course will give you detailed guidance on how to make it possible. Above all, this coin assures stability over cryptocurrency and that is a great prospect to address real-life use cases. You can use this coin as a tool for improving your economic activities because you know that the value of Stablecoin will stay the same as your national currency. 
Another great example of Stablecoin's real-time application includes streamlining peer-to-peer payments with smart contracts.  Using smart contracts ensures that the coin can automatically execute the codes to trigger a transaction between two counterparties.
Let's start with the different variations of Stablecoin to understand the basic differences of both the crypto coins. While you only have the BTC to make all the transactions on the bitcoin platforms, Stablecoin features four different coins: 
Commodity-backed 

Fiat-backed 

Crypto-backed 

Non-collateralized 
Let's take a closer look at each one of them to understand their functionality better. 
The majority of investors prefer the fiat-backed variant that is supported with fiat currencies like the US dollar. Each fiat-backed Stablecoin's value is conscripted against reserves of fiat currencies like the US dollar. 
Next comes the commodity-backed Stablecoin which is almost similar to the fiat-backed coin. The key difference lies in the fact that it relies on the value of commodities like gold, silver, and even cotton. 
We can't miss mentioning the non-collateralized Stablecoin while discussing the cryptocurrency security factors and the difference between Stablecoin and Bitcoin. Non-collateralized coins don't have any backing, they rely on mechanical algorithms instead. These algorithms are responsible for maintaining the stability of the price and changing the supply volume. 
In addition to that, the non-collateralized Stablecoins also rely on smart contracts for selling the tokens. It ensures that even if the price falls below the peg, a Stablecoin can handle it.  On other hand, when the value increases, it helps to sell the supply tokens to the market. That's how it maintains the continuity in stabilizing the cryptocurrency against all the detrimental conditions. 
Last but not the least, the crypto-backed Stablecoins can also showcase their differences from Bitcoins. This variant serves as the link between the two concepts. Crypto-backed Stablecoins always have a certain amount of cryptocurrency in reserve and they can be pegged against Bitcoins as well. However, Stablecoins would give you the right scope to leverage the value of cryptocurrencies while avoiding major losses because of fluctuating values. 
The final aspect to compare between both the coins would be considering their controls over the asset value. Bitcoin is capable of predicting the price direction for the other coins and ensuring a promising synchronization with the whole crypto market.
On the other hand, as per a cryptocurrency developer, Stablecoins always depend on some fiat currencies or real-time assets for their value. So, you cannot dictate the returns Stabolecoins offer you. 
Bitcoins come with the factor of volatility so when the prices are about to drop, convert your Bitcoins into cash before losing your fortune. However, a Stablecoin doesn't come with such risk factors and so it will have the same value as your country's currency per the real-time asset that backs the coin. 
Is Volatility Ever Possible with Stablecoin? 
If you ask a cryptocurrency expert, a small amount of volatility is still possible with Stablecoins but that won't be something as big as Bitcoins. However, you need to note that Stablecoins are centralized, unlike bitcoins. It means that a certain party might manipulate its price factors. 
The Pros of Bitcoins 
One of the major advantages of Bitcoin is that it is a versatile and easily accessible currency

It is a time-saving process as it takes only a few minutes to transfer bitcoins to your fellow-user

Bitcoin users can maintain their user anonymity as they are identified by numerical codes. 

There's no public tracking or third-party control in this decentralized currency as every transaction is secured by a public key. 

Due to the significant volatility, bitcoin prices change drastically with passing time. That is why it comes with high-return potential.
The Cons of Bitcoins 
The major disadvantage of Bitcoin is that its prices vary drastically as it is not backed by any physical commodity. The rapid swing in the prices makes it a risky investment.

Surely, the decentralized nature of cryptocurrency is one of the major features of Bitcoin. But many people also reject Bitcoin because the transactions don't have legal protection. 

Since Bitcoin transactions are unregulated and anonymous, the lack of cryptocurrency security also becomes a factor here. 

The transactions are irreversible and you can't do anything even when you have sent the wrong amount or sent it to the wrong person. 
The Pros of Stablecoins 
Stablecoins are great for storing the crypto profits

These coins don't lose value 

These are faster than all other cryptocurrencies 

With these coins, you can trade pairs on exchanges
The Cons of Stablecoins 
Centralized platforms might include a third party to monitor it

Might cost higher fees on exchanges 
The Final Thoughts on Bitcoin vs. Stablecoin
On a final note, it is pretty clear that a discussion like Stablecoin vs. Bitcoin is indeed a crucial topic. All the above-mentioned data showed that both Bitcoin and Stablecoin have a wide range of use cases and both of them can transform the digital financial ecosystem. But still, if you want to have a glance over the key differences between the both, here's the brief: 
Bitcoin is a decentralized coin with high volatility and none can control it. This is not the case with the Stablecoins.

A Stablecoin transaction is faster than that of a Bitcoin. But it won't give you high returns if you hold it for a long span. You can use it for quick moves only. While on the other hand, as a brand of crypto, Bitcoin is a great investment in the long run.
However, don't consider this article as an investment guide as every investor's demands and requirements vary from each other.  Investing in any of the coins would be your unbiased decision after considering all the points. Investing is all about time and value, so feel free to choose your unique investment plans. You can always take up a cryptocurrency course for a more detailed understanding of both coins. For more fresh content on the crypto world, keep an eye on our blog page.