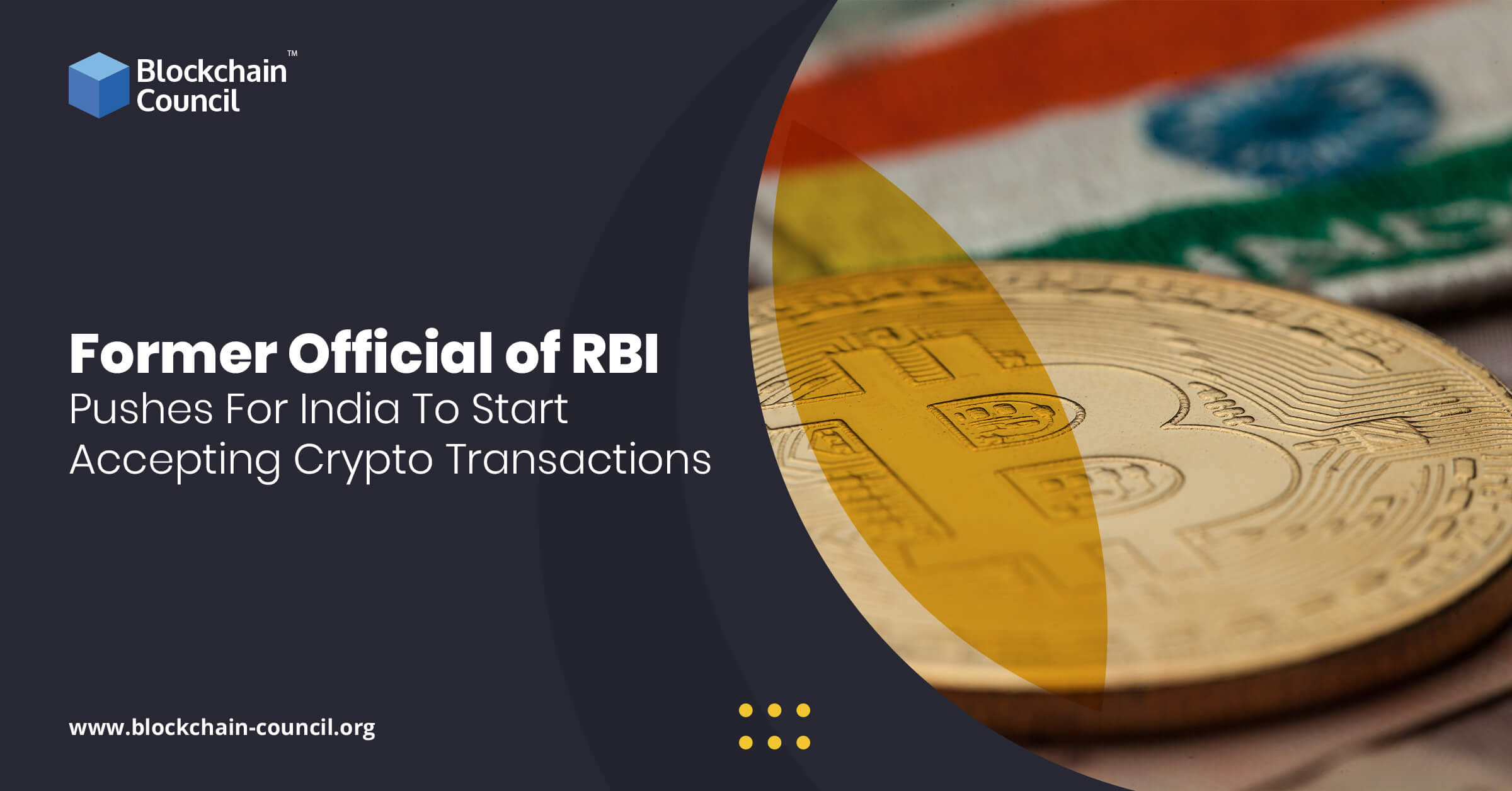 Rama Subramaniam Gandhi, who is a former Deputy Governor of the Reserve Bank of India, strongly feels and suggests that cryptocurrencies and other digital assets can easily be a commodity or asset that can easily be taxed by the country's Government.

The former Deputy Governor of RBI (Reserve Bank of India) has given out a statement that concerns the state of the nation's crypto and financial ecosystem and mentioned that he firmly believes it is about time that digital assets like cryptocurrencies must be accepted in the country from now onwards. 
The inaugural HODL conference of 2021 was organized by the BACC or better known as the Blockchain and Crypto Assets Association and IAMAI which is an abbreviation for the Internet and Mobile Association of India. Speaking at this event, Rama Subramaniam Gandhi mentioned that even though it is true that crypto and other digital assets can be used as payment methods, he likes to think of crypto as more of an asset class.
The situation concerning the regulatory activities in India still remains unclear with legislations and bills relating to crypto keeps getting stalled by the politicians in the country. Just sometime back, earlier this month itself, there were announcements made by the Government stating that they would be hosting discussions and debates regarding cryptocurrencies where there would be talks regarding a draft bill in which cryptocurrencies can be declared as a class of commodities that can be taxed. 
The government of India declared that if the draft bill is passed somehow, then they would not allow crypto to be used as a medium of payments or transactions, but they would allow crypto to exist as an asset that can be used for investments and trading purposes. In 2018 however, the Central Bank had issued a ban on all banks operating commercially, to prevent all of their customers from engaging in any crypto related transactions. However this ruling was not complied to and hence overturned by the Supreme Court back in the month of February, 2020.
Gandhi had served in the central bank for a period of three years starting from 2017 till 2017. He is firmly supportive of the idea that cryptocurrencies should be treated as commodities or assets and can be taxed accordingly. He strongly believes and suggests that developing adequate regulatory frameworks and treating cryptocurrencies in the form of assets would really help the Indian people to invest and hold such digital assets. In order to learn more about Blockchain,Cryptocurrencies and other digital assets such as NFTs, one can look into the Certified Trainings provided by Blockchain Council, which is an authority on Blockchain and Crypto related knowledge and research across the world.
He further added that if the assets have been mined rather than being purchased, they should be placed under the category of capital gains tax. He went on to say that individuals should pay for crypto through normal channels of payment. 
He even mentioned that if proper government regulations are not applied to these cryptocurrencies and related digital assets, then it is quite possible that they would be used for criminal activities. His suggestion would be to use a central repository body that will be able to track the transactions that will be made with these digital assets and in turn, it would be beneficial for facilitating trade related activities while preventing any sort of illicit use.
Gandhi believes that the Government should inculcate a sense of openness and embrace crypto as this is the future. Naturally it would be a wise decision to open up to crypto and reap the benefits of this new technological innovation that the whole world is enjoying as of now. He admits that there are certain features of the Blockchain technology that may not be in compliance or in accordance with the socio economic backdrop of the Indian diaspora. In that case, he believes that the State must inject certain regulations around the whole affair and the public should abide by it. 
Finishing thoughts: Are you interested in developing your own DeFi based applications and Cryptocurrency projects?
Learning Blockchain, Cryptocurrencies and Decentralized Finance (DeFi) applications are easy now, all thanks to highly esteemed online courses and training sessions from Blockchain Council, which is one such organization that offers amazing and effective online training and certification programs to aspiring trainees while rendering them desired competencies so that they have a successful career in the Blockchain space. Keeping the rising demands of blockchain professionals in mind, Blockchain Council certifications are diversified to meet each aspirant's discrete needs. They have a host of training and courses on DeFi and Cryptocurrencies that provide world-class knowledge and support.
To get instant updates about Blockchain Technology and to learn more about online Blockchain Certifications, check out Blockchain Council.