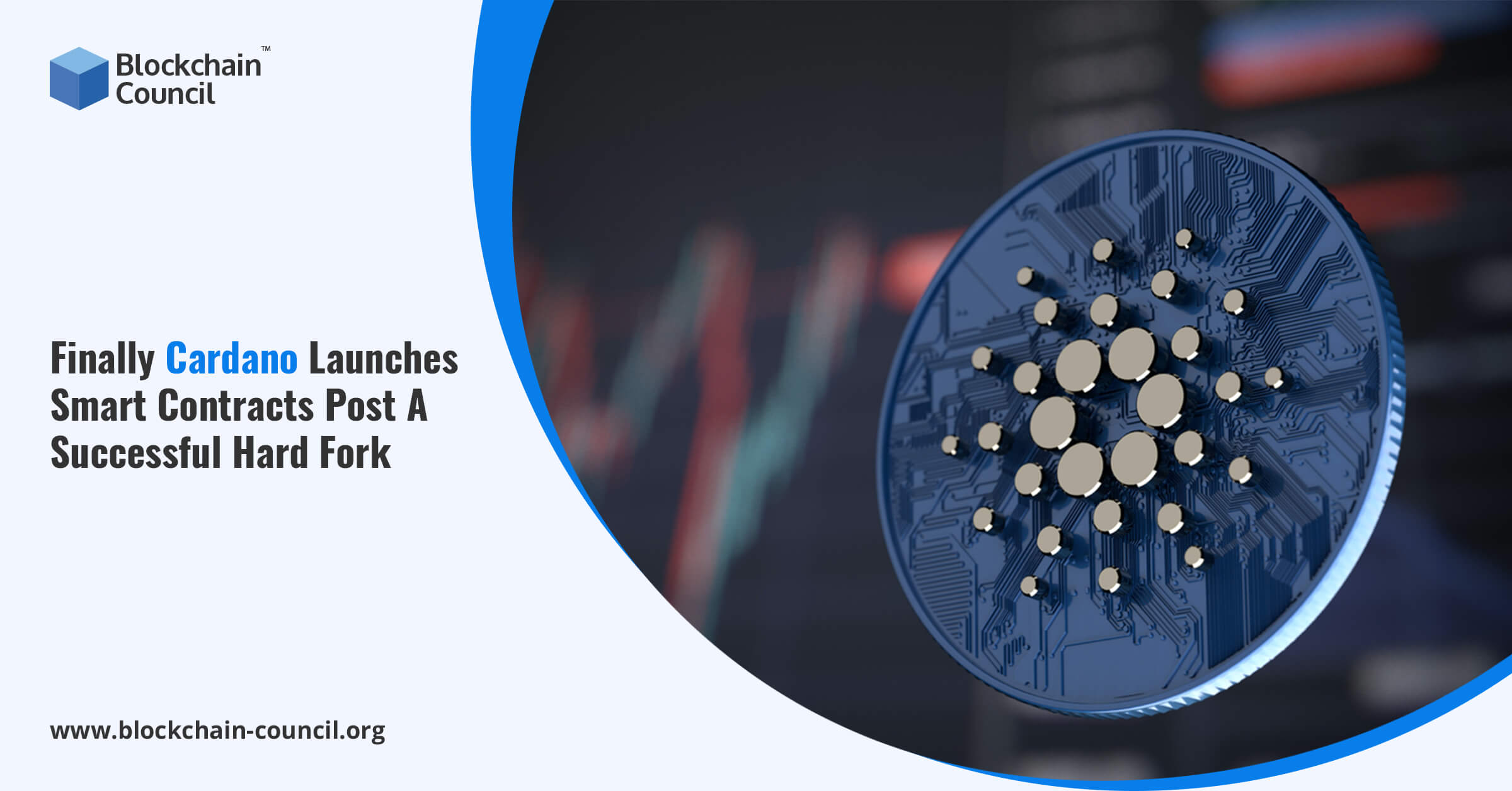 The globally popular Cardano network has successfully completed its much anticipated hard fork event, and this has made way for them to introduce their exclusive smart contract scripts, which are powered by the Plutus.

The previous month on the 12th of August, the Cardano Foundation had made a statement on Twitter that they had successfully completed the upgrade at epoch 290, and this upgrade has facilitated them to create and execute smart contracts for the very first time on the public blockchain. 
1/2 Upgrade successful.

Moments ago, we deployed the #Alonzo upgrade at the epoch rollover.

Welcome to the start of a new era for #Cardano $ADA pic.twitter.com/r6QNvTv4pt

— Input Output (@InputOutputHK) September 12, 2021
Even though the company did celebrate this excellent achievement, Cardano mentioned in one of their blog posts that the real mission for their objective had just begun and that the project was still at an estimated nascent stage of development. As a result, the real challenge had only begun for them when further developments began.
Finally, the company has announced the successful completion of the much-awaited Alonzo hard fork event, and as a result, they have ushered in the era of eagerly anticipated smart contracts functionality. According to the announcement, the company believes that now is when their actual mission has just commenced, and they just want to deliver according to the vision that the entire community of Cardano has created for such a long time, and that vision has been to create a decentralized ecosystem where economic opportunities and identities can be extended to everyone around us, irrespective of time and place.
The Alonzo fork has led to the creation of smart contracts through the use of the famous Plutus scripts, which according to the team of Cardano, is a specially designed and purposefully built language that would enable them to develop smart contracts and also serve as an execution platform. They had made use of the functional programming language, which goes by the name of Haskell, in order to develop the Plutus scripts.
However, the Cardano team has asked their community members to be sensible with their expectations from Alonzo as of this moment. According to a statement they had made recently, there are reportedly very high expectations from this recent upgrade of Cardano and that some of these expectations were also quite unreasonable, for that matter. The community archers, many of them might have expectations of gaining access to an incredibly sophisticated ecosystem of dApps that are ready for consumer apps right after the upgrade, and they have hence requested the members to manage their expectations a bit.
Charles Hoskinson, who was the co-founder of the popular Ethereum blockchain, is the founder of the Cardano blockchain as well, which is also a public blockchain like that of Ethereum, and he had developed it in collaboration with his research team, which goes by the name IOHK.
The main objective of the Cardano blockchain was to rival the increasing dominance of Ethereum in its ability to host a multitude of DeFi or Decentralized Finance applications along with several other Web3 applications. However, the Cardano project was subject to a considerable amount of criticism since it was accused of not being able to deliver upon its promise to provide functionalities in the area of smart contracts, even though the network had introduced itself back in the year 2017 in the month of September.
The founder of Internet Computer, which is also a rival network, Dominic Williams, had criticized Cardano for being so late and delaying things in order to deliver the smart contract functionality which it had promised earlier. 
However, even with all these detractors around, the hype for the upgrade announced by Cardano helped drive the native cryptocurrency token of Cardano, which is named ADA, to record-breaking highs in the month of August. As pointed out by the statistical data, the coin jumped 192% and made a huge leap from $1.06 to a surprising amount of $3.10 on the 4th of September, in 2021. This data had been presented by Coingecko, the most popular and biggest crypto and blockchain news portal in the world.
Finishing thoughts: Are you interested in developing your own Blockchain based applications and changing the world?
Learning Blockchain and Smart Contracts are easy now, all thanks to reputed online courses and training sessions from Blockchain Council, which is one such organization that offers amazing and effective online training and certification programs to aspiring trainees to render them desired competencies so that they have a successful career in the Blockchain space. Keeping the rising demands of blockchain professionals in mind, Blockchain Council certifications are diversified to meet each aspirant's discrete needs. They have a host of training and courses on Blockchain systems and Smart Contracts that provide world class knowledge and support.
To get instant updates about Blockchain Technology and to learn more about online Blockchain Certifications, check out Blockchain Council.