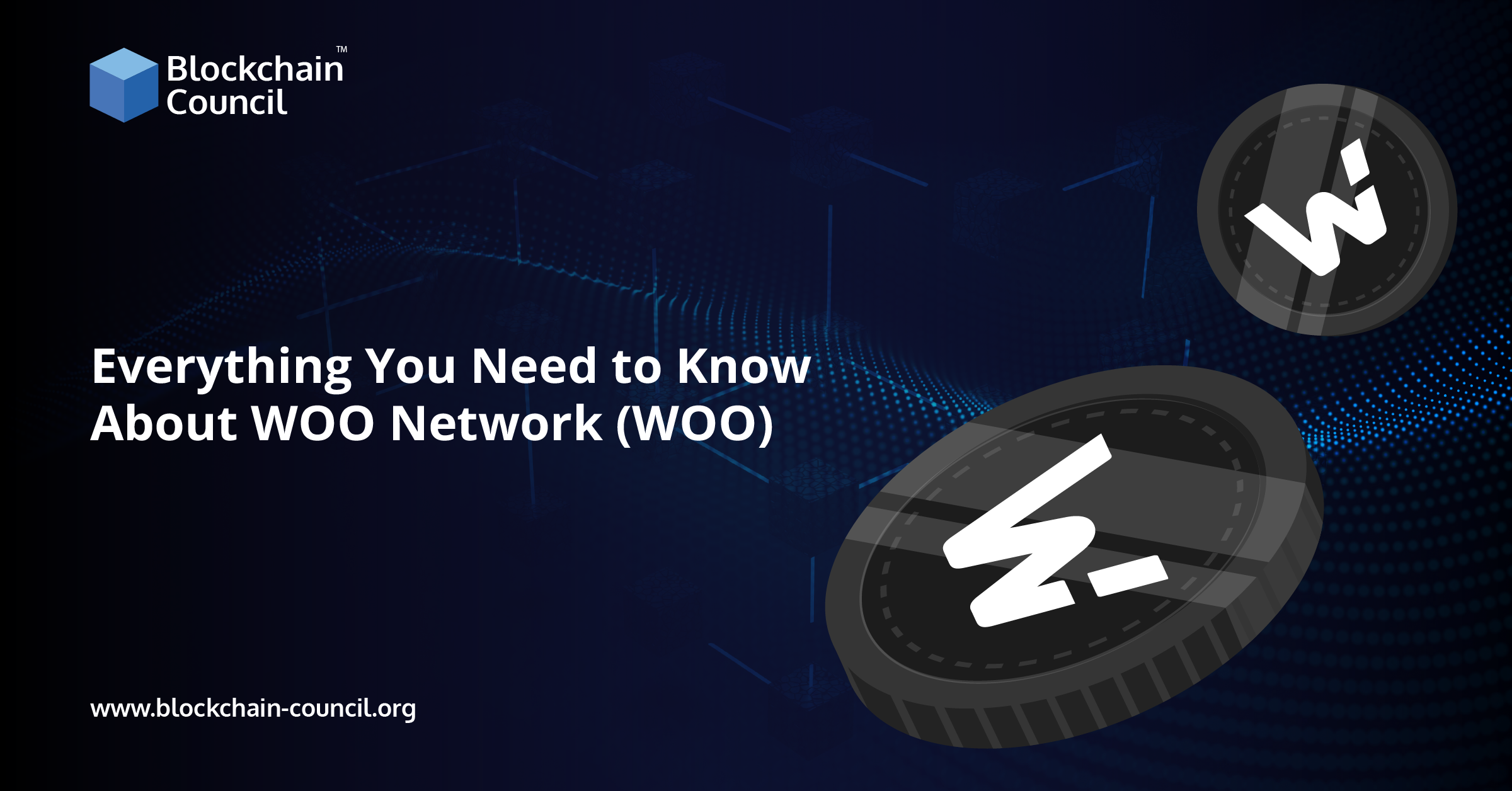 The WOO Network, a deep liquidity network, was founded by Kronos Research. It makes best-in-class liquidity, trading execution, and yield creation strategies considerably inexpensive or even free for traders, exchanges, institutions, and DeFi platforms.

As part of its liquidity network, WOO Network provides controlled and decentralized exchanges. Low-cost trading, configurable workspaces, and substantial liquidity are all features of WOO X (the CEX). To imitate a regular exchange's order book, WOOFi (the DEX) introduced a new Synthetic Proactive Market Making technique.
WOO, the project's native token, is traded, earned, and staked by users of the trading site. WOO may be bought with a credit or debit card on Binance, or it can be traded for other cryptocurrencies. On WOOFi, you can also stake WOO for incentives.
What is WOO Network?
WOO Network (WOO) is the world's first social media network that rewards members for creating unique content. WOO incentivizes users to produce and share high-quality content using a "Woo Points" system. The members can redeem these Woo points for incentives such as gift cards, discounts, and access to unique content.
WOO Network is a decentralized network that allows everyone without censorship or limitations to access the internet. The WOOCoin, which can be used to buy data or bandwidth from any provider on the network, powers the network.
No one can stop or limit access to the WOO Network since it is meant to be censorship-resistant. The network is also built to be extremely robust, which means it can keep running even if certain sections of it are offline.
The WOO Network is an open-source project, which implies that anybody may participate in its development. The project is presently in beta, and the team is trying to improve the network and add additional features.
What Led to the Development of Woo Network?
The blockchain ecosystem has continued to grow swiftly since the launch of Bitcoin, and it's simple to see how vital cryptocurrency exchanges are now. However, in 2016, the possibilities were limited. Binance only began in July 2017, and there were no Automated Market Makers (AMM) at the time. As a result, many users used peer-to-peer (P2P) marketplaces or over-the-counter (OTC) exchanges to buy Bitcoin (BTC) and other digital assets directly from other users.
Several crypto exchanges are now available to pick from. Although WOO Network is a part of this ecosystem, it has unique traits that set it apart from other crypto exchanges.
The Beginning of the WOO Network
Justin Woo, an online entrepreneur, founded WOO Network. Justin noticed a need in the market for a social media network that rewarded members for their originality and ingenuity. As a consequence, after years of planning, the WOO Network was launched in 2020.
Although the WOO Network project is still in its early phases, a testnet version of the platform has been launched. Users can establish profiles, submit information, and communicate with other users on the testnet. More features, such as a message system and a mechanism to monetize content, are now being added to the platform by the team.
The WOO Network team is made up of professional developers and entrepreneurs who have built successful businesses in the past. James Young, the company's CEO and co-founder has a background in product management and engineering at Google. In addition, Luis Cuende, the co-founder of Aragon, Loi Luu, the co-founder of Kyber Network, and Rune Christensen, the co-founder of MakerDAO, are among those who have funded the initiative.
Since its inception, WOO Network has swiftly grown in popularity among content makers and social media aficionados. In addition, the platform's revolutionary content production and distribution method has also been recognized by industry professionals.
How does WOO Network Work?
WOO Network and Kronos Research use quantitative trading and hedging tactics to gather and integrate liquidity. Liquidity is gathered through a variety of centralized and institutional trading platforms and DeFi networks, including Ethereum, BNB Chain, Polygon, and Avalanche. On WOO X and WOOFi, clients join the network directly using API or the GUI. Others use DeFi platforms like 1inch, 0x, or Paraswap to connect.
WOO Network may also be used as a venue for market makers from other platforms, such as dYdX. Low-cost hedging is made possible by the zero-fee concept and attractive conditions for taker orders. Volumes have been continuously increasing, and by the middle of September 2021, the 24-hour trading volume had surpassed $2.5 billion, thanks to the exponential expansion of popular platforms like dYdX.
Aspects that Make WOO Network Unique
WOO Network (WOO) is a platform that allows institutional clients to improve their order books to a depth that rivals that of prominent exchanges while also reducing their bid-ask gap. It offers best-in-class liquidity and execution to professional and institutional traders while adhering to the zero-trading cost vision. WOOFi is one of the most popular solutions for active traders because of its fully adjustable workspace components.
WOO Network is a blockchain platform that enables decentralized applications (dapps) and smart contracts to be created. The application, middleware, and core layers make up the three-layer architecture. Dapps are created and delivered on the Application layer. The Middleware layer provides account administration, storage, and communications. Finally, the Core layer is in charge of security and consensus.
The following are some of the key features that distinguish WOO Network:
Depth of order book for institutional-grade: Institutional clients benefit from WOO's powerful order matching system, which provides the best rates for their transactions.
Bid-ask spreads are narrow: Traders benefit from WOO's vast liquidity pool and powerful order matching engine, which ensures that they obtain the best price for their transactions.
Trading with no or negative fees: WOO Network does not impose any trading fees and rewards customers who contribute liquidity to the platform with rebates.
Completely configurable workspace: WOOFi, one of WOO Network's completely adjustable workspace customization modules, enables traders to customize their trading experience to their unique requirements.

What Exactly is WOO X?
WOO X is the core product of WOO Network, and it provides trading services through Centralized Finance (CeFi). Low-fee trading, great liquidity, and configurable workspaces are all exchange features.
The capacity of buyers and sellers to fulfill orders quickly is critical to the success of any exchange. Large orders should have little to no slippage and a narrow bid-ask spread, which can only be achieved with deep liquidity. This simply implies that a large number of individuals are willing to sell and purchase crypto on the order book, and the exchange can easily satisfy demand.
WOO Network obtains liquidity from both platform users and professional liquidity providers, including exchanges, market makers, and institutions. Kronos Research, a trading business that participates in market making, is WOO X's major supplier. WOO X may provide even more liquidity to the network by partnering with Kronos Research to provide a deep liquidity base.
Fees are a crucial consideration for any trader when selecting a platform. By achieving Tier 2 status, users that trade on WOO X manually (rather than through an API) can lower their maker and taker costs. Tier 2 is offered to people who wager 1800 WOO on WOO X, and the CEX periodically offers Tier 2 players additional incentives.
Workspaces that can be Customized
Users may personalize their trading display with widgets, charts, and other customizable components in WOO X. This offers more experienced traders access to the required knowledge and tools. Trading View also includes advanced charting capabilities for building technical analysis indicators.
What Exactly is WOOFi?
WOOFi is a BSC-based Automated Market Maker that uses the Synthetic Proactive Market Making (sPMM) approach to calculate prices. The more uncomplicated, traditional Constant Product Market Maker is used by the majority of common AMMs (CPMM). WOOFi has three primary features:
In WOOFi's liquidity pools, users may trade between token pairings. Unlike AMMs like Uniswap on Ethereum, the sPMM approach is more akin to a typical exchange's order book (ETH). sPMM scans order book prices from centralized exchanges like Binance and calculates an appropriate trade price using WOO Network's market data oracles.
Rather than the usual dual asset liquidity pool (LP) arrangement, single pools provide liquidity. WOOFi manages and rebalances these assets by rewarding investors who provide low-liquidity assets with incentives.
Users can start farming yield by depositing LP tokens from other DEXs and individual assets. Profits are reinvested automatically and effectively in these vaults, allowing you to multiply your interest.
WOO token holders can stake their tokens in order to partake in the money earned by WOOFi's trading and earning.
What is WOO token?
The WOO token is the WOO Network's native token, and it acts as a uniting factor for all DeFi and CeFi businesses and services. It has a maximum quantity of 3 billion tokens, which is steadily depleted by monthly token burns until half of the maximum supply is consumed.
Through bridges like BNB Chain, Ethereum, Avalanche, Polygon, Solana, Arbitrum, Fantom, and NEAR, WOO tokens may be used on different blockchains. Bancor, SushiSwap, Uniswap, PancakeSwap, QuickSwap, and SpookySwap are just a few of the DEXes that have it.
The WOO token is a key aspect of the WOO Network ecosystem, and it's required for everyone who wants to use the network's many products and services.
WOO Token Use- Cases
The following are some of its most important applications:
Governance: The WOO token grants holders voting rights on crucial decisions affecting the WOO Network's future. This involves deciding which new goods and services to create and how the network's resources should be allocated.
Staking: The WOO token may be used to gain rewards from the WOO Network's different goods and services.WOO Ventures distributes a share of the tokens acquired from early-stage project investments to WOO token stakers on WOO X. You may also use WOOFi to stake your WOO and earn yields on the Swap and Earn products' fees.You may use your WOO to enter liquidity pools and farms on exchanges like SushiSwap, Uniswap, PancakeSwap, and others. These open up possibilities on many blockchains.
Borrowing and lending: You may use your WOO as security for crypto loans and lend it to other people.WOO stakers will be able to mimic highly sophisticated trading tactics from top-performing traders in the future.
WOO token burn: The WOO Network spends 50% of platform income on purchasing back and burning WOO tokens every month.
WOO Network's Advantages
You'll get a lot of excellent perks as a member of the WOO Network.
To begin with, it is a strong marketing tool that may assist you in reaching a large number of potential consumers. It can aid in the development of ties with other firms and the expansion of your network. You may also get leads and clients interested in your products or services via the WOO Network.
Second, the WOO network is an open-source platform that anybody interested in developing may use. The WOO network is built on the Ethereum blockchain, which means it supports all of Ethereum's capabilities, including smart contracts and decentralized applications (dapps). Furthermore, the WOO network has its own token, WOO, that is utilized to power the network.
How to Purchase WOO?
There are two methods to buy WOO on Binance:
To begin, various fiat currencies can be purchased with a credit or debit card. Go to Binance's buy Crypto with Debit/Credit Card page, choose your currency, and then WOO in the bottom field.
WOO may also be exchanged for cryptocurrencies such as BUSD and BNB. To obtain a list of all possible trading pairs, go to the Exchange view and type WOO in the trading pair search area.
Conclusion
WOO Network is a blockchain platform that allows for the creation of decentralized applications (dapps) and smart contracts. If you want the security of a CEX and access to unlisted tokens on DeFi platforms, WOO Network is a good choice. In addition, their focus on liquidity is critical for blockchain users who wish to prevent any kind of slippage at all costs. In general, the project is one of the few that combines CEX and DEX services.
Since its inception, WOO Network has swiftly grown in popularity among content makers and social media enthusiasts. WOO Network is the best place for you if you are seeking for a social networking platform that compensates you for being unique.
If you want to delve deeper into the blockchain realm, then Blockchain Council's best blockchain certification courses are available for you. These courses are designed according to the industry standards and are pocket-friendly.