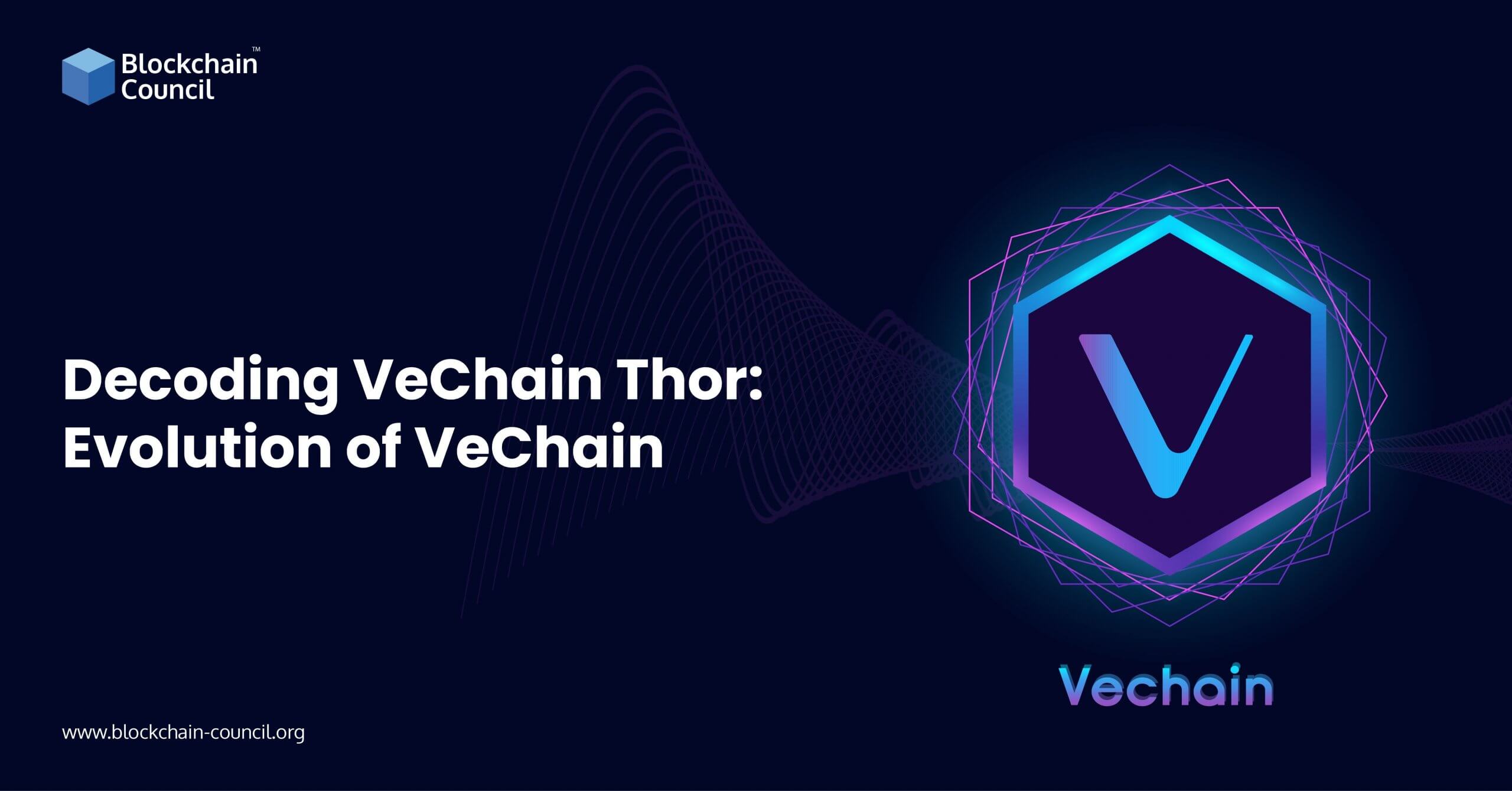 VeChain is a blockchain-based innovation that may be used to help with a wide range of commercial tasks. VeChain, known for its blockchain-based supply chain management services, monitors each level of the chain to ensure that quality and compliance criteria are fulfilled. It tracks every step of the process using physical tracking sensors.

Because records are recorded on a transparent, unchanging ledger, this ensures that items and materials arrive at their destination undamaged. The VeChain Foundation is seeking to introduce digitally verified provenance to supply chains through the use of the VeChain (VET) token. The VeThor Token (VTHO) and the VeChainThor blockchain are used to do this. 
But how did VeChain become so popular? What makes VeChain Thor better from VeChain? 
Understanding VeChain 
The Vechain platform is one of the most advanced cryptocurrency platforms. It distinguishes itself from other crypto platforms by providing unique features not found in other coins. 
The Vechain platform also serves as a foundation for Vechain tokens. It aids in the pumping of the tokens and helps to place the tokens on the list of the most sought-after cryptocurrencies to keep an eye on. 
With the launch of the protocol's mainnet in 2018, the VeChain Thor is the rebranding of VeChain, thus broadening the dapps spectrum to encompass more general data solutions. 
The Vechain platform serves a single purpose: to let marketing businesses maintain track of their merchandise by integrating sensors to supply chains. Using innovative technology, these sensors monitor the temperature, location, and overall well-being of the objects.
However, the platform makes use of cryptocurrency. As a result, without the native coin Vechain, it is impossible to use these tracking services. As a result, an advanced strategy for selling VET to the general population is required. Furthermore, it is difficult to trade VET without incurring gas expenses, which are paid using VeThor (VTHO). As a result, every user must obtain VET and VTHO before engaging in any transaction on the site or using tracking services. While VET and VTHO function together, it is crucial to realize that they each have unique traits and quirks, characteristics, and peculiarities. They are never the same, even if they are run on the same platform and have a similar level of acceptance.
Among the companies that have begun to use the VeChain blockchain platform are: 
BMW employs VeChain to combat odometer fraud in automotive sales.

LVMH, which uses VeChain to trace the movement of expensive leather items.

Walmart uses VeChain to track the provenance of food.
Understanding VeChain Thor
VeChain Thor is an enterprise-focused blockchain-as-a-service (BaaS) platform with two currencies. Initially, it was built on the Ethereum smart contract network. On June 30, 2018, its mainnet became live. 
VeChain specializes in supply chain management and Internet of Things technologies. The official coin of VeChain Thor is VET, while VTHO is utilized to pay for tokenized transactions.
VeChain introduces a unique smart chip that is embedded in NFC chips, RFID trackers, and QR codes to put enterprise IoT on the blockchain.
From gas to food, clothing, luxury items, and even medicines, there is a supply chain involved in procuring everything you buy.
Sunny Lu, Jay Zhang, Kevin Feng, and Jianliang Gu are all members of VeChain Thor's core team. With experience from PwC, Deloitte,LV China, and TCL Communications, this C-suite began working on the project in 2015. It's a robust group that knows its way around enterprise software solutions used in China, Shanghai, and Southeast Asia. 
The VeChain Foundation, which manages the VeChain Thor blockchain, is a non-profit corporation based in Singapore that was created in 2017. It has a system of checks and balances in place for network governance, as well as a large number of partnerships resulting from the team's relationships. PricewaterhouseCoopers, Renault, and Microsoft are among the VeChain Thor enterprise partners.
Creating the Supply Blockchain: Supply Chain 3.0
They don't care in the slightest if VeChain Thor isn't the most user-friendly blockchain name out there. This blockchain's target demographic isn't the average individual. The VeChain Thor team has a strong background in enterprise supply chain management, and this platform is built on that foundation.
Makers like Clorox and Cintas utilize digital ledgers, as do merchants like FedEx and the US Postal Service, just as retailers like Best Buy and Walmart. Using current technologies, a well-functioning corporation in this area has a 98 percent fulfillment error rate.
To monitor the supply chain process, technologies like Quick Response (QR), Near-Field Communication (NFC), and Radio Frequency Identification (RFID) are used, thus making everything accountable. 
However, the present technology is incapable of reaching such boundaries, which is why the VeChain Foundation has shifted this procedure to a distributed blockchain ledger. The use of VeChain Identity (VID) to trace each item enables a more secure system for shipping, receiving, and warehousing.
A SHA256 hash function is "mined" to generate VIDs. They're then combined with the QR code, NFC tag, or RFID tag to form an IoT digital twin that the organization can trace throughout the supply chain.
The smart-contract network is the second blockchain layer. Using the standard public/private key value transfer system of cryptocurrencies, legal ownership and possession of digital and physical assets may be effortlessly transferred from end to end.
Each business and group that uses the VeChain network mining nodes will run and maintain their own nodes, establishing a private and exclusive environment. Individuals cannot mine VET, but they may purchase it and stake it in VTHO via VeChain Thor's Proof-of-Stake (PoS) method.
The majority of the conversation around VeChain Thor centered around its supply-chain beginnings, but the Foundation's strong partnerships with enterprise-level clients led it to branch out into other areas of business.
VET vs VTHO tokens
Application
The key distinction between the VET and VTHO tokens is how they are used. Since both tokens are used on the same platform, yet their application varies. 
The user's leverage over the platforms is represented by the VET token. That is, the greater a user's priority is granted, the more VET the user has. The VTHO token, on the other hand, is used to pay for gas that is utilized to verify decentralized apps. 
It's worth noting that VTHO tokens are earned from VET tokens, therefore the more VET tokens a person possesses, the more VTHO tokens he gets. The Ethereum blockchain uses VET and VTHO tokens, which are identical to Ethereum and ether.
VET, like every other cryptocurrency such as Bitcoin, Ethereum, Cardano, and others, is used to transmit and store value. The VTHO tokens, on the other hand, are used as energy tokens.

Units of computing power are sought for each new transaction on the blockchain, and these are paid for with the VTHO. It's interesting to note that the sum of VTHO given as gas/computational power is decided by the size and complexity of the transaction.
Stocking Criteria
Another significant distinction between the two tokens is their price. 
Although VET is required to obtain VTHO, it can also be purchased. As a result, as a marketing firm or an investor, you don't require VET to amass VTHO because you may buy it on the exchange where it trades. 

VET is currently trading at $0.10, while VTHO is currently trading at $0.0076. So it doesn't matter whether you buy Vechain or VTHO; both are excellent investments. However, contradicting predictions that the price of VET would rise as the number of people using the Vechain blockchain increased, their prices are independent of one another.

 Because VET is required for every deal, the user index has an impact on the price of VET on the Vechain blockchain. As a result, access to it is based on priority users. VTHO, on the other hand, is for processing power and can be purchased, as previously stated. The computing power, on the other hand, is its one-of-a-kind application. If there's one factor that can influence its price, it's the number of blockchain transactions every active trading hour.
Although there are several other differences between VTHO and VET, the ones described above are the most commonly used. Previously, industries and supply companies relied on trusts and portfolios of distribution companies to ensure that all supplies were supplied according to plan.
VeChain (VET), VeChainThor, and VeThor Token : In brief
VeChain's use of blockchain technology allows businesses and customers to track and verify a product's history, making supply chain management more transparent. Furthermore, this technique is being used to promote carbon emission reduction. People can be rewarded with spendable carbon credits if they minimize their energy consumption, according to VeChain.
VeChain Thor doesn't have the sort of memorable marketing name that you'd expect from a cryptocurrency. VeChain Thor is a safe, enterprise-grade blockchain that services the full supply chain from end to end, hence it's not intended for consumers. With these important factors, the VeChain Foundation assured VeChain Thor's success.
VeChain Thor consists of two layers: an IoT-based token layer for maintaining digital assets on the blockchain and a smart-contract layer for tracking ownership and allowing developers to create dApps that leverage the data.

The crypto coins VET and VTHO are used in VeChain Thor. They're utilized in a similar way to NEO/GAS, where VET is used to stake VTHO, which is then used to pay for tokenized transactions.

On the consumer market, VET is not available. Organizations that are part of the network run nodes.
VeChain ToolChain, a VeChain Thor blockchain-supported platform, is being used by a wide range of organizations as a simple blockchain-as-a-service platform for businesses. VeChain is working to build a decentralized, trustless enterprise ecosystem with efficient and transparent information exchange. Blockchain technology research and development is the route to go in order to achieve this.
Conclusion
VeChain Thor is a like magnificent diamond in the blockchain sector with these parts in place, as well as a broad number of corporate partners. Expect it to hold its worth for as long as the VeChain Foundation can persuade its clients to continue using it.
Strong knowledge and comprehension of blockchain are in high demand since it is the number one in-demand skill. As a result, pay for blockchain developer jobs are frequently greater than for non-blockchain jobs. 
Blockchain Council is also an online blockchain education platform, offering blockchain courses dedicated to teaching students how to enter into the field. Apart from this, cryptocurrency courses are also available for those who want to know more about the crypto world.