The bearish mode of the crypto market, development in blockchain technology, and increasing popularity of NFT in the global market are some buzz news. Despite all these, Polygon Technology, the leading blockchain-based service provider, is making aggressive moves worldwide. Several industrial leaders from different domains, from finance to games, have partnered with Polygon Technology to transform their web architecture. The concept of non-fungible tokens (NFTs) is one of the most popular polygon solutions in the market and paves the way for scalability in the Ethereum industry. The leadership at Polygon still considers the technology to be in the early development stages, and according to them, the best days are still yet to come.
This article discusses the reason behind the change in the strategy of Polygon Technology and its top partnerships that are leading the path toward mainstream blockchain & crypto adoption. We will also present the Blockchain Council's take on the aggressive growth of Polygon Technology with some insights on how it benefits you and millions of blockchain believers.

Top 10 Partnerships of Polygon with Global Brands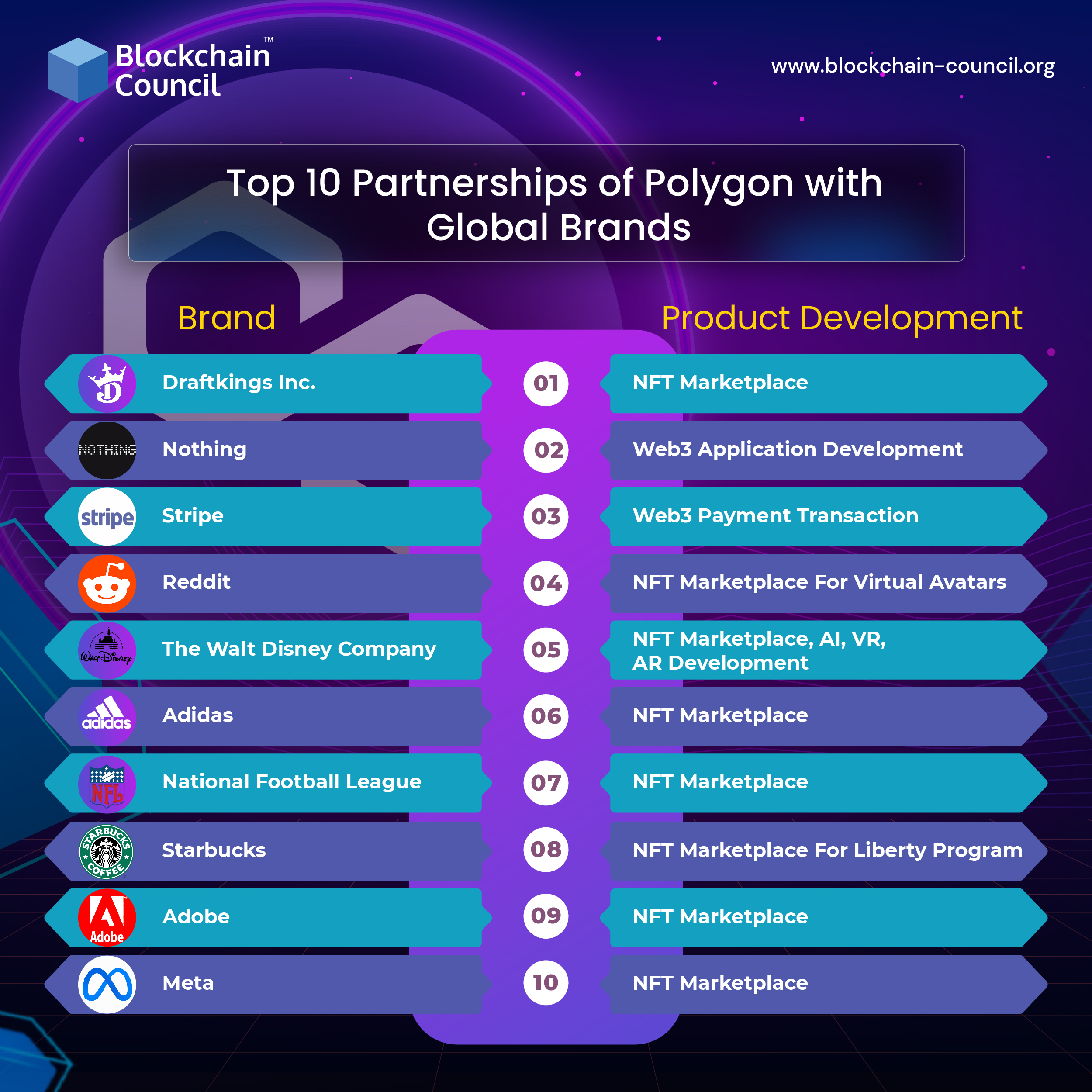 Polygon has become one of the top blockchain service providers around the globe that has partnered with more than ten top-tier brands. Companies like Coca-Cola, Starbucks, Reddit and others have launched their non-fungible tokens as an introductory web 3 product. We have brought together the top 10 polygon partnerships that brought polygon technologies among the top-rated blockchain technology service providers. Ready to go?
Let's get started:
Draftkings Inc.
DraftKings is a popular fantasy sports company based in the US. It offers gaming services like casinos, betting and other fantasy sports. Polygon Technology has partnered with the leading fantasy sports company to build a blockchain-powered NFT marketplace for the US-based fantasy sports company. Draftkings aims to extend its public outreach with this step in virtual space. Since most NFT enthusiasts are young and tech-savvy, Draftkings look forward to a fruitful business with this partnership.
Adobe
Adobe has a community hub of elite artists around the globe. It also has its separate platform, namely Behance. Behance was launched in 2005 as a platform for developers, creators and artists to showcase their talent to potential collaborators and fans worldwide. Currently, the platform has a massive active user base of 10 million. The company is excited to level up Behance as an NFT marketplace to transition its presence for NFT artists and creators. The collaboration between Polygon and Adobe allows them to list their NFTs minted on Polygon. Adobe actively plans to scale its reach by partnering with Polygon. 
National Football League and Liverpool 
Two of the most famous football names in the world have partnered with polygon technology to create their marketplaces to trade non-fungible tokens. The National Football League (NFL)  and the Liverpool Football Club have confirmed their partnerships with Polygon. The NFL planned to distribute NFTs to fans on some selected ticket purchases. However, Liverpool boasted the efficiency of blockchain technology regarding its atmospheric and environmental harm. Their NFTs consumed 99.5% less energy (similar to just two emails). Polygon has pushed Ethereum scaling with resounding efficiency. 
Starbucks 
Starbucks, the renowned FMCG giant, has also announced its NFT-based loyalty program. The NFT has been named 'Starbucks Odyssey.'
Adidas and Prada
Polygon has also joined hands with these fashion and lifestyle brands collectively. Adidas and Prada plan to bring their NFT marketplace. The concept is to give 'into the metaverse' NFT holders with 'creator-owned art' by famous digital artist 'Zach Liberman.' The platform facilitates purchasing separate NFTs using OpenSea. 
The Walt Disney Company 
Disney launched its Accelerator program to promote research and development on NFTs, AR, and AI development. Polygon has collaborated to join forces and assist Disney with the program.  
Meta
Meta, the parent organisation of the population social media application Facebook, Instagram and WhatsApp, recently announced that it would offer NFT trade on Instagram. There has been a constant buzz on this since Meta's announcement.  The program has already been launched to selected creators and influencers on Polygon with Flow, Ethereum, and Solana. Polygon is working on this project solely with Meta and projected a bold move with this strategy. It established Polygon's bold images as a go-to blockchain brand for traditional businesses. Ryan Wyatt, the CEO of Polygon, announced that Meta chose polygon due to their carbon neutral footprint, scalability, and, most importantly, their ecosystem. 
Stripe 
Stripe plans to scale its payments to optimum security with Polygon. The brand intends to test $USDC payments to Twitter creators via the Polygon blockchain. It facilitates Twitter creators by enabling them to cash out using USDC. 
Reddit
Reddit joined forces with Polygon to empower its NFT marketplace. The idea is to offer trade-in NFTs for online avatars created by certified NFT creators. 
Nothing 
The new tech enthusiasts' brand 'Nothing' has partnered with Polygon to bring web 3 to ordinary people. The brand projected a young and tech-savvy move to enter the market aggressively. 'Nothing' plans to scale the affordability of the Ethereum market with their web 3 product. 
Why Are Businesses Investing In Web 3.0 Space?
Web 3, Metaverse, NFTs, Blockchain, and Decentralization have been trending for some time now. The increased demand for blockchain technology and Facebook renamed Meta, has compelled businesses to adapt to web 3. Polygon Technology was recently funded with $450 million and aggressively created its space in the web3 industry. Polygon is widely known for its web3 scaling solutions on the Ethereum blockchain amongst a vast pool of businesses.
However, despite a broad portfolio, most businesses are using Polygon's technology to build NFT marketplaces or NFT-related applications. Apart from NFTs, Polygon also deals in decentralised applications and finance solutions. These services include helping a business from payments to basic mobile and web applications and safer and more secure data sharing to more efficient data management and storage. As statically reported, Web3 is currently valued at $2.9 billion and forecasts a growth of 43% CAGR to $81.1 billion. On the other hand, the NFT marketplace also has an impressive compound annual growth rate of 33.9% and projects a market value of $211.72 billion by 2030. Apart from it, here are a few benefits of shifting to the web 3 architecture:
Security like nothing else with Ethereum blockchain

More straightforward trade with instant buy and sell digital assets

Decentralised applications (DApps) are quicker, robust and more secure

AR, VR, MR, and XR are versatile emerging technologies with multiple and generic use-cases

NFTS can be created for any rare and unique content, like music, art, design, graphics and many more

Ownership is the biggest perk for individuals and developers
What's In It For You?
You might be questioning the profitability angle from the popularity of Polygon's Ethereum scaling solutions and their partnerships with top global brands leading the mass adoption of Web3, Metaverse and NFT space. The increased demand for the end product will primarily affect the supply scale. A career in the NFT domain to develop and create quality NFTs can be a better alternative than the most nuanced career options globally. Professionals worldwide are interested in upskilling to join the NFT creator space. Non-fungible tokens are the key to a new era of digitization in a virtual space. Since this new generation of the internet is more intended towards ownership and 'for the people, by the people; generating career opportunities is now more straightforward, accessible and quicker than ever. Check out our Certified NFT Expert and Certified Polyon Expert certification courses and get one step closer to your career in the Web3 & Blockchain industry.