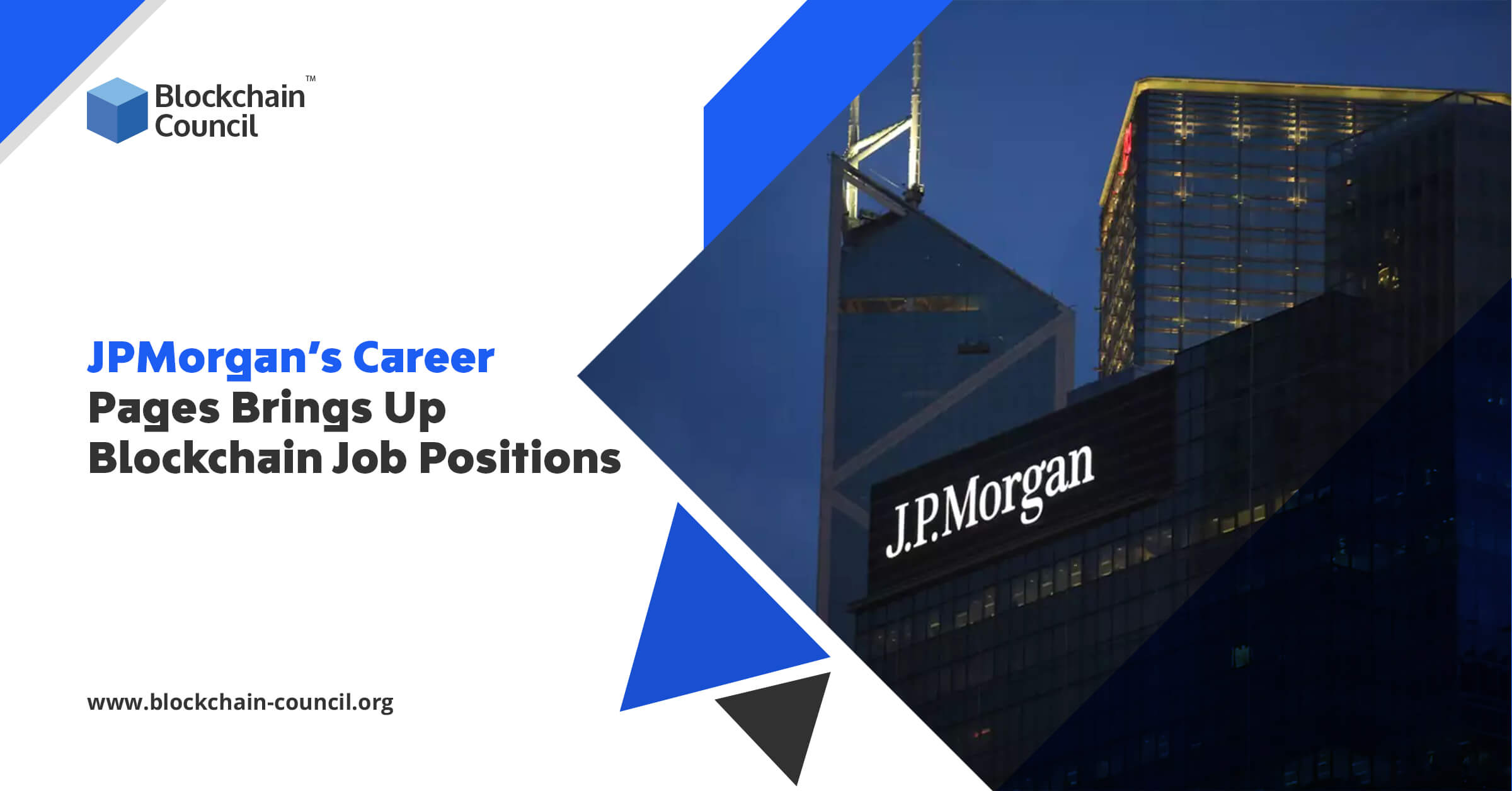 According to the latest announcement, JPMorgan's career pages post several jobs for Blockchain enthusiasts.

It was noted that it bought 56 open positions, with 34 including the tech in the job title.
Last year, JPMorgan continued on a Blockchain rampage by bringing multiple jobs to the industry. At that time, Indeed.com reported JPMorgan Chase as the only financial firm in the top 10 companies posting jobs related to Blockchain, cryptocurrency, and Bitcoin. 
The report mentions that most job openings posted this year are spread across the U.S., India, and Singapore, indicating that technology holds a futuristic career all across the globe. Talking about job openings, many of the jobs relate to Onyx, the division created to oversee JPM Coin, the bank's wholesale payments token. 
JPMorgan is a U.S. multinational investment bank and financial services holding company headquartered in New York, serving corporations and individuals in more than 100 countries.
JPMorgan is Continuing on a Blockchain Rampage
As U.S. mega-bank JPMorgan posted about Blockchain job positions, the report mentions that most Blockchain engineer roles are focused on integrating JPM Coin and Liink into JPMorgan's payments architecture.
Last year in October, JPMorgan rebranded the Liink banking network, which is based on a fork of Ethereum. At the time of rebranding, it was noted that Liink invites its 400-plus financial institutions to start building on top of the platform. 
Apart from JPMorgan, several other big banks are making a lot of noise in the cryptocurrency space, focussing on areas such as crypto custody and potentially trading digital assets. Reports also highlight that in contrast to JPMorgan's career page, Goldman Sachs and Morgan Stanley have only two blockchain job openings, whereas NY Mellon has four job positions. 
Specifically talking about JPMorgan jobs, the report mentions that 13 jobs related to Onyx and Link, majorly based in the U.S. Apart from this, there are also active positions for a marketing manager for Liink and blockchain adjacent positions in commercial real estate, the report reads.
As the bank sees blockchain technology as a viable solution, recently, it was announced that JP Morgan had tested a transaction of Blockchain in space. It was further noted that the Blockchain transaction testing was carried out by a Danish space firm named GomSpace's satellites.
Blockchain space is booming, if you are interested in mastering the core concepts of Blockchain and becoming a Certified Blockchain Expert, you can get enrolled to Blockchain Council. 
To get instant updates about Blockchain Technology and to learn more about online blockchain certifications, check out Blockchain Council.