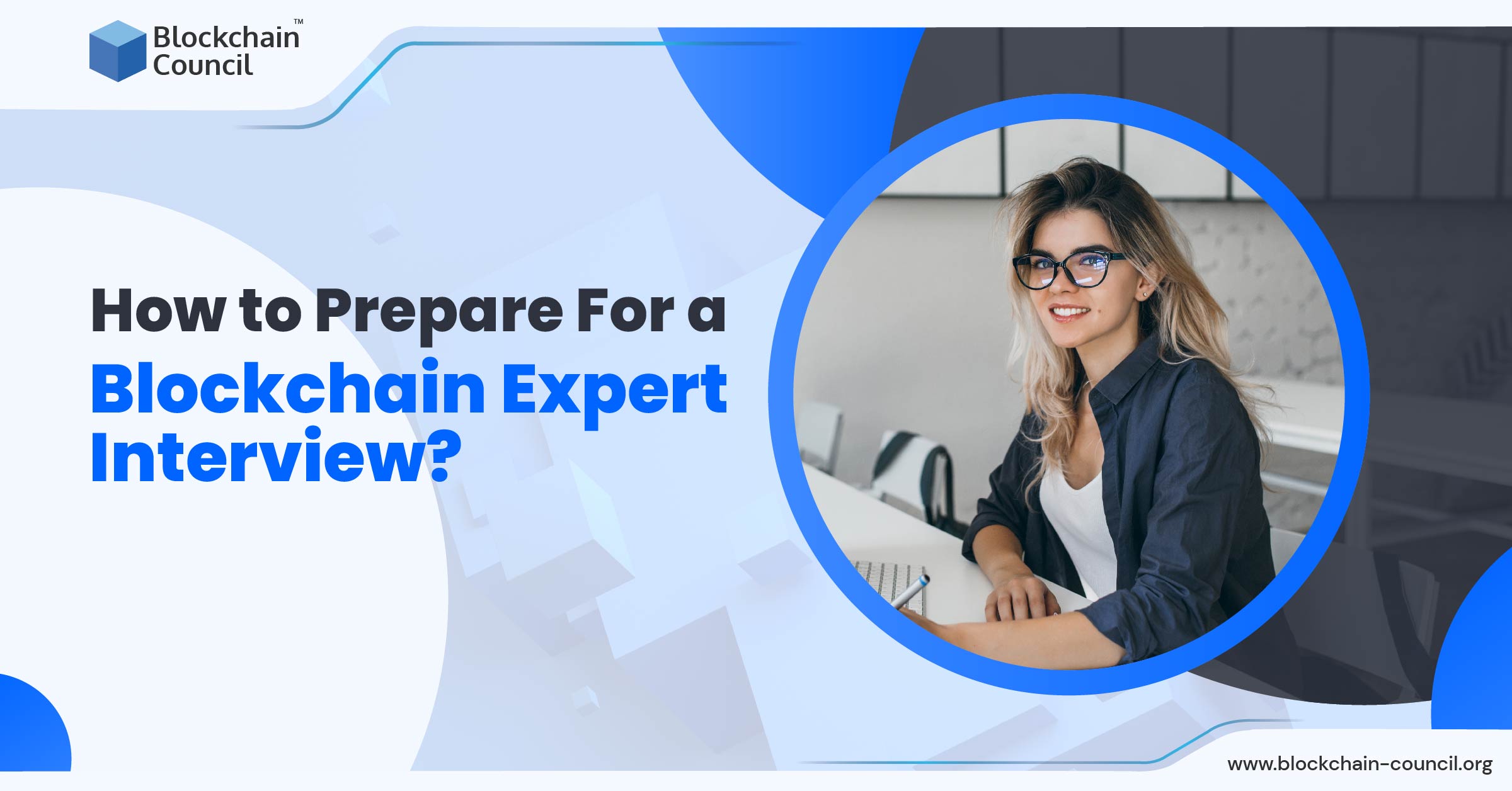 Due to the technological advancements that blockchain technology promises, many businesses are implementing it. The introduction of blockchain accelerates by a sizable percentage due to the massive data output. It is setting new records across a huge network.

There are countless ways that blockchain technology might benefit businesses. Since this is a trending field, having the necessary skills and an awareness of both fundamental and advanced topics will provide you an advantage. Additionally, understanding blockchain technology will aid in hiring decisions during job interviews.
Therefore, start enrolling in the blockchain certification programme if you want to feel completely confident when you go for a real-world interview for a blockchain expert. You'll get a number of job opportunities to enjoy a career as a blockchain expert. If in confusion about the technical skills required for this career, get ready to know about it.
Expert Guide for Blockchain Expert Interview Preparation
With expert tips, you can make an excellent first impression. Experts say that anybody can ace a job interview with new skills and deep existing passion. But there are other tips as well to make you feel extra confident. Let's explore and broaden our knowledge by reading them thoroughly.
Skills Required for a Blockchain Expert Interview
First and foremost, blockchain interviews are one of the toughest to crack without relevant skills, intelligence and logical thinking. So, before attending an interview, don't forget to focus on your skills. Individuals can plan to get into their dream company with strong technical and logical skills.
Let's dive into the skills required to strengthen command over questions in blockchain expert interviews.
Work on Software Designs Skills
It is essential to become proficient in high-level programming languages such as Java, C++, Solidity, Python, Golang, Ruby, etc. Further, a great blockchain expert should be aware of more of these languages. Collect the best sources to learn coding languages. However, there are various free platforms such as youtube channels and blogs to make coding easier for you. Keep in mind that the foremost aspect of how to become a blockchain engineer is to start with basic concepts of programming languages and use them to build an application.
Moreover, the popular coding languages help blockchain experts. Therefore, proper command of it is essential to present yourself with distinct approaches when the interviewer is testing your blockchain knowledge. Take blockchain certification courses if you are curious to learn blockchain technology.
New Enterprise Blockchain Platform
It's not easy to crack a blockchain engineer interview without getting familiar with popular blockchain platforms. You will need to learn the technical mechanisms of a blockchain platform and use the latest tools required to build any blockchain application. Discover blockchain use cases from the best courses on blockchain technology available on the online forums.
Here, you need to learn about the Ethereum, Hyperledger, and Corda fundamentals to know how a blockchain platform works. The blockchain platforms include Hyperledger, Ethereum, Bitcoin, and Multichain, which use smart contracts and consensus to work on real-world projects. Note that the revolutionary blockchain platforms offer security during the transaction processes that were never seen before.
Features of Blockchain Technology 
Next, you have to gain practical experience through a deeper understanding of the basic features of blockchain. These features are as follows:
Security and privacy protocols
Distributed ledger system
Immutability
Consensus
Decentralization
Faster settlement
Hence, to incorporate into the work environment of an enterprise and build software applications, it's recommended to learn blockchain technology features.
Build Concepts about Smart Contracts, Cryptography, and Consensus 
Lastly, the next important skill you should have is a comprehensive grasp of smart contracts, cryptography, and consensus. Smart contracts are digital contracts that automate the execution of an agreement. Additionally, they run only when predetermined conditions are met. On the other hand, cryptography is secure information that allows the sender and recipient of a message to view its content. At the same time, the consensus is a general procedure that helps all nodes to come to an agreement.
Expert Tips for Success in Blockchain Interview
While trying to learn blockchain technology to become a professional, expert tips should never be left unvisited. This is because an expert focuses on training the necessary skills for individuals who are starting completely from scratch. Take a look at what experts have to say about how to become a blockchain engineer.
Blockchain Companies and Job Profile
Whether you are preparing for an interview for the most popular companies or not, adequate research about the blockchain company and targeted job profile is important. By doing this, you will be able to answer comfortably when the interviewer asks about your strengths and weaknesses. Also, by reading responsibilities given to a blockchain engineer, you will learn about the company's projects. You must research in the about us section of the company's website. Learn about the firm's business operations. Furthermore, research the company's leadership and recent events that took place in the firm.
Learn Blockchain-related Skills
It is indeed the most vital part of interview preparation. Make a stronghold over the blockchain-related skills such as programming language, cryptography, smart contracts, web development, hash functions, security etc. Proficiency with blockchain skills is a must to crack blockchain expert interviews. We recommend you broaden your knowledge with blockchain degree courses. However, there are several blockchain certificate courses for a job interview but choose the one that gives the knowledge about the core blockchain basics.
Apply your knowledge in building decentralized applications
A good programmer performs any difficult task with efficiency. Experts highly recommend a blockchain engineer participate in coding and get more programming exposure. This boosts your resume. But one of the common mistakes a blockchain professional makes is not checking out their practical knowledge. Therefore, start working on a few pet projects and solve problems using your programming language. Get proper guidance from a blockchain expert on how to develop a decentralized application. It will make your preparation efficient and hassle-free.
Prepare Yourself for Questions Based on Blockchain Technology 
By practicing mock interviews and test series, you become familiar with how a blockchain works. Further, it would be best if you solved more questions to answer all the questions in the interview round. To work in a blockchain domain, prepare questions based on projects. Also, wish to get adapted to this process as it will level up your skills and knowledge. Preparing yourself with mock questions simulates a real job interview. It can help enhance your knowledge and a good understanding of blockchain technology.
Closing Thoughts 
Hopefully, you got an answer to the question of how to become a blockchain engineer. We know it's hard to find the best expert tips to become a blockchain professional on the internet. Therefore, with our stronghold over the research about the top expert tips for a successful job interview, we have brought the relevant ones.
This blockchain certification program will give an extensive knowledge of blockchain technology with advanced concepts. Enroll in this best blockchain degree course to become a blockchain engineer.