Blockchain technology is disruptive and accelerating at a high pace. Nowadays, Blockchain Engineers are in demand, and every industry dealing with blockchain technology lacks expert Blockchain engineers. So, How to become a Blockchain Engineer? What are the roles and responsibilities of Blockchain Engineers? And most importantly, How much can a Blockchain Engineer earn annually? Answers to these questions will be provided in this article. You will also get to know about the best Blockchain courses and Blockchain Engineer Certification to boost your technical skill and give you better career opportunities.
Scope in Blockchain Technology
In this digital transforming world, blockchain is the newly emerging technology that is creating hype worldwide. This technology has provided solutions to many problems related to financial services and security issues. However, blockchain technology is not only restricted to the banking sector and cryptocurrency; it is widely spread across other sectors. Also, blockchain-driven industries are welcoming new talent and recruiting blockchain developers and engineers. You can also be the one as the technology is in high demand. Also, blockchain industries lack experts in blockchain technology.  So it is an optimum solution to invest time and money in learning new technology and exploring it. Doing this will increase your career growth and provide you with job security as well.

In the blockchain industry, you can be a Blockchain developer, Blockchain engineer, blockchain expert, Blockchain Architect, project manager, UX designer, Blockchain legal consultant, and much more. Also, blockchain engineers and developers are in high demand all over the globe. The blockchain engineer salary is one of the highest among engineers.
Blockchain Engineer is considered to be a high-paying job that can benefit you in many ways. But first, let us figure out who the blockchain engineer is and its roles and responsibilities.
Who Is a Blockchain Engineer?
To begin with, let's understand the role of a Blockchain Engineer. Blockchain Development enterprises and top companies like IBM, Coinbase, HSBC, Walmart, and many more use Blockchain technology. The expert mind behind the development of computer networking, cryptography, data structures, and algorithms in every company is a Blockchain Engineer. They also have experience in particular blockchains like Bitcoin or Ethereum technology.
Usually, blockchain engineers have high skills in developing and implementing digital blockchain for providing solutions to technology or data consulting firms. Also, the Blockchain Engineer job is not limited to development. In fact, they are required to analyze the company's needs and work on existing open source technologies or build new ones.
Moreover, Blockchain Engineers have to develop and implement assets, accelerators, and infrastructure setup processes and primarily work on existing platforms like Hyperledger and Ethereum. Also, they need to make sure all the applications are secure from all aspects. Further, let us discuss the Blockchain engineer Job description in detail.
Blockchain Engineer Job Description
Before getting to a top company, you must be aware of their requirements and the level of expertise they need. Every company desires various skills; however, some basic technical skills are the same in the market, which every blockchain aspirant must have. A blockchain engineer is a complete package who can perform the operations, designing, development, analyzing, implementing, and supporting a distributed blockchain network. They must have the ability to manage specific business models dealing with blockchain technology.  Check out the basic job requirements and skills that every company requires before hiring a blockchain engineer.
Educational requirements for Blockchain Engineer:
Having a bachelor's degree in computer science, information systems, or engineering in any technical field is the primary academic requirement for a Blockchain Engineer. Also, having a master's degree is preferred by some organizations.  Experience in single sign-on (SSO) security and a strong background in distributed database systems can be a plus point while grabbing the job. Sometimes organizations give a benefit to those having an expert blockchain certification, and you can also be a Certified Blockchain Expert by enrolling in the online blockchain courses provided by the Blockchain Council.
Top 9 Skills Required To Become A Blockchain Engineer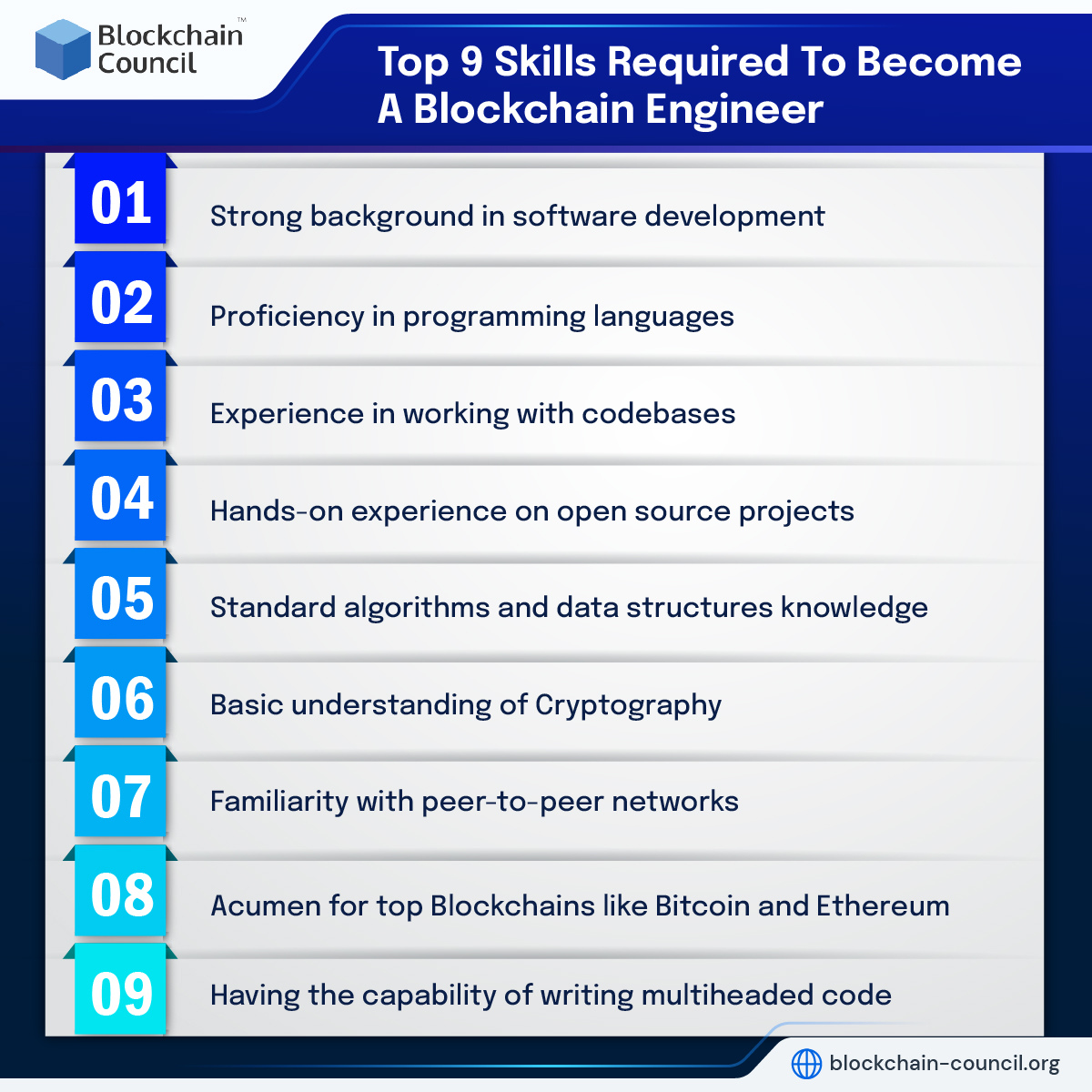 Blockchain Engineer Job Responsibilities: 
Every company or organization has its own set of roles and responsibilities that the Blockchain Engineer must fulfill. However, most of the essential responsibilities are the same as per the market standards. Check the Blockchain Engineer Job Responsibilities below that you must be capable of achieving –
Researching high-quality material required for a particular blockchain project.
Designing and developing applications using blockchain technology.
Testing and troubleshooting blockchain-driven projects.

Back-end and front-end

application maintenance.
Evaluating blockchain applications.
Fully implemented and involved in the blockchain ecosystem for integrating the latest possible improvements.
Provide solutions for the existing blockchain platform used.
Preparing docs for every project and leading the team to create better solutions for the existing blockchain technology.
Ability to create an application or system using blockchain technology as a solution to the organization.
Blockchain Engineer Salary All over the world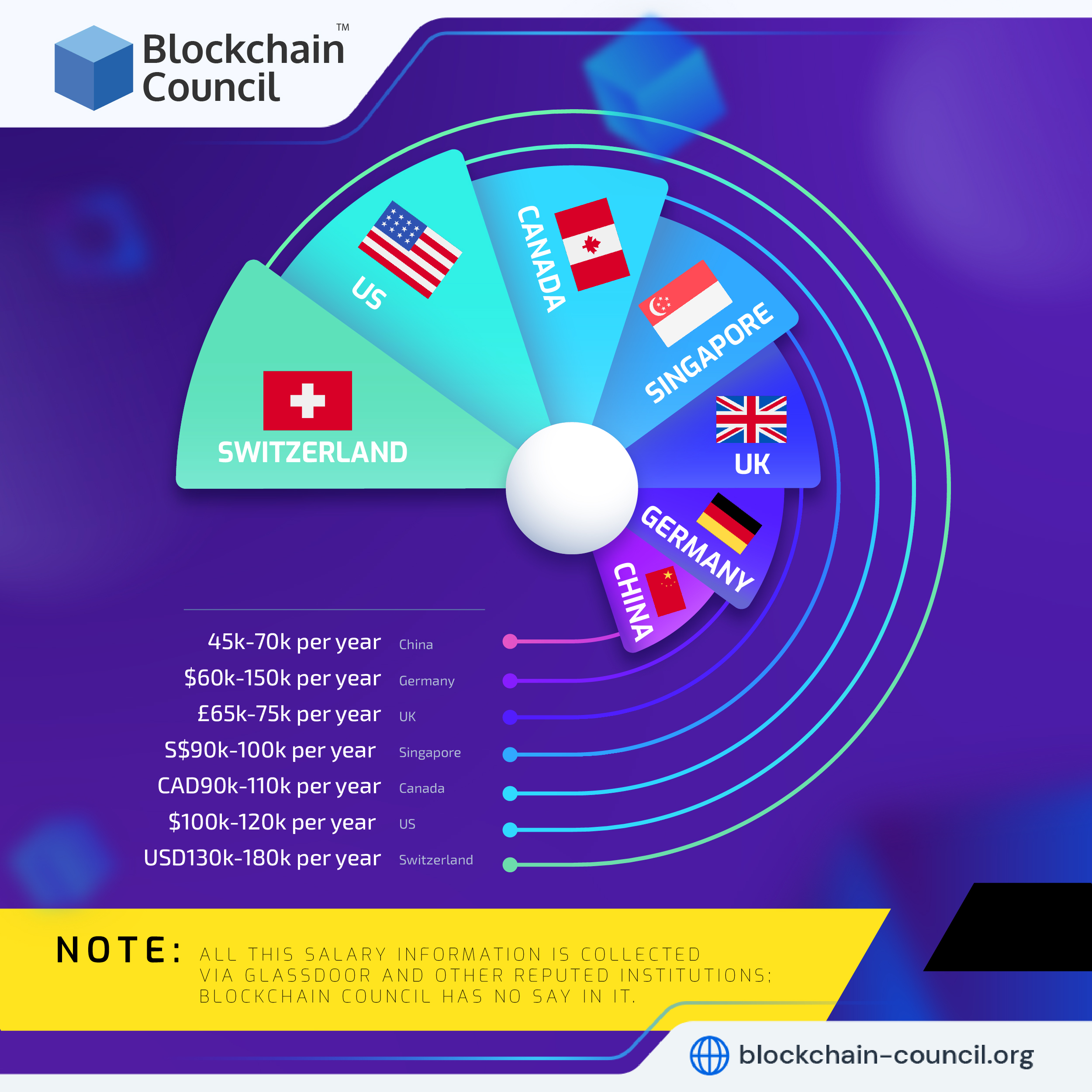 A Blockchain Engineer comes under the software development umbrella. However, they not only work on the software creation part but more than that. Hence the pay scale for Blockchain engineers is much high as compared to software engineers.  As per the US Bureau of Labor Statistics survey, it has been observed that 11% job growth can be seen from 2016 to 2026 for Software system engineers. Therefore, Blockchain Engineer also falls under this category. Also, this is the maximum growth that can be seen when compared to other occupations. Blockchain engineers can enter any sector like health, finance, government, etc.
Blockchain Engineer salary is climbing peak day by day, and the day is not far when Blockchain Engineer will be considered the most highly paid engineers.  Check out the average salary provided to the Blockchain engineers based on the location.
US $100k-120k per year

Singapore S$90k-100k per year

UK  £65k-75k per year

Germany $60k-150k per year

Canada CAD90k-110k per year

Switzerland USD130k-180k per year

China 45k-70k per year
Note: All this salary information is collected via Glassdoor and other reputed institutions; Blockchain Council has no say in it.
The above mentions figure is an approximation result from glassdoor and could fluctuate over time. Also, the salary depends upon the company, job location, technical skills, and experience. The Blockchain Engineer could get between $150,000 and $175,000 on average per year as a paid salary.
Why become a Blockchain Engineer? 
As discussed above, we know that the scope and demand for Blockchain technology are rising day by day. So why not become a part of this trending technology and start your career as a blockchain engineer. Some of the reasons for becoming a blockchain engineer are as follows:
Sound Salary- High Payscale and career growth as blockchain is the future and not explored much. Also, there are not many experts in this field as it is a new technology. So it is beneficial for technological geeks to kickstart their careers as blockchain developers or engineers.
Booming Technology- High demand for Blockchain Engineers and developers across the world due to the potential that blockchain technology holds.
Work from Anywhere- The option of working remotely is available mainly for blockchain engineers and developers, offering more flexibility in the workplace.
Emerging Technology- As a Blockchain engineer, you will be expertise in New Technology on which no one has worked on. Exploring the new technology will increase your professional growth as well as providing the world with better solutions using your skills.
Large Industries adopting blockchain- Not only startups but also large industries like IBM, Microsoft, Samsung, and many more demands blockchain engineers.
Versatility- As a blockchain engineer, you will not be restricted to one sector because blockchain is a versatile technology. You can work in industries dealing with automation, banking, financial services, health care, insurance, media and entertainment, retail, travel, transportation, etc.
How to become a Blockchain Engineer?
The job sounds interesting, but where to start from? To become a blockchain engineer, you need to acquire some basic technical skills in networking, programming, data structures, and computer science. Then after that, you can go for professional blockchain courses or certifications, which will lead you to great job opportunities around the globe. Follow the steps below for becoming a blockchain engineer or developer:
Firstly, have basic blockchain knowledge and its technical parameters.
Have a bachelor's degree or diploma in Computer science or any related field.
Understand the Blockchain Architecture and its working as a consensus, hash functioning, etc.
Deeply understand the function and application of data structures and algorithms like the Merkle tree.
Having cryptography skills is necessary for maintaining the security and mutability of the blockchain system. So having cryptocurrency certification will do wonders in building your career in blockchain technology.
Build Web development skills.
Expert the primary programming languages like C++, Java, Python, and Solidity, etc.
Have in-depth knowledge of Blockchain platforms
Also, understand the Blockchain ecosystem and its standards.
Master the blockchain developing tools.
You can also be a certified blockchain expert and get a blockchain Engineer certification. Doing this will increase your skills and knowledge in the blockchain field.
Let us further discuss the benefits of having blockchain certification and pursuing blockchain courses.
Benefits of Blockchain Engineer Certification
Pursuing Blockchain courses and gaining expert and developer certifications will give you in-depth knowledge of blockchain technology and how it is used in industries. Following are the benefits of being a certified blockchain Engineer.
It gives you a better understanding of blockchain technology and its impact on industries.
You can get the necessary knowledge of various blockchain platforms like Hyperledger, Ethereum, corda, etc.
You can prove your Blockchain skills & understanding with the help of blockchain certifications.
Gain an in-depth understanding of Blockchain & its implementation
Implement your skills in any Blockchain applications
You can also build your own Blockchain enterprise with acquired knowledge
Professional holding a blockchain certification is preferred by the MNC's. Also, Salary is quite handsome if you have an industrial knowledge of blockchain technology. Therefore, Blockchain courses fulfill this need also.
Conclusion 
In this article, we have covered almost everything about Blockchain Engineer. Now you must be more aware of the job roles and responsibilities of a Blockchain Engineer. Also, we covered the salary of a blockchain developer or engineer and discussed the scope of blockchain technology in the future. It is a booming technology that will be one of the most critical technologies contributing to change the world. Bitcoin has made a firm foot into financial services, and it is not too far when blockchain technology will be utilized in every sector to make the world a better place.
If you want to keep up with the trends of blockchain industry, join our communities on Discord, Reddit and Telegram.