Referred to as Decentralized Ledger Technology, blockchain is a distributed ledger that stores and safeguards digital data and records. One of the key benefits of a blockchain channel is that it is free from the intervention of third parties such as banks. The data stored is verified by participating nodes through a process called mining. Blockchain ensures high-end safety, transparency, and immutability of transactions. As there is no single data storage point, blockchain remains free from data tampering and theft. DLT supports fast data processing, has lower operating expenses, and guarantees safe transactions.
Uncertainty hovering over the future during the COVID-19 pandemic pushed us towards the digital economy. The shift towards digitalization caused a surge in the popularity of blockchain technology. Where earlier it was seen as a crypto resource, today it has its presence across all industrial and non-industrial fields. This article presents a list of the ten most promising use cases of blockchain technology in 2022. The content also features one of the top blockchain developer portals in the respective domain. Have a look:

Top Use Cases of Blockchain Technology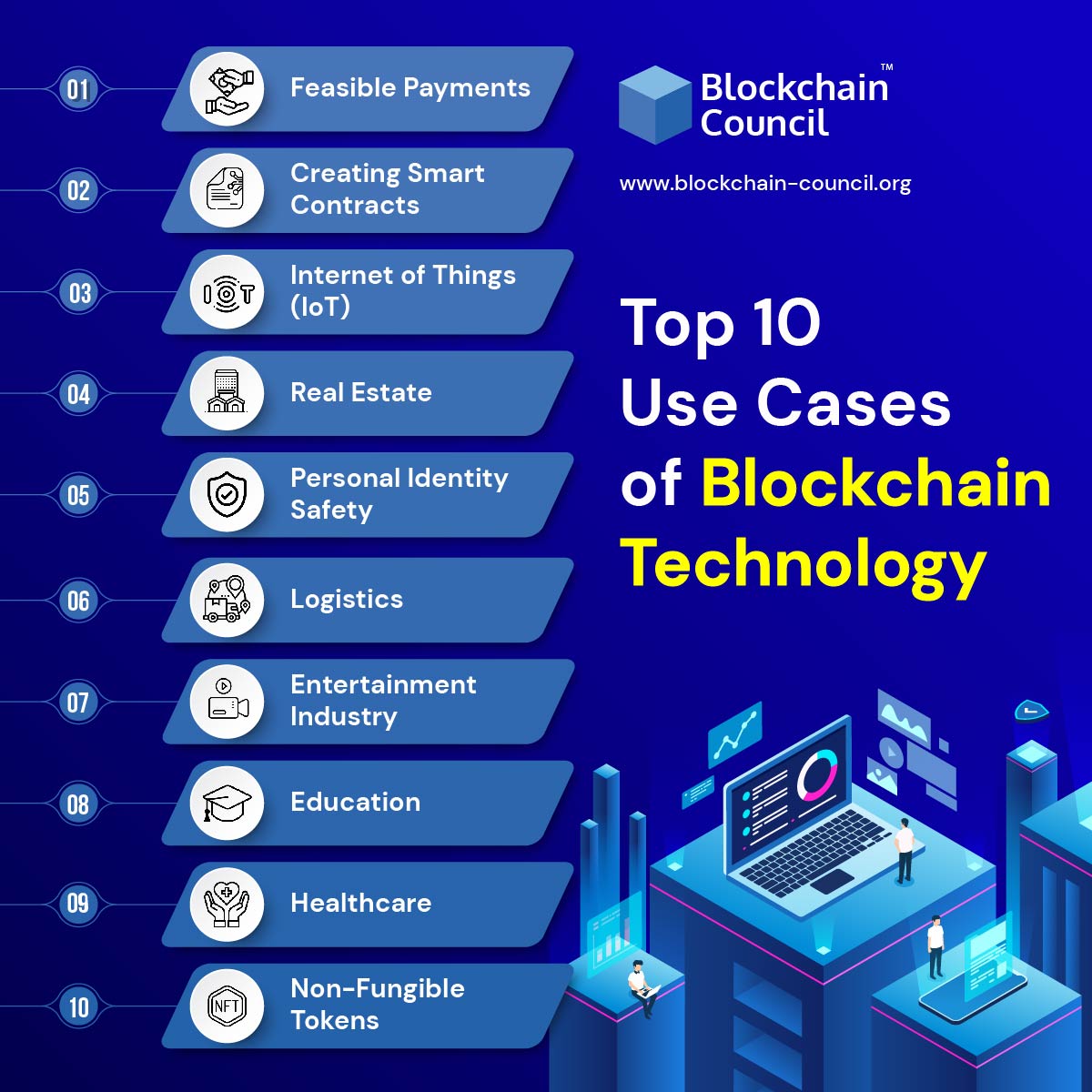 Feasible Payments 
Blockchain offers a method for quickly and securely compiling a tamper-proof record of sensitive activities. This makes it ideal for money transfers and international payments. The use of blockchain technology for payment transfers is growing significantly. High-end security, transparency, and immutability are some of the main features that make blockchain technology a perfect choice for international money transfers.
Blockchain technology makes real-time transactions possible at breakneck speeds. The time and money savings, characterized by eliminating transaction fees levied by banks/financial institutions, have permanently revamped the BFSI industry.
Use case
Banco Santander
In April 2018, financial services firm Banco Santander introduced the world's first blockchain-based money transfer service. The "Santander One Pay FX" service enabled clients to send money internationally the same day or the day after using Ripple's xCurrent.
Santander decreased the number of intermediaries traditionally needed in these transactions by automating the entire process on the blockchain, improving the process's efficiency.
Creating Smart Contracts
Smart contracts have gained immense popularity since their inception in the Ethereum ecosystem. These digital contracts are computer protocols that enforce the terms of an agreement between two individual parties without the requirement for third-party verification or permission. They are enacted in real time when the parties involved fulfill the pre-determined terms of the contract. As they revolve around blockchain technology, smart contracts are fully secured, transparent, and immutable. Smart contracts running on the Ethereum blockchain are widely used in healthcare, education, trade, government contracts, etc. The application of blockchain technology in smart contracts is facilitated in the form of:
Smart insurance contracts
Supply chain administration
management and recording of financial data
copyright oversight
tracking of clinical trials
transfer of property ownership
Use case
Propy
Propy, a popular real-estate portal, uses blockchain-based title registration services. For brokers, realtors, and their clients, it automates all transactions that get stored on the DLT. Propy enables quick title issuance and cryptocurrency-based property buying and selling using blockchain technology.
Internet of Things (IoT)
Presently, there are billions of connected devices within the Internet of Things (IoT) cluster. With digitalization at its peak, it is likely that IoT will continue to make strides in the coming years. According to the latest predictions, 50 billion devices will be connected to the IoT hub worldwide by 2030. The surge in the number of linked devices will allow hackers to access users' private data, causing more severe issues. Data breaches can be greatly decreased by incorporating blockchain technology in IoT devices.
Blockchain stores data in interconnected blocks secured using cryptographic encryption. Also, no single authority controls the data in a decentralized ecosystem. The data is verified by a group of network nodes or computers. As there is no single point of authority within a blockchain network, it becomes impossible for hackers to intrude.
Use case
HYPR
By merging smartphone technology with the incredibly secure FIDO token, HYPR revolutionizes cybersecurity. Its True Passwordless Authentication makes the portal a leading brand in the cybersecurity market. IoT devices are tamper-proof thanks to HYPR's decentralized credential systems and biometric authentication.
Real Estate 
Anyone who has ever purchased or sold a home knows the amount of paperwork involved. Blockchain development aims to reduce the stress brought on by these paper tasks. You may protect your records with blockchain with comparatively little work and expense.
Smart contracts that only finance when the requirements are met can be created via this approach. Additionally, many people who interact with realtors know how perplexing the commission rate may be. Attitudes based on cryptocurrencies want to alter this circumstance. By eliminating brokers, mediators, or negotiators who obstruct direct contact between real estate agents and clients, the widely used blockchain design restores the power of real estate owners and buyers.
Use case
UBITQUITY
Founded in 2015, it is a SaaS blockchain platform and API for real estate record-keeping. Platform customers can enter property data and store documents on the blockchain. Ubitquity offers a system that permits the simultaneous recording and tracking of existing legacy document records.
Personal Identity Safety
The most notoriously famous cybercrimes at present are hacking and stealing personal information. In 2019, approximately 1 in 15 people, or nearly 14.4 million people, became victims of this vicious crime circle. Identity theft can take many different forms, from faking documents to hacking and violating personal data files. Storing personal data, such as bank details, birth date, address, PAN details, etc., on a decentralized and immutable ledger channel ensures complete safety. The immutability of blockchain helps to avoid data theft, data manipulation, and false representation.
Use case
Evernym
With its Sovrin identity network, Evernym allows users to manage and govern their online identity. For each transaction, Sovrin acts as a liaison between the user and the parties requesting the former's private information. It verifies the information in real-time and stores users' personal information in its decentralized cluster. By utilizing the tech stack and commercial resources of Evernym, self-sovereign identification solutions may be created and implemented.
Logistics
The logistics sector's most pressing problems are data silos, poor communication, and lack of transparency. Since thousands of businesses operate in this industry, these impediments become even more evident and cost business time and money. Blockchain's data transparency is useful in coping with these problems. The decentralized technology has the potential to recognize data sources, automate procedures, and increase trust and transparency in the logistics sector.
Use case
DHL
DHL is one of the world's most popular shipping firms. The brand has a powerful presence across the world. To expand its operational capacities, DHL uses blockchain technology. The logistics conglomerate employs blockchain to track and record data about its global shipments. With DLT, DHL strives to uphold the integrity of transactions.
Entertainment Industry
With an expanse of digitalization, media organizations today face various problems. The list includes serious issues related to copyright infringement, royalty payments, data privacy, and intellectual property theft. Digital media companies can resolve these complexities using the prowess of blockchain technology. Integrating DLT with the core entertainment infrastructure helps to:
Ensure intellectual property rights' safety,
support data integrity,
reach the targeted clients, and
guarantee that artists receive their royalties on schedule.
Use case
MadHive
Popular ad firm MadHive, based in New York, offers full-stack solutions to digital marketers. Customers' activity may be tracked, recorded, and reported using the secure Blockchain ledger channel used by the portal. Marketing professionals get a fair chance to better understand their target audiences using MadHive's real-time data monitoring tools and audience analytics reports.
Education
The importance of distance learning and online education is on a surge, especially after the COVID-19 crisis. With this, there is a parallel rise in the demand for a fair means of examining students' academic records. Employers and other educational institutions may access safe documents thanks to the blockchain-based system, which serves as a storehouse for academic records.
Interestingly, blockchain can serve as a link between universities and educational institutions. It can connect students with universities through a secure and transparent interface. Students no longer have to wait for their degrees as all the credentials are easily accessible through the blockchain channel. The documents get stored on the digital ledger, making it easier for students and educational institutes to access them conveniently. This helps to ensure the trustworthiness of the documents.
Healthcare
General information like age and gender, along with essential medical information like immunization records or information about allergies, are stored in a blockchain network to ensure the safety of data. None of this data alone could be used to specifically identify one patient. This is why it is placed on a public blockchain so that many users may access it without violating privacy.
Blockchain can link medical devices with a person's health data to make the information more readily available at the time of need. Devices can store the data generated on the healthcare blockchain and annex it to a person's medical records. The siloing of the data that linked medical devices generating data is a major problem right now. Interestingly, blockchain can serve as the vital link that connects those silos.
Use case
MediLedger
MediLedger is one of the most trusted blockchain protocols that work within the healthcare industry. The portal enables businesses to track the prescription drug supply chain. This helps to validate the legitimacy of drugs, expiration dates, and other crucial data.
Non-Fungible Tokens
Non-fungible tokens, or NFTs, have grown significantly in popularity in the financial world. These digital collectibles represent real-life items such as art pieces, merch, real estate, etc. Presently, the craze for NFTs is in full swing amongst global artists, musicians, and influencers. They are embracing technology to increase the value of their original and distinctive works. NFTs can be used to create documents that serve as proof of authenticity for physical assets like paintings and jewelry, digital music, and art.
Use case
OpenSea
OpenSea shines as the world's largest NFT marketplace regarding trade volume and transactions. The platform supports a wide range of NFT collections. The portfolio includes NFTs belonging to virtual real estate, gaming items, and crypto collectibles.
Conclusion
Employing the prowess of blockchain technology as a resource has helped industries to enhance their operational functionalities. The DLT allows firms and individual users to unlock new opportunities for growth and development. The actual use cases for blockchain technology listed here highlight blockchain technology's potential to revolutionize the way we work. Blockchain thrives by pushing industrial processes towards a user-centric ecosystem. By utilizing blockchain technology's transparency, security, and immutability, businesses engage in fair trade and provide customers with dependable goods and services.
Those who are confused about how to learn blockchain concepts can move to Blockchain Council's official platform. The website offers a wide range of blockchain certification programs dedicated to crypto and blockchain technology. The courses are designed to sharpen the subjective and practical skills of the participants.
If you want to keep up with the trends of blockchain industry, join our communities on Discord, Reddit and Telegram.