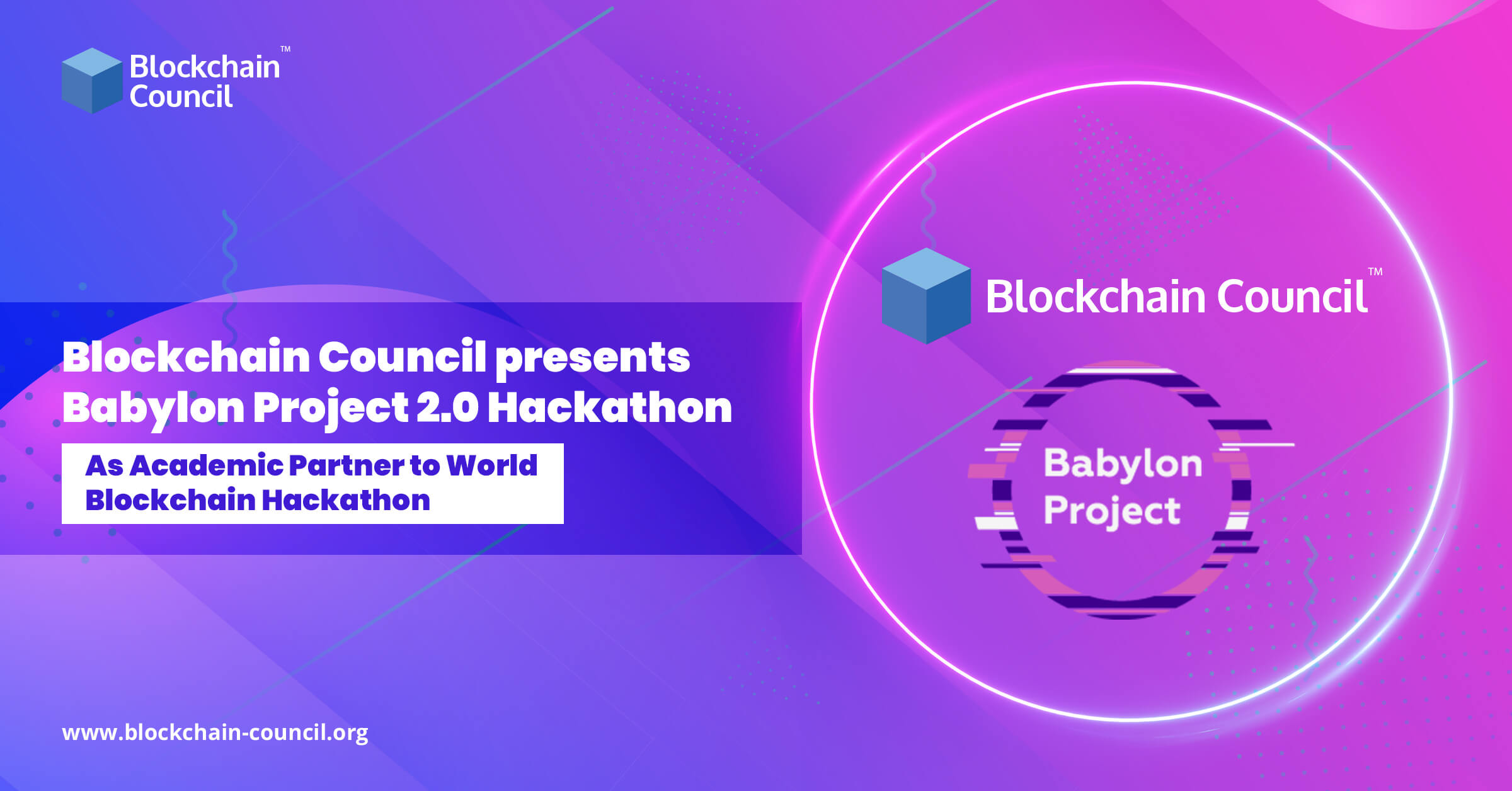 World Blockchain Hackathon is once again here with another hackathon – Babylon Project 2.0 Hackathon. Blockchain Council is this year's academic partner. All the blockchain innovators out there, brace yourself for a fun-filled hackathon. 

The term Hackathon has become extremely popular and synonymous with techies and computer professionals over the past several years. So what exactly is a hackathon? A hackathon is an event which is designed to use coding as its primary source of technical skill to accomplish a certain objective. Hackathons have taken the world by storm, fostering development of useful products and moving huge amounts of money.
In 2020, on the 9th October, as the world was reeling under the weight of the Covid-19 pandemic, the World Blockchain Hackathon organized the Babylon Project, where a global community of blockchain developers and enthusiasts came together under one roof to celebrate the blockchain technology with the vision of empowering the developers and builders by democratizing access to capital, mentorship and above all, knowledge. The hackathon mainly focused on imparting quality education, empowerment and elevating the next generation of developers and builders.
The Hackathon has been a huge success with more than 1000 participants from across 69 countries where the female participation was recorded at 30 percent. However, keeping in mind the success of the first Babylon Project, the Global Virtual Hackathon is proud to bring you the Babylon Project, version 2.0 in association with the Blockchain Council. 
The second installment of the Babylon Project is scheduled to take place from the 29th of October till 20th November, 2021 and even this time they have planned a flurry of activities with a wide range of attendees joining from all over the globe bringing their expertise and enthusiasm in blockchain together in one place. Building on the success of the previous year, this year Babylon Project 2.0 promises to be even more exciting with a host of new initiatives and opportunities on the itinerary.
The packed schedule of the program includes perks for all the attendees taking part in this incredible hackathon, promising them a unique experience of the metaverse. There will also be a provision for native webapp for hackers with virtual worlds created for hackers. The hackathon will also be announcing special awards for participants and attendees apart from airdrops and bounties. In addition to that there will also be a crowdfunding setup specially designed for the top 20 teams. Dedicated panel of experts on subjects like CBDC, NFT, DeFi, DAO, Payments, DApps and Bitcoin Scripts will also be included.
The registration deadline for this next generation hackathon ends at 11:59 pm on 21.10.2021. Blockchain enthusiasts and developers who dream of transforming the world and its affairs using the power of this amazing revolutionary technology, are requested to join this event and experience the magic of knowledge, unity and creativity, while bolstering their curiosity to establish a decentralised world structure in the near future.