Wondering how to become a certified blockchain professional? Want to give a head start to your career in blockchain space? You have landed on the right page. This article explains the concept and importance of blockchain technology and focuses on the most-demanding blockchain certification courses of 2020.

Learning of the Blog
1. Defining Blockchain in Simpler Words
2. Compelling Reasons to Learn Blockchain
3. Benefits of Online Learning Certification Courses
4. Career Scopes for Blockchain Enthusiasts
Best Blockchain Professional Courses
Hyperledger Certifications
Top Corda Certification Courses
How to Become a Quorum Certified?
Career Opportunities with Ethereum Blockchain
Most Demanding Specialization Courses in Blockchain Space
5. How to Become a Certified Blockchain Professional?
Defining Blockchain in Simpler Words
Blockchain is a peer-to-peer (P2P), decentralized, distributed ledger technology that performs transactions without any third party involvement. In simpler words, it is a chain of blocks stored on thousands of computers all across the globe or distributed over a geographical location. By peer-to-peer networks, we mean a decentralized peer-to-peer network where all the computers are connected in some way, and each has a complete copy of the ledger. Blockchain is a ledger that stores the credit and debit of every single record in such a way that it cannot be tampered by anyone.
Gone are the days when blockchain's use case was restricted to the finance domain. Today, it is revolutionizing almost every sector be it supply chain, digital identity, fundraising, voting, healthcare, amongst others, and this raises the demand for blockchain professionals.
Compelling Reasons to Learn Blockchain
Now, as we have understood the concept of blockchain, you might be wondering what is the need to learn this technology. Is it actually necessary to learn? Let's enlist the top reasons to answer your questions.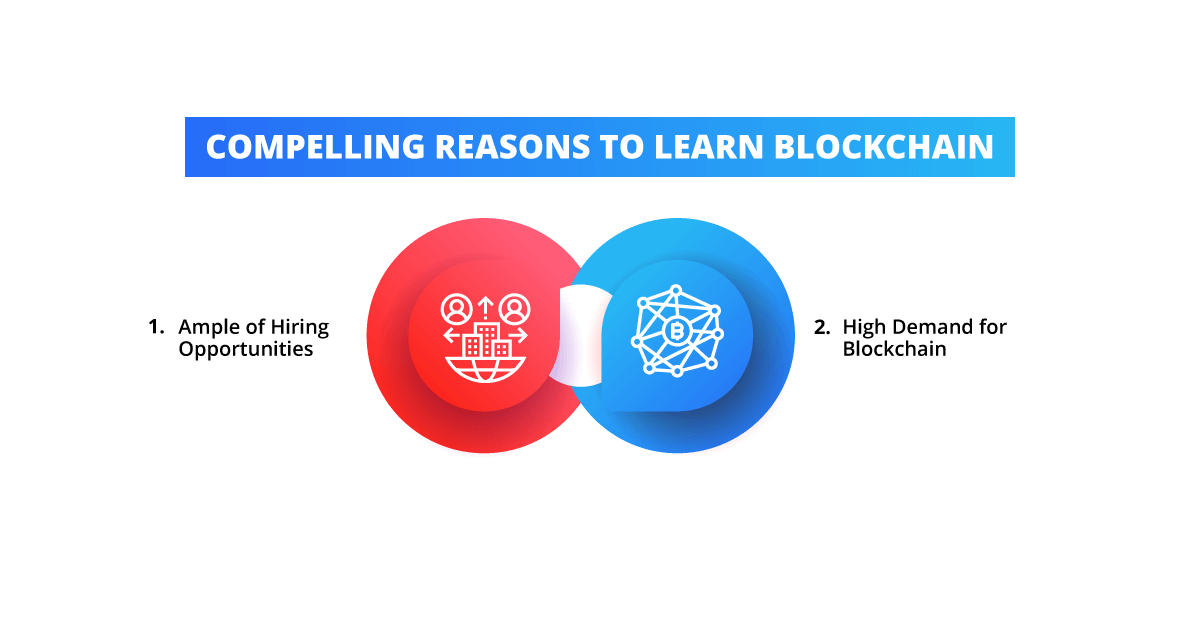 Ample of Hiring Opportunities
Today, most startups, legacies, tech companies, and governments are looking forward to adopting blockchain technologies due to their intense potential. Talking about blockchain's adoption, tech giants such as Google, Apple, Facebook, and others are leveraging this technology to benefit their businesses, and for that, they are hiring blockchain developers and experts. Even legacies have started hiring whole teams of blockchain specialists to keep up with the trend.
High Demand for Blockchain 
Blockchain is undoubtedly an emerging sector; therefore, there are ample opportunities for blockchain professionals. If one has the right skill sets to work in the Blockchain space and wish to get adapted to this trending wave, then one can enjoy the power of this revolutionary platform in various domains.
Benefits of Online Learning Certification Courses 
Before exploring the best online blockchain training courses, it is crucial to understand their benefits. Are they really worth it? Let's discuss this.
Online courses play a crucial role in the professional development of an individual. Such programs provide significant exposure, allowing one to not only learn the content of the courses but also strengthen his technological skills in a particular domain.
Online learning help in filling gaps that are not covered in traditional curriculums and impart practical knowledge that can be applied to the day-to-day activities at work.
Learning online helps you to acquire knowledge at your own pace with flexible timings and allows you to watch lecture videos and study when you actually want to.
Such courses help you to experience self-paced learning. All the online materials are available 24*7.
E-learning connects you with career opportunities after the completion of your certification program.
Online blockchain training courses are essential for aspirants who are looking to advance their careers, change careers, or reinforce their skill sets. Moreover, Blockchain certification brings with it industry recognition, improved job opportunities, and of course, improved payscale.
Career Scopes for Blockchain Enthusiasts
As we already discussed, blockchain offers ample career opportunities in various fields such as Retail, eCommerce, Banks, Telecom, FMCG, Manufacturing, Supply chain, and other domains, now before any further delaying, let's focus on the best online blockchain certification courses.
Best Blockchain Professional Courses
Blockchain Expert Certification 
Certified Blockchain Expert is a comprehensive course that covers the functional aspects of blockchain technology and educates how to use and implement this technology across various industries. It introduces public and private blockchains, blockchain mining, blockchain architecture, and educates setting up your own blockchain solution and covers other relevant topics.
Blockchain Developer Certification
Certified Blockchain Developer offers in-depth knowledge about technical aspects of blockchain technology, covering varieties of basic and advanced level modules. It provides a thorough knowledge of all the different types of blockchain technologies such as Ethereum, Corda, Stellar, Hyperledger, and others.
Blockchain Architect Certification
Certified Blockchain Architect certification course helps you master the core concepts of blockchain architecture tools, business components, and technical elements of blockchain architecture. The course emphasizes how to translate requirements into functions, teaches how to architect your own Blockchain solutions, and much more.
Hyperledger Certifications
Before discussing the most demanding online hyperledger certification courses, lets quickly define this technology.
Hyperledger is an open-source community that focuses on developing a suite of stable frameworks, tools, and libraries for enterprise-grade blockchain deployments, which serves as a foundation for various distributed ledger frameworks, including Hyperledger Fabric, Sawtooth, Indy, etc.
Now, let's talk about its certification courses.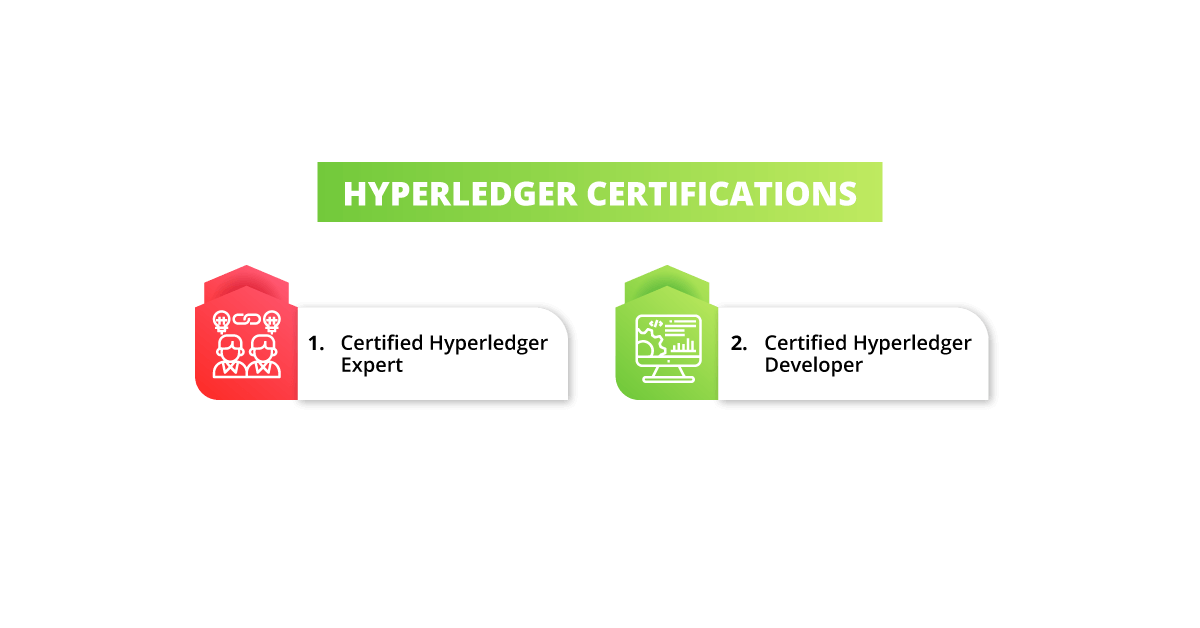 Certified Hyperledger Expert

 
The Certified Hyperledger Expert is a comprehensive course that provides in-depth knowledge of Hyperledger functionalities, its architecture, fabric model, and all it's umbrella projects. It illustrates a step-by-step guide on how to set up the environment for building your first Hyperledger Fabric network and designing the framework of Hyperledger Composer.
 Certified Hyperledger Developer
This certification provides in-depth training beginning from the basics of Hyperledger Fabric to the fundamentals of Hyperledger Fabric architecture. It covers all theoretical aspects of hyperledger and focuses on practical projects like the Capstone Project on Hyperledger Composer.
Top Corda Certification Courses
Corda blockchain is an open-source distributed ledger platform built for business purposes that enable businesses to transact directly and in strict privacy using smart contracts, reducing transactional and record-keeping costs, and streamlining business operations. Its applicability across numerous industries make Corda certifications pretty popular.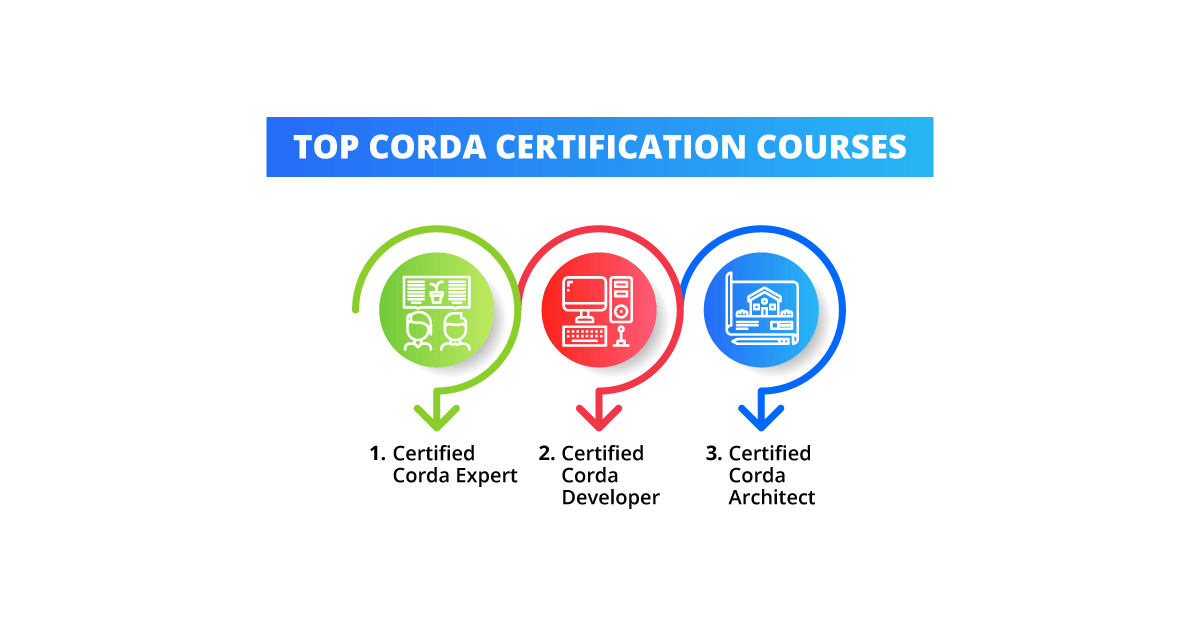 The Certified Corda Expert covers Corda structures, Corda Ledgers, the Corda States and Vaults, its key concepts, architecture, Corda Network, and more. Moreover, it educates aspirants about setting up the environment and building a Corda network.
Certified Corda Developer
The Certified Corda Developer training course is specifically designed for those who want to build and deploy distributed app solutions. It focuses on tools plugins and languages that are a prerequisite for crafting a Corda node and network and provides in-depth knowledge of creating, structuring, building, debugging, and signing of a CorDapp.
Certified Corda Architect
The Certified Corda Architect focuses on architectural understanding and exposure to the Corda platform and helps you make crucial decisions about Corda projects and even craft guidelines for the same. It covers the Corda ecosystem, Corda network, Corda node, Corda transactions, Corda consensus, Corda contracts, to name a few.
How to Become Quorum Certified?
Based on Ethereum, Quorum is an open-source blockchain platform that combines the public Ethereum community's innovation with enhancements to support business needs.
The Certified Quorum Expert training is an in-depth online training that equips you with Quorum expertise. It covers a range of topics starting from the basics of blockchain and ethereum, focussing on the Quorum ecosystem, Quorum contracts, consensus, and network in detail. Moreover, it explains Zero-knowledge Security Layer (ZSL) and how to set-up your own Quorum environment and Quorum node from the source.
Certified Quorum Developer
The Certified Quorum Developer online training is the perfect fit for all those who want to specialize in the Quorum blockchain. Along with setting up a Quorum client environment, it teaches how to connect Truffle to Quorum and how to interact with contracts privately and the like.
Career Opportunities with Ethereum Blockchain
Ethereum is a global, open-source platform for decentralized applications. It enables developers to write code that controls digital value, runs exactly as programmed, and is accessible globally.
Certified Ethereum Expert
Certified Ethereum Expert equips you to develop decentralized applications (dApps) and protocols for the processing of humongous amounts of data. It includes modules such as the basics of Blockchain and Ethereum, introduction to DAO, smart contract fundamentals, and much more.
Certified Solidity Developer
Certified Solidity Developer provides an in-depth understanding of Solidity language, and it's usage in developing and deploying smart contracts on Ethereum-based applications. It educates how to set up solidity operators, solidity control structures, solidity inheritance, etc.
Certified Smart Contract Developer
 Certified Smart Contract Developer offers an end-to-end in-depth study of smart contracts. It also focuses onTruffle framework, setting up a development environment, running and compiling a smart contract, etc.
 Most Demanding Specialization Courses in Blockchain Space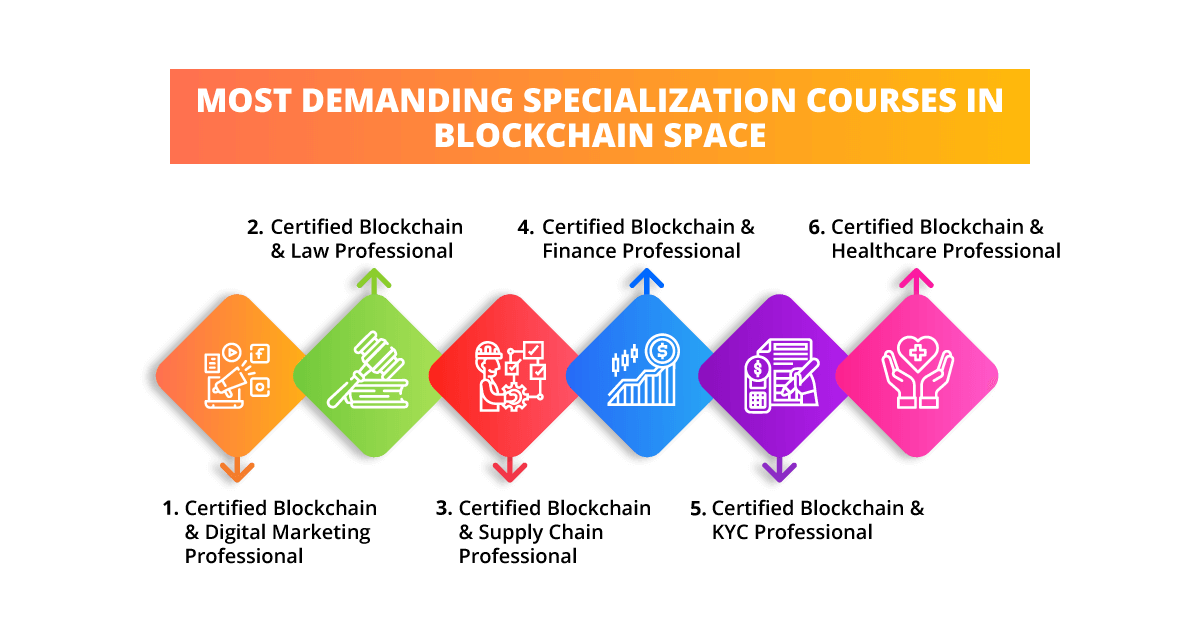 As the demand for blockchain is soaring, blockchain specialization courses have been on a constant rise. Let's have a quick glance at the most demanding specialization courses in blockchain space.
Certified Blockchain & Digital Marketing Professional 
Certified Blockchain & Law Professional 
Certified Blockchain & Supply Chain Professional
Certified Blockchain & Finance Professional
Certified Blockchain & KYC Professional 
Certified Blockchain & Healthcare Professional
How to Become a Certified Blockchain Professional?
To become a pro, one must possess professional-level knowledge and competency in blockchain space, and such excellent knowledge is built through online certification and training courses. Blockchain Council is a world's class online training platform that covers the functional and technical aspects of blockchain technology and digs deep into blockchain implementation concepts. The platform helps beginners and professionals to understand its impact on business and beyond, thus offering an opportunity to showcase their skills in various blockchain applications.
In the world of technology, blockchain is the next big thing that has the capability to revolutionize almost every industry. If you are looking for lubricative career opportunities, getting enrolled in Blockchain Council can help you achieve that success.
To get instant updates about Blockchain Technology and to learn more about online blockchain certifications, check out Blockchain Council.