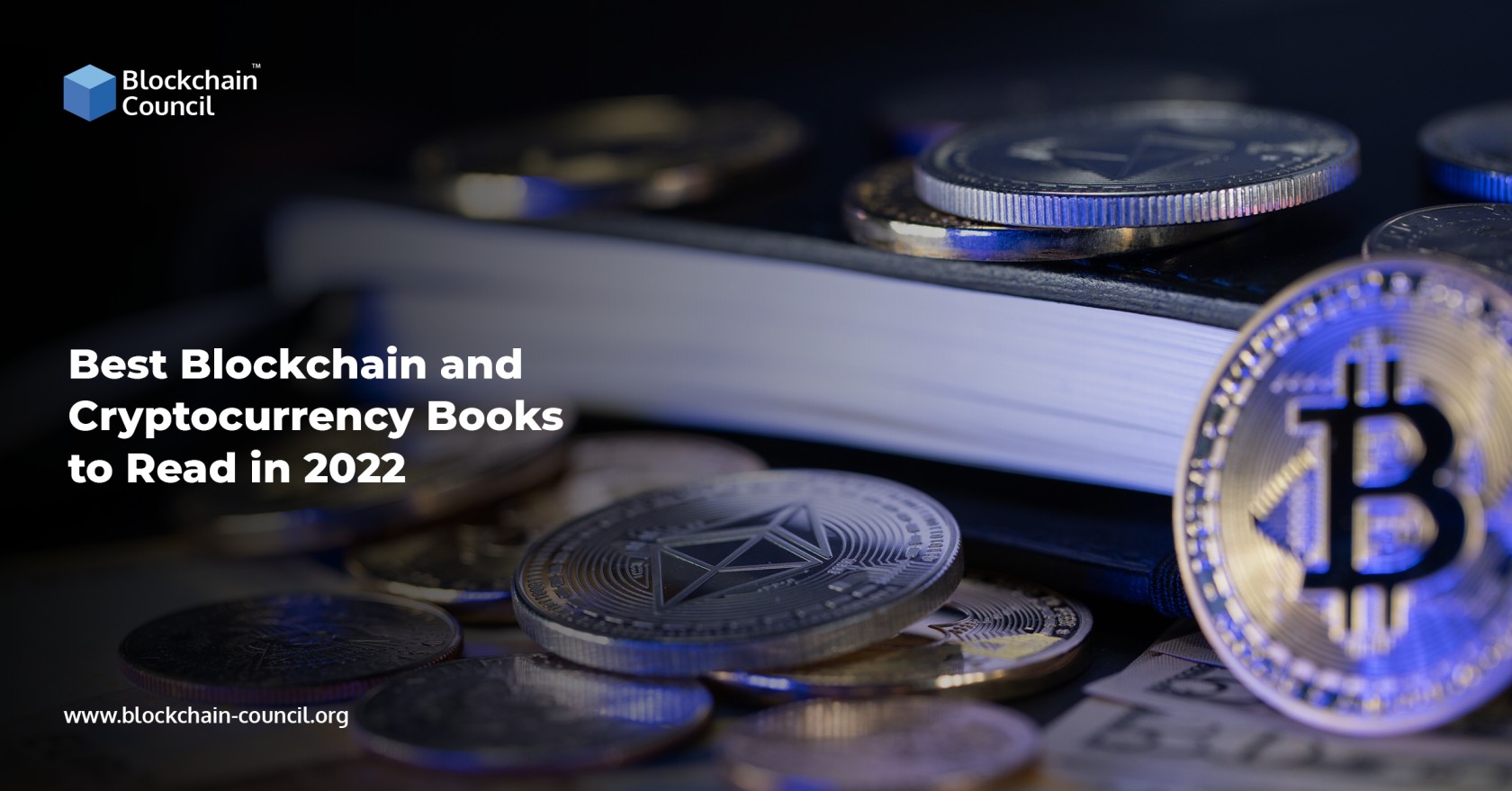 Crypto is a constantly changing ecosystem, with new information surfacing all the time. Today, we'll look at the finest blockchain and cryptocurrency books to help you comprehend the market, develop your fortune, or simply broaden your knowledge.

How do Blockchain and Cryptocurrency Books help readers?
Blockchain and Cryptocurrency books are a novel approach to learning about blockchain and the cryptocurrency industry.
These books are written by professionals who directly know what it is like to be an investor during these unpredictable times.
Thanks to easy-to-read manuals that provide you with all the knowledge you need to be a successful investor in this fascinating market, you can now learn from their failures and accomplishments.
Such books give readers an in-depth and instructive look into cryptocurrencies and the associated blockchain technology, allowing you to understand all you need to know before investing your money.
Tokens such as Bitcoin have evolved from a niche industry to a global financial powerhouse, serving as a means of payment and a store of value all across the world. Although many individuals have learned a bit about cryptocurrency, there are still those who know very little about the industry. However, several excellent resources are accessible for anyone who is still new to cryptocurrency. 
While Bitcoin was the first token to enter the market in 2009, the sector has since expanded into a worldwide payment solution with the ability to accomplish much more as technology advances.
If you want to learn more about blockchain and cryptocurrency and what they can do for our world, here are some of the best blockchain and cryptocurrency books to look out for.
Dr. Saifedean Ammous's Bitcoin Standard: The Decentralized Alternative to Central Banking
In this book, Dr. Saifedean Ammous explains what Bitcoin is and what it may represent for society as a whole. Bitcoin evolved as a mysterious yet strong concept. He explains how Bitcoin can solve what many perceive as a society plagued by centralization.
Unlike many subsequent crypto platforms, Bitcoin was only concerned with the issue of money. People, on the other hand, require the capacity to transfer value and save in a stable currency, and central banks have taken on the responsibility of providing this vital social asset in the modern age.
Dr. Ammous takes the reader on a journey through the history of money and demonstrates Bitcoin's concepts in the digital era. Instead of utilizing fiat cash, the author demonstrates how strong the concept of choice can be when sent over the internet. According to the author, Bitcoin's emergence coincided with central banks' transformation into social planners following the 2008 financial crisis.
The book then goes on to explain how Bitcoin works and why it may be used instead of fiat money. The focus moves to the notion of trustless systems and why it is such a groundbreaking concept in recent money history. Most people have never lived without central bank-issued currency since metals are no longer used as money.
Trustless systems, such as Bitcoin, are a relatively new technology, and the author believes that these new systems can make many other innovative societal concepts feasible. Bitcoin also questions the concept of central banks controlling the economic cycle through interest rates, which is another aspect of money that many people believe is immutable.
The author then discusses Bitcoin as a new type of global gold standard that may be utilized to settle payments on a supranational scale and as a nation's reserve asset. While these concepts may have looked outlandish a few years ago, the rush by large financial institutions to safeguard the asset makes this book seem prophetic. The author teaches Bitcoin economics apart from writing. 
Andreas M. Antonopoulos's Mastering Bitcoin: Programming the Open Blockchain
This book by Andreas M. Antonopoulos presents readers with a comprehensive picture of major events that have molded what Bitcoin has become and many of the important advances from its history.
The book is now in its second version, and the author has included fresh content to assist readers in learning more. In addition, the tools that work with Bitcoin continue to evolve as Bitcoin has gotten development support from a large community.
Antonopoulos opens the book by exposing readers to the fundamental principles of Bitcoin in non-technical words that are ideal for anyone who isn't interested in constructing open-source blockchain code structures. This is ideal for executives who want to learn more about Bitcoin or investors who want to understand more about the industry.
He then takes a more in-depth look at how the blockchain that supports the Bitcoin network works at a developer level. Using this technique, the author has written a book that can be used as a teaching tool as well as a practical guide to Bitcoin development.
The book then goes into how the network works in practice, detailing the peer-to-peer (P2P) aspect of a decentralized blockchain and how transactions function on the network. While many people believe that Bitcoin may be owned the same way that a physical thing can, the author works hard to explain the public/private key mechanism that enables Bitcoin to be used internationally.
The author has been involved in the Bitcoin community for many years and is the founder of several successful technology start-ups. The author's experience as a developer includes Cloud Computing, Cryptography, Bitcoin, Information Security, Data Centers, and Linux, among other platforms and sectors.
He has invested in three Bitcoin-specific firms and continues to engage in the burgeoning crypto sector. Antonopoulos also hosts "Let's Talk Bitcoin," an industry news source.
Antonopoulos is also the author of Mastering Bitcoin and The Internet of Money. His publications are regarded as trustworthy and competent on the subject of Bitcoin and crypto. Therefore, they may be beneficial to those new to the area or who wish to understand more about the technical aspects of Bitcoin's blockchain.
Blockchain Bubble or Revolution: Blockchain and Cryptocurrencies Now and in the Future by Aditya Agashe, Neel Mehta, and others
This book is a must-read for everyone interested in fully understanding the blockchain development area. Three experts wrote the book with extensive experience in the technology industry who have worked for firms such as Google, IBM, and Microsoft.
The days when Bitcoin was the only decentralized blockchain platform worth considering are long gone, and this book does an excellent job of explaining the industry's future steps. The book begins with an explanation of how Bitcoin and blockchain function from a non-technical standpoint.
The book goes through the history of Bitcoin and explains how a blockchain works, and provides explanations for widely used phrases to aid the reader's progress through the rest of the book.
Blockchain has been used in a variety of different fields as a result of the success of cryptocurrencies. The writers examine blockchain applications and provide their thoughts on when it is appropriate to utilize the technology and when it is not.
As most people are aware, there are a few other well-known tokens, and this book helps the reader better grasp how Ethereum differs from Bitcoin and how it may play a complementary function in the crypto sector.
The writers discuss several of the major stablecoins and other tokens like Monero and Bitcoin Cash, in addition to Ethereum and its emerging technologies such as smart contracts. There are many innovations in the blockchain field, and this book will provide the reader with a strong foundation on which to do further study.
This book gives the reader a lot more, including explanations on crypto rules and how they could eventually replace fiat currencies.
Chris Burniske and Jack Tatar's Cryptoassets: The Innovative Investor's Guide to Bitcoin and Beyond
The book segregates into three sections: WHAT, WHY, and HOW. Each volume presents a complete review of the history, technology, and supply/demand dynamic as digital assets entered the global financial system.
This is a great book for anyone interested in understanding how digital assets became so popular.
If you are a newbie investor in this industry, the book will provide you with all of the key ideas – a great place to start. Even if you are already familiar with the notion of cryptocurrencies, this book will broaden your understanding and provide fresh views.
In the first portion of WHAT, the authors transport readers to the year 2008, when global markets were in the grip of a horrific financial catastrophe and Bitcoin was just a year away from being released.
Satoshi Nakamoto created Bitcoin one year after the crisis as a remedy to the breakdown of the global financial system. At its most basic level, cryptocurrency is based on open-source code networks, and its value is determined by market forces. 
The first part also defines essential Bitcoin blockchain keywords such as distributed, encrypted ledger, immutability, and Proof-of-Work consensus.
While Bitcoin pioneered blockchain technology, it also cleared the path for the emergence of other currencies, ranging from altcoins like Litecoin, Ripple, and Dogecoin to more personal coins like Dash, Monero, and ZCash.
It also discusses the Ethereum network's inception and smart contracts. The first portion delves into the history and meaning of crypto assets, while the second section focuses on how to invest in Bitcoin and other crypto-assets. 
The book covers alternative assets, current portfolio theory, and the lack of stability and transparency in Wall Street institutions and hedge funds.
This book demonstrates a profound grasp of crypto-assets and their underlying technologies from an unbiased perspective. However, the book is prepared with caution in mind, and it discusses the possible hazards of these assets as well.
This book is recommended for anybody interested in knowing more about the evolution of Bitcoin and other major tokens. It's not very technical, so it's a great place for a beginner investor to learn about cryptocurrencies.
Phil Champagne's The Book Of Satoshi: The Collected Writings of Bitcoin Creator Satoshi Nakamoto
If you're acquainted with cryptocurrencies, you've probably heard of Satoshi Nakamoto, the creator of Bitcoin. Despite the fact that this individual or entity is well-known as the creator of Bitcoin and the owner of a big fortune in the currency, no one knows who they are. Only a few of their works have survived, including the Bitcoin whitepaper, which is one of them.
In his book The Book of Satoshi: The Collected Writings of Bitcoin Inventor Satoshi Nakamoto, Phil Champagne delves into the mind of Bitcoin's creator.
Bitcoin and blockchain are inextricably linked since it is through blockchain that Bitcoin runs. This is the book for you if you want a book that is less technical and more cerebral in nature.
Nobody knows if Satoshi Nakamoto, the enigmatic person or group that created Bitcoin, is a real name, an alias, or the name of an anonymous person or organization. 
The Book of Satoshi contains the majority of Nakamoto's key writings, including the original concept of Bitcoin, Nakamoto's explanation of how Bitcoin works, and emails and articles written by Nakamoto in chronological order.
From the beginning to the end, the book focuses on 72 major subjects, largely addressing a collection of insights and controversies made by Satoshi throughout the early phases of Bitcoin, how the digital coin works, and its creator's goal at the start of the project.
The book also discusses consensus Proof-of-Work, transaction fees, and the Byzantine General Problem in Computer Science. The blockchain, according to Nakamoto, helps to overcome the problem of exchanging information in an unsecured communication situation.
More traditional topics like central banking, regulatory challenges, and money supply issues that Bitcoin may help with are also discussed. With all the technology that goes into Bitcoin and blockchain-based decentralized systems, it's easy to forget that they're about new money. These concepts are explored in The Book of Satoshi: The Collected Writings of Bitcoin Creator Satoshi Nakamoto, and they may become increasingly significant as the next decade progresses.
Don and Alex Tapscott's Blockchain Revolution: How Bitcoin's Technology Is Transforming Money, Business, and the World
As we approach a new era of blockchain and decentralization, it is hard to discuss Bitcoin and cryptocurrencies without mentioning the technology underpinning these advances. Therefore, anyone interested in learning more about the blockchain phenomenon must stretch out their hands for this book.
The book is divided into three sections: the "Revolution," the "Transformations," and the "Promise and Peril" of blockchain technology.
The protocol of blockchain and its seven design concepts are described in the first section: network integrity, a distributed-powered system, value as an incentive, security, privacy, ownership rights, and inclusivity. This book explores how worldwide open-source technology is transforming how we utilize the internet to accomplish a variety of goals.
The topic focuses on blockchain as a strong option for improving financial services, protecting personal identifying credentials, enterprises, individual contracts, and the growth and development of the Internet of Things, which includes smart devices that can gather and exchange data.
While the book does describe the technology underlying blockchain, it is not intended to be a thorough technical exposition. Indeed, the book discusses how blockchain might influence the future of monetary systems, transactions, and businesses.
According to Don and Alex Tapscott, this new technology is a simple yet revolutionary protocol that uses a distributed decentralized ledger to secure anonymous financial transactions.
"Occasionally, a book comes along that affects the global debate," Klaus Schwab, the World Economic Forum's founder and executive chairman, said. One of those novels is likely to be this one. Blockchains are at the center of the fourth industrial revolution, and the Tapscotts explain why and how to take advantage of the potential while avoiding the risks."
The usage of virtual money is more secure because of blockchain technology and a decentralized ledger. Although there is still a long way to go before the blockchain is fully integrated into global processes, the writers have done an excellent job of differentiating what the technology has accomplished from what it still needs to do.
Blockchain Revolution: How the Technology Behind Bitcoin Is Changing Money, Business, and the World is a wonderful book to read if you want to understand more about how blockchain has already altered our lives and how it may be utilized in the next century.
Conclusion
Many people who have been introduced to the crypto world want to make money, but many of them are finding that it is not so simple. Everyone may make the error of cryptocurrency trading based on emotions or a hunch based on some blog article, which can result in massive losses. Fortunately, there is an alternative. 
Blockchain professionals are in high-demand due to the surge in blockchain popularity. You can always contact such professionals in case of a dilemma. However, if you aspire to become one of those professionals you can opt for some blockchain courses. The choice depends on you.
Blockchain council can be your guide in this journey!