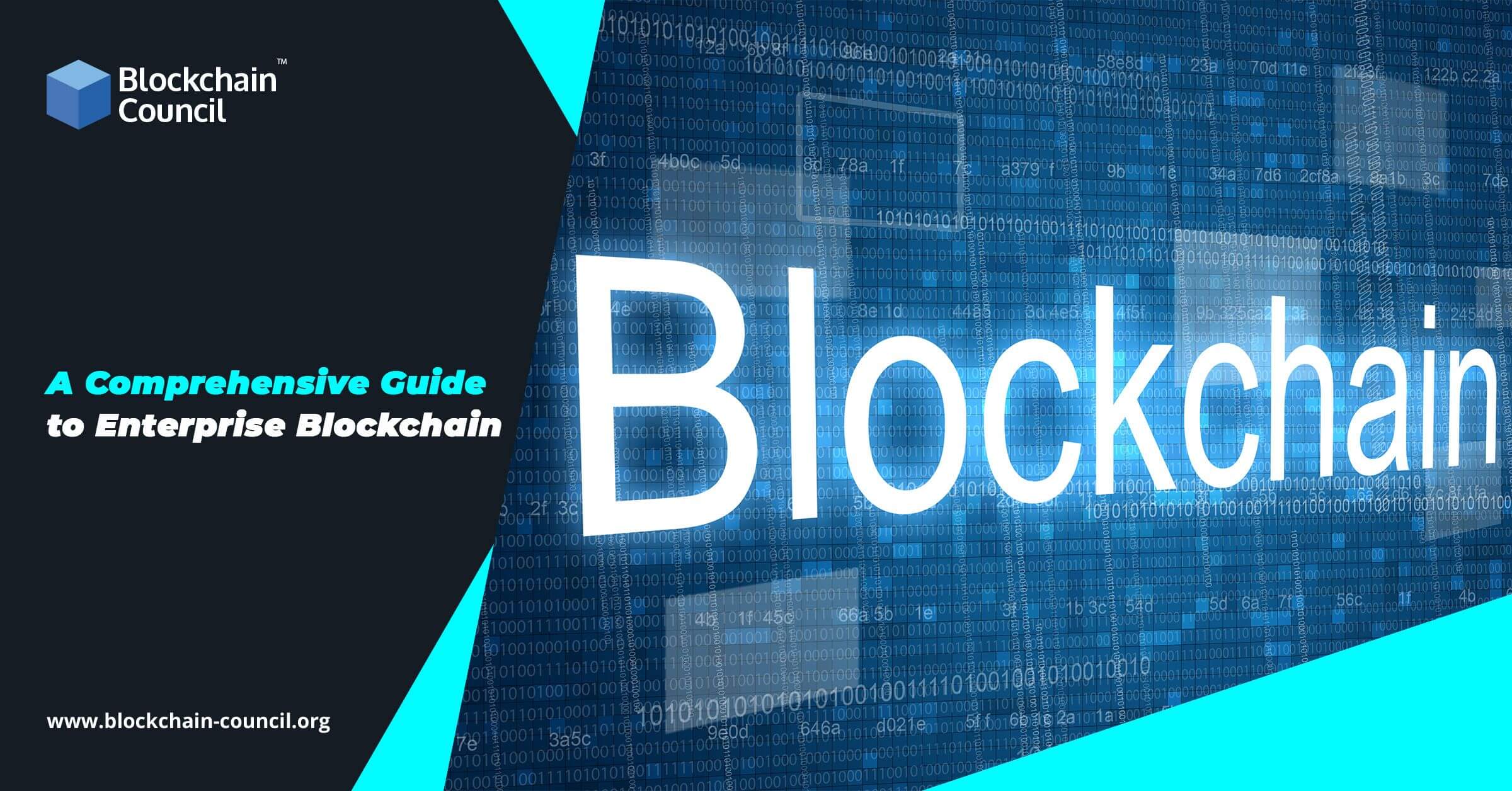 If you want to learn everything related to enterprise Blockchain, you have landed on the right page. This article talks about what exactly enterprise Blockchain is, top platforms for enterprise, and some of the notable companies that are exploring enterprise Blockchains. 

Table of Contents 
What is Enterprise Blockchain?

Top 5 Blockchain Platforms for Enterprises

Notable Companies Exploring Enterprise Blockchains

Concluding Lines 
What is Enterprise Blockchain?
It is a type of permissioned blockchain network that can be integrated and utilized for enterprise usages. Such blockchains are empowering enterprises and businesses with accountability, immutability, scalability, security, ease of use, and control, radically transforming the course of their business. 
Enterprise blockchains are generally permissioned and can be categorized as Private or Consortium. 
A private blockchain is a permissioned and restrictive blockchain that operates in a closed network. Such Blockchain is mainly used within an organization where only particular members are participants of a blockchain network. It is best suited for enterprises and businesses that want to use Blockchain only for internal uses.
Consortium Blockchain is best suited for organizational collaboration where a group of two or more parties jointly define the network rules, and each entity can contribute. The major benefit is that it offers scalability and is much secured.
If you are wondering how it is different from other Blockchains, please note that unlike permissionless ones that exist outside the control of anyone company or government and are resistant to censorship, enterprise blockchains are permissioned ones, meaning companies have direct control over them. 
If you are interested in learning more about permissioned and private Blockchains and gain an in-depth understanding of how these Blockchains work, you can get enrolled in Blockchain Council and become a Certified Blockchain Expert. 
Top Blockchain Platforms for Enterprises
Ethereum is an open-source Blockchain platform to run smart contracts on the custom-built Blockchain network. Known for its smart contracting functionality and flexibility, Ethereum can be utilized across multiple industry use-cases. 
Hyperledger offers various free tools and frameworks, allowing developers to build their Blockchain-based solutions. This platform aims to accelerate industry-wide collaboration to develop high-performance and reliable DLT-based technology frameworks that could be used across various industries to enhance the performance and transactions of diverse business processes. 
This platform has the ability to handle applications that require powerful throughput processing and high speed of private transactions. Due to its capabilities, Quorum is becoming an indispensable part of banks and financial institutions where privacy of information is crucial.
Corda is an open-source platform that can be used to design applications specifically for financial organizations. Initially, it was designed by the financial industry, but today it has its implications in various sectors such as trade finance, supply chain, government authorities, among others. It operates on the permissioned network and, therefore, can be used to reduce transactions and streamline business operations.
Notable Companies Exploring Enterprise Blockchains
Many prominent companies have realized that blockchain solutions are efficient in streamlining their business processes and lowering their costs, and therefore they are using enterprise Blockchains.
When it comes to software giant Microsoft it has taken a more significant role in blockchain development. Last year, the company announced that it is collaborating with EY to use Ethereum for Xbox gaming royalties. 
Regarding the pandemic, it was announced that the Albany Airport is experimenting with a "Wellness Trace App" to ensure the cleanliness of surfaces inside the airport built using the Microsoft Azure enterprise blockchain.
Big Four firm Ernst & Young is one of the leading organizations that has played an active role in leading the way for public enterprise blockchain adoption.
For instance, the company continues to contribute to the Baseline Protocol development, which uses the Ethereum public mainnet as a tamper-resistant state machine to record business data. 
Apart from this, EY plans to make Nightfall and zero-knowledge proofs easier to use for developers. 
The largest online payments system, PayPal, since 2014 is focussed on leveraging blockchain technology in order to serve merchants and users better. In November, PayPal shocked the entire crypto sector when it announced that it is planning to launch crypto services for users of its platform globally in 2021. Last year in November, it was announced that PayPal's crypto trading and payment platform went live for U.S. users. 
JPMorgan, the biggest bank in the United States, initially showed an interest in Blockchain in 2017 when it joined the Enterprise Ethereum Alliance. In February 2019, the bank announced its "JPM Coin" to help banks settle transactions which was launched the following year. Not only that, JPMorgan Chase announced that its native digital currency offering — the JPM Coin that can be deployed for mainstream use by one of the firm's technical associates.
Concluding Lines 
Presently, many top companies are exploring the advantages of enterprise blockchains, but it's also true that technology is far from taking over the world yet. 
This has led us to the end of our discussion. Hope you have gained a clear understanding of enterprise Blockchain.
If you want to build your own Blockchain, you can get enrolled in Blockchain Council and become a Certified Blockchain Developer. 
To get instant updates about Blockchain Technology and to learn more about online blockchain certifications, check out Blockchain Council.