Ever since the concept of Web3 emerged, users have been getting excited day by day. That's understandable, considering the tons of benefits that users can have. The question, though, is, what's in it for businesses? Has the time arrived for businesses to get Web3 ready? Let's understand this a bit more!
The evidence of corporations misusing customers' sensitive information with little to zero security has eventually led to a flood of user privacy concerns and the downscaling of confidence in the current systems.

When people were becoming more conscious about their security, the concept of Web3 came in, making people believe that their information could be safe. With this, users are excited about secure communications and a democratic web. Indeed, early users and adopters have begun to transition to Web3 technologies.
Although Web3 assisted businesses in assessing clients' opinions and data, the decrease in security impacted the overall reputation of brands. The magnitude at which data leaks are taking place has decreased the overall credibility of every business. That's where Web3 can be your savior. The Global Web 3.0 Blockchain Market revenue is expected to reach a value of USD 23.3 Billion in the year 2028.
Throughout this comprehensive article, we'll explain everything any entrepreneur must understand regarding Web3, a few real-world examples, and why they should use this approach to expand their firm.
Why Businesses Should Transition To Web3 
Until now, huge tech corporations have controlled and misused customer information for their benefit.
Through Web3, based on Blockchain, end users will just have complete data proprietorship. The blockchain technology will be used to send highly confidential information. Users could choose whichever details they want to disclose with companies and marketing firms and gain from all of this.
This might initially appear to be an issue for firms at first. On the contrary side, the situation is entirely the opposite. Information exchange will change dramatically for the advantage of both businesses and individuals. Even though there can be a lot of reasons to adopt this new emerging technology, we manage to concise the top three crucial reasons, which are given below.
Adaptation and development: Similar to how organizations that fail to evolve and adopt Web 1.0 and Web 2.0 technologies (earlier web, etc.) eventually became liquidated or had massive revenue losses. Blockbuster, Polaroid, and Borders Group are a few companies that struggled to continue to compete, leading to a shortage of information and electronic advancement. These firms served as shining instances of those unable to keep up with technological advancements or did not adjust to new advances in the digital age.
Virtual property: It is essential to comprehend the importance of being on authentication of digital products if the company has ever had any intellectual assets such as logo, site, multimedia, etc.) or "digital content." NFTs (Non-fungible Tokens), which seem to be virtual tokens linked to online purchases or transactions, are certainly familiar to consumers. If a company logo or other virtual asset—even a notion- is uploaded onto the network, individuals effectively have protection and verification connected to you from the Blockchain.
Authenticity and widespread appeal: Anybody engaged in an industry or following recent events has likely heard of Blockchain for quite a while, well more today than ever before. Yet what for? Owing to the safe and effective method of payments managed by the Blockchain, it is growing in popularity among merchants and customers alike. Customers know exactly who they should be spending, and sellers appreciate the significance of analyzing on-chain data. Digital movies, merchandise, documentation, and other items can now be checked and confirmed from one of the safest methods imaginable. I think distributed ledger technology has already acquired traction among individuals and companies as a viable alternative to conventional payment solutions.
Benefits Of Adopting To Web 3.0 For Businesses
Let us just take a closer look at Web 3.0's main features so you can get a better sense. But in the meantime, be aware of the key distinctions among Web 1.0, Web 2.0, and Web 3.0. Furthermore, these notable variations are straightforward:
Now that you know the distinctions between all these 3, let's examine the main components of Web 3.0.
Streamlined Business Processes
Businesses will discover that it is simple to keep track of all the companies participating in a blockchain system thanks to Web 3.0. Thanks to this technology, businesses and organizations can easily establish and oversee their distribution networks. Smart contracts enable the automation of all contracts, simplifying company processes.
Example Use Case
The availability of all reservation, customer, and payment information in actual time can simplify the operational hospitality processes. Additionally, any visitor that enters your site will have their transactional information recorded in the ledger. Relying upon every person's shopping behavior and interests, offering comprehensive care with Web 3.0 technology is simple.
No Third Party Is Required
Using distributed applications, Blockchain-based, and smart contracts eliminates the need for outside service suppliers. Companies will profit from cost-cutting measures and achieve a competitive advantage. With the implementation of Web 3.0 technology, each sole proprietor will be capable of being in charge of all internal processes and communicating directly with their clients' interruptions from other parties.
Example Use Case
People can easily swap money in a confidential setting thanks to Blockchain. It is now a crucial component of every trade consumers make nowadays. Web 3.0 allows for the sending and receiving of money from anywhere on the planet without the need for a financial institution to handle the trade.
Efficient Collaboration With Employees, Customers, and Suppliers
The main goal of Web 3.0 is to boost economic transparency about the stakeholders in business dealings. It maintains a permanent record of all transactions accessible to all users on the blockchain network. Promoting transparency and accountability makes it simple for businesses to adhere to their facilitated effective monitoring.
Example Use Case
In Web 3.0, businesses can connect directly with their vendors and preserve sensitive information about them on the Blockchain network. In this method, companies can continue to do business directly with one another, saving both parties time and resources.
Higher Transparency in Sales-Related Operations
Almost any interaction might be recorded in Web 3.0, holding businesses accountable for their deeds. As a result, purchasing goods from trusted companies is simpler for customers than extensive marketing and promotional research.
Companies may keep track of their payments and equipment maintenance through the decentralized ledger.
Example Use Case
Before delivering, the transactions for any purchase a client places for a particular item or service will be made public on the blockchain network. Clients' confidence and commitment are increased for organizations using this approach, which offers clear accountability.
Reduced Risk of Hacking or Cyber-Attacks on Individual Businesses or Enterprises
It becomes remarkably simple for businesses to establish a safe accounting network or platform in Web 3.0, where all things are decentralized and payments are accessible, making it more difficult for criminals to acquire private data from their clients. Consequently, organizations may simply prevent the loss of client or business data. Additionally, it aids in maintaining a high level of confidentiality for monetary operations.
Example Use Case
Security vulnerabilities can be minimized by exchanging client ratings and opinions on the Blockchain. Organizations should not be concerned about every kind of information loss since it can't be changed or modified.
Improved Searchability of Data
Businesses could extract valuable insights from the vast amount of data available with Web 3.0 due to its decentralized, unchangeable ledger system, making it easier to access information about their customers in real time. The new internet generation will make searching for information about your customers and potential ones easier.
Example Use Case
Due to Web 3.0's decentralized, immutable blockchain network, corporations might gain significant insight from the huge amounts of information accessible to them, thereby making it simpler to obtain details regarding their clients in actual time. Gathering data about one's or future clients will be simpler, all thanks to the new digital revolution.
The future of Web 3.0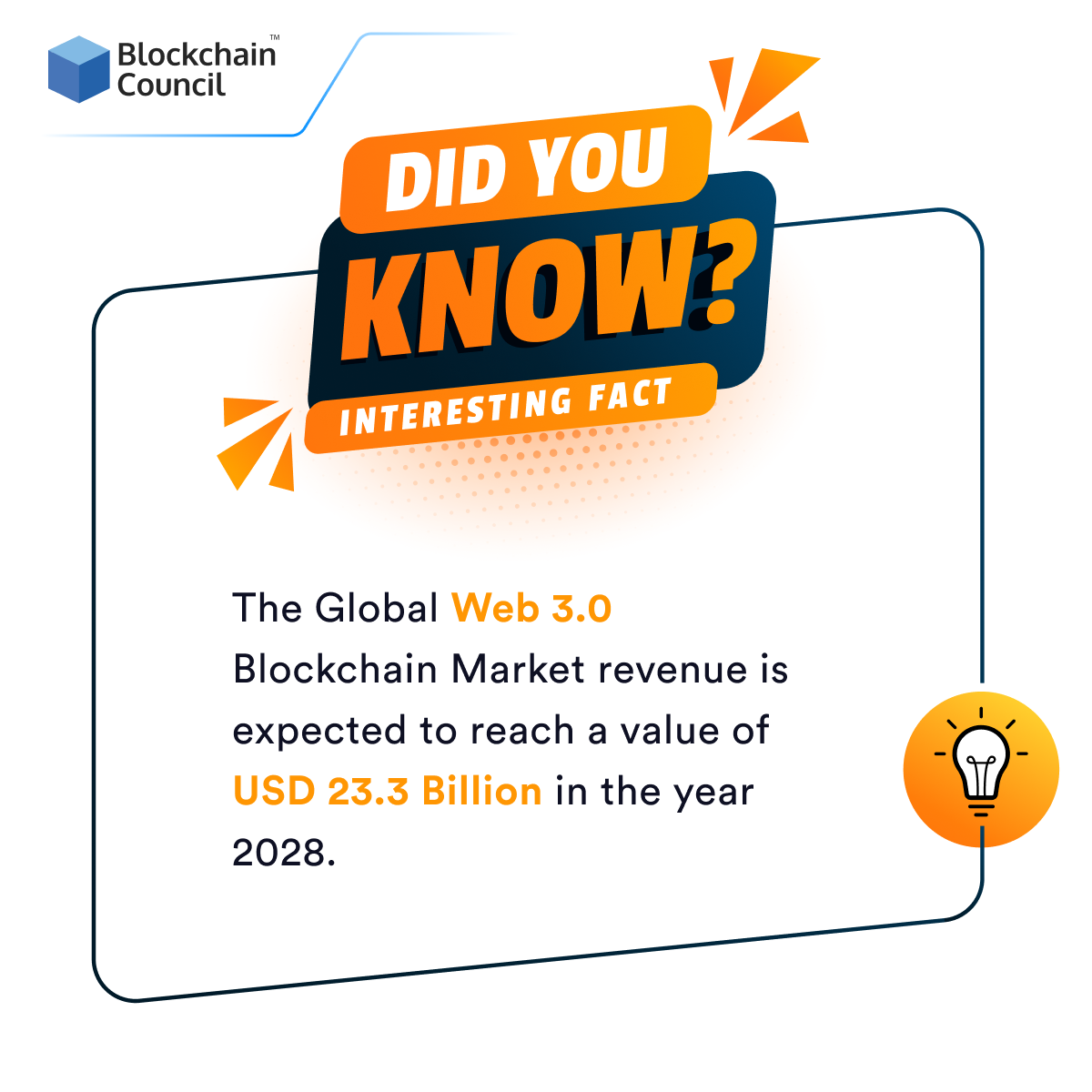 We might anticipate seeing a few developments in the scope of Web 3.0 in the following year and the future. For openers, and some of the most important Web 3.0 advances of our era, is Artificial Intelligence, or AI for short. Each year, artificial intelligence (AI) becomes increasingly sophisticated, powerful, and prevalent in all domains. It is closely associated with human intellect. Artificial intelligence empowers companies to launch new goods while coping with various challenges.
More people may choose to use Blockchain as a portal in the future. It's a blockchain development phenomenon that many firms and businesses have already started adopting. Blockchain as a Service, or BaaS, is an internet-based technology that allows customers to participate over the internet demand side of the Blockchain. Digital content includes
Smart contracts.
Decentralized applications (or Apps).
Other solutions do not necessitate the complete Blockchain-based platform to function.
However, once it ultimately boils down to it, there would be nothing to be concerned about when thinking of Web 3.0 from a business viewpoint. Conversely, this innovative technical paradigm may help corporations in the same way that it does individuals.
How Companies Could Move Towards Web 3.0
These are some of the major narratives surrounding Web 3.0, or just simply web3 is decentralization, which is based on the notion that major players in big tech—Facebook, Google, and Netflix—are centralized authority or gated communities. For instance, Meta owns all the information anyone enters or taps on its platforms. Companies use the information all people provide to develop their fortune, but companies do not reveal whatever they aren't required to until they do reveal it.
If users consider Web3 to be focused on decentralized development tools, an online peer-to-peer network may be appropriate instead of centralization of authority. This could be administered by a decentralized independent branch (DAO), in which voters would have a say. The easiest place to implement is that consumers and makers both would benefit from the worth they produce.
Despite the widespread use of the concept of decentralization on Web3, it's crucial to remember that several of the issues that people or businesses worry about today remain centralized, and we're okay with something like that.
Real-world Web 3.0 Applications
Finance & Industry
Everledger: It is a comparison to other major records that aims to give everyone a distinctive account they may store information electronically and retrieve at any time. It may be an excellent strategy to safeguard against deception.
Cashaa: This cutting-edge financial platform provides transparency, privacy, and governance. One could even trade cryptocurrencies or obtain loans from a crypto bank.
Apps for messaging
E chat: Blockchain technology underpins the decentralized, secure messenger called E-chat. Users can transfer cryptocurrencies using it in addition to offering safe conversations.
Obsidian: Obsidian is a next-generation communicator supported by Stratis coin and built on STRAT. It provides a safe setting for users to communicate and transfer money.
Approaches for Distributed Information Storage
Storj: Storj is a well-known platform for decentralized information storage, enabling anybody to save anything with only a single touch. The fuel for it is Storj tokens.
Sia: A potential decentralized way of storing a document divided into 30 pieces. The greatest rival to Storj is Sia.
Social Media Sites
Sapien: A global news site built on the Ethereum platform is called Sapien. It is a fantastic substitute for conventional platforms like Facebook or Google and is completely modifiable.
Steemit: The Steem blockchain-based decentralized network Steemit enables content providers to commercialize their work. It may be a fantastic Reddit substitute.
Sola: Using blockchain AI, Sola is a networking system that ensures visitors receive relevant content according to their choices.
Conclusion
If you are looking forward to pursuing your career as a Web3 professional, then you can scroll through the website of Blockchain Council. Blockchain Council offers some of the best cryptocurrency and blockchain certification programs, metaverse, and web3. These courses are extensively designed according to the current industry demands and are offered at an affordable price. Begin your journey by enrolling in one!