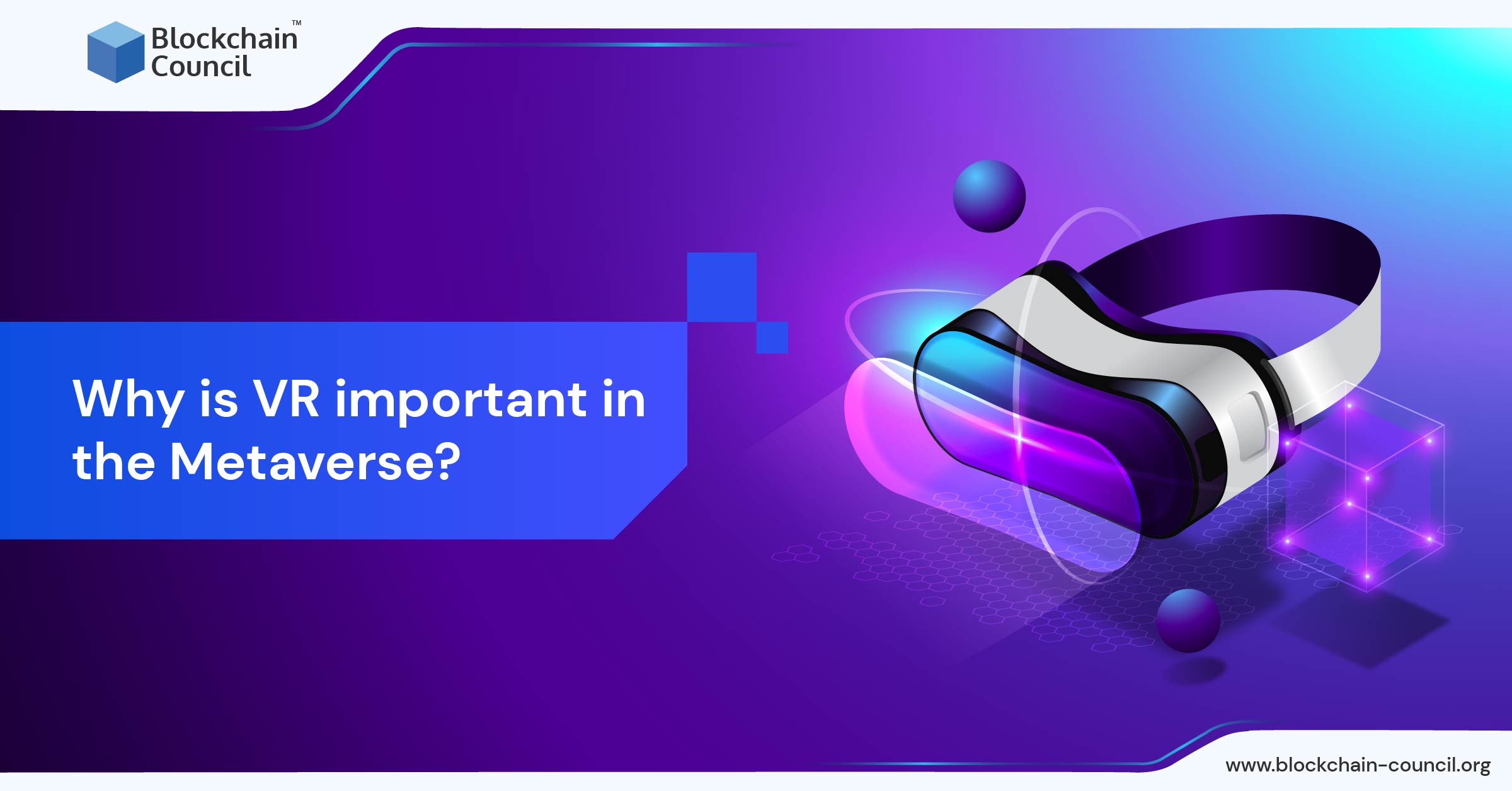 Anyone who is even a bit aware of global development knows how this castle of opportunities evidently rests on the cocoon of technological prowess. How we live now, work, and entertain ourselves has transformed dramatically over all these years. If we turn the pages of our memory journal five years back, we will easily understand how far we have managed to come forward. Every aspect of our society has taken hundreds of leaps to reach the present reality where technology strongly dominates human existence. The latest technological innovations have pushed us towards a more liberal, independent, and open-source environment.

Today, we spend hours scrolling through social media feeds, indulge in blockchain-powered e-games, and virtually attend the music concert of our favorite pop singer virtually while sitting on our couch. 'Virtual' is the new big thing for tech enthusiasts who are unraveling the potential hidden behind the real world. Next-gen concepts like cryptocurrency, Metaverse technology, and Web3 are building their billion-dollar industry on the word 'Virtual.' People are using Metaverse as a resource to create an entire world in a virtual space outside the physical world. Metaverse hints toward a digital ecosystem where a cluster of virtual spaces come together to open new opportunities for work, entertainment, and earnings.
Interestingly, Metaverse is too wide in its scope to succumb to a single technological concept. One can say that Metaverse is an umbrella term that integrates multiple terminologies to support its core infrastructure. This is what brings us to the main character of this article- Virtual Reality. Virtual Reality or VR is one of the pillars that supports Metaverse and Web 3 clusters. VR technology plays a significant role in building the virtual space we love to explore in a Metaverse field. Going further, this article will talk about Metaverse technology, Virtual Reality, and the role of VR in Metaverse construction. Let's start building our knowledge:
What is Metaverse Technology?
Pinning a concrete definition to Metaverse at this stage will be a loose-end endeavour. This is because Metaverse technology is in the nascent stage of development at present as tech brains are still trying to figure out its full potential. Thus, it is hard to give a proper well-defined definition of the term. However, with the little progress we have made in the sector, it is sufficient to develop some understanding here.
The idea of virtual space was first seen in 1992 when Neal Stephenson released a science fiction novel called Snow Crash. The story depicted characters transitioning between physical and virtual worlds using VR displays. The story portrayed in the novel was unique and effortlessly garnered the attention of the masses. It was an engrossing experience for readers to cherish something unique, far from the usual.
The metaverse is a virtual space that allows users to work, interact, and connect with each other outside the real world. With its characteristic features, the technology aims to build an ecosystem that blurs the line between reality and the virtual. Metaverse uses blockchain technology, Virtual Reality, and Augmented Reality to give life to the virtual environment that runs within a digital cluster. Metaverse blockchain offers access to a 3D digital space that represents a simulated physical environment. Metaverse mimics real-world scenarios but with added features through VR and AR. Users can use metaverse wallet solutions to store their digital assets when exploring or trading in the virtual setup.
One can do anything and everything within a metaverse using 'Digital Avatars.' These are digital characters that represent humans in the virtual world. It is through these avatars that users can interact in a metaverse. Using avatars, they can go shopping, eat in restaurants, deal in real estate, socialize, play games, visit exotic monuments, etc. Users must use VR/AR gadgets such as headsets, handles, remote controls, etc., to connect and interact within a virtual setup.
One of the strongest blows to the popularity of Metaverse came when Facebook revamped its brand to Meta Platforms. The idea behind the change was simple. The company was indicating its seriousness toward Metaverse exploration in the near future. The news encouraged firms to step into the field and create innovative products. Experts began to learn metaverse concepts to develop new products for users and gain an edge over competitors.
While e-gaming remains one of the most popular incubators of Metaverse technology, other industrial fields have also shown active participation in this. Fields such as real estate, supply chain, transport, sports, music, and entertainment are actively adopting metaverse as a potential resource for growth. Platforms such as The Sandbox and Decentraland have unlocked new opportunities and engaging experiences for people.
Ready to become a Virtual Reality (VR) Developer? Enroll now and take your career to the next level!
Salient features of Metaverse
The six main features of metaverse technology are:
Digital identity
Metaverse allows users to represent themselves as digital avatars within the cluster. There is full freedom to express oneself as to whomsoever a person wants to in his/her digital identity. One can behave and act as per their will without any hindrance from the outside world.
Multiple device support
Users can access metaverse from anywhere and anytime. It works well on PCs, tablets, mobile phones, and other smart devices. Metaverse supports multiple devices to make it accessible for one and all.
Economy
Metaverse's own economic model relies on blockchain technology as the core infrastructural resource. Cryptocurrencies and NFTs allow users to trade, exchange and earn securely. The use of Decentralized Ledger Technology makes metaverse highly secure, transparent, and immutable for trading functions.
Digital community
In the metaverse, users can connect, socialize, and interact with each other freely. Sharing of experiences is one of the main characteristic features of a metaverse space. One can play games with their friends, relish a jamming session with their partner, or simply talk to strangers with similar interests within the virtual world using digital avatars.
Real-time experience
The metaverse is real-time persistent as it continues to work even after the participants quit. There is no pause in the process of experience. This is why metaverse is the next-gen experience.
What is Virtual Reality?
In simple words, Virtual Reality represents a system where technology is used to create realistic simulated environments. The technology puts users in a 3-D world where they get a fair chance to immerse and interact with their surroundings. It serves as a computer-created ecosystem with a diverse range of objects and scenes that bridge the gap between real and digital. The settings allow users to delve deeply into the digital surroundings, creating engrossing experiences for themselves. It is perceived using specially-designed devices called VR headsets or helmets.
Though it may sound unrealistic and difficult to digest, VR has origins dating back to the mid-1950s. There are reports that talk about one of the first virtual reality devices called Sensorama. It was a machine designed with an in-built seat playing 3D movies. The device released odours and created vibrations to offer real-like experiences to the users. As time passed, technological advancements started sprawling over the industrial domain. Subsequent evolutions in technology and software encouraged a progressive change in VR, its design, and its functionalities.
With Virtual Reality, Metaverse strives to create immersive experiences for users where they can give wings to their curiosity. It allows participants to see behind the veil of the physical world. Sometimes, people interpret Virtual Reality and Augmented Reality as one. This is wrong as the two concepts are unique and parts away to be considered synonymous. Virtual Reality constructs an immersive simulated environment for users to interact. The 3D experience involves images, videos, and audio to create a realistic digital environment. On the other hand, Augmented Reality does not create an individual digital setup; rather, it enhances the real-world experience by adding special features such as objects, images, and sounds.
Importance of VR in Metaverse
As mentioned earlier, Metaverse is an umbrella term that encompasses several other technological concepts to build its community. We cannot limit the scope of metaverse to a single aspect as it strives to offer users a whole load of features. It talks about creating a virtual space where users enjoy a more digital, independent, and user-friendly reality.
The whole idea behind metaverse is so vivid that it becomes impossible to achieve the objectives without involving a bunch of other resources. This is why Virtual Reality and Metaverse go hand-in-hand. The use of VR headsets to work and interact within a metaverse makes the latter an indispensable part of the virtual ecosystem. Without using VR as the much-needed catalyst, the next-gen Internet reality of metaverse will not be able to achieve its set goals.
The use of Virtual Reality will help strengthen the core infrastructure of Metaverse technology. As metaverse promises to initiate a shift from reality to a dynamic virtual world on Internet, the technology will rely on VR to offer the needed support for the transition. One cannot interact in a virtual world without donning a virtual reality headset. It is one of the basic requirements to enter the metaverse. Further, robust virtual reality software is required to design the online space within the virtual niche. VR software and VR headsets are the two vitals that support the working and creation of metaverse clusters.
Uses of Virtual Reality in Metaverse 
Travel
Virtual Reality allows users to travel virtually to any place in the world. Users can visit monuments, eat delicacies from across the globe, and create digital memories through their digital identities. The experience is so vivid that it becomes difficult to differentiate between real and virtual.
Medicine
The technology can help the healthcare domain significantly. Medical students, doctors, and practitioners can use VR to perform digital surgeries on avatars as a practice. This helps sharpen their skills and eliminates the risks of mistakes during surgery.
Games
Indulge in an exciting match with your friends using VR headsets. The device allows players to relish a real-like gaming experience. They get a chance to play and practice extreme sports while sitting on the couch.
Education
Teachers can use VR-supported screens to create engrossing class experiences for students. While explaining a concept, teachers can give them a virtual display of the concept to build a better understanding of concepts. Virtual tours to difficult places like the moon or planets keep students' interest in the subject.
Virtual events
Virtual Reality allows users to attend a concert, sports gala, or other global events right from the comfort of their homes. It saves time and is also cost-friendly.
Military
Forces can use VR to facilitate training sessions for soldiers in a simulated combat environment. The setup is created similar to a real battlefield. The participants get exposure to real pressure and situations they might face on a battlefield later during the training sessions.
Conclusion
When we talk about the metaverse, it is inevitable to skip the topic of virtual reality. This is because the terminology provides the necessary foundational base on which metaverse operates. Virtual Reality is essential for the growth and expansion of the metaverse industry. The technology supports the vision of metaverse clusters by aiding in creating the 3D virtual world. With VR, users can immerse themselves in interactive experiences that are hard to access in the physical environment. The insane craze for metaverse technology is likely to push the popularity of VR tools as well, leading to innovative product launches in the sector.
In case you are willing to learn more about metaverse courses, Blockchain Council has something for you. The platform offers a metaverse course list for beginners and experienced professionals. The courses offer subjective knowledge, whereas the training sessions help to build practical knowledge.