This is a story of a young man depicting how his passion about blockchain led him to greater heights in his career and how the Blockchain Council nurtured his quest for expertise in the blockchain sphere. Blockchain Council has always stood by its vision to help individuals reach their potential. This story is dedicated to individuals around the world who never give up on their dreams of a better tomorrow.
The person in focus – Mario Palma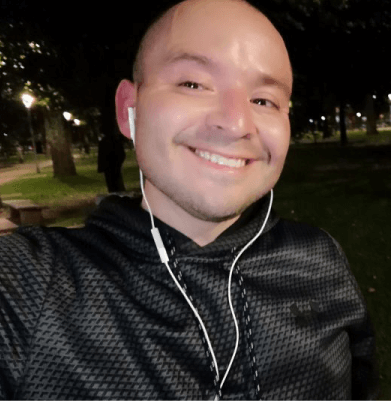 Mario Palma from Chile began his journey with Blockchain Council a few months back. He underwent multiple trainings in the blockchain sphere, and after successful completion of training, he earned the hugely sought after Blockchain Council certifications.
The Challenge
Mario was working as a Multicloud Solutions Architect. He was certified in Azure, and AWS and also worked as an instructor for cloud technologies in general. Despite having a technical background and a good understanding of the prominent technologies he was eager to learn more. For the past few years, he felt stuck as he was reluctantly doing the same things over and over again at work. He was hungry for more. Passionate by nature, he was always looking forward to learn and explore futuristic technologies that could enhance his career. He had heard a great deal about blockchain but could not figure out how learning blockchain will help him achieve success and serve his clients better to make their life easier and their businesses more productive and profitable. He was not sure where to ,begin with and what certifications should he invest his resources in?
Overcoming the challenge
Few months after hearing volumes about Blockchain Council by one of his colleagues, he came in contact with Blockchain Council. He talked to Blockchain Council's career counselor and he spoke about his concerns. He spoke how he felt passionate about learning new technologies and how he feels stuck in his career right now. He even had certain doubts in terms of future perspectives of Blockchain. After going through the counseling, he decided to go forward with Certified Blockchain Expert™ Version 2.
The Certified Blockchain Expert™ certification training opened the wide world of blockchain for Mario; He instantly knew he did the right thing. As he got acquainted with Blockchain on a broader level, he wanted to dive deep into the technology. So he underwent Certified Blockchain Developer™ Version 2, Certified Hyperledger Expert™ and finally Certified Hyperledger Developer™.  Deep understanding of the core concepts of blockchain rendered by the Blockchain courses helped Mario elevate his multicloud skills to the next level. He reached new heights in his career by adding one more feather in his hat. Mario is currently working as a multicloud and blockchain Specialist. Blockchain has opened a new world brimming with opportunities for Mario.
Mario says, "Blockchain Council's certifications helped cater my career ambitions of becoming a Blockchain specialist."
Mario proves that upgrading your knowledge by learning continuously is the key to a successful career in today's dynamic world.