When the global economy was drifting towards a not-so-fortunate historic collapse, the market for Non-Fungible Tokens was emerging like a ray of light from the creeks. Non-Fungible Tokens or NFTs are digital collectibles that represent real-world items. They can represent anything and everything starting from a human cell to a thousand-dollar-worth exclusive art piece. 
The market for Non-Fungible Tokens is growing exponentially with active participation from investors looking for new income sources. Amid all this, utility NFT projects are coming into the limelight to further the scope of NFTs across the financial realm. These digital assets offer the advantages of non-fungible tokens while fulfilling a utility or purpose for the token owners. With utility NFTs, holders get a chance to avail rights and privileges otherwise unavailable to them in traditional setups. 

Are you willing to learn more about utility NFTs? If yes, then you are at the right place. This article will give you an insight into the world of utility NFTs. So, without waiting any further, let's start our expedition.
What Are Utility NFTs?
Utility NFTs are special. Special in a way that the scope of their potential is not limited to the title of a typical 'digital collectible.' When we talk about utility NFTs, we emphasize the word 'utility' because that is where the heart of this asset class lies. Precisely, utility NFTs refer to virtual assets that offer privileges, benefits, or rewards to their owners which are otherwise not available for use. They bestow upon a 'right' to extract a service or an advantage to the asset holder. 
Let's understand this with an example. Mr. Lee is an event organizer. He is planning to pull 500 people for the recent concert organized by his team. Instead of paper tickets, Mr. Lee issued utility NFT tickets for the entry. Interestingly, NFT tickets will work just the same way as paper tickets. Each ticket will bear a unique ticket number and seat number. Also, each ticket will satisfy the ultimate utility of the ticket owner, which in this case, is the entry to the concert. It is needless to say that NFTs are way better than paper tickets because:
They are digital, so you do not have to bother about losing them.

Have an in-built track on the blockchain to ensure originality.

Only the owner can claim the ticket.

Each utility NFT ticket will be unique and so cannot be duplicated. 
Ever since the COVID-19 pandemic brought the global economy to a standstill, investors have started flocking toward new investment options. Cryptocurrencies, stablecoins, and NFTs have become immensely popular as they offer unprecedented benefits to token owners. Security, immutability, and transparency are the core characteristics of NFTs. Utility NFTs come packed with all the basic features of NFTs along with some added privileges. NFT development has huge potential to revolutionize the world of finance. They can be used to represent anything and everything starting from images, videos, music, real estate, merch, gaming content, etc. The decentralized tokens allow holders to enjoy access to an exclusive right over the asset which they otherwise cannot claim. 
How do Utility NFTs work?
NFTs rely on blockchain and smart contract technology for their infrastructural excellence. The digital collectibles help holders to enforce a claim of ownership on tangible and intangible real-world items. Each transaction is stored on the decentralized public ledger to ensure the highest level of safety, transparency, and immutability. Most of the utility NFTs thrive on the Ethereum blockchain network to access smart contracts. The structure of utility NFTs is similar to normal NFTs. They also use cryptographic encryption to ensure the best safety and immutability of transactions. 
The one-of-a-kind ID and metadata that no other token can duplicate help to sustain the element of uniqueness in NFTs. These non-fungible assets depend on smart contracts for offering ownership and limit transferability. At the time of minting of an NFT, the miner executes the code in the smart contract that conforms to multiple standards like ERC-721. The information so retrieved is included on the blockchain managing the NFT. The minting procedure passes through three steps:
Creation of a new block

Verification of data

Entry of the verified data on the blockchain 
The smart contract feature enables fulfillment of certain pre-determined conditions for a transaction to take place. This helps creators to impose their right to royalties in perpetuity each time their work is purchased by someone. The NFT course list offered by online portals like Blockchain Council can help you understand the working of utility NFTs in a simple manner. 
Use Cases of Utility NFTs
The craze for utility NFTs is on a surge. Industries are spending a hefty amount of investment on the research and development of these digital assets. Though the sector is growing, some industries have become powerful incubators for utility NFT projects. Presently, the market offers a wide range of NFT training programs that help participants to learn about the multiple use cases of NFTs. 
Let's learn more about the potential use cases of utility NFTs in this section so that you can become an NFT expert quickly:
The gaming industry has achieved tremendous growth in recent years with technological evolution. Gamers have moved from heavy gaming machines in arcades to simple, online, and live-streaming games. Traditional gaming businesses are now spending in bulk to introduce blockchain and NFTs into e-games to attract people worldwide. 
With play-to-earn games, users get a chance to earn a passive income source by utilizing their gaming talent. They can fetch rewards by monetizing NFTs and token prizes. While some players seek easy interoperability between games through NFTs, others use NFTs to impose their right to ownership on in-game assets like avatars, merch, clothes, etc. The use of utility NFTs help players to own the assets they purchase while playing even after they quit the game. They can store the assets on the blockchain or trade them on NFT marketplaces for money or other assets. Metaverse industry is using utility NFTs to fuel its economy and opening doors for the proliferation of virtual technology. When you participate in nft courses online, you get a fair chance to understand the role of NFTs in metaverse expansion. 
Utility NFTs in Real Estate
Projects like The Sandbox and Decentraland have popularized the concept of virtual real estate ownership via utility NFTs. These platforms allow token holders to own digital land spaces for a variety of purposes. You can use digital land for opening a shop, doing business, shopping, etc. The craze for virtual real estate has reached heights in a short span, with investors spending thousands of dollars to acquire them. 
Smart contracts help to lock the deal between the parties involved in the purchase and sale of digital land. Utility NFTs work as in-built assets representing the digital land pieces. The transactions are stored on the blockchain to ensure transparency and a tamper-proof trading experience. Through NFTs, users get a chance to earn extra rewards by renting out their lands or other assets within the virtual realm.
Utility NFTs in Art and Fashion
The fashion and art domains have overwhelmingly welcomed utility NFTs through the launch of a stream of projects. NFTs represent real-world items like merch, clothes, jewelry, art pieces, and many more things in a digital version. Fashion brands can use NFTs to organize online auctions where users can place their bids. The blockchain will manage the auction to ensure the provable selection of the winner. In the future, augmented reality may potentially enable users to try different looks through virtual clothing in the metaverse.
One of the most potent ways to add utility to NFTs is to infuse the perks of the latter in physical commodities. For instance, in conventional NFTs, the token serves as the art piece the prospected buyers will acquire. However, if we bestow the proof of purchase on a tangible artwork, it will allow the owners to flaunt their priceless collection in person. This is a common method of enhancing an NFT's usefulness since given that NFTs are all about producing distinctive digital assets. So, if their real-world counterparts will have the same element of uniqueness in them, it will increase the value of the digital token and the physical item simultaneously. 
Popular Utility NFT Projects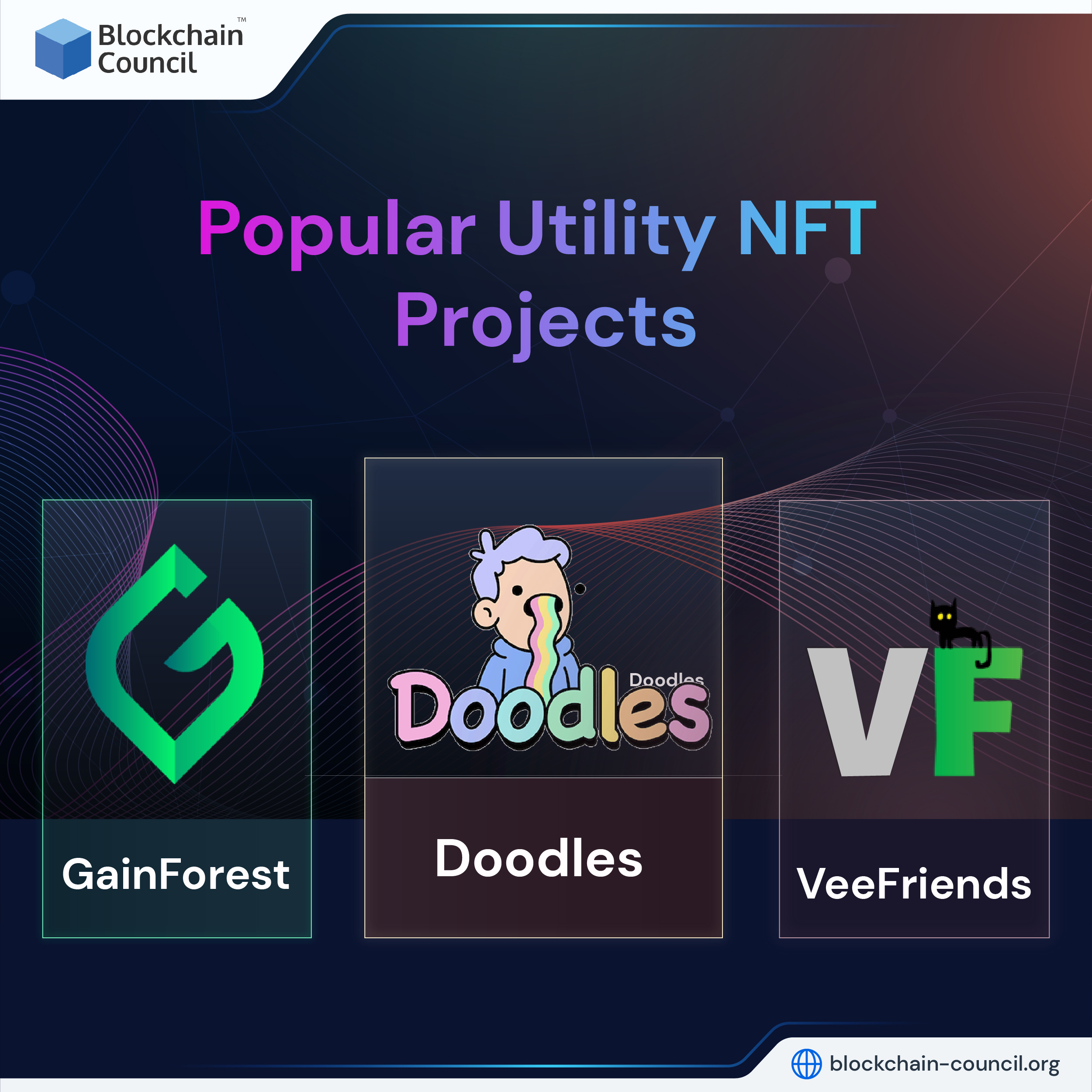 Hailing from Switzerland, GainForest is a global NPO working to protect rainforests. The NFT platform uses blockchain technology as a resource to benefit the environment and humans. Those who donate to the organization get NFTs representing the real locations of the rainforests. The holders can use the NFTs for minting governance tokens and keeping a track of the forest's health easily. 
Curated by popular entrepreneur Gary Vaynerchuk, VeeFriends allows the token holders to participate in the VeeCon conference. The event is the first-ever NFT-ticketed conference around the globe. A conference is a perfect place for NFT lovers as they get to interact with other noobs, share their ideas, and learn from each other. The NFT token holders get a variety of privileges, such as mentoring lessons from Gary.
This NFT project is a collection of 10,000 collectibles representing interesting characters designed by Burnt Toast. The hand-drawn NFTs comprise characters of cats, apes, mascots, skellys, aliens, costumes, heads, etc. When you own a Doodle, you get a chance to vote as a community for future releases and events. The Doodlebank is the treasury governed by community members. It stores funds for further expansion. The Space Doodles collection featuring spaceships received crazy support from fans. 
Conclusion
Utility NFTs have been well-received because they encourage a community-focused ecosystem. Members get a fair chance to get rewards, discounts, or preferential access to events, etc. Social, community, and in-game utility NFTs are quite popular in the market presently. Experts suggest that in the near future, there will be more variants of utility NFTs leading the digital asset bandwagon effortlessly. So, if you are willing to become an expert NFT developer, then Blockchain Council courses can help you. We offer a list of NFT certification programs that educate you on the core concepts.