The world is no longer unknown to the word "Non-Fungible Tokens or NFTs," which created a buzz in the investment market. Likewise, the way the world conceptualized the idea of digital trading art has been greatly influenced by NFTs.
NFTs, or non-fungible tokens, are digital assets that serve as digital representations of actual physical goods. NFTs include things like art, music, video games, collectibles, and real estate. Online crypto transactions are typically used to transfer ownership of NFTs. The popularity of NFTs has just recently soared, despite the fact that it was formed in 2014.

Millions of NFTs are available for purchase, and it feels like hundreds of new initiatives start up every day.
The NFT market is currently valued at more than $40 billion, according to figures. Additionally, between 2020 and 2021, NFT sales increased by 131 times. The current most costly NFT has an astounding price tag of $91.8 million. These figures demonstrate that NFTs are here to stay and to have an influence on the economy.
Best NFT Projects of 2023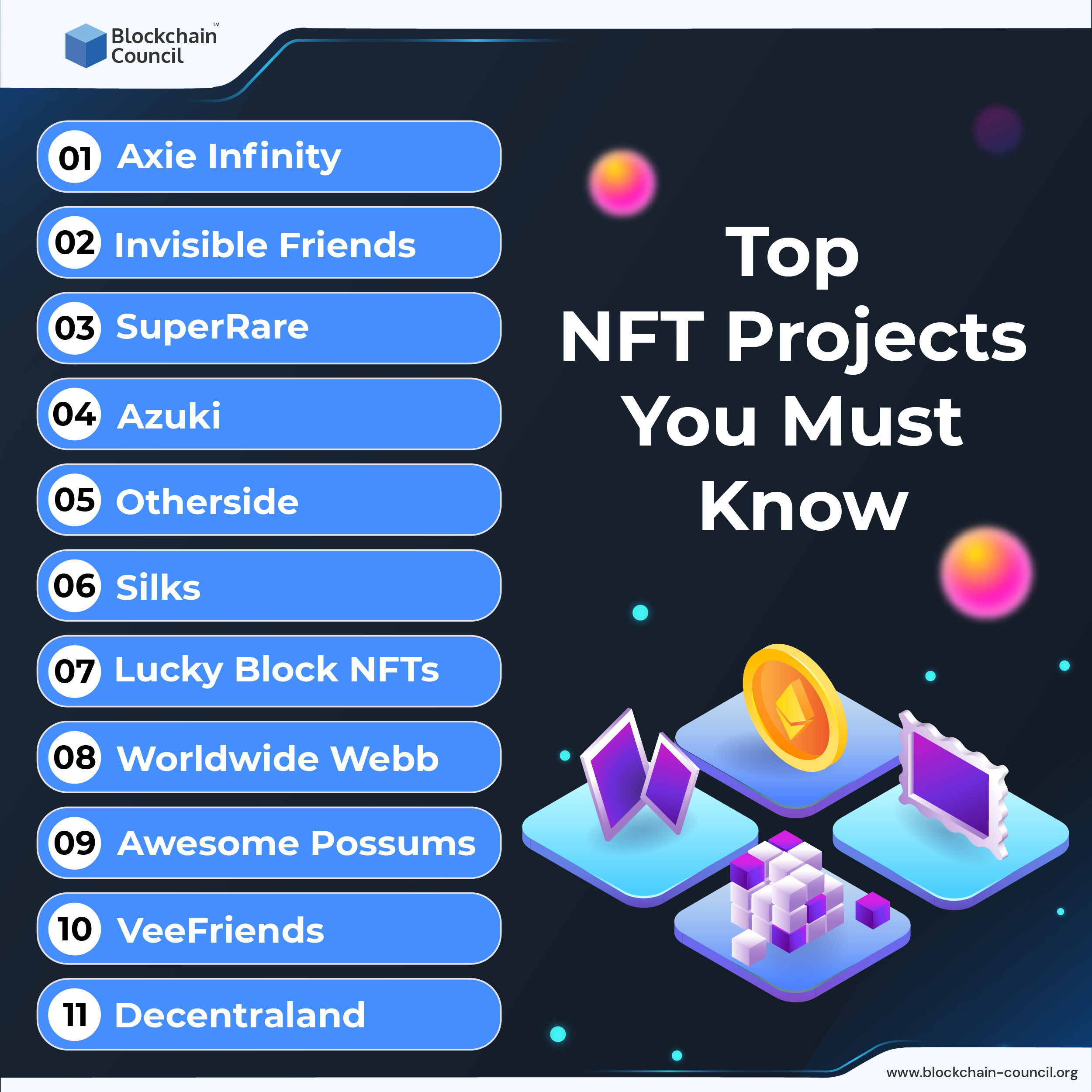 Axie Infinity 
Axie Infinity is another title on the list of top NFT games. Axie Infinity was first introduced in 2018, but it has only started gaining speed. This year, the project is expected to develop tremendously. Simply put, Axie Infinity is a virtual universe powered by Ethereum where users may own and produce 'Axies,' or in-world animals with distinctive traits.
These animals, like Decentraland, have an NFT structure and may be exchanged on the Axie Infinity Marketplace with other players. The native token of Axie Infinity, $AXS, is used for transactions. Additionally, to participate in the expansion of this virtual universe, speculative investors can purchase Axie Infinity. In the end, Axie Infinity appeals to a variety of groups due to the mix of financial options and virtual games.
Axie Infinity is unique in that it features a play-to-earn (P2E) component where players may compete with one another's Axies to win prizes. The $SLP token, an ERC-20 token that can be traded on significant cryptocurrency exchanges, is awarded to the victor of these conflicts. Axie Infinity is now generating a lot of excitement in the industry since, in the future, as more people turn to the platform, the possibility for earning possibilities will grow.
Invisible Friends
Swedish animator Markus Magnusson produced the 5,000 animated invisible figures in Invisible Friends. In addition, the Random Character Collective is working on this NFT. The project set a floor price of 12 ETH on the first trade day.
Invisible figures are outfitted with every conceivable item in this NFT, including commonplace clothing, fishing gear, skateboards, invisible animals, and scientific apparatus. Each piece of art has its own distinctive qualities.
There are now 4,008 owners of Invisible Friends out of a possible 5,000 tokens available.
The Invisible Friends initiative launched in February 2022 and has already amassed a sizable Twitter and Discord following.
Markus has released a pretty nicely crafted merchandise bundle if you are not fortunate enough to outsmart the possibilities and mint one of the 5,000 characters.
SuperRare
The Ethereum marketplace for digital art is called SuperRare. Each piece of art is genuine, made by a network member, and tokenized as a valuable digital asset. Videos, GIFs, static photos, and 3D artworks all fall under the category of art in this industry.
With the help of SuperRare, creators may distribute limited-edition digital works of art that are authenticated and collectible because they are recorded on the blockchain. With a total quantity of 32,036 tokens, there are presently 6,846 SuperRare owners.
Azuki
Azuki is a compilation of 10,000 characters that grant you membership access to "The Garden." The Garden is the location where Azuki views their endeavor to blend the real and virtual worlds. In fact, Azuki refers to themselves as the "skating across the blurring limits of the real and digital worlds as they are beginning to combine" skaters of the internet.
Azuki NFTs are 2D pieces of art that resemble anime figures. All of these individuals have various face traits, clothes, and accessories, and they are all facing to the left. For streetwear collaborations, more NFT releases, and potential live events, Azuki employs its characters and partnerships. 10,000 Azuki tokens are presently owned by 5,149 different people.
With recent releases like Bobu the Bean Farmer, Azuki has also been trying to test the innovative limits. In order for all owners in the group to own the Bobu persona within the Azuki universe, Bobu was to bifurcate the artwork and establish a Bobu Token. In this exceptional web3 experiment, the token holders will determine Bobu's future.
Otherside
The Bored Ape Yacht Club's (BAYC) metaverse initiative is Otherside. An MMORPG with ties to the BAYC environment is The Otherside. Massively Multiplayer Online-Role Playing Game or MMORPG is a kind of video game that mixes role-playing games (RPGs) attributes with the gameplay attributes of multiplayer online gaming worlds.
One of the biggest metaverses will be created by integrating NFTs from various platforms. Players will be able to engage with playable NFTs from collections including Cool Cats, CrypToadz, and World of Women (WoW), thanks to planned collaborations with other NFT ecosystems.
However, The Otherside is a project that deserves to be on the list despite being in the development stages presently.
Silks
Silks is a brand-new NFT project that is also getting a lot of attention. Users may own, sell, and profit from thoroughbred racehorses in Silks, a blockchain-enabled metaverse. This fascinating initiative is based on genuine occurrences; thus, every one of the "virtual horses" in the game has a real-life equivalent. In the end, this enables metaverse players to gain from the real-world horse's success in competition. Silks is a top-NFT project that is worth taking into consideration. It is also home to the greatest NFT Land projects and the best NFT horse racing projects.
Silks will ultimately help gamify the horse-racing experience for a brand new population, making it one of the finest forthcoming NFT ventures this year. The play-to-earn (P2E) feature of Silks also gives astute investors the opportunity to own pricey horses and earn passive revenue using $STT, Silk's transactional currency.
Lucky Block NFTs
The Platinum Rollers Club line from Lucky Block is our top choice among the latest NFT developments. Lucky Block has become one of the greatest cryptocurrencies available, mostly due to the platform's avant-garde crypto-lottery function. Therefore, the development team also made the decision to enter the NFT market by introducing the Platinum Rollers Club, a group of 10,000 NFTs housed on the Binance Smart Chain.
Jamie Jewitt and Dillian Whyte, two well-known NFT customers, are also the project's marketing advocates.
The value of these NFTs comes from the outstanding advantages provided to owners, chief among which is automatic inclusion into daily prize drawings with an average value of $10,000. In fact, the NFTs themselves show 2D tickets with a front-mounted number. Additionally, 25 NFTs from the Platinum Rollers Club collection are designated as "Rare Editions" and, if their number is drawn, will let the owner to win twice the prize.
Worldwide Webb
Worldwide Webb is a pixel-art MMORPG metaverse game that may be used with other well-known NFT projects. NFTs are used in the game for NFT missions, pets, lands, and NFT stuff. The first metaverse game to allow NFT holders to play as their avatar was The Worldwide Web.
There are now 4,546 owners of Worldwide Webb Land, who collectively have 9,508 tokens. Likewise, there are now 213 owners of Worldwide Webb Items, who collectively own 315 tokens.
Awesome Possums 
Due to its innovative strategy for promoting awareness and supporting charity organizations, Awesome Possums is one of the most interesting NFT initiatives for 2022. In addition, it is the first NFT initiative in history that aims to empower both addiction rehabilitation and mental health awareness.
The initiative, which Nicholas Brison started, intends to redefine the mental health journey and assist in eradicating the stigma associated with it. The team members are entirely committed to presenting this initiative to the public in order to effect change since they have seen close relatives struggle with mental illness and addiction.
Awesome Holding possums is a community-driven endeavor. NFTs give users access to a special Discord community that is mostly devoted to self-improvement. The community is where Possums owners may join together to exchange concepts and information. The private organization also organizes professional-hosted frequent mental health check-ins and offers assistance to the target populations.
VeeFriends
VeeFriends Gary Vaynerchuk (GaryVee), a well-known marketing expert with a sizable social media following, founded the NFT project VeeFriends.
VeeFriends provides a user-friendly solution to engage this expanding industry for people who are unsure how to invest in NFTs. The 10,255 NFTs in the collection can be bought via the VeeFriends Marketplace using ETH. Each "character" in the NFTs is a work of digital art that embodies qualities GaryVee values.
VeeCon, a multi-day business event centered on entrepreneurship, originality, and innovation, is open to owners of VeeFriends NFTs. Owning a VeeFriends NFT and getting access is seen as a big advantage because GaryVee's business events have a tendency to sell out quickly. VeeFriends is one of the finest new NFT ventures this year due to the real-world events and resale factor combination.
Decentraland 
Decentraland is perhaps already known to those who invest in the greatest metaverse currencies. Simply said, Decentraland is an online environment built on the Ethereum blockchain where users may design their own avatars and buy virtual property. Notably, the universe of Decentraland is organized as a decentralized autonomous organization (DAO), which means that users have total authority over matters of governance.
In the realm of Decentraland, all fundamental digital assets are organized as NFTs. This covers items like clothing, cosmetics, and land (referred to as LAND). The intriguing aspect is that these NFTs may be traded via the Decentraland Marketplace with other users utilizing MANA, the global native token. MANA is not just utilized for in-game transactions; cryptocurrency investors may also buy MANA to make growth-related bets on Decentraland.
Conclusion
The market size of NFTs has grown since its establishment in 2014, and the company anticipates significant expansion in the years to come. NFTs fundamentally altered how we view, interact with, purchase, and own art online. There is no doubt why customers would want to start investing in it immediately away, given its popularity, particularly among younger generations.
The top new NFT projects to be aware of this year have been thoroughly reviewed in this guide. You'll be in a prime position to make wise investment choices over the long run if you are aware of the future NFT ventures with the greatest potential.
If you are looking for NFT course online, then Blockchain Council is the right choice for you. Blockchain Council offers extensive courses according to the industry standards at an affordable price. If you wish to pursue career as an NFT expert, then you should definitely check out the Blockchain Council's website for the list of offered certification programs.
If you want to keep up with the trends of blockchain industry, join our communities on Discord, Reddit and Telegram.