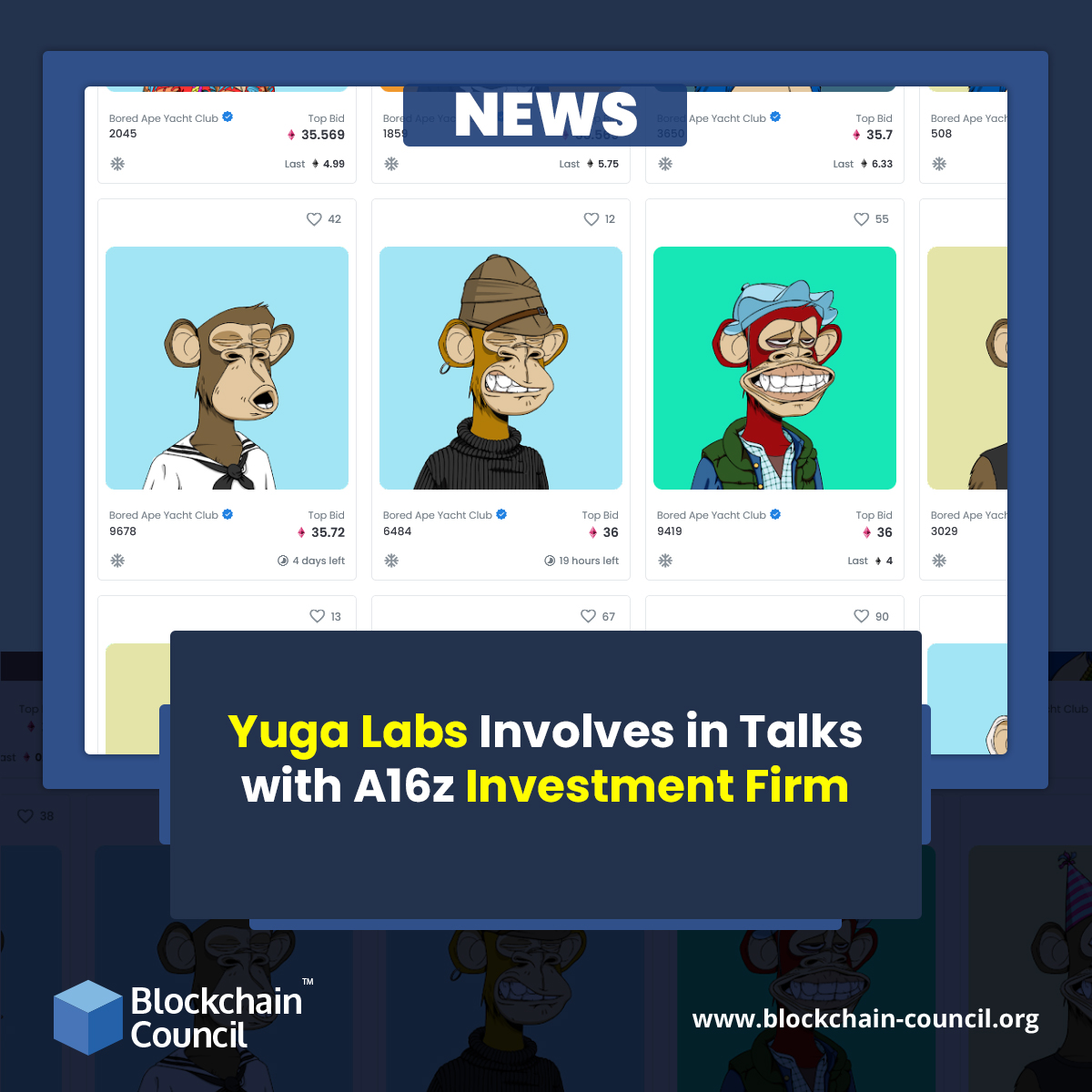 Hailing as the proud creator of the Bored Ape Yacht Club NFT collection, Yuga Labs is gearing up to secure strategic funding worth $5 Billion from Andreessen Horowitz (A16z), a tech VC from the Silicon Valley. The investor is reportedly putting efforts to crack the deal with the highly-acclaimed Non-Fungible Token firm as the latter continues to strengthen its control in the global industry. The outpouring of support for NFTs from investors across the globe in recent times has encouraged related firms to expand their business operations to new zones, investors, and clusters.

According to the report by the Financial Times, Yuga Labs is looking forward to pooling funds from potential investors for a multi-million-dollar part of the firm. Interestingly, if the deal is locked between the parties, it would become the first-ever institutional investment accepted by the Yuga Labs team. The terms of the pact have not been finalized and the parties have full authority to cancel the negotiations taking place between them until now. The news has not been confirmed by A16z and Yuga Labs.
The digital collectibles company has gained momentum in the fast-developing NFT space by offering an unprecedented portfolio of popular NFT collections dedicated to the users. The Bored Ape Yacht Club (BAYC) collection launched by Yuga Labs has managed to sustain its top spot on renowned NFT marketplaces.
The BAYC collection is presently the second-most popular product on the world's leading NFT channel, OpenSea. It recorded a total trading volume worth a whopping 380,821 ETH equivalent to $1 Billion in the figure. The project currently has a floor price of 99 ETH or $263,839. During its February launch, the tokens cost investors a mere $300 to mint an Ape. Top celebrities like Justin Bieber and Paris Hilton have accepted to own Apes.
The investment firm A16z has a strong crypto portfolio including 41 firms like OpenSea, Autograph, and Cryptokitties. The teams are well-known in the industry except for the pseudonymous parent firm of Yuga Labs. A16z is planning to expand its cluster by fetching $4.5B in funds that will help to place it in a stronger place in the crypto investment firm circle.
The NFT space has grown significantly in the past 12 months span. On OpenSea, the trading volume in 12 months has surged from $20,000 per day to over $5 billion presently. The recent launch of NFT marketplaces such as the Autograph by Tom Brandy, designed for artists and athletes, witnessed an investment of $170 M from A16z in the funding round organized recently.