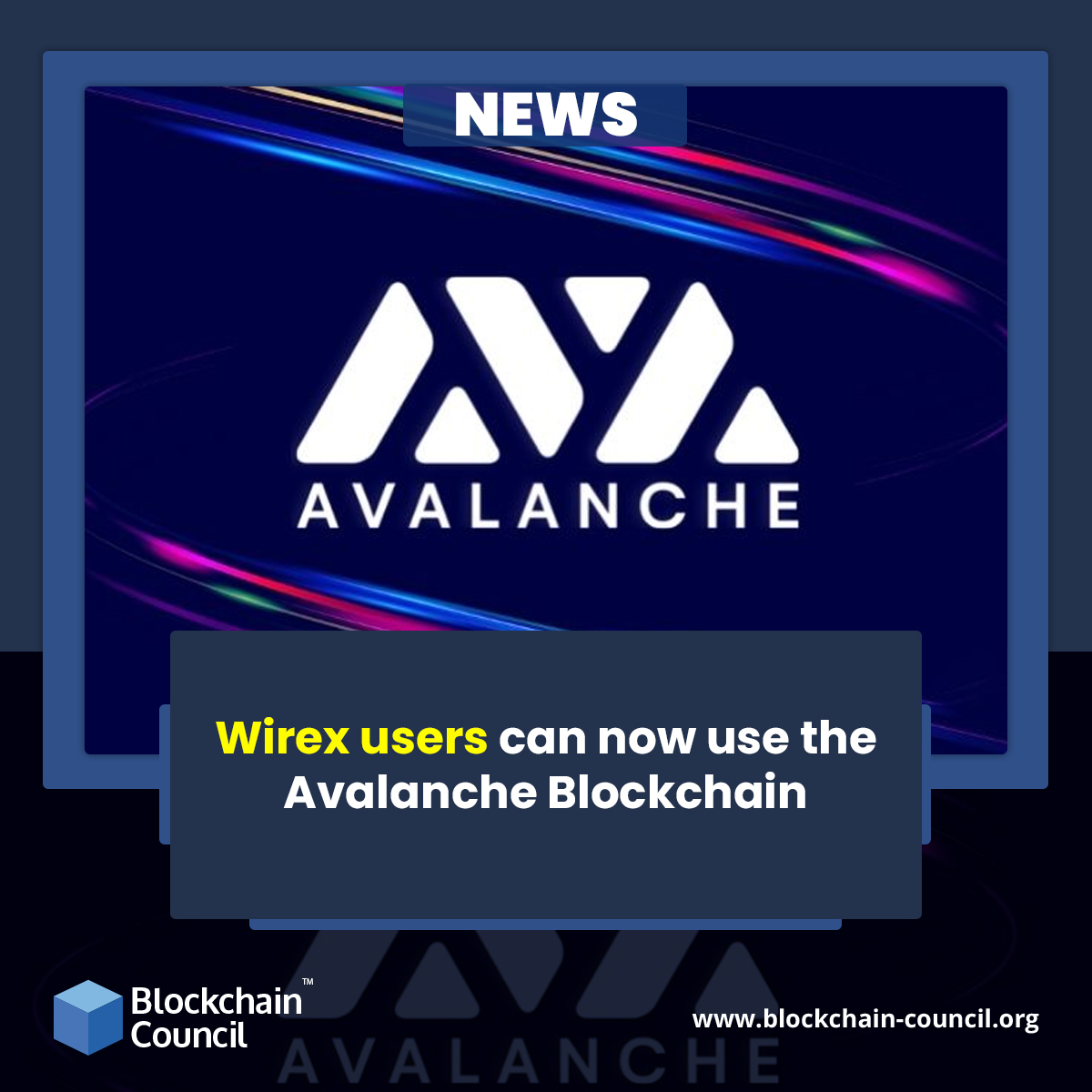 Wirex, the popular digital payment channel making crypto and traditional currencies easy to use for customers has entered into a strategic partnership with Avalanche blockchain ecosystem. The collaboration will help Wirex expand its operational capacities focused on creating a user-friendly payment infrastructure. With this deal, the Avalanche blockchain will be accessible to 4.5 million users using Wirex's App, wallet, and payment services.

According to the official report, Avalanche will help the Wirex community in unlocking new opportunities for growth and expansion within the fast-developing crypto space. The users will be able to penetrate deeper into the crypto domain and diversify their financial portfolio. Wirex has managed to mark its strong presence across the e-payments arena by offering a wide range of revolutionary resources and powerful trading tools. In 2015, the firm designed the world's first-ever crypto-powered payment card to help customers use their BTC holdings and fiat money in fulfilling real-life requirements. The platform offers users a fair chance to connect to a strong DeFi ecosystem.
The integration with Avalanche will allow Wirex app users to spend AVAX tokens, trade them, and receive them on their accounts from any other wallet securely. Investors will get access to a plethora of services for minimum gas charges and an option to add their custom tokens as well. Wirex card allows customers to spend cryptocurrencies and fiat currencies in a safe and transparent ecosystem. The service is available in more than 120 countries including the United States. The firm aspires to connect individuals with cryptocurrencies and distributed ledger technology solutions. The pact with Avalanche will play a significant role in supporting the vision and mission of the company.
The Avalanche platform has earned strong support from the crypto domain thanks to its powerful range of smart contract solutions. It works as a Proof-of-Stake (PoS) protocol that facilitates quick transactions with no faults. In 2020, Wirex became a crypto card provider for MasterCard. Later in December 2021, Avalanche became a participant in the MasterCard Start Path Crypto engagement initiative. The program was aimed to encourage crypto payments across the globe.
Wirex has a native crypto token with a ticker symbol of WRX and a crypto reward program offering up to 2% return in WXT for every transaction. Since 2014, Wirex has successfully managed more than $5 million worth of transactions. The portal's users can use their cards to withdraw funds from more than 61 million spots worldwide, facilitated through the integration of 62 cryptocurrencies. The saving solution called X-Accounts helps users to pool up to 20% AER interest on AVAX holdings without a lock-up period, monthly fee charge, or threshold limit.
The investors looking forward to entering the crypto arena can choose the blockchain certificate courses by Blockchain Council before venturing into the dynamic industry. The courses are designed to offer in-depth knowledge to the students so that they can make informed investment choices by interpreting the market trends and conditions.