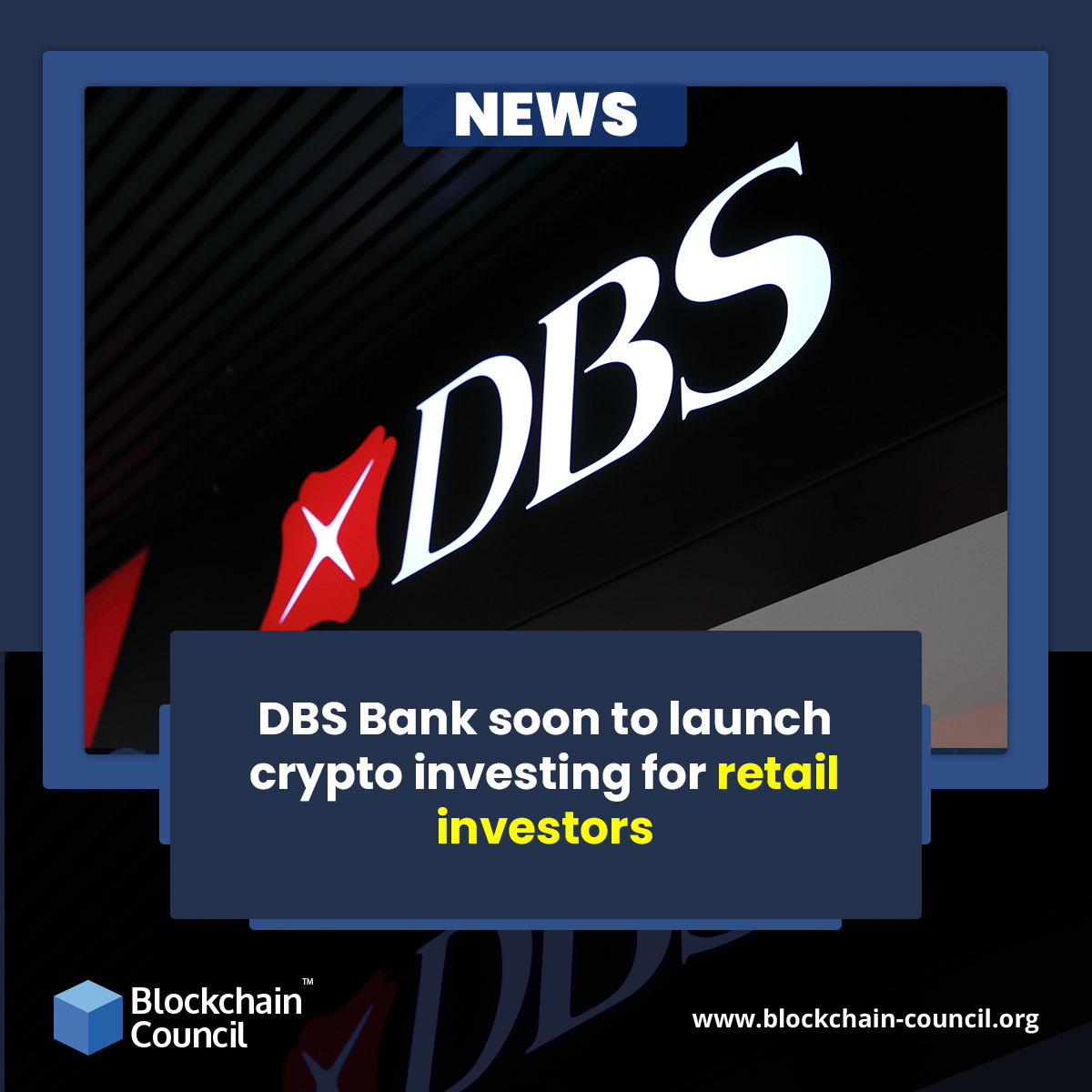 The CEO of Southeast Asia's largest bank, Development Bank of Singapore Limited (DBS), recently announced that the bank will allow retail investors to trade cryptocurrencies. DBS plans to reduce the barriers to accessing digital assets during the first half of this year's efforts.

Retail customers can now trade cryptocurrency with the DBS Bank:
As cited in the DBS's official website, Development Bank of Singapore Limited (DBS) is one of the foremost financial service groups in Asia with an active presence in 18 markets.Headquartered and set down in Singapore, the bank is listed in three critical growth areas of Asia: Greater China, Southeast Asia and South Asia.With its "AA-" and "Aa1" credit ratings, the bank's financial position is among the strongest in the world as cited in the official website.
Consumer, SME and corporate banking are all sections of DBS's services. DBS is one of Asia's leading banks. It knows how to do business in the region's most zestful markets. The bank and financial services corporation DBS, announced it is building a digital assets trading platform around Oct 2021.
DDEx can offer participants adjacent strengths of DBS' broader digital asset ecosystem, including digital asset custody services and deal-originating capabilities for Security Token Offers. There are very few exchanges backed by established banks around the world.
A question was posed to CEO Piyush Gupta during the bank's fourth-quarter earnings call about plans for expanding its digital asset exchange and if there is a roadmap for retail investors to trade digital assets.
Gupta replied their plans are to make accessing digital assets easier in the first half, as well as the first two quarters, of this year. The banker explained that they have 24/7 support, and still need to speak with a banker.
To effectively make everything self-service, instant, and online, you must first ensure that the processes within your company are capable of handling all of that.
He said that the idea of appropriateness goes hand in hand with the idea of keeping an eye out for potential fraud. Among other things, this means thinking about the suitability, fraud risk, etc.
Since the launch of its cryptocurrency exchange in December 2020, the bank has launched a trust service for cryptocurrencies in May last year, followed by the launch of its first security token offering.
Singapore authorities have been cracking down on crypto trading, which coincides with the development of DBS Bank. Binance, branched in Singapore, established as the largest cryptocurrency exchange in the world in December 2021 that it would withdraw its local license application and close down its digital payment token business in the vastly crypto-friendly city-state.
The brokerage arm of the bank has also been approved by the Monetary Authority of Singapore, for crypto services