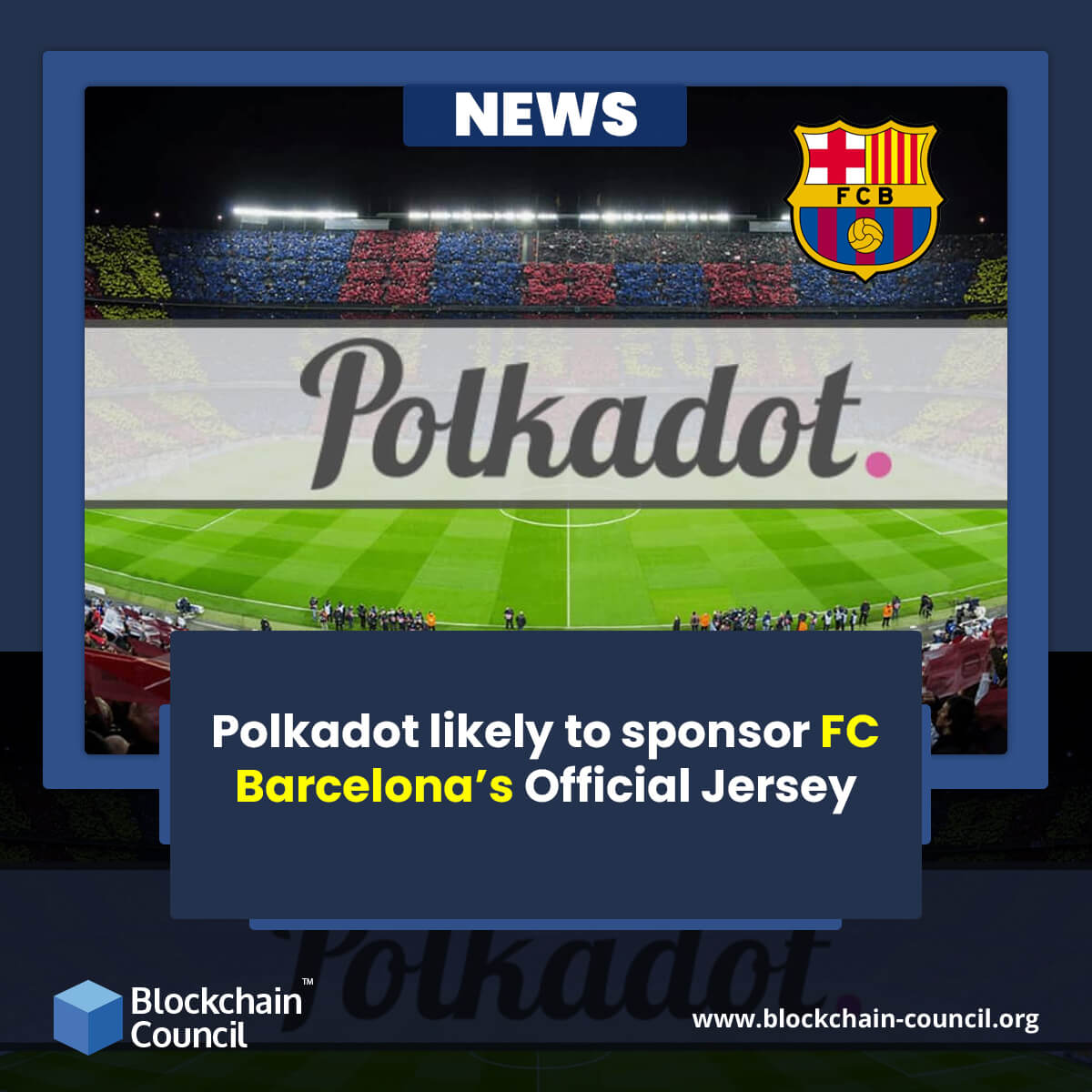 Taking the tag of one of the most trusted blockchain networks operating in the industry, Polkadot is gearing up for yet another strategic collaboration. The latest developments are hinting towards a new partnership between Polkadot and the Spanish soccer club FC Barcelona wherein the former will become an official jersey sponsor of the club. Known for offering high scalability to the Ethereum cluster, Polkadot has always been an active player when it comes to locking collaborations with high potential projects and entities and its interest in the FC Barcelona pact shows dedication for its expansion plans.

According to the report, the popular club is contemplating between Polkadot and digital music streaming portal Spotify for its sponsorship pact. The FC Barcelona jersey presently has the Rakuten logo of the renowned Japanese e-commerce company. The official partnership between the groups will be ending this July and the soccer club is planning to rope in a new sponsor for them. The officials of the Barca club will thoroughly examine the available options when selecting the most profitable project as its partner that will eventually help to fuel its long-term strategies.
Launched in 2016, Polkadot is a powerful blockchain channel that holds a strong community of users from across the globe. One of the main reasons for its thriving success in recent times is the high scalability offered by the project which is a serious issue with other blockchain solutions like the BTC chain. The interface supports the processing of a high volume of 1,000 transactions every second. The TPS is likely to surge to a value of 1,000,000 after getting fully operational.
The FC Barcelona team has been quite an active participant in the digital asset cluster. Recently, the club joined hands with popular NFT marketplace Ownix to launch its NFT collections for fans. However, the deal was suspended because of the arrest of Moshe Hogeg, who was related to Ownix. The person was arrested for multiple crimes including sexual assault and fraud.
The Polkadot ecosystem enjoyed a successful operation all through 2021 with its innovative parachain infrastructure. The feature allows the linkage between multiple blockchains securely for a seamless working experience. The platform helps users to create a blockchain using their Substrate interface and facilitates the connection of Polkadot with other channels like Ethereum and Bitcoin easily. Earlier in November, the portal launched its first Parachain slot called Auction. Further, in January 2022, Moonbeam smart contract platform became the first fully operational parachain on Polkadot. The company is working to support new activities, inclusions, and clients to expand the ecosystem and support the growth of the channel in the core sector.