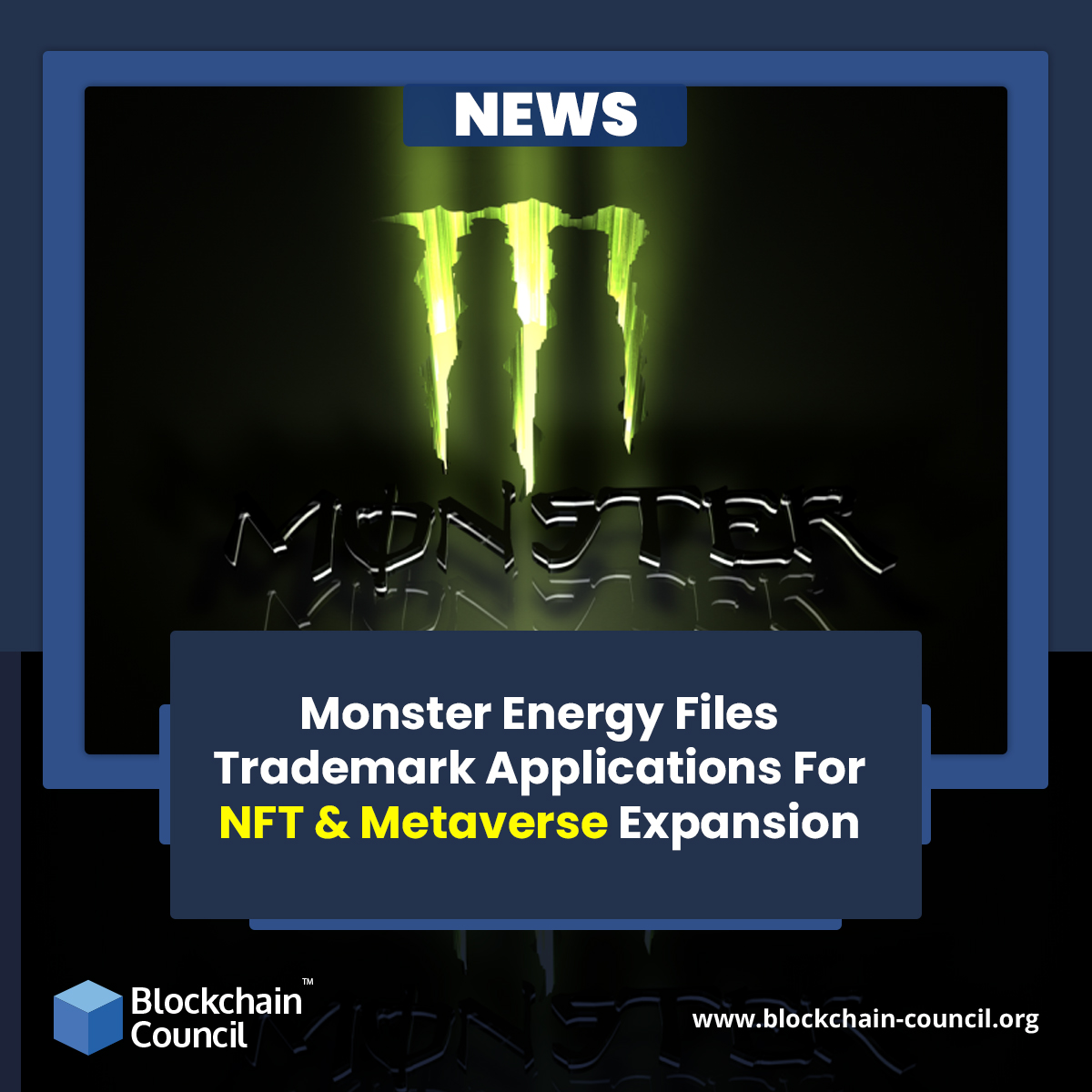 As cryptocurrencies soar high across the global financial space, the sector continues to grab the attention of some of the biggest companies, business tycoons, and retail investors. The latest addition to this fast-growing list is the popular beverage firm Monster Energy. Hailing from California, Monster Energy is all set to venture into the field of Non-Fungible Tokens (NFTs) and so has filed four trademark applications with the United States Patent and Trademark Office (USPTO) to acquire the regulatory nod from the concerned authorities before entering the digital collectibles industry.  

According to the report, the four pending trademark applications of Monster Energy will include a variety of projects and solutions focused on Non-Fungible Tokens. The processing period for first-time trademark filings can take up to 7.4 months, as per the data published by the USPTO. The four applications include the given below points:
The first application by the firm covers a wide range of downloadable virtual collectibles related to beverages, food items, supplements, sports, gaming, music, fashion, etc. These downloadable multimedia products will be authenticated by NFTs to ensure their uniqueness and creativity. Computer programs offering blockchain data connections are also included within the application.

The second file includes NFT-oriented retail store and online retail store services. It includes an online marketplace for buyers and sellers interested in virtual assets.

In the third filing, the firm has talked about entertainment services integrated with virtual apparel likely to be traded across the Metaverse world.
The fourth application filing comprises plans for launching a dedicated online portal that employs blockchain technology to facilitate the trading of digital assets among investors.
Hype for Metaverse
There has been a considerable rise in the popularity of Metaverse projects in the past few years. With industrial giants like Meta, Microsoft, and Apple striving to take hold of the industry with their innovative products, Metaverse has become the latest trend amongst firms worldwide. Data analysts have speculated that companies offering Intellectual Property solutions are actively exploring the new-age NFT and Metaverse arenas.
Recently, the New York Stock Exchange or NYSE filed a trademark application for trading Non-Fungible Tokens. Retail conglomerate, Walmart has also filed seven patent applications for creating its native digital currency and NFT collection for users. In January 2022, Meta applied to register BTC and cryptocurrency service trademarks in Brazil to support its expansion plans. Fast-food giant, McDonald's has filed a trademark application for 'McMetaverse' which includes its McCafe venues. Popular footwear brand, Nike has also stepped into Metaverse by filing a trademark application with the regulators to gain an upper hand advantage over its competitors.  
If you are confused about how to start your crypto expedition, then Blockchain Council certifications can help you to find a successful way through the chaos. These courses are designed by experts and offer detailed knowledge to the users willing to explore the sector.