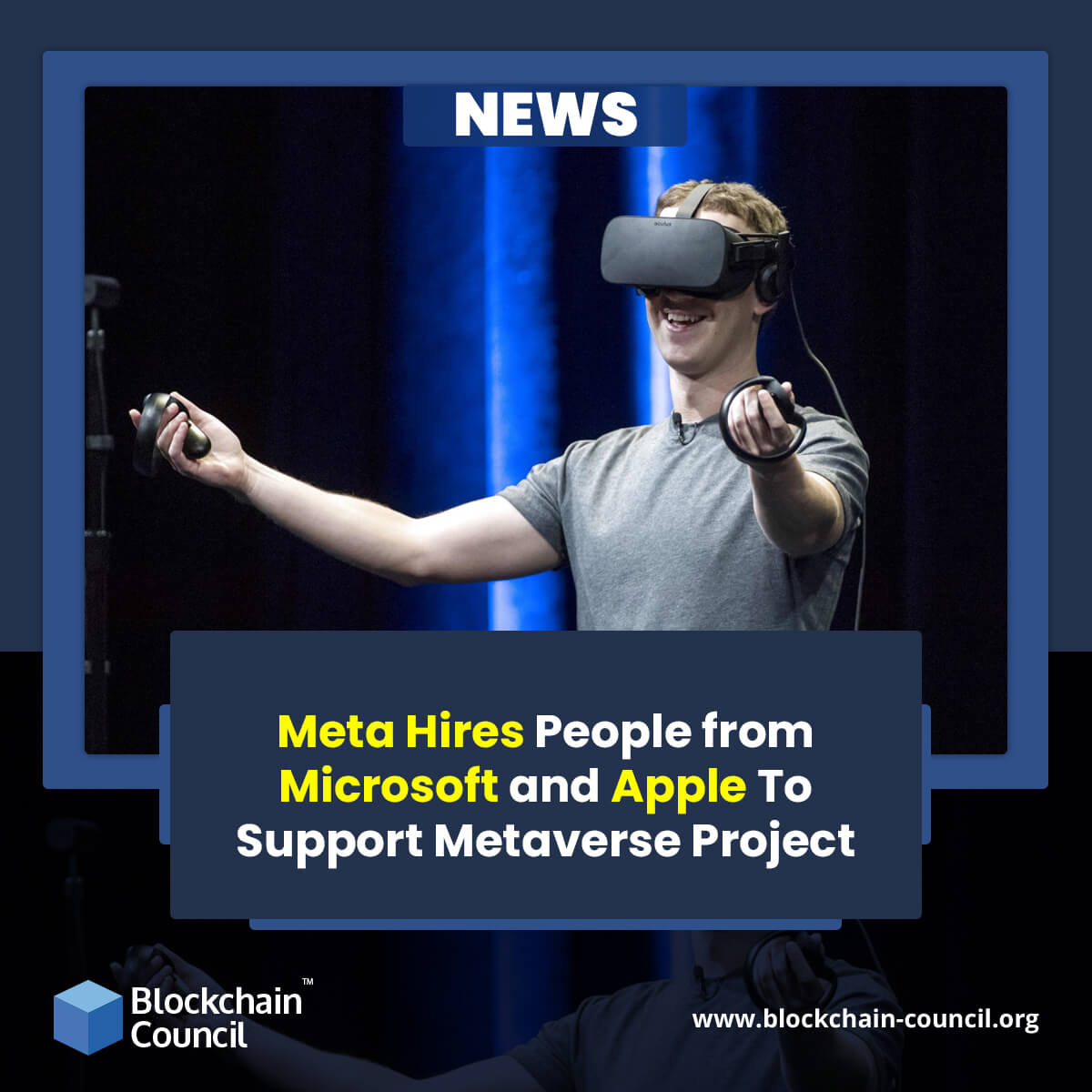 With Metaverse growing as a revolutionary power capable of overtaking the existing technologies, Meta Platforms is taking significant steps to place itself at a higher rank in the industry. The recent analytics suggest that Meta (formerly Facebook) is hiring new employees who have earlier worked with global tech giants like Microsoft and Apple to further its Metaverse plans. With this recruitment, Meta is trying to poach people who have earlier worked in the field of Metaverse and have a fair share of expertise on the subject that can eventually help Meta in its Metaverse growth.

According to the former staff of Microsoft, nearly 100 employees have switched from the team over the past year to join Meta Platforms. The claims made by the employees suggest that Meta has particularly focused to hire the services of people who were a part of Microsoft's HoloLens Augmented Reality headsets project. This shows how serious Meta is for its highly-anticipated Metaverse project. The company changed its name from Facebook to Meta to highlight its growing interest in the fast-developing virtual world industry.
The WSJ team analyzed the LinkedIn profiles of the people involved in the HoloLens project to draw some important inferences. The portal found that more than 70 people who were a part of the Microsoft project team left the firm over the past year. Among them, over 40 people joined Meta Platforms at various posts. Microsoft made the first crucial move in the AR technology with its experts which made the involved employees highly valuable assets for the core industry. The HoloLens project was announced in 2016 and was aimed to develop one of the world's most advanced headsets.
To stop this labor flow to Meta, Apple is offering lucrative benefits to its employees. The firm is providing juicy stock options and hefty bonuses worth between $50,000 and $180,000 to stop the employees from moving to the competitor firm. In December 2021, Apple offered bonuses to some engineers in silicon design, hardware, and some workers involved in software operations.
The team at Meta Platforms has been working hard to make its presence felt in the Metaverse field. Sincere dedication is shown ever since the company rebranded itself as Meta in October 2021 to come out from the social media platform tag. Its virtual reality hardware arm 'Reality Labs' successfully created a prototype of a VR-focused 'Haptic Gloves' in November 2021. The company has also received harsh criticism from the wider community members hailing from crypto, blockchain, GameFi, and NFT verticals.
The Metaverse industry is growing steadily and firms like Microsoft and Apple are constantly upgrading their ecosystems to exploit the new technology. Microsoft CEO Satya Nadella stated that Metaverse helps to integrate real-world and computing for creating a better experience. In November 2021, Microsoft introduced multiple updates to its Teams platform and Xbox gaming cluster. The team launched a new product named Dynamics 365 Connected Spaces for the users.