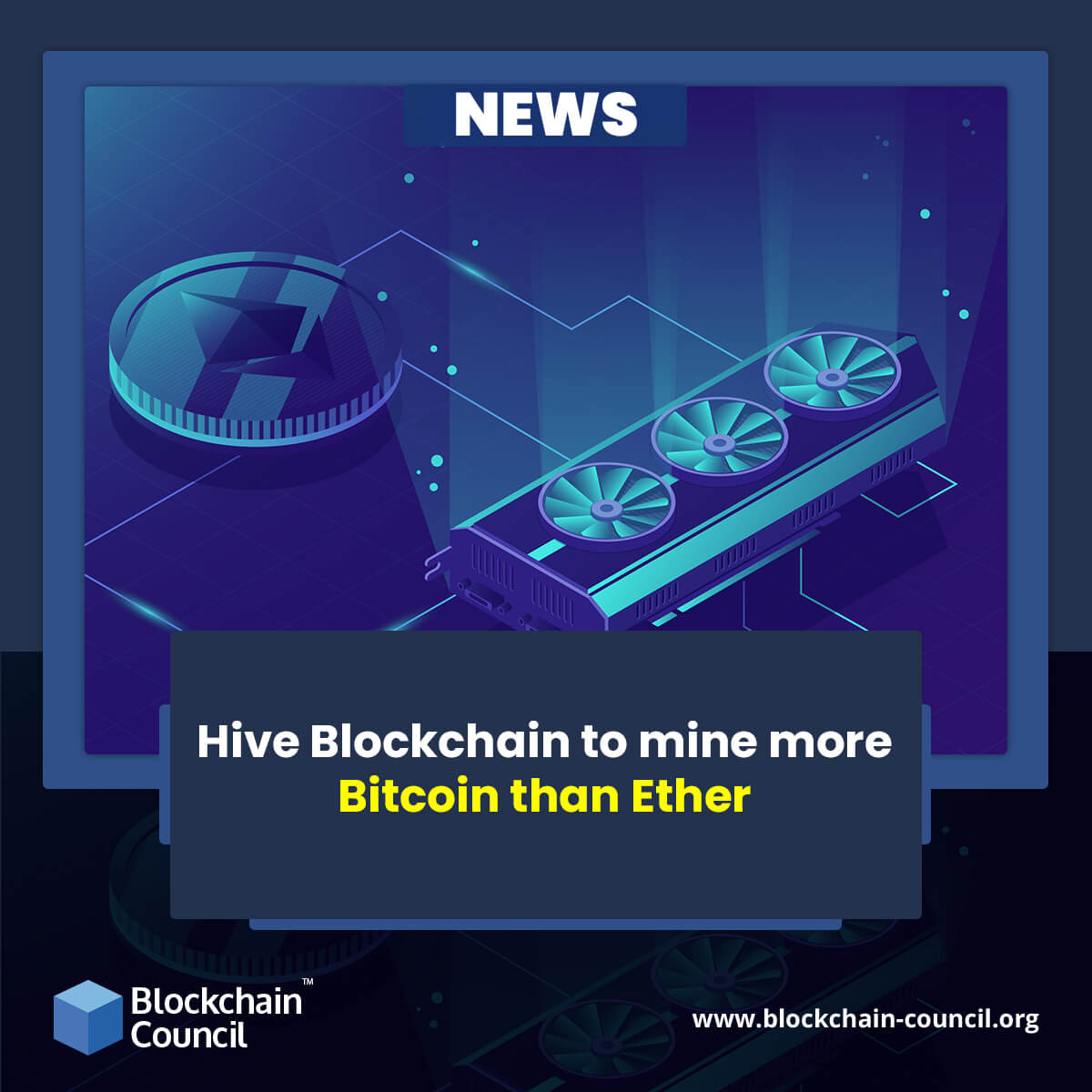 Hive Blockchain, a public cryptocurrency exchange platform, hopes to create 670 BTC (Bitcoin) and 6,900 ETH (Ether) for the final monetary quarter ending on 31st December, witnessing a decrease and an increase from the past quarter, respectively. 
In a Wednesday bulletin addressing its investors, Hive announced that from 1st October to 21st December, it has successfully mined 6,280 Ether. And presently, it is on the route to mine 65+ ETH on a daily basis for the remaining 2021. This estimates 6,900 Ether, addressing a drop of over 20% from the 8,688 Ether mined in between 1st July to 30th September. Although, Hive anticipates getting back into the flow and expects an increase of 2% quarterly in its Bitcoin production, from 656 BTC to 670 BTC. 
According to Hive, this surge in Bitcoin has been driven by previously disclosed investments in new-generation miners and the development of our Bitcoin mining facilities. However, the current quarter decline in Ether production compared to the last quarter will be substantially affected by the average value increase of Ether by 45%. The increased mining of Bitcoin in the present quarter inflated by 35% in the price of Bitcoin in the quarter. 
The Canadian crypto mining firm ascribed the slowing of ETH mining to an increase in the average difficulty of more than 16% in the current quarter, with a high on 7th December as additional projects entered the ecosystem. On the other hand, Hive also stated that the "high" ETH price had assisted the company in supporting mining operations as the difficulty grew. 
As per the mining company, "Hive has a robust coin inventory of both Bitcoin and Ether, and we have a continual strategy to expand our inventory throughout 2022. As a result, we are no longer selling coins; instead, we are banking them till the New Year."
Hive is operating in Sweden, Canada, and Iceland. It is well-known for its attempts to mine with a focus on renewable energy. In June, the company announced that it had acquired permission to list its shares on the Nasdaq stock exchange. At the time of publication, the shares were trading at $2.87, surging by more than 2% in the previous 24 hours.