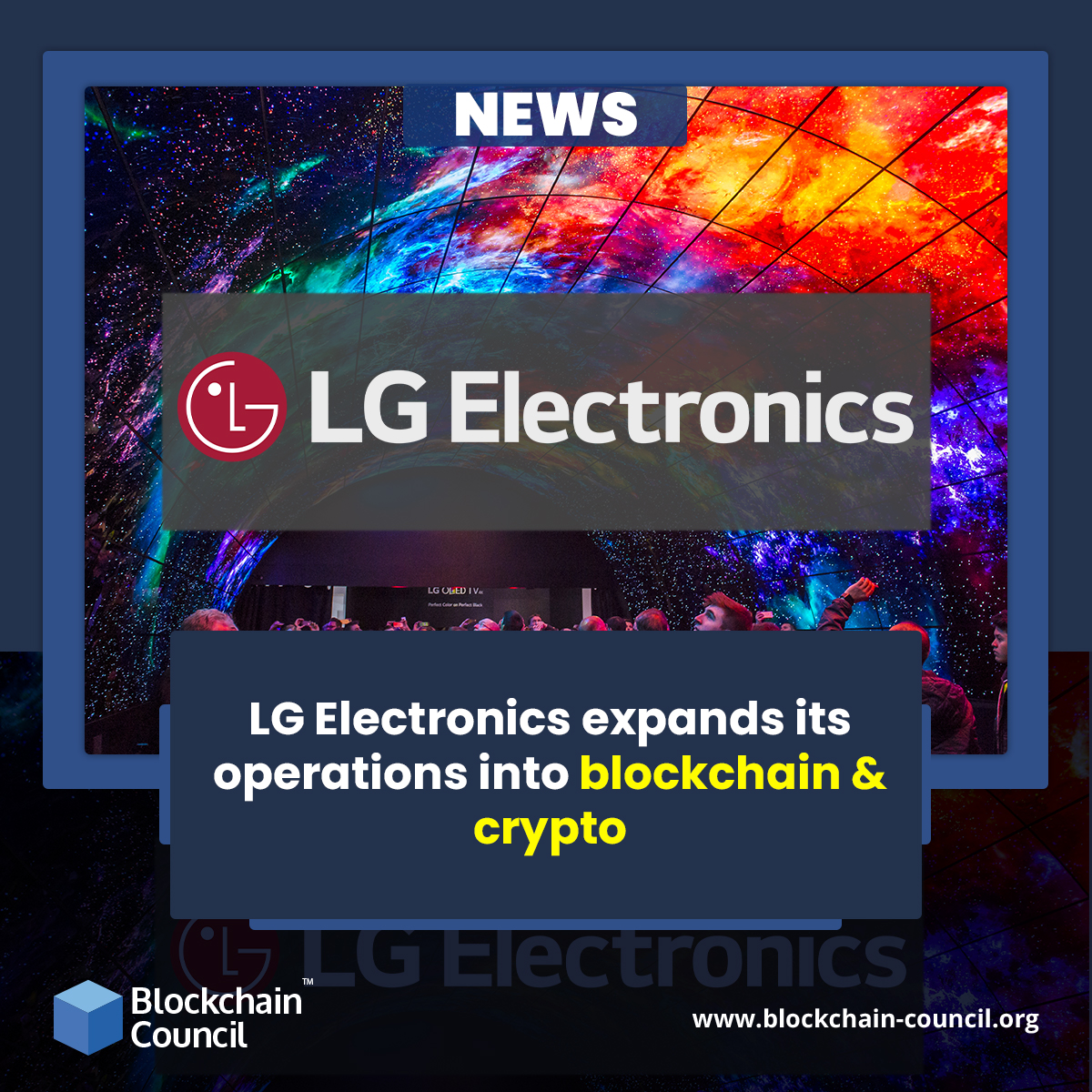 LG Electronics, a South Korean technology powerhouse, has modified its corporate development plans to include bitcoin and blockchain-based technologies. LG unveiled two distinct crypto-related goals. It reportedly wants to involve itself in "the creation and distribution of blockchain technologies" as well as "the marketing and broking of cryptocurrencies," leading to speculation that the company might open a crypto exchange.

During its yearly general meeting, LG has sparked concern that it may build a crypto exchange by marketing and brokering cryptocurrency as well as researching blockchain technology by unveiling two different crypto-related initiatives.
"There hasn't been any decision taken yet," an LG rep claimed, disputing speculations that the industry might construct its own marketplace or network. The presentation was basically an overview of business topics."
LG Electronics, founded in 1958, has been at the forefront of the country's electronics sector from its inception as the first manufacturer of radios, televisions, and other appliances. After Samsung Electronics, it is now the world's second-largest electronics manufacturer.
LG has steadily built a reputation for trustworthiness, craftsmanship, and inventiveness. It has become distinguished for its excellent product as a frontrunner in design, innovation, and excellence. Its luxury brand aims to build on that reputation. LG, Life's Good, is dedicated to providing people with electrical devices that improve their lives.
Bithumb's CEO, Heo Baek-young, said earlier this year that the platform was collaborating with a significant corporation to strengthen our NFT market. As an outcome, there were allegations claiming LG was looking to launch a crypto exchange.
As a result, speculation surrounding LG establishing a cryptocurrency exchange began to surface. The IT behemoth has been busily adding NFT into its products in recent months. A collaboration with Kakao's Ground X has resulted in the production of a series of fully NFT-capable smart TVs. LG has also initiated an alliance with Seoul Auction Blue, an online art auction house, to work on some of the other NFT-based art projects.
LG's statement came as other IT companies and the rest of South Korea race to integrate cryptocurrencies and blockchain-related technology. Samsung, a South Korean electronics manufacturer, has disclosed that it would debut a Decentraland store as well as an NFT ecosystem for its smart TVs later this year.
Furthermore, the country elected crypto-friendly President Yoon Suk-Yeol, who campaigned for restructuring South Korea's crypto business and administrative regulations to make the country a potential haven for "unicorns" in blockchain technology.
If you want to keep up with the trends of blockchain industry, join our communities on Discord, Reddit and Telegram.