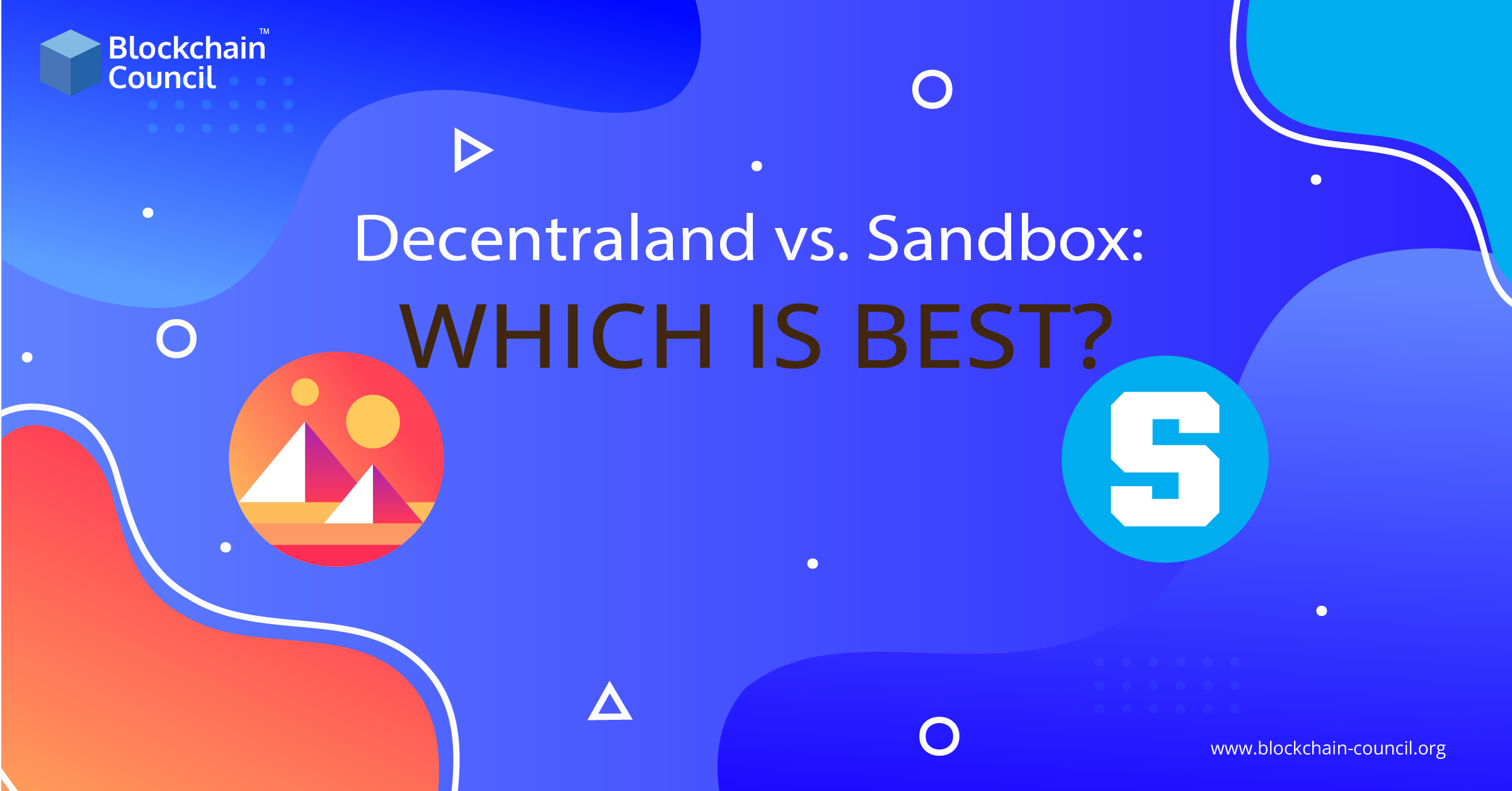 Individuals interested in decentralized gaming portals are familiar with Decentraland and the Sandbox.

Decentraland is the very first Ethereum-based virtual environment in reality. In Decentraland, people may develop, explore, and profit from their content and apps. This framework has a lengthy history in the business. It has also produced a metaverse that gamers, programmers, and even businesses are well-liked.
The Sandbox, on the other hand, is likewise built on Ethereum. Players may purchase or rent simulated homes in this initiative. And this feature highlights its decentralized nature. Integrating virtual reality with blockchain technology propels and distinguishes these two frameworks. 
In the next paragraphs, I've provided a full study of Decentraland followed by Sandbox to help you decide which is superior. Let's start by learning about each of the two initiatives:
What is Decentraland? 
Decentraland is the first metaverse project to launch, which dates back to 2017 and is a fully realistic and entertaining three-dimensional metaverse. It aims to allow users to acquire land parcels while also allowing them to explore the vast virtual globe. Decentraland is the go-to blockchain technology virtual reality framework for newcomers for its flexibility and straightforward construction tool.
The Decentraland DAO (Decentralized Autonomous Organization) is in charge of the framework. Decentraland does not work under any centralized power. This indicates that everybody who holds the MANA governing tokens owns a piece of Decentraland. And it also means that the holder may engage in the metaverse's administration.
However, a sophisticated SDK is available, providing additional flexibility and choices. This is appropriate for folks who want adjustments and have some programming experience. Decentraland offers participants a wide range of activities, including games, casinos, exhibitions, events, etc. It is the lengthiest metaverse initiative at the moment. 
How does Decentraland work?
The Decentraland program is mainly designed to track LAND token-defined real estate properties. The program uses the Ethereum blockchain technology to monitor ownership of this virtual land. Individuals must keep their MANA coins in an Ethereum wallet to interact with its community.
Developers are also allowed to experiment with Decentraland's architecture. By customizing the animation and interactivity that users see on their digital properties, they can do that.
Several layer elements of Decentraland are mainly constructed utilizing Ethereum smart contracts.
The consensus surface keeps track of virtual land parcel tenure through a ledger. Each LAND parcel contains a virtual world address, a landowner, and a link to a descriptive file. All these describe the information within the parcel. 
The content layer is in charge of what happens in an individual parcel and comprises the following files: 
Content Files:
All static sound and graphics are referenced in the Content Files.
Script Files:
These files define where and how the relevant content appears and behaves. 
Interaction Definition:
End-to-end interactions such as gestures, voice chat, and texting are examples of interactions.
Finally, using user pictures, audio chat, and texting, the real-time interface supports social interactions inside Decentraland.
What is the use case of Decentraland?
The Decentraland group has also developed a marketplace. It also has a drag-and-drop option for users to create settings outside of the game area.
Participants can use the marketplace to maintain and trade LAND tokens, mainly valued in MANA. Owners may utilize the marketplace to buy, sell, and trade parcels. And also in other in-game products like wearables and distinctive names. 
What is a Sandbox?
In 2012, a team of developers created the Sandbox platform. It's a gamer-friendly metaverse. Users can do more in The Sandbox metaverse game than just buy the property and build houses in the city. You may also enjoy games and take on various tasks and missions. Completing these tasks effectively might result in you winning fantastic prizes.
The Sandbox uses the best blockchain training to allow all participants to participate in its growth. To secure ownership and monetize content created within their metaverse, Sandbox uses NFTs.  Players can develop and gather items based on blockchain technology in The Sandbox metaverse.
It comes with a robust visual editor called Voxedit, which can be used in conjunction with Game Maker. All these mainly help to produce a range of graphical material.
Sebastien Borget, Pixowl's co-founder, is The Sandbox metaverse COO, working with Arthur Madrid, Pixowl's CEO.
The Sandbox's coin is mainly utilized for a variety of purposes. These purposes include buying, dealing, playing, collecting, and managing the site. It's known as SAND. 
How does Sandbox work?
Users may develop, distribute, and trade in-world items and game activities in the Sandbox. The Sandbox is an Ethereum-based virtual reality application and gaming environment.
Three products make up the Sandbox ecosystem:
VoxEdit is a metaverse program that allows users to construct and manipulate three-dimensional objects. Objects such as humans, animals, and equipment, among other things. These items are mainly known as ASSETS. These ASSETS follow the ERC-1155 token protocol. This protocol allows creating fungible and non-fungible tokens using a similar smart contract.
After transferring their ASSETS to the InterPlanetary File System, individuals may sell and distribute them on the Sandbox Marketplace or IPFS.
Users may develop three-dimensional games for free with the Sandbox Game Maker. The best thing is that no programming skills are necessary to engage in The Sandbox. Its strong array of tools allows users to build and incorporate materials. These tools are important in the rapidly expanding realm of online videogames and worlds. 
Numerous distinct coins are also used in the Sandbox ecosystem. SAND is the ERC-20 coin that underpins all transactions and activities in the ecosystem. Playing games, purchasing equipment, and customizing your avatar, for instance, all cost SAND coins. SAND will also act as a governance coin, allowing its owners to vote on modifications to the environment.
What is the use case of Sandbox?
There are various methods to make money in The Sandbox. After you've created ASSETS using VoxEdit, you may trade them as NFTs on The Sandbox Marketplace. For instance, ASSETS such as skins, motorcycles, and animals may be purchased for as little as 10 SAND or hundreds of SAND.
You may also utilize The Sandbox Game Maker to develop and market your activities, or you can receive prizes by playing other people's games. You may also make money from your LAND by leasing it out to other gamers or filling it with material to boost its worth.
What are the Key Differences between Decentraland & Sandbox?
The valuation of the native coins and the market turnover of the respective metaverse applications are insufficient to conclude which is the superior option. Let's look at the Sandbox versus Decentraland analysis regarding the following key criteria. 
The Decentraland Initiative was created in 2015 by Esteban Ordano, Ariel Meilich, and Esteban Ordano, who performed its Initial Coin Launch in 2017. To fund decentraland's growth, they gathered 86,206 Ethereum, which is approximately $26 million in the present time. In February 2020, Decentraland was accessible to the general public.
On May 15, 2012, the first Sandbox mobile video game was published. Animoca Group purchased the Sandbox brand in 2018. The Sandbox collected $2.02 million in cryptocurrency and cash to fund its growth. In November 2021, SoftBank invested an additional $94 million in The Sandbox. The Sandbox is not yet completely open to the general public. On November 28, 2021, the Sandbox Metaverse alpha was successfully made available to the general public.
The support offered for both systems is also a factor in the MANA vs. SAND contrast. Several well-known companies strongly back Decentraland. It includes Digital Currency Group, FBG Capital, and CoinFund. Furthermore, it has formed partnerships with the South Korean government, Polygon, Cyberpunk, and Samsung.
SoftBank, a Japanese worldwide business specializing in financial management, is one of Sandbox's main sponsors. Sandbox has sponsorship from one of the world's leading investment firms. It also has sponsors from several other well-known corporations like Slack and Uber. 
In the dispute between Sandbox and Decentraland, the maturation of the metaverse initiative is critical. In terms of maturity, Decentraland is certainly the overwhelming winner. It was the earliest to assert the metaverse. And also first to build a three-dimensional virtual world by blockchain developers. 
Decentraland mainly gave the first functioning proof-of-concept. It was freely accessible to the public. On the opposite side, Sandbox has yet to produce public Alpha editions. 
The way Sandbox and Decentraland work is something most important component of the analyses, as per blockchain developers. When seen in a larger context, both tend to function similarly. However, when you go further into the workings of both applications, there is plenty to learn. On the Decentraland framework, there are 90,601 digital pieces of land.
Individual pieces or estates with several parcels of land are mainly formed from all simulated real estate components. It also contains districts, which are unsellable portions owned by the public. It even has plazas, which are unsellable parcels with common ideas. LAND, MANA, and WEAR are the three sorts of tokens available. 
Sandbox has 166,464 digital real estate parcels that may even be grouped to form estates. Estates are mainly owned by a single individual, whereas two or more persons own districts. On the Sandbox virtual world, there are four different sorts of tokens: GAMES, SAND, LAND, and ASSETS.
The contrasts of Decentraland and Sandbox focus on simulated real estate. Both platforms include the option of purchasing virtual land. This distinguishes them from one another. The Sandbox and OpenSea markets, on the flip side, provide consumers with more possibilities for acquiring virtual land. Users in Decentraland may only buy through the MANA marketplace.
Tabular Overview of Decentraland vs. Sandbox:
| | | |
| --- | --- | --- |
| Criteria | Decentraland | Sandbox |
| History | The Decentraland Initiative was created in 2015, and its Initial Coin Launch happened in 2017. Whereas, in February 2020, Decentraland was accessible to the general public. | On May 15, 2012, the first Sandbox mobile video game was published. But On November 28, 2021, the Sandbox alpha went live for the general public. |
| Available Land | Individual plots, districts, estates, and plazas make up Decentraland's 90,601 land properties. | The Sandbox, on either hand, contains 166,464 land pieces that are divided into districts and estates. |
| Sub-currencies | There are mainly three sorts of coins in Decentraland: WEAR, MANA, and LAND. | In Sandbox, coins are divided into four categories: ASSETS, SAND, GAMES, and LAND. |
| Roadmap | There is no defined roadmap in existence for Decentraland. However, the company will judge based on what they believe is valuable. | The Sandbox metaverse has a specific objective to make the platform available on mobile devices by 2022. They also intend to release the application on consoles such as the Playstation and Xbox. |
| Price | Decentraland or MANA is now trading at $2.40 and is ranked 31st. | The Sandbox, or SAND, is currently trading at $2.85 and is placed 38th on CoinMarketCap. |
| Investors | It is backed by Digital Currency Group, FBG Capital, and CoinFund. It has also partnered with the South Korean government, Polygon, Cyberpunk, and Samsung. | SoftBank is one of Sandbox's main backers and well-known corporations like Slack and Uber support Sandbox. |
Decentraland vs. Sandbox – Which is Better? 
For the time being, it appears like The Sandbox has emerged victorious in the argument between The Sandbox versus Decentraland. It has a larger number of collaborations, investors, and employees than Decentraland. Furthermore, The Sandbox seems to be more inventive than Decentraland and has a stronger long-term strategy.
Both metaverse platforms have made significant progress by assuring the addition of new functionality. Sandbox, on the other hand, comes out as a champion. Sandbox, just shift to Polygon NFT layer two technology, which uses about 100 times significantly less energy than Ethereum. 
Another feature that aids Sandbox is the ease with which the platforms may also be accessed. Sandbox is the obvious victor in terms of application access. It offers a variety of ways to access the network, including through a media platform or email account and a Metamask wallet. Decentraland, on the other hand, only enables access via linking a wallet.
Additionally, the crypto forecast predicts that The Sandbox's coin value will climb substantially faster than Decentraland's in the long term. It will be simpler for The Sandbox to persuade others to enroll in them if this occurs.
As previously stated, the Sandbox has worked with over 175 businesses. It also includes new additions such as Adidas and artist Snoop Dogg. These collaborations will undoubtedly attract additional users and entrepreneurs to the platform. As an outcome, The Sandbox's value will keep rising. For the time being, the market appears to prefer The Sandbox over Decentraland. Nevertheless, it is difficult to predict who will dominate in the long term. 
Final words
This is all about the fundamental distinctions between the two most renowned virtual world projects, Decentraland vs. Sandbox. Decentraland has produced a functional working prototype, whereas Sandbox is currently in Alpha form. Both have a long way to evolve the bigger, decentralized metaverse. Both Decentraland plus Sandbox have their distinct characteristics. 
Investors may pick and choose whatever aspects are most appealing to them. Investors should research the use applications of each crypto initiative before investing.
If you want to keep up with the trends of blockchain industry, join our communities on Discord, Reddit and Telegram.