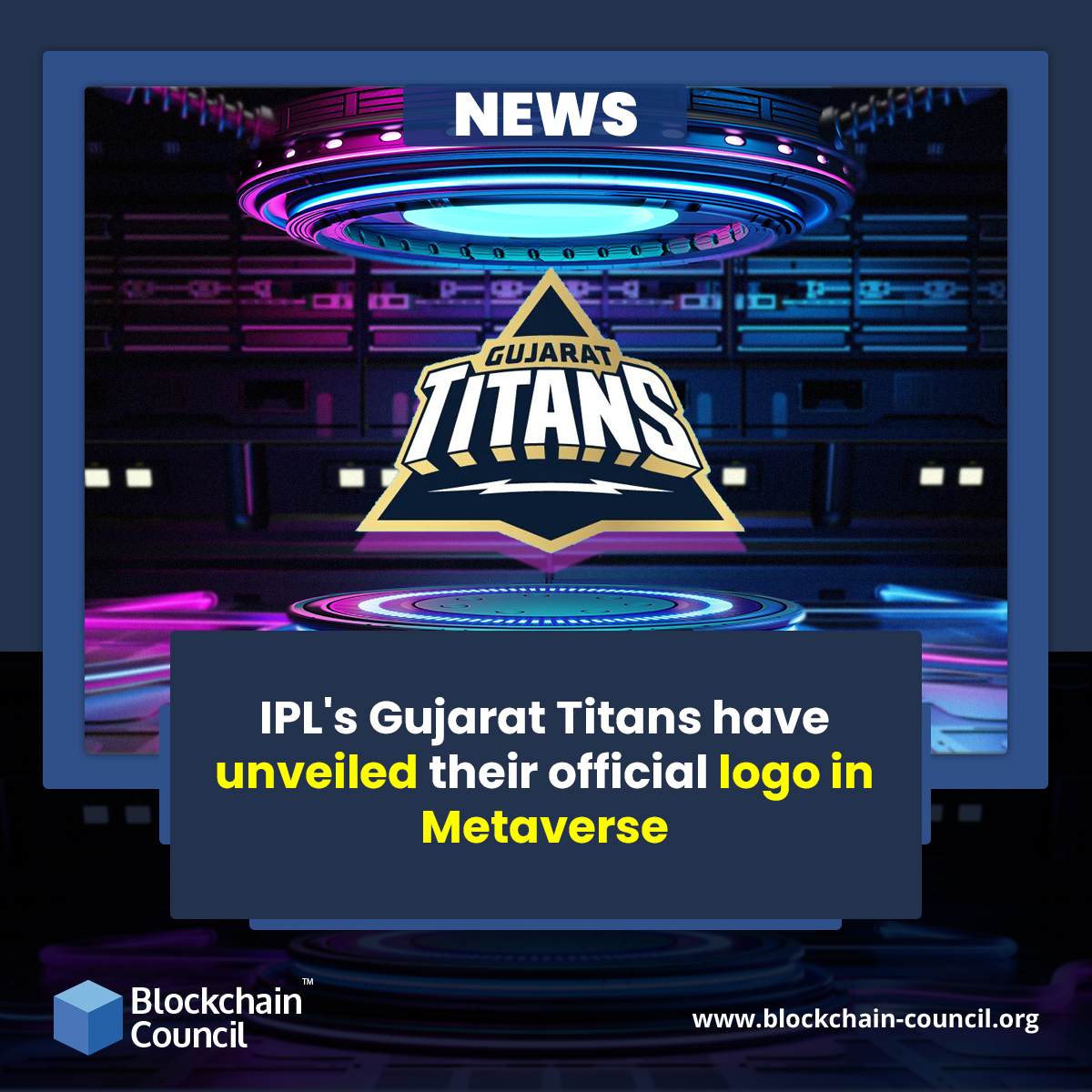 Thriving as one of the most promising technological domains in the Millennial era, Metaverse has witnessed global success ever since it garnered attention from the tech industry. The technology has played a significant role in bringing users closer to a real-like virtual space where they can interact, connect, and work effortlessly. Seeing this exciting popularity, the newly-inducted IPL team 'Gujarat Titans' has launched its official team logo in the Metaverse on Spatial.io making it the first-ever sports team in India to venture into the virtual Metaverse world.

As per the report, the logo displays an apex conveying the overall spirit of the Gujarat Titans. Through the logo, the team has made an attempt to showcase its vision and aim for the tournament. The Titans will move forward while striving to achieve higher goals and the pinnacle of success in the upcoming IPL edition. The official logo drew inspiration from the shape of a Kite that floats up high in the sky. Kite-flying is synonymous with the traditional Gujarati heritage which is showcased in festivals like the Uttarayan. The logo is an attempt to reflect the rich culture and legacy of Gujarat. The team is built on a strong cultural foundation and the Titans will work to reach new horizons of success.
The logo also displays a 'bolt of lightning' that symbolizes power and energy to lighten up the dark skies in a split of seconds. The players will remain determined to turn adversity into victory. Owned by CVC Capitals, Gujarat Titans has a strong team comprising of top players like Rashid Khan, Jason Roy, David Miller, Matthew Wade, Mohammed Shami, Rahul Tewatia, Lockie Ferguson and Alzarri Joseph, etc.
For the unversed, IPL or the Indian Premier League is a popular cricket tournament wherein multiple teams compete with each other in the game of cricket to earn the winning title, the exquisite trophy, and the lucrative prizes. The players are chosen by the teams through a Mega auction event wherein the team owners play bids for selecting a player of their choice. Each team comprises some of the biggest cricket players from India as well as from across the world. Interestingly, the forthcoming 15th edition of IPL in 2022 will witness the entry of two new teams including Gujarat Titans (GT) and Lucknow Super Giants (LSG).
The much-talked-about logo was launched by the head coach of the team Ashish Nehra, captain Hardik Pandya, and batsman Shubham Gill. They were the first to interact in The Titans Dugout within the Metaverse cluster. The newly-launched ecosystem works as a powerful network of 3D virtual spaces aiming to provide high-end social interactions and connections between people. The team believes in the 'we stop at nothing' mantra and the logo vividly portrays it. The team is set to debut in the upcoming IPL edition with positive energy and a thorough dedication to winning the tournament trophy.