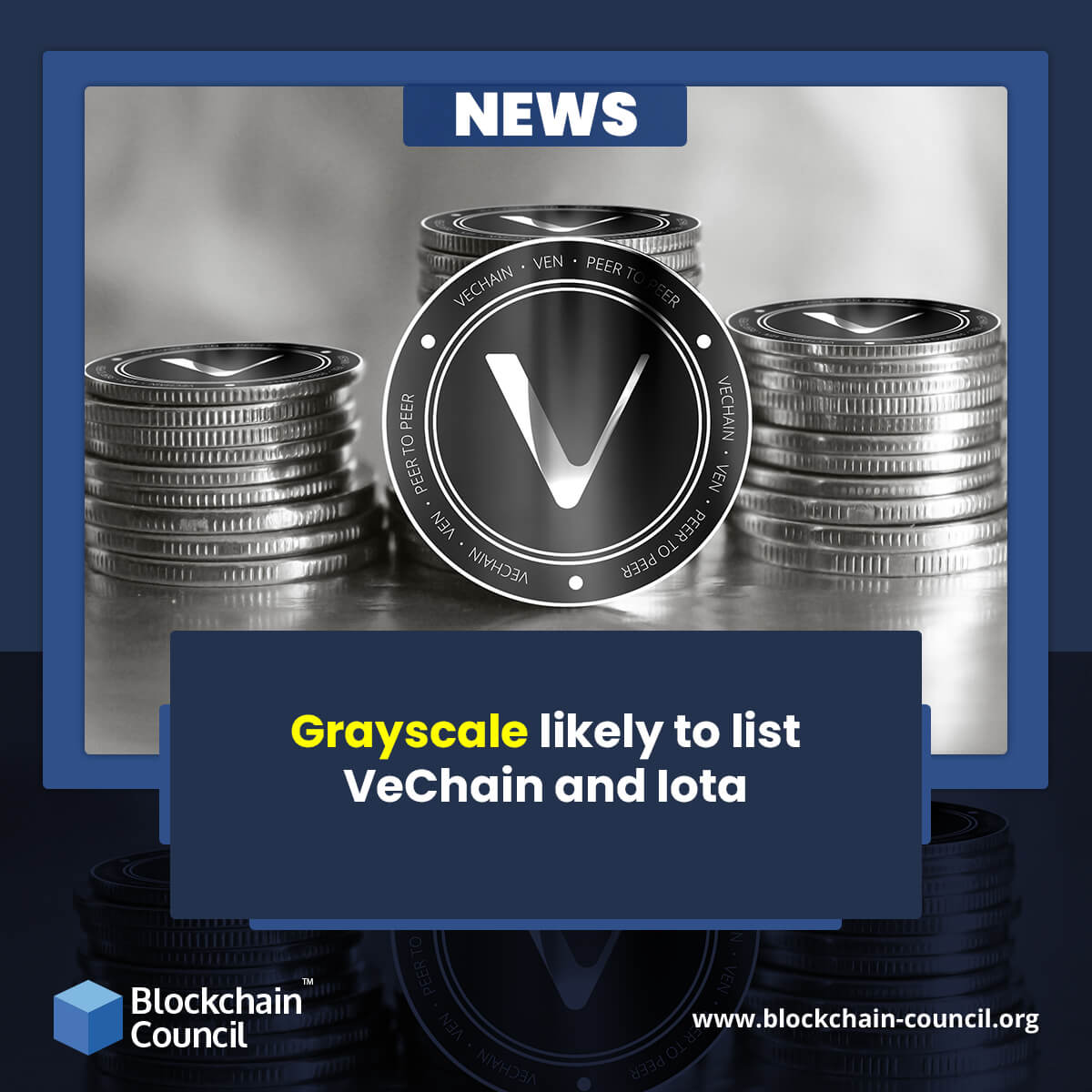 Taking pride in being one of the most trusted entities for crypto management, Grayscale has enlisted 25 top-tier tokens to the assets under the consideration category including VeChain (VET), and Iota. With this, the world's largest cryptocurrency management firm has taken a significant step for the expansion of its asset portfolio. The investors trusting Grayscale for crypto trading will now get access to 25 new coins for venturing into the field and strengthening their investment plans.

The coins included in the assets under consideration list are VeChain (VET), Iota, Monero (XMR) and Axie Infinity (AXS), Algorand (ALGO), Arweave (AR), Bancor (BNT), BitTorrent (BTT), Bora, Convex (CVX), Cosmos (ATOM), Decred (DCR), Elrond (EGLD), Enjin (ENJ), Fantom (FTM), Gala, Gelato (GEL), Helium (HNT), Holo (HOT), Oasis Network (ROSE), Secret (SCRT), Spell Token (SPELL), Stacks (STX), The Sandbox (SAND), Universal Market Access (UMA) and Yield Guild Games (YGG). In its recent update, Grayscale revealed that the portal has included Amp in its native DeFi Fund for users. The coins considered by the firm are among the top 100 coins by market capitalization.
According to the latest report, the present value of Assets Under Management (AUM) related to the 15 crypto investment products on the Grayscale ecosystem is $55B in worth. The Bitcoin Trust and Ethereum Trust constitute a whopping $31.2 billion of the AUM figure. The Grayscale DeFi Fund accounts for $7 million in AUM. This value is less by 35.8% since its launch in July 2021, highlighted by the data given by Grayscale's official website portal.
Launched in 2015 as an ERC-20 token on the Ethereum blockchain network, VET presently works as the native currency on the VeChainThor blockchain infrastructure. The token is quite popular amongst real-world industries involved in supply-chain tracking and management. IOTA is the decentralized token of the Iota ledger. It helps to connect people to the Internet of Things. The AXS governance token fuels the play-to-earn Axie infinity game that has earned a strong community recently. With a market cap of $3.6B, the token is currently trading at $51.90 in the market space.
The renowned cryptocurrency exchange, Coinbase announced on Wednesday that it has included support for 4 less known crypto projects on its portal. The list included coins named Cryptex (CTX), Maple (MPL), DIA, and Unifi Procol DAO (UNFI). The four tokens included by Coinbase do not come under the list of top 500 cryptos by market capitalization. The exchange is looking forward to expanding its portfolio by adding support for multiple projects in 2022 for its users.